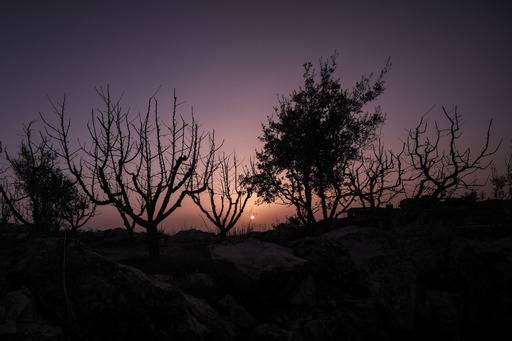 FNEIDEQ, Akkar — Ali Salah Eddine grew up in Fneideq, a village high up in the mountains of Akkar, surrounded by apple orchards like the ones his father owned.
As poor as it is picturesque, Fneideq is known for sending many of its sons to serve in the Lebanese Army, which before the currency collapsed offered one of the few paths to a decent paycheck.
But Salah Eddine, the second from the youngest of nine children, had taken a different path. The 21-year-old worked with his older brother as a truck driver, moving goods around Lebanon. His ready laugh and generosity made him a favorite wherever he went.
"All the guys from here to Hermel, to the Bekaa to Beddawi, they were all his friends," recalled Salah Eddine's father, Mohammad.
On the evening of March 31, Salah Eddine was driving a friend to Hermel after they had spent the day in Fneideq. On an empty stretch of mountain road in an area known as Joz al-Durah, someone fired four shots at the car, hitting Salah Eddine in the head and killing him.
The shooter did not approach the car or attempt to rob its occupants. No one claimed responsibility for the crime. The investigation by security forces has so far turned up no leads — at least none they were willing to publicly disclose.
Salah Eddine's cousin, also named Ali Salah Eddine, a community activist who runs youth programs in Fneideq, told L'Orient Today, "Ali never made a problem with anyone for something like this to happen to him. He was loved by the other young guys — he had a lot of friends in the village."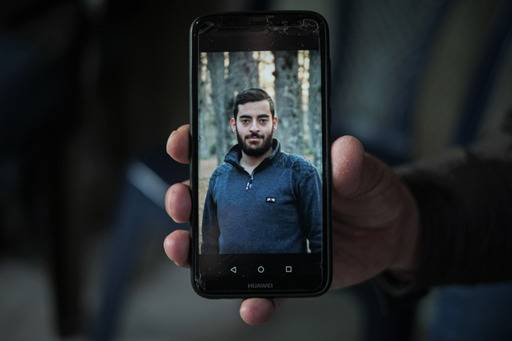 Relatives describe Ali Salah Eddine as a young man who loved life. (Credit: João Sousa/L'Orient Today)
That was clear from his funeral procession, videos of which showed a mountain road packed with young men firing guns into the air.
"He was a young guy who loved life," his cousin said. "It's a shame that at this age he would be killed in such a horrible way."
No man's land
The mountains of Akkar have always been something of a no man's land. After the outbreak of the war in Syria, they became a recruiting ground for extremist groups both in Lebanon and Syria.
In 2014, two Lebanese soldiers were killed when gunmen opened fire on their patrol in the Qammoua area near Fneideq; a nephew of the town's then-mayor was identified as one of the culprits. The following year, the same former mayor's son was killed in Iraq while fighting alongside Daesh, also known as the Islamic State or ISIS.
In other cases, personal feuds have erupted into gunfire.
"There have been crimes before where there was a dispute over land, over women, over something," Mohammad Salah Eddine said. "There have been a lot of crimes, but not like this crime that is hidden and unknown who is the killer, and Ali didn't have enemies or anything — this is the problem."
The investigation largely hinges on phone records that should show who was passing through the remote area at the time of Salah Eddine's death, the family said. They have criticized the security forces for being slow to solve the crime or to release information.
In a statement released one month after the killing, the family wrote, "We hold the agencies responsible for the investigation responsible for delaying revealing the truth, and we demand that they expedite the completion of the file and reveal the whole truth," and offered a reward of LL100 million to anyone who provided information leading to the perpetrator.
An Internal Security Forces source would only say "the crime is under investigation." The army did not respond to a request for comment on the case.
The Hermel connection
Salah Eddine's killing had the potential to create an explosive situation because of the presence of his friend, a member of the Jaafar clan from Hermel, in the car with him when he died.
Fneideq is a Sunni town, while the Jaafars are a powerful Shiite family. The clan is known for sending fighters into Syria to support the forces of President Bashar al-Assad, for its occasional bloody clashes with rival Shiite clans and with security forces, and for its alleged role in the drug trade and cross-border smuggling operations.
MP Walid Baarini (Future bloc/Akkar) told L'Orient Today that the murder could have inflamed sectarian tensions between Sunni and Shiite communities.
Had there been any indication that the Jaafars were responsible for Salah Eddine's death, he said, "you would have seen the area up there [in Fneideq] going up in flames." But, he said, the young man from the Jaafar family who was with Salah Eddine when he died "came and attended the burial and has been sharing with us and gave his statement to investigators and told everything he knew. There is nothing to indicate that this young man was part of any wrongdoing."
Mohammad Salah Eddine said that the young man, who was not harmed, had called Ali's brother to the scene as soon as the crime happened and had later come to pay his respects to the family.
The young man from the Jaafar clan could not be reached for comment. However, the head of clan, Mohammad Jaafar, told L'Orient Today, "Many people from our family knew [Salah Eddine]; there was trade between them, and a delegation from the Jaafar clan went to the funeral. … There is no problem between the Jaafar clan and the area of Fneideq — we are even together in our deprivation from state services."
Some of Salah Eddine's friends from the Jaafar clan went so far as to have a song recorded in his honor, with a video showing a montage of the young man smiling broadly, driving his truck, smoking an argileh with a friend, interspersed with crime scene footage, as the singer crooned, "From Hermel our tears poured down / Hurting just as Fneideq is … We didn't expect for this to happen / To lose your laugh so soon."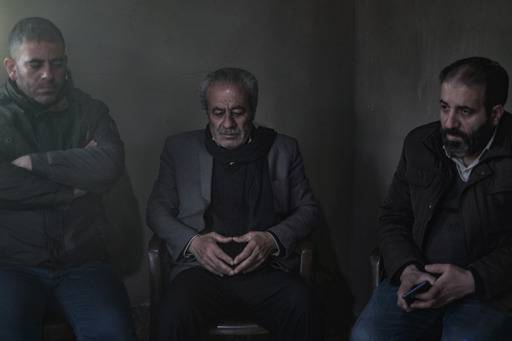 Mohammad Salah Eddine, center, is joined by other men in the village as he speaks about his son. (Credit: João Sousa/L'Orient Today)
One of the men who had commissioned the video, Hazem Jaafar, said he had been introduced to Salah Eddine just one day before his death. The two of them had gone to Tripoli together, where Salah Eddine helped Jaafar search for a truck to buy.
"It's the first time I spent a day with someone where I laughed so much," Jaafar said. "When they told me that 24 hours after that he was killed, I didn't believe it, I was shocked."
Mohammad Jaafar offered up the theory that Salah Eddine might have been targeted deliberately to create sectarian strife.
"We are afraid that there might be some apparatus that wants to sow discord in this area ... and might have an interest in creating sectarian problems between the Sunnis and Shiites," he said. "But God willing, no one is able to accomplish this because the people are aware and we have lived together for many years."
He noted that two young men from the Jaafar clan had also been shot and killed under mysterious circumstances in January.
At the time of L'Orient Today's interview with Mohammad Jaafar, that crime was still unsolved. However, on Monday the Lebanese Army announced that Army Intelligence had arrested three suspects in the murder, including a soldier and an army corporal.

The shooting had allegedly taken place when the victims — one of whom was also a soldier — interrupted the suspects in the process of stealing an electrical transformer and wire, the army said in a statement, noting that the suspects had confessed to carrying out multiple recent thefts in the Fneideq and Hermel areas.
Local sources said the suspects were from Fneideq. Baarini issued a statement saying that he and other political and religious leaders from Fneideq and Akkar had met to denounce the crime and affirm their "commitment to the rule of good neighborliness … with everyone, especially the Jaafar family."
However, it was not clear if the crime was connected with the killing of Ali Salah Eddine.
Economic desperation and smuggling operations
The mayor of Fneideq, Samih Abdel Hay, told L'Orient Today that the economic situation in the area had been grim long before the current crisis.
"Akkar essentially is an area and a governorate that has been denied its most basic rights," he said. "The livelihood situation is very bad and the unemployment was 35, 40, 50 percent before [the crisis] and now it has risen to 70 or 80 percent."
And for those lucky enough to have work, he added, "His wages don't rise to $100."
The economic pressure, Abdel Hay alleged, had led many "young men like Ali Salah Eddine" to the smuggling trade.
"Currently because of poverty and hunger, when I am going around on the main street, in front of my eyes as the mayor of this town, pickups are smuggling flour and diesel and gasoline and all kinds of subsidized goods," he said. "It's happening clearly in broad daylight, the matter. It's not happening in secret and difficult for someone to discover it."
There have been outbreaks of violence related to smuggling in Lebanon's border area. Last month, a young man was killed in the town of al-Qasr in Hermel, reportedly amid a shootout between smugglers. In November, also in al-Qasr, clashes broke out between members of the Jaafar and Nassereddine families, allegedly also due to a dispute over smuggling operations.
Abdel Hay suggested that smuggling could also have played a role in Salah Eddine's death.
"The young man in general didn't have any personal problems with anyone. But given the smuggling that is happening and the large amount of it that is present, perhaps this is the reason," he told L'Orient Today, adding that Salah Eddine might have been targeted by mistake.
Asked about the potential that Salah Eddine had been involved or suspected of involvement in smuggling and was targeted as a result, Mohammad Jaafar emphatically denied the suggestion.
"With regards to smuggling, I don't believe there is a 1 percent chance," he said. "With regards to Ali, there is no suspicion of this matter."
Salah Eddine's cousin, Ali, was more circumspect: "He wasn't in a smuggling truck [when he was killed]. He was in a regular car. … Was the reason his work? I don't know if he was killed because of his work or for other reasons. No one knows."
Likewise, when asked if the shooter may have meant to target the passenger and not Ali Salah Eddine, Mohammed Jaafar dismissed the possibility.
"No, if they had wanted to kill him, they would have killed him," he said. "The one who fired the shots was someone with training. … The matter is still mysterious and we ask the security forces to discover what is going on and put the area at ease."
Abdel Hay also speculated that the killer's intended target might have been Salah Eddine's older brother. In fact, family members said that originally, Ali's brother had been meant to take their friend home, but because he was tired, Ali had offered to take his place.
But for now, the speculations remain just that.
"Everyone wants to know why it happened," Baarini said. "If there's a specific reason, we can relax a bit. … Because the reason is unknown, everyone is worried — no one feels comfortable."
Abdel Hay, for his part, said Salah Eddine's killing is a symptom of the wider social disorder and neglect in north Lebanon.
"Every day we have a crime like the one that happened to Ali, and the biggest crime is the injustice against the people and the widespread corruption and the chaos that is present and lack of respect for the law," he said.
This article has been updated to include information released on Monday regarding arrests made in relation to the killing of two members of the Jaafar clan in January.


FNEIDEQ, Akkar — Ali Salah Eddine grew up in Fneideq, a village high up in the mountains of Akkar, surrounded by apple orchards like the ones his father owned.As poor as it is picturesque, Fneideq is known for sending many of its sons to serve in the Lebanese Army, which before the currency collapsed offered one of the few paths to a decent paycheck. But Salah Eddine, the second from the...