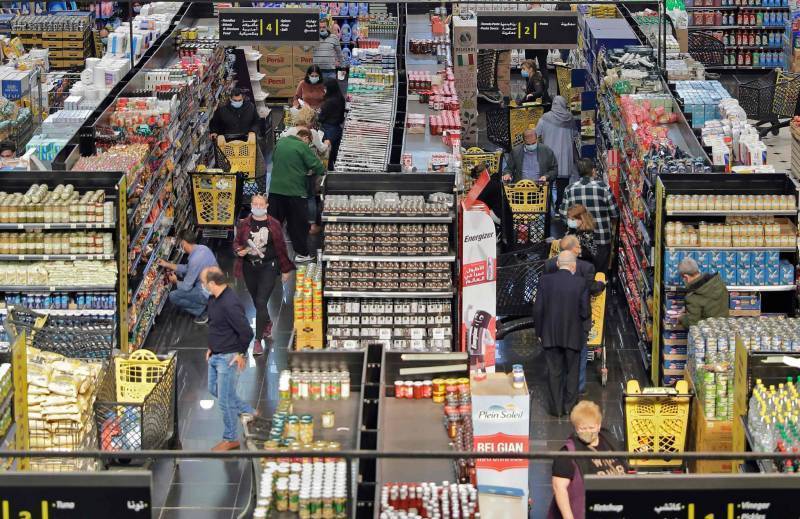 BEIRUT — Dollar payments from Banque du Liban that are needed to import basic goods are allegedly being delayed by months — which could be the latest indication that the central bank's subsidy programs may no longer be sustainable amid Lebanon's liquidity crunch.
Two importers told L'Orient Today that the central bank owes them millions of dollars for subsidized-food import invoices that were approved by both BDL and the Economy Ministry and paid for in lira by the importers two to three months ago.
One major food importer, speaking on condition of anonymity due to business concerns, said that for some $3 million he had invoiced the central bank for in early March, "BDL has only provided around $100,000."
Paul El Kallassi of the El Kallassi Group, a major importer of dairy products, said he is still waiting for the central bank to honor about $2 million in invoices he paid for to the central bank in February.
"Members of the Syndicate of Food Importers have been facing two-to-three-month delays before receiving subsidized dollars," the syndicate's head, Hani Bohsali, told L'Orient Today.
Bohsali spoke as head of the syndicate, not as an importer.
Although information on subsidized transactions is not publicly available, Halim Berti, a BDL spokesperson, denied that there were delays in dollar payments to importers, telling L'Orient Today that many importers have received subsidized dollars, while others "should wait for their turn."
But based on informal discussions with syndicate members, Bohsali said he estimates that the central bank may owe importers as much as $10–20 million for subsidized-food import invoices.
"The trend is clear: There are delays," Bohsali said.
'No longer present'
Under BDL's subsidy program, importers of basic goods have to provide the Economy Ministry and the central bank with a copy of all documents related to the import of any commodities included on a subsidized food basket list. Once BDL approves their import request, merchants deposit the value of their invoices in lira at a preferential exchange rate of LL3,900 to the greenback to receive dollars that they can use to pay the products' foreign suppliers.
The current subsidies program has been in place since May of last year, when Economy Minister Raoul Nehme launched a subsidized food basket to help stabilize the prices of certain items amid an economic crisis that at the time had been ongoing for almost a year. Nehme's subsidies apply to about 300 imported products — including cashew nuts and cranberries, and some raw materials for manufacturing and agricultural production.
The program enables importers to access dollars for less than they would pay to buy them at the parallel market rate, which currently trades at about LL12,000 to the dollar. The official lira-to-dollar exchange rate remains LL1,507.5 to the greenback.
When the program first launched, importers received the needed dollars from BDL within two to three weeks of applying for them. Now, however, the central bank's ability and willingness to cover these imports using its dwindling foreign currency reserves has been called into question.
Earlier this month, caretaker Finance Minister Ghazi Wazni said the country may run out of money to fund basic imports next month.
Now, "two months have passed, and BDL has only covered a trivial amount," said the food importer who spoke on condition of anonymity.
With subsidized dollar payments lagging, importers say they have resorted to relying on their own resources to fund imports, bridging the gap as they wait for BDL to pay up.
"I sold tons of goods at the subsidized price last month, which I purchased using my own fresh dollars, and BDL hasn't paid me yet," the importer said. BDL collected the lira equivalent in March and issued a transfer order, but has not executed it yet, he added.
"I am losing my cash lira and not receiving any dollars," the merchant said, adding that he has stopped selling subsidized foodstuffs as a result.
"The food basket program is technically present, but in reality it's no longer present," the importer said.
Running out of dough
Since its launch, the food basket has been widely criticized, especially as it has not achieved its intended goal: reducing commodity prices.
Even Nehme has tweeted that since his ministry began subsidizing commodities, some of those commodities' prices have doubled rather than decreased, saying he would no longer agree to subsidize some products as it constituted a "waste of public funds."
The goal of the basket of necessities was to offer protection to some domestic industries and prevent the cost of living rising by supplying "cheaper" foreign currency to secure essential consumer goods. But by March, year-over-year, the cost of food and non-alcoholic beverages had soared by 395 percent, according to data from the Central Administration of Statistics, a government agency.
Nehme also noted that subsidized goods imported to Lebanon were later seen on the shelves of grocery shops abroad, indicating that importers had later resold the goods abroad as they can fetch higher prices outside Lebanon. However, he highlighted that ending the food basket program would cause prices to skyrocket, which would have dire consequences for food security in a country where about 55 percent of people are already thought to live below the poverty line.
As bills rack up, foreign suppliers are asking to be paid before they export their goods to Lebanon.
Although some foreign suppliers still accept getting paid a month or two after delivering an order, they have very much curtailed the credit lines offered to Lebanese importers, Bohsali said. Suppliers generally now offer such delayed payment terms on one shipment of goods at a time, requiring that payments on any further orders be made in full before they are dispatched, he added.
As importers have to resort to the parallel market to pay their bills and keep their businesses going — which has regularly been the case since the end of 2019 — the delayed payments can result in having to temporarily put forward quadruple the subsidized amount of cash lira. The central bank reimburses them in dollars at a later stage.
"The program is now costing some importers four times the subsidized price in lira," Bohsali said. First they have to deposit cash lira at commercial banks at LL3,900, which would be transferred to a BDL account. Then they have to buy cash dollars at the market rate — currently more than three times the subsidized rate — to settle their bills as they await BDL's payment.
As a result, businesses face liquidity problems as they overspend to secure shipments, depleting their cash reserves and potentially creating short-term cash-flow difficulties that impair their ability to pay other bills that fall due.
Therefore, many merchants eligible to receive subsidized dollars have decided to import their products at the market exchange rate without even registering for subsidized dollars, according to both Bohsali and the food importer.
Central bank representatives have lately twice assured food importers that the bank will cover the previously approved imports even if subsidies are ended, the importer said.
"A chief at a bankrupt central bank is giving us assurance," the food importer said, highlighting that he fears losing billions of lira deposited at BDL.
His concerns were echoed by Kallassi, who fears that his workplace may risk going bankrupt if BDL does not settle the approved dollars.
"If the central bank does not pay, we are out of business," Kallassi said.

BEIRUT — Dollar payments from Banque du Liban that are needed to import basic goods are allegedly being delayed by months — which could be the latest indication that the central bank's subsidy programs may no longer be sustainable amid Lebanon's liquidity crunch.Two importers told L'Orient Today that the central bank owes them millions of dollars for subsidized-food import invoices...