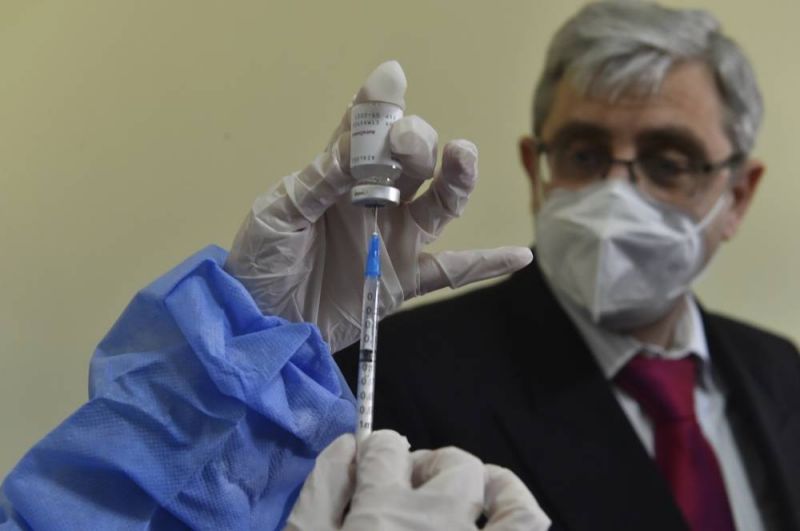 BEIRUT — Each day, hundreds of people fail to show up to their appointment to receive a COVID-19 vaccine. Last week, 26,699 doses of the vaccine were administered, but 3,447 people missed their slot, according to the Central Inspection Bureau, the government's auditing body.
While missed appointments are to be expected in any inoculation drive, reports from hospitals over the last week indicate that mounting concerns over the side effects of the AstraZeneca vaccine are causing people to actively decide against being vaccinated.
This is a blow to Lebanon's vaccination rollout, which is already running slowly. Since the start of the campaign nearly two months ago, fewer than 100,000 people have been fully vaccinated against COVID-19. The threat of coronavirus remains high, with daily case counts hovering around 3,000 and positivity rates averaging 17 percent.
A tale of two vaccines
The Health Ministry's vaccination campaign uses two vaccines — Pfizer-BioNTech and AstraZeneca.
It has been nearly two weeks since hospitals began administering the AstraZeneca COVID-19 vaccine, but many are facing problems with vaccine hesitancy, leading to large numbers of no-shows.
This reflects a pattern being seen across Europe, where large numbers of missed appointments have been recorded amid confusion over reports of rare side effects and chaotic to-and-froing over vaccine guidelines.
On Wednesday, the European Medicines Agency confirmed that unusual blood clots are a "very rare side effect" of the AstraZeneca vaccine. The likelihood of a blood clot occurring is extremely low, the agency stressed, with 169 cases reported among 34 million doses of the vaccine administered in Europe. This equates to around one in 200,000 or 0.0004 percent.
While the EMA held back on recommending age restrictions for recipients of the AstraZeneca shot, European countries have introduced their own limits. In the UK, the vaccine is now restricted to over 30s, in Belgium to over 55s and in Italy to over 60s.
In Lebanon, the AstraZeneca vaccine is currently being administered to those aged between 55 and 64 and public sector workers, according to the Health Ministry's most recent inoculation plan.
Rafik Hariri University Hospital, the country's lead coronavirus center and one of the largest vaccination sites, is facing significant numbers of no-shows, according to Oussaima El Dbouni, an infectious disease specialist and the director of the vaccination center.
"When we call to ask why they did not come, people say they do not trust the AstraZeneca vaccine or are scared of the side effects," she said. "This is very bad news for us, as we need to have more people vaccinated and more people protected."
On Thursday, only 200 people turned up for AstraZeneca vaccination appointments, while the center has the capacity to administer around 500 doses per day, she said. RHUH's director, Firass Abiad, tweeted that 30 percent of people missed their appointments on Wednesday, most of whom cited safety concerns.
"We need to think about the risk-benefit here," Dbouni said, adding that the risks of complications or death from COVID-19 are far higher than those of suffering a blood clot from the vaccine.
At Bellevue Medical Center in Metn's Mansourieh, which only administers the AstraZeneca vaccine, an average of 10 percent of people are not attending their appointments, according to Rana Chedid, the hospital's associate executive manager and focal person for the vaccination rollout.
"It's mainly because of the news coming out of Europe," Chedid said. "They are worried about these side effects."
Abdul-Rahman Bizri, the head of the COVID-19 vaccination committee, told our sister publication L'Orient-Le Jour that his team was working on gathering vaccination centers' data on no-shows to assess the extent of the problem.
If the committee identifies a trend, he said, "we will take steps to help people overcome their hesitancy."
For the Pfizer-BioNTech vaccine however, which hospitals began administering on Feb. 14, only limited numbers of people have been skipping their appointments, according to health care officials.
"In every system, there is always a no-show rate," said Petra Khoury, the head of the National COVID-19 Vaccine Executive Committee. "With Pfizer, we haven't really had a problem."
Between March 22 and 26, before AstraZeneca entered the vaccination rollout, 2,497 people did not attend their scheduled appointment, according to the Central Inspection Bureau. In that week, 18,672 vaccine doses were administered in total.
Unlike with AstraZeneca, there does not appear to be a strong link between people missing their appointments for the Pfizer-BioNTech vaccine and concerns over its safety.
"The reasons for Pfizer no-shows are really well explained and not due to vaccine hesitancy," Dbouni said, adding that when those who did not make their appointment are contacted, most say they either had to change their plans, decided to visit another vaccine center or have caught the virus. The Health Ministry's guidelines say that people should wait around six months after recovering from COVID-19 before getting the shot.
Of the missed vaccine appointments recorded by the Central Inspection Bureau between March 22 and 26, around half were for second doses of the vaccine. One potential reason for people not attending their second appointment may be challenges reaching the vaccination center — especially for older people with mobility issues.
"Many people in our governorate are living in very remote areas and they struggle to move around," said Racha Hyar, a nurse working in the vaccination center at Abdullah Al Rassi Governmental Hospital in Halba — the only vaccine site in Akkar.
"Once, when I told an elderly woman she had to come back for her second dose, she burst into tears," she said. "She told me she spent LL100,000 on a taxi to get here and didn't know if she could afford to do it again."
Leftover doses
Regardless of what motivates people not to show up for their appointment, vaccination centers are faced with the same problem — what to do with leftover doses of the vaccine?
Both the AstraZeneca and Pfizer COVID-19 vaccines have only a limited lifespan and must be used within a short time frame.
Once opened, 10-dose vials of AstraZeneca can last up to 48 hours in the fridge, while Pfizer's six-dose vials can only last about six hours. In order to avoid precious doses going to waste, hospitals must find people to be vaccinated, fast.
However, there is currently no standardized policy for how extra doses are dealt with, so each hospital has its own slightly different method of distributing them, according to those L'Orient Today spoke with.
"Everyone has their own strategy for using these extra doses," said Georges Ghanem, the medical director of the Lebanese American University Medical Center-Rizk Hospital, "this is one of the weakest points of the vaccination campaign."
Khoury admitted that the absence of a clear unified strategy on dealing with these doses was "a gap" her committee had identified in the rollout of the vaccinations.
"We are developing a system to improve the process and ensure vaccine equity," she said. "It is not yet finalized, we are working on launching in the coming week."
At the public hospital in Halba, staff call up people scheduled to be vaccinated the next day and ask if they can come in, Hyar said. "Though unfortunately, this means we have to work really long hours, especially if people are coming from far away."
Hyar is one of a four-member team of nurses that administers around 250 vaccine doses per day, working from 7:30 a.m. to 3 p.m.
On one occasion, she said, staff worked until 7 p.m. after they received a call from the Health Ministry telling them that they would have to use that day's extra doses to vaccinate members of the Lebanese Red Cross, some of whom were traveling from a center in Batroun — a 60 km drive away.
At RHUH, vaccinators either call up people scheduled for the next day or bring in members of staff who have not yet received the vaccine. If there are leftover doses at LAUMC-RH, they are given to staff, members of the Lebanese Red Cross, elderly people accompanying family members to their vaccine appointments or to other hospitals facing shortages.
At the end of each week, hospitals give the data of anyone vaccinated outside the usual appointment system to the Health Ministry to ensure that all the inoculations are logged on the centralized Impact platform. They should then receive an automatic invite for their second dose around three weeks later.
The absence of clear guidelines over how to handle excess doses and leaving hospitals to create their own strategy is an undemocratic way to allocate these extra doses, Ghanem said.
"We are calling for an official policy with some rules and regulations," he said. "This is the fairest way."

BEIRUT — Each day, hundreds of people fail to show up to their appointment to receive a COVID-19 vaccine. Last week, 26,699 doses of the vaccine were administered, but 3,447 people missed their slot, according to the Central Inspection Bureau, the government's auditing body.While missed appointments are to be expected in any inoculation drive, reports from hospitals over the last week...