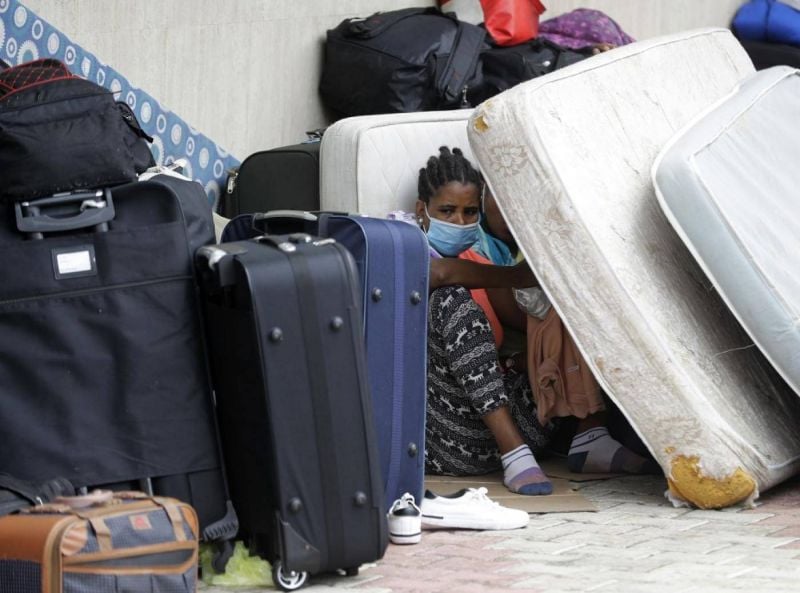 BEIRUT — For nearly a year, Khaled and his two young daughters have been without a home, after he lost his job as a tutor and was unable to keep up with rent payments.
Since then, the small Syrian refugee family has been bouncing between friends and family across the country, spending a few nights at a time in any given location before moving on.
"We are really struggling — we are essentially homeless," he told L'Orient Today. "Our loved ones are looking out for us, but many of them are in a difficult economic situation too."
Khaled and his daughters, Mariam and Amal, have even spent weeks sleeping alongside dozens of other refugees in front of the headquarters of the United Nations refugee agency (UNHCR) in Beirut, in protest of deteriorating living conditions and a lack of assistance.
Amid dire economic circumstances and repeated COVID-19 lockdowns, stories like Khaled's are becoming more and more common, according to research by the Public Works Studio's Housing Monitor and the Anti Racism Movement (ARM) published in December.
"The level of suffering related to housing is huge, but is it invisible," said Nadine Bekdache, an urbanist and graphic designer at the Public Works Studio and a co-author of the report.
And it is the most vulnerable populations, such as migrant workers and refugees, who have been hit hardest by increasing housing insecurity.
More than 80 percent of cases of housing vulnerability reported to the Housing Monitor at the end of 2020 were among non-Lebanese residents, according to a recent brief. Among the total cases, 78 percent were unable to afford their rents, and 81 percent had been threatened with direct eviction.
While almost no one has escaped Lebanon's crushing economic and financial crisis, these groups have suffered disproportionately, as they often have limited access to stable employment or depend on daily earnings.
The joint report published in December took an in-depth look at 145 cases of housing insecurity affecting migrant workers and refugees first received by ARM and the Housing Monitor in April, May and June 2020.
The tenants came from nine countries — Sudan, Syria, Ethiopia, Sierra Leone, Nigeria, Sri Lanka, Kenya, Ghana and Bangladesh.
Ninety percent of them had been asked to vacate their homes after being unable to pay rent, while the remaining 10 percent contacted the Housing Monitor and ARM out of fear that they would be evicted in future. Almost half reported that they had been unable to pay their rent even before the first lockdown in March 2020.
Their rent agreements were largely unofficial: 95 percent had no written deed or contract acknowledging their right to live in the accommodation, leaving them with even less legal protection. This was the case for Khaled, too.
"Informality is the main way of accessing housing in Lebanon," Bekdache said. "There is no social housing policy and no system to ensure housing security."
Imbalance of power
Not only are refugees and migrant workers often subject to social stigma and discrimination, but they are also left vulnerable by their legal status.
While it is illegal to evict tenants without a court order and before three months' of non-payment, migrant workers and refugees are left vulnerable due to what Rim Trad, a housing officer at ARM, describes as an "imbalance of power."
When Khaled found himself unable to find tutoring work amid the economic downturn in late 2019, he quickly found himself unable to pay the LL400,000 rent for his small apartment in Shehim. After two months of late rent payments, he said his landlord evicted him at the end of February 2020, without warning or an official notice.
"I couldn't say no," Khaled said. "Even if I wanted to complain to the authorities, it would be no use. The law isn't on my side as a Syrian refugee."
Of the 145 people interviewed for the Housing Monitor-ARM report, 135 had no residency visas or expired work permits, meaning they are living in Lebanon "illegally" and are at risk of arrest or deportation.
In some cases, landlords threatened to report tenants to General Security — the government agency responsible for residency and visas — if they did not pay rent on time or failed to vacate the property.
Under the kafala, or sponsorship, system, through which migrant workers are employed, their legal status is connected to their employers and they have no legal protection under Lebanon's labor law.
"The system of modern-day slavery deprives them of their rights, making it much more difficult for migrants to report eviction threats to the authorities," Trad said.
When tenants resisted eviction, some landlords turned to aggressive tactics.
ARM and the Housing Monitor received multiple reports of violence, where migrant workers or refugees were locked up inside their accommodation, beaten up by "hired thugs" or threatened at gunpoint.
Profit over safety
In the capital, around 50 percent of residential property sits unoccupied, according to the Urban Lab at the American University of Beirut.
According to Joseph Zoughbi, who represents around 1,000 landlords as head of the Syndicate of Landlords, many have chosen to leave their apartments empty amid uncertainty over the future value of the Lebanese pound, and subsequently, their property.
The collapse of the economy, he said, has had a huge impact on those who rely on rent income to make ends meet.
"We need to take care of landlords too," he continued, "I'm not going to starve myself so someone else can live.'
Meanwhile, more than half of the people who spoke to ARM and the Housing Monitor said they shared cramped one-bedroom spaces with four or more others.
The state of the housing was often dire, with reports of rodent infestations, sewage smells, structural problems and a lack of sunlight.
"People have responded to the lack of housing policy by creating a lot of housing in bad conditions," Bekdache said.
The absence of proper formal controls on the rental market means that landlords are "freed from the burden of taking the necessary safety measures," the report said, describing "an obsession with multiplying profits over standards of safe and decent housing."
Predatory behaviour from landlords also emerged in the wake of the Beirut port explosion on Aug. 4, Bekdache said.
The blast rendered large swathes of the capital uninhabitable, forcing hundreds of thousands of people to relocate or find temporary housing elsewhere. Many of the residents of areas closest to the port, and therefore the worst affected, were poor Lebanese, Syrian refugees and migrant workers.
Now, as landlords begin to repair their properties in the hardest-hit areas, "real estate pressure" is rising, Bekdache said, and tenants are being threatened with eviction "on top of the suffering from the blast."
This is despite a law being passed in October prohibiting eviction from these areas for a year and sales of real estate for two years.
"We are noticing cases where a house is being repaired, and then the landlord is asking for higher rent for these renovated places — rent that the tenants can't afford," Trad said.
Since the 145 cases of housing vulnerability among refugees and migrants were first recorded last spring, needs have only increased.
The Anti Racism Monitor has now documented 323 cases of housing insecurity or eviction threats, Trad said, but there are up to 2,000 cases that have been recorded, but not yet followed up on.
"We're still receiving cases on the daily of migrant workers and refugees threatened with eviction," she continued. "The situation is certainly not getting better, as it's more difficult to find jobs and the crisis is getting deeper."

BEIRUT — For nearly a year, Khaled and his two young daughters have been without a home, after he lost his job as a tutor and was unable to keep up with rent payments.Since then, the small Syrian refugee family has been bouncing between friends and family across the country, spending a few nights at a time in any given location before moving on. "We are really struggling — we are...