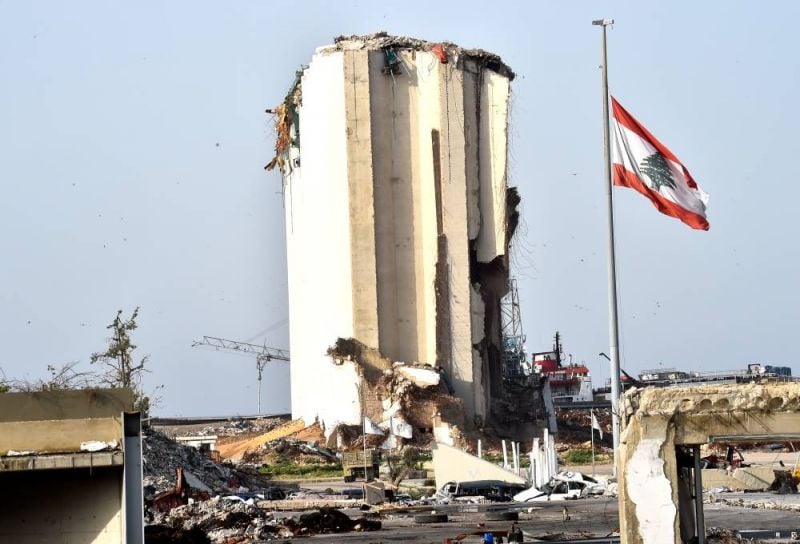 BEIRUT — Six months ago Nadine Mekdad watched in horror as her husband, speaking to her on a video call, sprinted away from warehouse 12 at Beirut's port. Behind him, she could see plumes of thick black smoke billowing from the hangar, a sight that sent chills up her spine.

"Nadine, you don't know what's happening here," Mekdad recalls her husband of 21 years screaming into the phone on Aug. 4, 2020, the last time she would ever speak to him. "He called me from the port. It was like he knew he had to say goodbye," she said.
The line disconnected. Less than a minute later, Mekdad felt a colossal explosion tear through Lebanon's capital. It would leave her husband and more than 200 other people dead in its wake.
Her husband, Tharwat Hoteit, 45, had been a firefighter at the Beirut port for 23 years. He was one of the first responders when the blaze started in the port warehouse, arriving on the scene just before a team of firefighters from Karantina's fire station who had been dispatched as backup.
"I was about four months pregnant at the time. We had been trying to have another child for 10 years. This was our dream," Mekdad, 41, told L'Orient Today.
Their baby boy was born healthy nearly one month ago. Mekdad named him Tharwat, after the father he will never meet.
"He has his eyes, his mouth, his nose, the way he looks at you. … Every time I see him I feel destroyed that he came into this world without his father," Mekdad said.
"It's impossible to imagine that in an instant, someone you love can disappear because of negligence," she added.
The explosion — one of the biggest non-nuclear blasts ever recorded — was caused by a fire that ignited 2,750 metric tons of ammonium nitrate haphazardly stored by authorities for six years in a port warehouse, mere meters away from residential areas. The blast left swaths of the capital destroyed and wounded over 6,000 people. Hundreds of thousands had their homes and businesses lost or heavily damaged.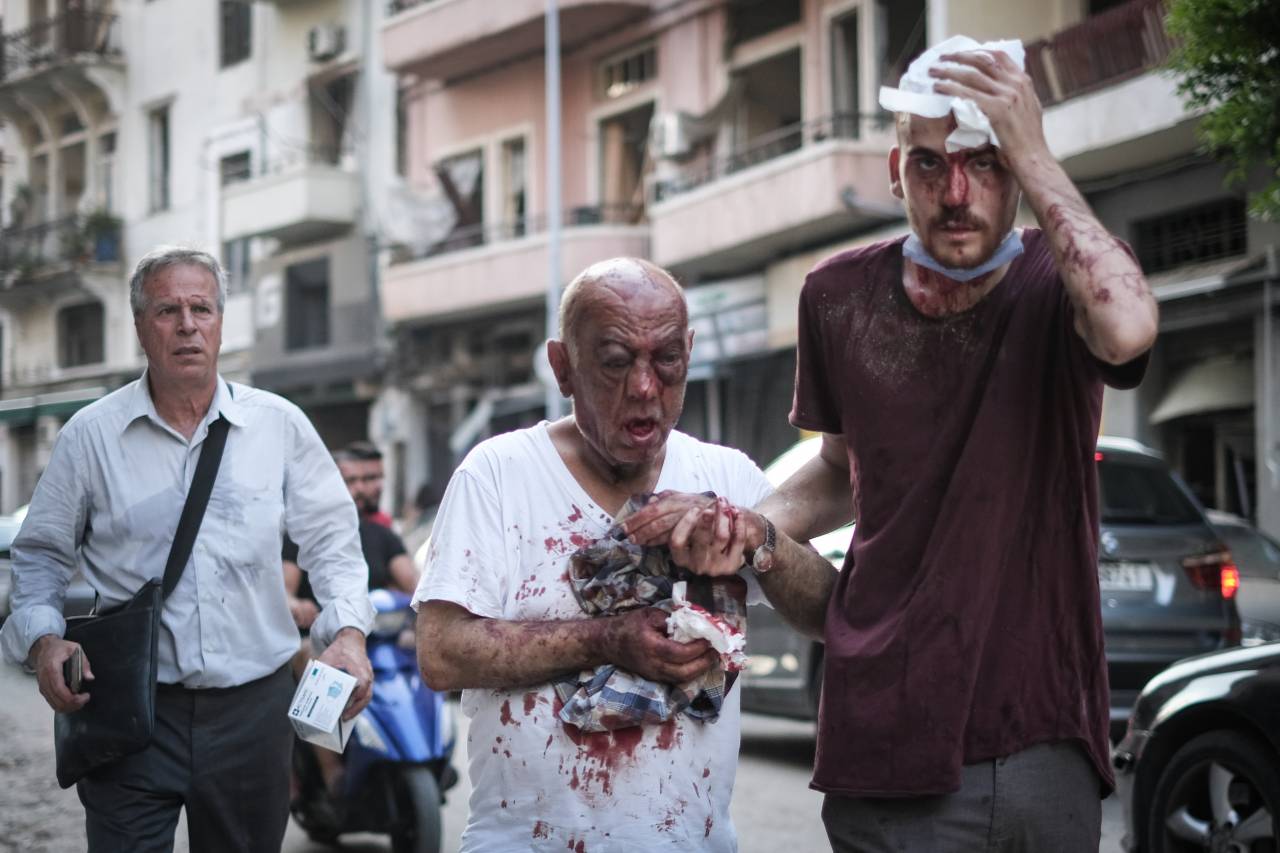 The blast caused chaos as thousands of wounded sought medical care for themselves and others. (Credit: João Sousa/L'Orient Today)
Six months later, Lebanese authorities have provided scant details to the public on a slow-moving and opaque investigation into the cause of the explosion. No one has been held accountable, despite ample evidence and documents showing that senior Lebanese political and security officials had known about the existence of the ammonium nitrate for years.

Angry residents consider the explosion and the negligence that led to it representative of the yearslong corruption and mismanagement by officials that have crippled the country.
"Tharwat had a beautiful voice. He loved to sing, especially about his country. He loved his country, and his country killed him," Mekdad said. "Whoever is responsible for killing him, I want them to die. I want them to be cut up the way that he was cut up."
Mekdad said that she does not have much hope that Lebanon's judicial system will give victims the answers they are looking for. "It has been six months and what have we seen? Nothing," she said. "They [officials] all knew something was there but they're all covering up for each other."
Stalled investigation
The domestic investigation into the explosion has been widely condemned by lawyers, victims and human rights organizations for its lack of transparency, due process violations and delays due to Lebanese politicians' interference.
The probe, headed by Investigative Judge Fadi Sawwan, has been stalled since Dec. 17, 2020, with no clear indication of when it will resume.
Sawwan suspended the probe after two former ministers he had charged with criminal negligence requested that the Court of Cassation in Beirut transfer the case to another judge. Hassan Diab, who had been in office as the country's prime minister for less than seven months at the time of the explosion, has also been indicted in the probe along with one other ex-minister. Diab, the highest ranking figure to be charged, refused to appear before Sawwan for questioning in December.
It remains unclear why Sawwan decided to indict these four men while three other individuals, including current Prime Minister-designate Saad Hariri, had held the premiership since the ammonium nitrate first arrived in Beirut in 2013.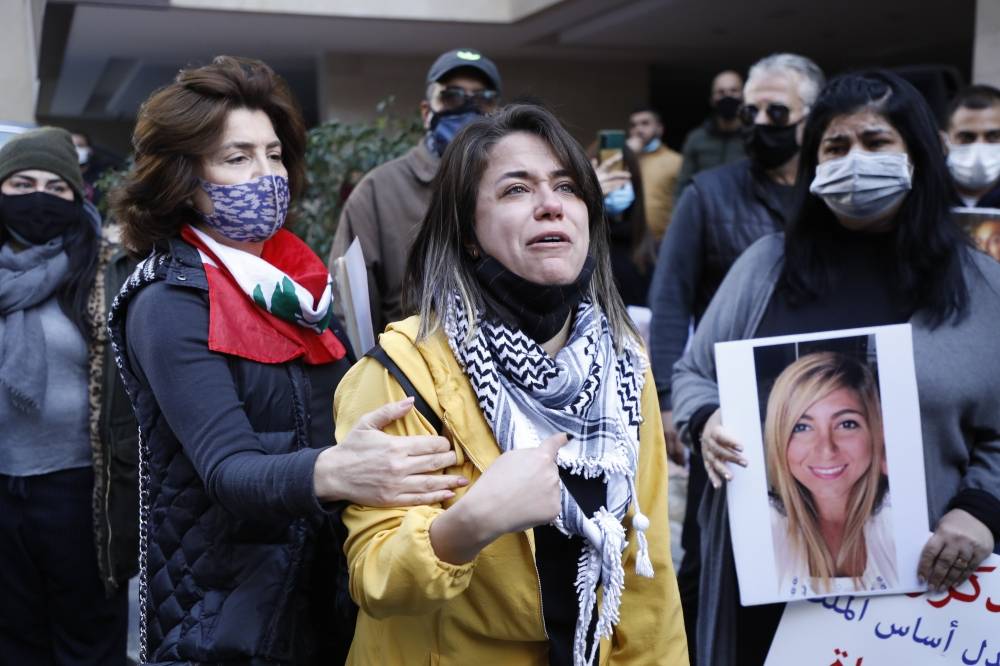 Families of the victims gathered on Tuesday to protest the stalled investigation into the explosion. (Credit: Marc Fayad)
Since Aug. 13, when Sawwan was named the lead investigating judge into the explosion, his work has been shrouded in secrecy. He has so far detained 25 people in relation to the blast, but they are mostly mid- to low-level customs, port and security officials. The details of each detainee's charges remain unknown.

"Four individuals' indictment is insufficient. We are looking at six months on a flawed investigation and it's unclear what the time frame is for progress," said Antonia Mulvey, executive director of Legal Action Worldwide. The global legal advocacy group is advising over 1,000 victims of the Beirut port explosion, including families whose loved ones were killed.

"If we look at the history of what has happened … and who is responsible, it's not just four individuals. It's many more," Mulvey said.
Victims are calling for an independent and impartial fact-finding mission with international experts, which would not only establish the facts but also the circumstances and the root causes of the explosion, Mulvey explained. "The root causes will look at the endemic corruption. This has not happened in a vacuum and we need to establish the state's … responsibility in what has happened," she said.
'My son was murdered'
Sarah Copland, whose 2-year-old son Isaac was killed in the explosion, said she has not been contacted by a single Lebanese official since the tragedy.
At the time of the explosion, Isaac was having dinner in his highchair, which made him a "sitting target," she said. Copland, who was seven months pregnant at the time, was flung to the floor by the force of the blast, which shattered their windows and sent glass flying through the apartment.
In that moment, a shard of glass cut through Isaac's chest like a dagger.
With their son wrapped in a towel, Copland and her husband ran down to Charles Malek Street, where they managed to flag down a car amid the unfolding chaos and destruction following the explosion. A stranger drove them to Beirut's Rafik Hariri University Hospital where the doctors took Isaac away to treat him. Meanwhile, Copland was put in a wheelchair and taken to another part of the hospital so medical staff could monitor her unborn baby and stitch up her wounds from glass that had cut through her face and body.
"That was the last time I saw Isaac," she said.
Copland, who had been employed by the UN in Beirut, returned to Australia with her husband 10 days after the explosion. Six months later, Copland said she has not been able to fully accept that he is gone.
"Sometimes I wake up in the morning and the first thing I think of is to go and look for him. Then I remember he's not there, so I have to relive it over and over again, the realization that I'll never see him again," Copland said. "The loss is monumental."
Copland said that sights and sounds of broken glass and wind crashing against windows continue to give her flashbacks of the day Isaac died.
Her son Ethan, who was born just two and a half months after the blast, has given Copland and her husband a reason to keep pushing forward.
"It has been incredibly challenging trying to grieve for one son while needing to love and care for another," Copland said. "If I didn't have him [Ethan] to get out of bed for everyday and care for, I think I would be in a much worse place than I am now."
Copland is one of the thousands of victims working with LAW to seek justice and push for an independent investigation into what happened that day.
"Isaac was taken from us because of negligence and corruption. I believe my son was murdered," Copland said. "It was a man-made disaster that was completely avoidable. … I would like to see some sort of justice, but I don't know what that looks like yet."
When asked if she was hopeful, Copland said, "I'm not overly optimistic. But when I look at Isaac's picture, I have to say I did everything I could. That I at least tried [to find answers]. For him."
'If we don't have hope, we surrender'
Mariana Fodoulian, whose sister Gaia, 29, died after suffering a brain hemorrhage in the explosion, said the trauma she experienced on Aug. 4 still consumes her when she least expects it.
"I notice that on some days at 6 p.m. it comes back to me, around the same time the explosion happened," Fodoulian said.
Fodoulian, a 30-year-old veterinarian, had to manually pump her unconscious sister's oxygen in the back of an ambulance that was not staffed with a paramedic. Their mother was also present.
After the explosion, Fodoulian ran all the way from her work in Monot to Ashrafieh after her mom called her to say Gaia had been hurt. "Your sister is dying, call an ambulance," Fodoulian recalls her mom yelling frantically into the phone.
Once she reached the apartment, now destroyed, she found her sister knocked out on the floor with deep bruises under her eyes but no other visible injuries. Her mom was screaming next to her.
"We went from hospital to hospital, four in total. They told us they didn't have room," Fodoulian said.
Finally, they reached Aboujaoudé Hospital in Jal al-Dib. That was when Gaia started visibly losing blood. "Blood was coming out of her mouth and her ears," Fodoulian said.
Gaia died at the hospital shortly after.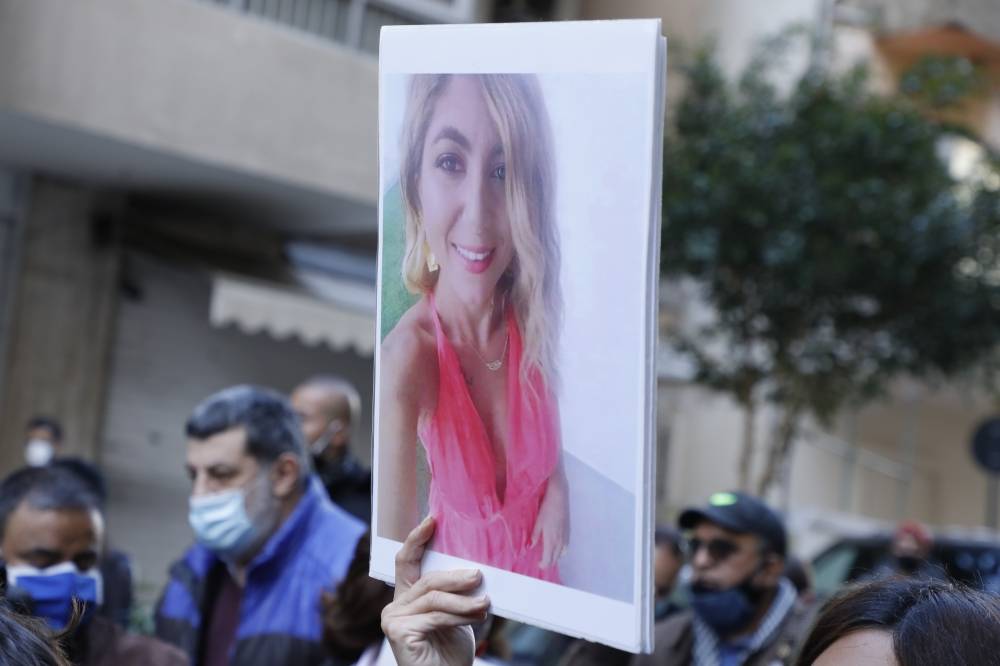 Gaia Fodoulian died from injuries sustained in the explosion. (Credit: Marc Fayad)
"I don't just blame the government, I blame the Lebanese people. We've gotten used to staying quiet. It feels like people are just living their lives normally as if nothing ever happened," Fodoulian said.

She said she still had hope that the victims and their families would find answers and justice.
"If we don't have hope, we surrender. If we stay silent now, next time, something worse will happen. Next time it will be someone else's sister."
Fodoulian's sentiments are echoed by Copland, who fears that the atrocities of Aug. 4 will fade in people's memories before justice is served.
"I'm very worried that people will forget, especially with everything else that is going on in the world, that they will move on and we'll never have answers or any accountability," Copland said.

BEIRUT — Six months ago Nadine Mekdad watched in horror as her husband, speaking to her on a video call, sprinted away from warehouse 12 at Beirut's port. Behind him, she could see plumes of thick black smoke billowing from the hangar, a sight that sent chills up her spine."Nadine, you don't know what's happening here," Mekdad recalls her husband of 21 years screaming into the phone...