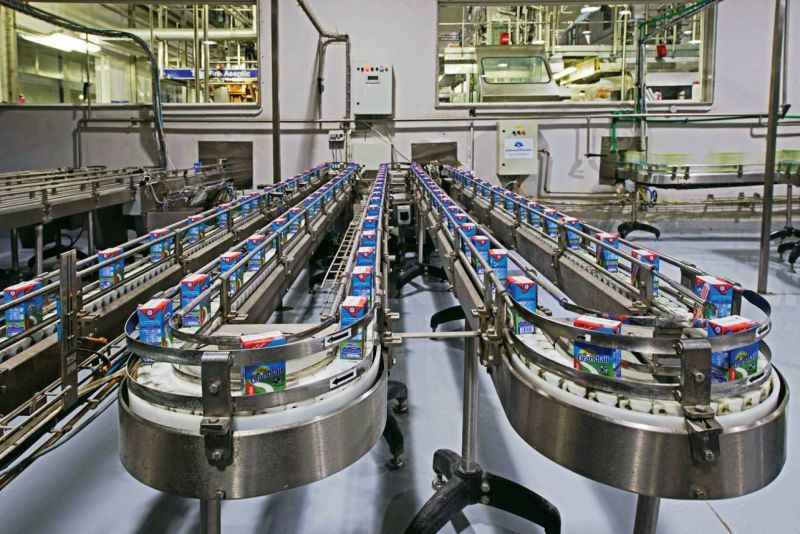 BEIRUT — While other countries have championed manufacturing and export industries as sources of ongoing revenue during successive lockdowns, Lebanon has shuttered them almost completely, putting the future of many of the country's industrialists in jeopardy.
Strict COVID-19 lockdown measures, which have shuttered all non-essential factories, will cost Lebanon some $320 million in export revenues as a result of a lack of operation over a six-week period, Paul Abi Nasr, a member of the Association of Lebanese Industrialists, told L'Orient Today.
"Not only are we not exporting, but we're not producing at the moment, so there will be a two-week delay before kick-starting exports again," Abi Nasr said.
Lebanon's total exports are estimated at between $2.5 and $2.7 billion per year, mostly from manufacturing, according to data from the World Bank.
In 2020, the sector accounted for around 13.3 percent of GDP, or $2.5 billion, while employing 20 percent of the local labor force, around 318,000 employees in 2018.
"We've been dealing with crisis after crisis for almost two years now; we're in survival mode," said Fady Gemayel, the head of the industrialists' association.
Twelve percent of firms already ceased their operations between October 2019 and January 2020, and one-third reduced their workforce by 60 percent on average, according to the latest figures from the World Bank.
Since Jan. 14, all non-essential factories have been shuttered as authorities scramble to contain an unprecedented coronavirus outbreak that has killed at least 1,141 people so far this month.
"First, most manufacturing jobs are on site and cannot be carried out remotely. Second, slowed economic activity has reduced demand for industrial and manufacturing products globally," Abi Nasr said, highlighting the importance of preserving what remains of the industry's output.
To make matters worse, many manufacturers are facing immense cash-flow liquidity challenges and difficulties in managing financial obligations, compounded by the banking crisis that has prevented them from making payments to suppliers both locally and abroad.
This has brought their supply chains to the brink of collapse.
"We, like many others, have obligations to suppliers of raw material, which have to be met regardless of lockdown," Abi Nasr said, adding that those who are committed to purchasing have to settle payments while not generating revenues.
"Factories bought raw materials to produce but couldn't, so they can't sell products to clients and then probably can't pay their supplier," he added.
Quantifying that across the market is difficult, he said, signaling however that the industry's level of elasticity has reached its limits.
"The longer we stay in lockdown the harder it becomes to absorb this shock," he noted, with most manufacturers currently operating at a loss given their running costs.
Lack of financing
To add insult to injury, industrialists, like the rest of Lebanese businesses, are faced with a complete cutoff of financing.
"In normal cases, you would have access to a financial system where you could take out a loan, and in the worst case you'd pay interest after sale," Abi Nasr said.
To pay for raw materials vital to the production cycle, industrialists must now count on returns either from the local market or through exports.
"Today, we have neither," he said.
"It is the perfect storm, we're bound to both export contracts and payment obligations," Abi Nasr added.
This sentiment was echoed by Gemayel, who noted Lebanon's transformation into a cash-based economy.
"Our cash flows are strained and acquiring raw material has become even harder," he said, adding that the central bank has only provided them with $16 million to cover the import of raw material. In May of last year, BDL vowed to provide up to $100 million to finance 90 percent of the value of raw materials imported by licensed industrial firms.
"The system has become as such: you bring in raw materials, transform them into a product, sell your product and get the money to reinvest in raw materials," said Abi Nasr.
If this chain is broken, there is no way to offset losses given a lack of financing, he explained.
"In a cash-based model, there is no room for error," he added.
The disruption of their supply chains, already in disarray in the wake of Lebanon's financial collapse, has put immense pressure on their ability to avoid the problem of raw material shortages, especially in the food, medical and pharmaceutical industries.
"The lack of output has reduced their income and employment while further harming their supply chains," said Nasser Saidi, a former Lebanese finance minister who is now a financial consultant based in Dubai.
Given the lack of any semblance of government intervention and support, the industry is staring down a bleak road to recovery.
"In the US, the government injected some $8 trillion to support businesses; the least they can do here is to let us operate," Abi Nasr said.
Without support, the industry may see some manufacturers struggle to recover — and even declare bankruptcy — depending on how robust and effective their contingency plans are and how long the COVID-19 lockdown lasts.
"A number of businesses will face extremely tough financial situations as they will need to write off almost two months of revenues," Abi Nasr said.
Shortages of essential goods
Even printing and packaging factories that are vital in the production cycle of medical and food supplies have been forced to cease operations, mounting concerns of shortages in the coming days.
On Tuesday, the government's website to request exemptions was amended to include industrialists, but Abi Nasr expressed skepticism as to whether any such exemptions will actually be granted.
"Pharma companies have enough packaging materials to last them until the end of the month," he told L'Orient Today.
These packaging products are vital to the production cycle, he said, signaling that shortages will also impact food producers.
"If the medicine manufacturers no longer have boxes, they cannot ship; if the agriculture sector is lacking packaging, they can no longer supply the market, and so on and so on," Abi Nasr said, adding that foodstuff factories are running on whatever raw materials they have left.
"At what point they run out of packaging material is anyone's guess," he noted.
With financial and monetary crises gripping Lebanon, businesses' ability to maintain imports has also taken a hit, which makes industrialists' role in today's economic climate all the more important.
"We've replaced imported products with locally manufactured alternatives," Gemayel said. "Instead of encouraging the sector, authorities are stifling it," he added.
Broad stroke measures aren't suited for Lebanon
Facing public pressure as cases mounted after loosening restrictions over the holiday period, authorities reverted back to band-aid solutions in a bid to avert a public health emergency.
"Even in France under a full lockdown during the so-called first wave, the manufacturing sector did not stop. You do not stop the entire economy, especially in a country like Lebanon, where the economic situation is dire," Joelle Abi Rached, a researcher in the politics of health at École Normale Supérieure and Sciences Po, told L'Orient Today.
This sentiment was echoed by both Abi Nasr and Gemayel, who highlighted France, the UK and Germany's insistence on maintaining manufacturing during successive lockdowns.
"Exports in those countries actually increased during lockdowns," Gemayel said, as countries jostled to mitigate the economic impact of COVID-19.
"My guess is that officials have deemed the economic situation in Lebanon unsalvageable, choosing instead to solely focus on the health front using the easiest method," Abi Nasr said.
With caretaker Premier Hassan Diab's government having one foot out the door, any economic recovery plan will fall on the shoulders of his successor, Saad Hariri, if the latter succeeds in forming a cabinet.
"The decision is unreasonable and came as a reaction to the health crisis," Gemayel noted.
According to Abi Nasr, factories are inherently controlled environments that are inaccessible to the public, which makes it unlikely that they would contribute to the spread of the virus.
"We took all precautionary measures and even offered to increase testing [in order to be permitted to remain open], but our calls fell on deaf ears," he said.
Lockdown ripple effect to impact the most vulnerable
With the COVID-19 pandemic coming on the heels of an unprecedented financial, economic and monetary crisis, the World Bank estimates that real GDP declined by 19.2 percent in 2020.
"The lockdown's impact on Lebanon will be far greater as it comes on top of other crises," Saidi told L'Orient Today.
Employment, output, and economic and social activity will all be impacted, he said, leading to a drop in consumption and, as a result, a drop in production.
The lack of a stimulus package to provide people with income will further exacerbate the problem, Saidi said, adding that the lack of a social safety net will increase inequality.
"In Lebanon's case, the lack of fiscal space and very high public debt and budget deficit ratios make it impossible to provide such [state] support to the private sector," said Sumru Altug, a professor of economics at the American University of Beirut.
This makes offsetting economic losses extremely hard, Saidi noted, warning of "the lockdown's highly regressive effect on the poor."
Given the lack of a social safety net, the lockdown measures have been increasingly met with resistance in Lebanon's most vulnerable areas, with tensions flaring between law enforcement and the sections of the population most adversely affected.
With most Lebanese living paycheck to paycheck, the implications could be catastrophic, both Saidi and Altug warned.
As January draws to a close, Abi Nasr asked, "What business will be able to pay the salaries of its employees next week?"

BEIRUT — While other countries have championed manufacturing and export industries as sources of ongoing revenue during successive lockdowns, Lebanon has shuttered them almost completely, putting the future of many of the country's industrialists in jeopardy.Strict COVID-19 lockdown measures, which have shuttered all non-essential factories, will cost Lebanon some $320 million in export...