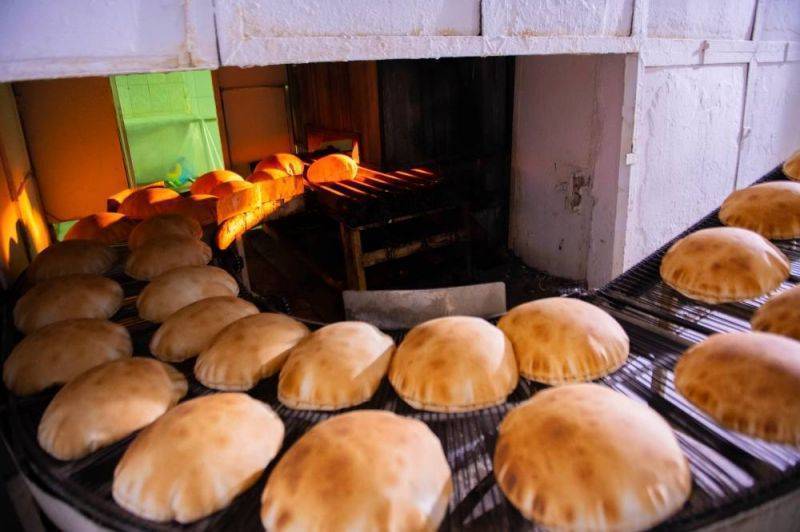 BEIRUT — Despite dire warnings over the future of subsidies for basic goods, Lebanon's leaders have presented few, if any, viable options for the day the money runs out — which could come as early as next month, according to officials.

Last week, caretaker Economy Minister Raoul Nehme sought to change that, presenting a subsidy reform proposal to radically overhaul the way Banque du Liban spends its remaining dollars.
With officials having run out the clock, Nehme warned that total economic and social meltdown await should the central bank stop subsidizing essential goods, telling the media that "BDL must continue providing enough fresh dollars until a new cabinet is formed and there is an IMF program."
It is becoming increasingly apparent that the only way to continue providing these dollars is to dip into the central bank's mandatory reserves, something BDL Gov. Riad Salameh has insisted he will not do, since these reserves belong to depositors. Moreover, neither a cabinet nor an IMF rescue package appears imminent, with negotiations stalled on both fronts.
BDL's dwindling dollars are being used to subsidize imports of wheat, fuel and medicine at an official peg of LL1507.5 to the dollar and foodstuffs, agricultural and industrial supplies at the privileged rate of LL3,900 to the dollar. If these facilities did not exist, importers would need to buy dollars from the market to pay suppliers abroad, a far more expensive option, now running over LL8,000 per greenback.
With the current system, Lebanon spends around $7 billion on subsidies per year, but this expenditure has ended up supporting the wealthiest more than the most vulnerable.
"The poor are currently subsidizing the rich," said Jamal Saghir, an economist and former director with the World Bank Group. "Money transfers to the most vulnerable would be more efficient and cheaper than price subsidies."
Members of Parliament have recently advocated implementing a social safety net, but for decades, successive governments have failed to provide Lebanese citizens with basic services and social protections.
Amid this array of challenges and demands, the economy minister is the first government official to present a subsidies plan that aims to support the most vulnerable. Yet his proposal faces enormous obstacles to implementation, experts said.
What's in the plan?
Aiming to cut dollar leakage by $3.1 billion per year, Nehme suggests shifting away from product "price support" and toward direct cash transfers to households.
The plan would end subsidies on wheat, gas, fuel, food items and other essentials but retain those on state electricity fuel imports and medicine, which cost around $2.3 billion per year.
Under the program, the government would transfer $50 each to Lebanese people over 23 years old and $25 each for "children" on a monthly basis during the first year. This support would aim to cover 70 to 80 percent of the Lebanese population.
For the second and third year, compensation would decrease to $40 for adults and $20 for children, and then to $30 and $15 during the fourth and fifth years.
Every Lebanese citizen residing in the country would be able to apply for the cash transfer subsidy. "The broad coverage approach involves identifying and excluding the wealthiest" quartile through "affluence testing" instead of identifying the poor, in order to cover all households in need, Nehme said.
The money would be loaded onto an electronic card or a mobile application provided to the "head of household." Beneficiaries would be able to spend their digital dollars in lira at the market exchange rate.
Lebanese would register for the program online or physically at LibanPost, mobile registration trucks, public offices or non-governmental organizations.
But with a lack of reliable data on how many people actually live in the country, the only "solution is to build a database from scratch" by collecting individuals' government ID numbers and their pictures, Nehme said.
The funds would be unconditional, meaning people could use the money to buy any type of goods they want, the minister said.
Although refugee poverty rates have skyrocketed, Nehme's proposal states that they "are double dipping from subsidies," pointing out that they receive international aid and benefit from the central bank's price subsidies.
Refugees therefore would not be included in the program. The plan indicates that the government would seek funding from the international community to finance a similar program for refugees, "thus bringing hard currency to the country."
The proposal contends that since all products would be priced at the market exchange rate, the plan's overall effect would be to lower the demand for imports and lead to a "substantial — almost complete — reduction in smuggling."
A family of five members, comprising two adults and three children below 23 years of age, would receive $175 per month, which amounts to around LL1,450,000 at the current market exchange rate — 2.15 times the minimum wage in Lebanon.
Due to the urgency of the matter, the minister seeks to implement the first phase in two to three months, expediting it ahead of the formation of a new cabinet if necessary.
Phases two and three of the plan assume the formation of a new cabinet that will apply various reforms and unlock an IMF rescue package, thus decreasing the proportion of citizens in need of financial support from around 80 percent to 30 percent over five years.
However, an IMF bailout remains a long way off. The last round of IMF talks came to an end after disputes over the scale of losses in the banking system. The government was reporting losses of LL186 trillion, a figure endorsed by the IMF, while banks, joined by members of Parliament's Finance and Budget Committee, said the losses are half that size.
Nehme's program will cost $1.46 billion its first year, but that figure is expected to decline year by year, reaching $330 million in the fifth year, as data is collected and the state becomes better equipped to identify those most in need, and as Lebanon's economy and its citizens' purchasing power improves.
To finance the program, the plan anticipates that the state will receive loans from the World Bank and grants from the EU and Germany totaling around $300 million, while the remaining cost will be covered by BDL's mandatory reserves and potential donors.
Too good to be true?
Removing subsidies would bring with it a cascade of serious risks, such as further currency deterioration, shortages of fuel and other necessities, the possibility that merchants will hoard products during the transition period, electricity blackouts since Électricité du Liban presently provides just 12 hours of power a day in most regions, and extreme increases in the cost of generator power as the cost of fuel soars.
When asked about these risks, Nehme agreed that his plan falls short.
But, he said, "we have no choice; the alternative is much worse. If we end or decrease the percentage in the current subsidy program, what happens to the dollar? Where will it reach? Where do we get the dollars from [if reserves are kept untouched]?"
Saghir told L'Orient Today that it is "too late to wake up on that issue," as the plan should have been implemented when caretaker Prime Minister Hassan Diab's cabinet was formed in January.
The central bank is running low on dollars, and Saghir contends that the potential intervention is being mooted for fiscal purposes only.
"Why suddenly wake up? It's because we do not have foreign currencies. They are not doing it to protect the poor, they are doing it for budgetary reasons," he said.
The UN agency ESCWA estimates around 55 percent of the population lives under the poverty line. Ending subsidies on necessities will at least quadruple their prices.
"A one-time adjustment of prices can yield immediate budget savings. However, in Lebanon we already have over 50 percent of the population living below the poverty line; imagine the impact a one-time price adjustment can have," Saghir said.
Saghir questioned the reasons behind "issuing a vision paper now, when the minister will likely not be involved in its implementation, as one of the prerequisites of [full implementation of] his plan is the formation of a new government, and later an IMF program."
He added, "If [Nehme] wants to start discussions, he should begin by talking to political leadership and Parliament directly."
MP Nicolas Nahas (Azm/Tripoli), a member of Parliament's Finance and Budget Committee, told L'Orient Today that the caretaker minister had not yet presented the plan to the committee.
Political barriers
Jean Tawile, an economist and an adviser under a former economy minister, said, "The proposal should be supported by a capital controls law, a comprehensive financial and economic plan that restructures the banking sector, unifies exchange rates, fairly distributes the losses and includes a social safety net program for it to succeed. We are not there."
Economically, "it's too late to implement the plan," he said.
Apart from that, he stressed the political constraints the proposal might encounter. First, it needs approval from the cabinet, and Diab insists on keeping the current subsidies program, Tawile said.
Then a law must be passed and the members of Parliament must approve a budget worth around LL2.2 trillion for the first year of the plan to cover the cash transfers.
"The law should be approved by Parliament, but political blocs will find various ways to obstruct it," Tawile said. Therefore, there is "no way for it to be implemented."
The subsidy plan collides with political interests, according to Tawile. "Some groups are benefiting from smuggling and monopolies," he said. "These groups are — directly or indirectly — related to politicians who do not have any interest in cutting their profits. Thus, they will obstruct the plan by all ways and means possible."
Another barrier is set by Salameh, BDL's governor, and his repeatedly expressed commitment to not using the central bank's $17 billion in required reserves.
But even if implemented, Nehme's plan will not solve the crisis as it does not tackle the roots of the financial collapse, Tawile said: "If you don't find a way to bring more foreign currency into the country, then you are not fixing anything."
At the end of his presentation unveiling the plan last week, Nehme was asked about his vision of Lebanon in the coming weeks under the present circumstances.
The minister offered no words.

BEIRUT — Despite dire warnings over the future of subsidies for basic goods, Lebanon's leaders have presented few, if any, viable options for the day the money runs out — which could come as early as next month, according to officials.Last week, caretaker Economy Minister Raoul Nehme sought to change that, presenting a subsidy reform proposal to radically overhaul the way Banque du Liban...