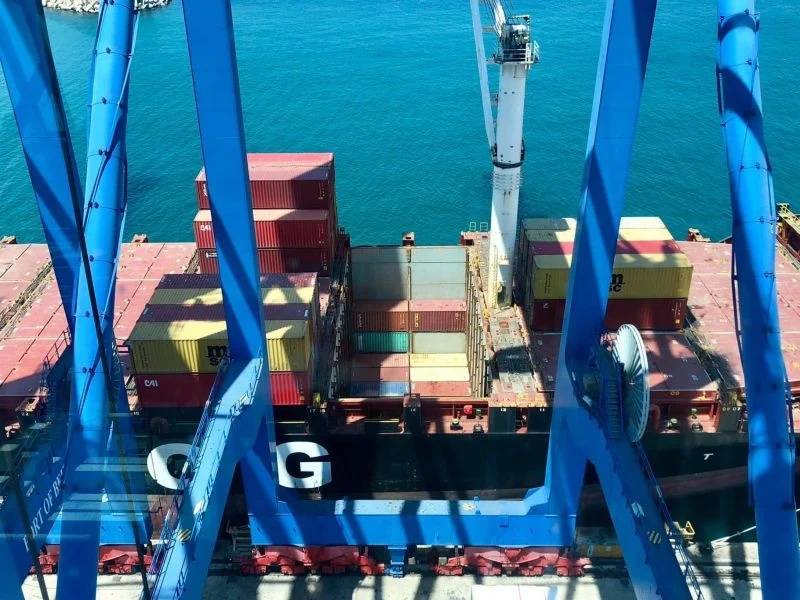 It is a rare occurrence for Lebanon to publish official figures within a reasonable time frame. The year 2023 has barely begun, and last year's customs statistics have already been released. In comparison, the figures for 2021 were not issued until April 2022.
But the good news ends here.
After three years of crisis, despite the collapse of the national currency, imports have returned to their pre-crisis level, while the trade deficit continues to widen in view of the fall in exports.
While global inflation and rising fuel prices in the wake of Russia's invasion of Ukraine have partly impacted this trend, at first glance these figures seem to defy logic in the crisis-ridden country.
Even more so in view of the depreciation of the Lebanese lira, which has lost nearly 97 percent of its value since the onset of the economic collapse, a phenomenon that would typically reduce imports by rendering them more expensive and increase exports by making them more affordable.
This is a reality that obviously depends on the economic structure of the country in question, and apparently it does not apply to Lebanon.
At $19.05 billion in 2022, imports rose by $5.41 billion in one year, an increase of 39.68 percent over 2021 ($13.64 billion) and 68.47 percent over 2020 ($11.31 billion), and are almost equivalent to the levels recorded over the last five years before the crisis.
On the export side, the trade balance shows a decline of nearly $395 million from the previous year, reaching $3.49 billion by the end of 2022, marking an annual decline of 10.16 percent.
This represents the lowest export level in four years. However, while it is lower than the results of 2010 to 2013, the best years in recent history in terms of Lebanese exports, it is still higher than that of the last five pre-crisis years.
Given this performance, the trade balance also returned to pre-crisis levels, with a deficit of $15.56 billion in 2022, up 59.53 percent from 2021.
But beyond these gloomy figures, the worsening trade balance also reveals certain trends in Lebanese consumption in 2022.
War, electricity and the customs dollar
First, the sharp increase in terms of imports is the result of significant increases in the import of three categories of products, which alone amount to $3.85 billion of imports in a year. This is not to mention an increase of $5.42 billion compared to 2020.
The first notable surge is in the 2022 fuel bill, which showed an increase of $1.7 billion dollars in just one year, or a 43.94 percent rise compared to 2021.
However, this does not mean that the Lebanese consumed more fuel in 2022. The extra expenditure resulted from soaring oil prices since the beginning of last year, with the average price of a barrel of Brent crude rising by 42.6 percent in 2022.
As a result, Lebanon imported the equivalent of $5.58 billion worth of hydrocarbons in 2022, the highest level since 2019 and well above the average of the last 10 years. Meanwhile, in reality, the country consumed 17.8 percent less fuel than in 2021 and 37.09 percent less than in 2020. During these two years, the crisis was already in full swing, but fuel imports were still fully or partially subsidized by the state.
Secondly, the Lebanese imported more than twice the value of machinery and electrical equipment last year compared to 2021, spending$1.18 billion in 2021 and $ 2.45 billion in 2022 (an increase of 107.86 percent).
This is mainly due to the accelerating trend of installing solar panels in a bid to overcome the frequent cuts in state electricity and high prices of private generator subscriptions amid the global explosion of fuel prices.
According to customs figures, the expenditure on solar panel imports increased by 642 percent in one year, while that on batteries, including those used in photovoltaic systems, rose by 214 percent over the same period.
When contacted by L'Orient-Le Jour, Pierre Khoury, president of the Lebanese Center for Energy Conservation (LCEC), an independent organization affiliated with the Ministry of Energy and Water, estimated through these figures that in 2022 "Lebanon imported enough photovoltaic material to produce the equivalent of 1,300 MW [of power]."
"Of course, a significant part will be stored, but we estimate that the equivalent of between 500 and 600 MW has been installed in 2022," he added.
This represents a significant upward revision compared to previous estimates by the LCEC, which had anticipated that Lebanon would install 250 MW of capacity in 2022.
Finally, the 78.12 percent increase, or $876.9 million, in vehicle imports in 2022 strongly impacted overall imports in 2022.
The increase in vehicle imports is broadly believed to be driven by the anticipation of higher customs duties at the end of the year, prompting some Lebanese to buy vehicles ahead of prices increasing further. Also, importers appear to have been keen to buy vehicles in larger quantities, even if they had to resell them later at higher prices.
Since December, the customs duties applicable to taxable goods entering Lebanon are calculated on the basis of an exchange rate of LL15,000 to the US dollar, instead of the previous official peg of LL1,507.5 to the dollar.
Valued at $1.87 billion, the fleet of cars imported in 2022 represents the highest level of car imports in terms of value since at least 2013 (no data are available from customs prior to this date).
Coping mechanisms
At the same time, customs figures show significant declines in the import of other categories of products when compared to the pre-crisis period. These decreases are intrinsically linked to the coping mechanisms adopted by the Lebanese to cope with the erosion of their purchasing power.
Medicines are the first category to take a hit.
In 2022, the Lebanese imported $551.82 million worth of medication, a 38.7 percent decrease compared to 2021 and just 40 percent of the average amount imported prior to 2019.
This decline was further accelerated last year following the gradual lifting of subsidies on imported medicines, which, on a more positive note, encouraged the development and consumption of domestically produced medication.
Meanwhile, although partly compensated by locally produced medicines, the decrease in these imports remains alarming as, by the end of 2021, more than 30 percent of the population lacked the means to afford the medicines they needed, according to a survey published almost a year ago by the German foundation Konrad-Adenauer-Stiftung.
Clothing imports have also suffered. A large proportion of Lebanese have been forced to reduce their purchases of clothes in favor of basic necessities. As a result, clothing and footwear imports rose by 56.67 percent and 65.57 percent respectively in 2022 — a level that remained 30 to 50 percent lower than that prior to the crisis.
In the same context of reduced spending, customs figures show that the crisis has not spared the Lebanese in terms of their eating habits.
Meat imports in 2022 decreased by 24.11 percent compared to 2021 for cattle (cows, oxen and calves), by 25.82 percent for sheep and by 8.51 percent for chicken.
Even more worrying, these meat import figures show decreases of between 50 and 60 percent compared to pre-crisis levels.
A beneficial depreciation

On the other hand, as far as exports are concerned, customs figures highlight a major finding.

Some sectors of the Lebanese economy are still able to take advantage of the lira's depreciation, which has enabled them to reduce their prices, increase their sales abroad and open up new markets.
This is particularly the case for farmers who, despite a 50 percent drop in fruit exports in 2022 compared to 2021, still managed to maintain a level three times higher than before the crisis, with the equivalent of more than $200 million exported, compared to an average of less than $70 million between 2014 and 2019.

The same goes for fertilizer and plastics industries, mainly products based on polyethylene terephthalate, or PET (used in particular in the production of bottles or food containers).
Fertilizers showed an increase in exports of 60.06 percent in one year ($114.42 million in 2022), while the plastics sector saw their exports grow by 230 percent over the same period ($384.33 million), a more than two-fold increase compared to the pre-crisis period.
Other notable increases, but less important in terms of economic weight, are those of exports of alcoholic beverages this year, reaching levels equivalent to almost double those of the pre-crisis years: an increase of 22.24 percent for wines ($30.7 million) and of 13.45 percent for spirits ($14.85 million).
This article was originally published in French in L'Orient-Le Jour. Translation by Sahar Ghoussoub.
It is a rare occurrence for Lebanon to publish official figures within a reasonable time frame. The year 2023 has barely begun, and last year's customs statistics have already been released. In comparison, the figures for 2021 were not issued until April 2022.But the good news ends here.After three years of crisis, despite the collapse of the national currency, imports have returned to their...