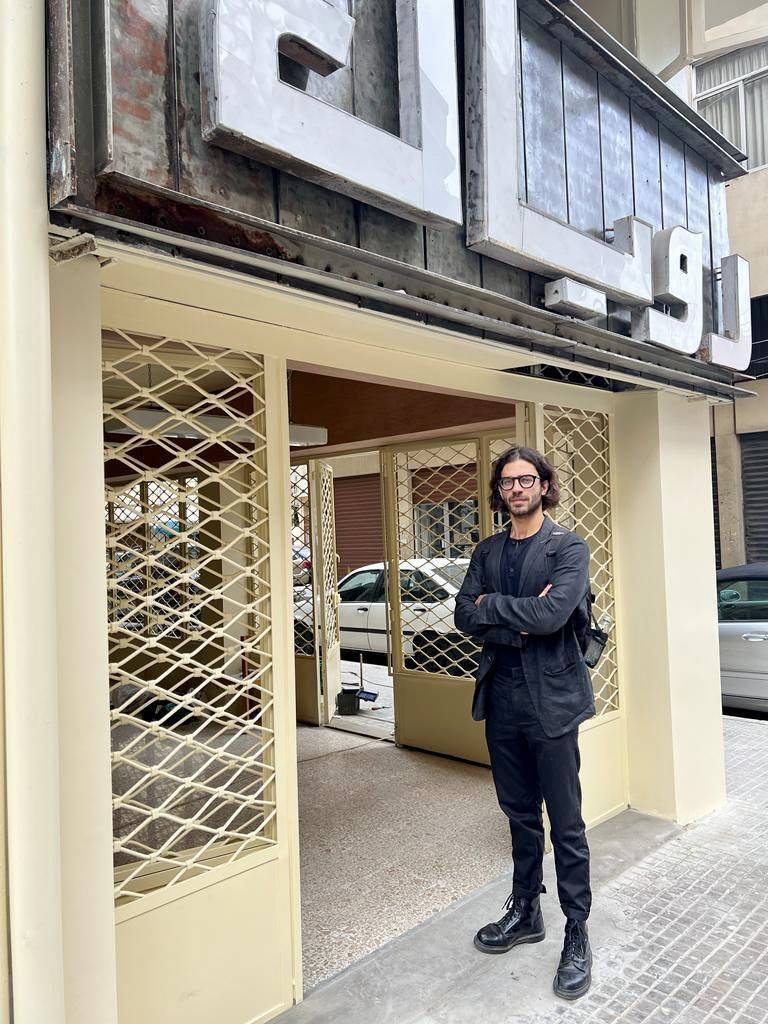 On the first floor of a small building in Burj Hammoud, in an alley next to the Abroyan factories*, a large white iron gate opens directly to a bar/showroom.
Inside, with the square brown leatherette armchairs, antique lighting fixtures and terrazzo floor, one feels transported to a bygone era from the 1950s.
The Royal Cinema appears to be coming back to life and reconnecting with the public, after years of decay and neglect.
Karl Hadife is behind the recently completed restoration works. The inauguration took place on Dec. 22 in collaboration with "Hotel Beirut/Fractured Love Stories" — an in-situ creation by the Beirut Contemporary Ballet that pays a specific tribute to the former movie theater — through a performance choreographed by Jana Younes that unrolled like film reels (by Hady Zaccak) scattered and left behind — stories of a bygone era.
A secret clue
If it were not for the illuminated sign in Arabic and French letters overhanging the entrance, nothing would suggest, at first glance, the existence of an artistic space in this neighborhood teeming with garage owners and small shops.
Except, perhaps, the mural frescoes unfolding across the large facade of the industrial building facing the showroom — enlarged reproductions of a series of prewar postage stamps depicting Lebanon's most popular tourist spots.
There are also paintings chipped by the passage of time that evoke, as a secret clue, the link of their creators, the famous Hawarian brothers, painters of movie posters during Beirut's golden years, in the cinema theater of Burj Hammoud, "where we find two amazing abstract mural frescoes bearing the [brothers'] signature," revealed Hadife, who recently bought the showroom and renovated it.
A certain form of resistance
Hadife, a director by training who became a storyteller by passion, is not unknown to the faithful readers of L'Orient-Le Jour.
He was in fact, a few years ago, at just 17 years old, the videographer behind the three seasons of Generation Orient, a platform designed to uncover and promote young Lebanese talents launched by L'Orient-Le Jour.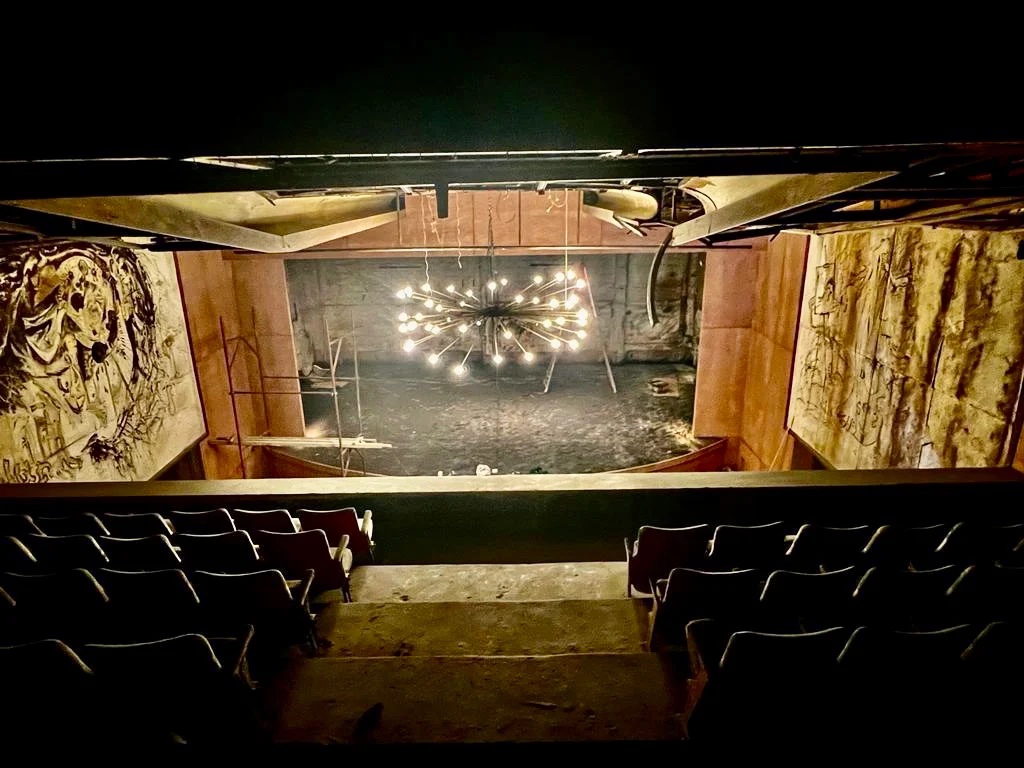 During the renovation, signs of the passage of time were carefully preserved. (Credit: DR)
This is a collaboration that is undoubtedly not foreign to this thriving young man, now 25, who has a taste for supporting and promoting all forms of art.
It also led him to the rehabilitation project of the abandoned cinema, which he has now managed to turn "into a multipurpose space for film projection, but also for theatrical and choreographic creations, performances and multiple immersive and cultural experiences," according to Hadife.
Hadife was adamant he could revive the forsaken movie theater and make it "a place that expresses itself, through an eclectic and quality programming, a certain form of cultural resistance."
The young man was not reluctant to make a substantial personal investment in the project.
Despite his decision to preserve the original decor as much as possible, which gives all its vintage spirit to this cinema like no other, it took a lot of cleaning, restoration and rearrangement work to pull this place out of its dilapidated situation — the result of a long period of decay that began with Lebanon's 1975-90 Civil War.
A special story
Everything started in 1957-58 when the Royal opened its doors in this peripheral neighborhood of the capital.
The popularity of cinemas among Beirut's residents was at its peak and here, as in all other cinema theaters in the country, American, European and Egyptian films were shown.
But over the decades, the Royal's array of genres began to decline, confined first to martial arts and Bollywood films, and then, starting with the war years, to pornographic works.
The theater's then-owners discovered that this niche of X-rated films was the most profitable. The Royal quickly became a notorious cinema for lovers of the genre, which accelerated its decay.
Poorly maintained, with its large room suffering the unappealing effects of burst sewage pipes, there was no longer anything royal about the Royal.
"It is said that [theater] continued to function, with spectators confined to the balcony and a room drowned under water," Hafide told L'Orient-Le Jour.
"This continued until early 2015 when the increasingly pestilential smell made it impossible to get inside and led to the theater's inevitable closure," he added.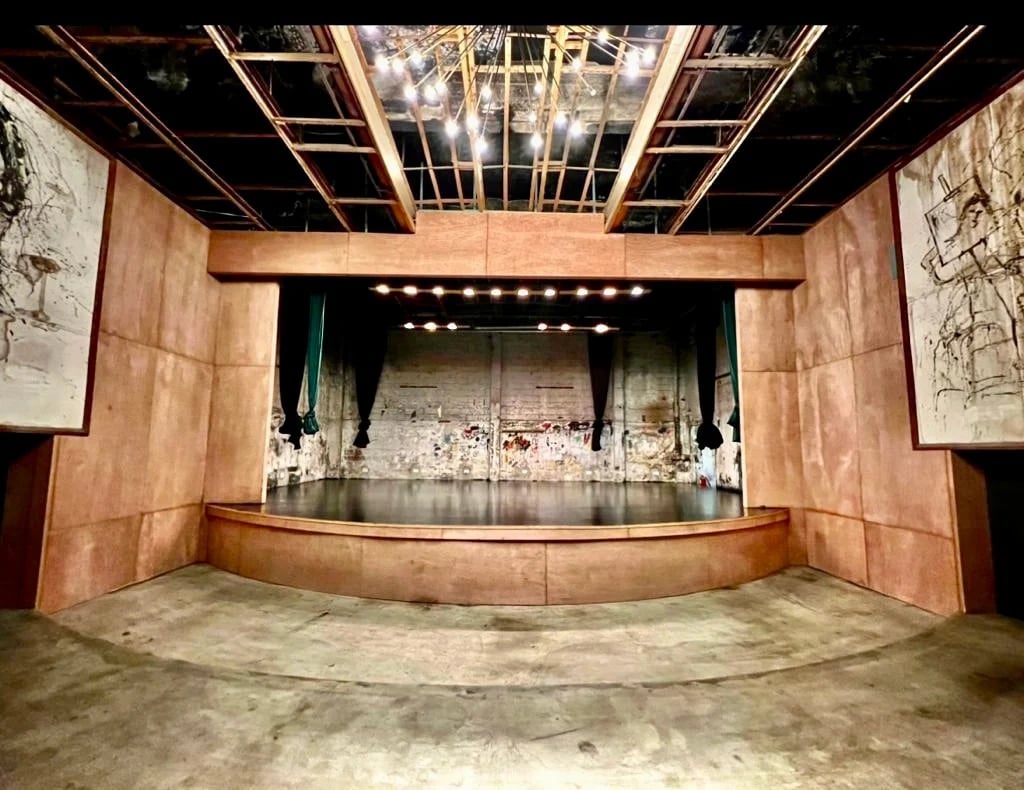 The interior of the Royal Cinema. (Credit: DR)
Today, everything is back to normal. And although the new owners have deliberately kept some posters on the walls and the ceiling as a trace of the theater's unique past, the Royal Cinema is back to life, with a restored capacity of 320 seats, and in an expanded form as a multipurpose visual and theatrical stage.
Out-of-the-ordinary shows
"The theater will operate in art-house mode," Hadife explained. "With curations of films by authors, new performances, immersive dance and theater shows."
He added that the "showtimes will be punctual, but always of high standards and with prices accessible to everyone."
"For us, my partner Julien Boutros and I, art is not reserved for an elite," Hadife said. "To this end, we have created the Neighborhood Foundation, which will manage the Royal and enable it to raise the funds necessary for its three areas of action."
Hafide went on to say, "We also seek to discover and support young talents of the independent cinema and the alternative scene, to offer a place for meeting and collaboration to artists of different disciplines and, finally, to establish free workshops of initiation to art and theater to the children of the district."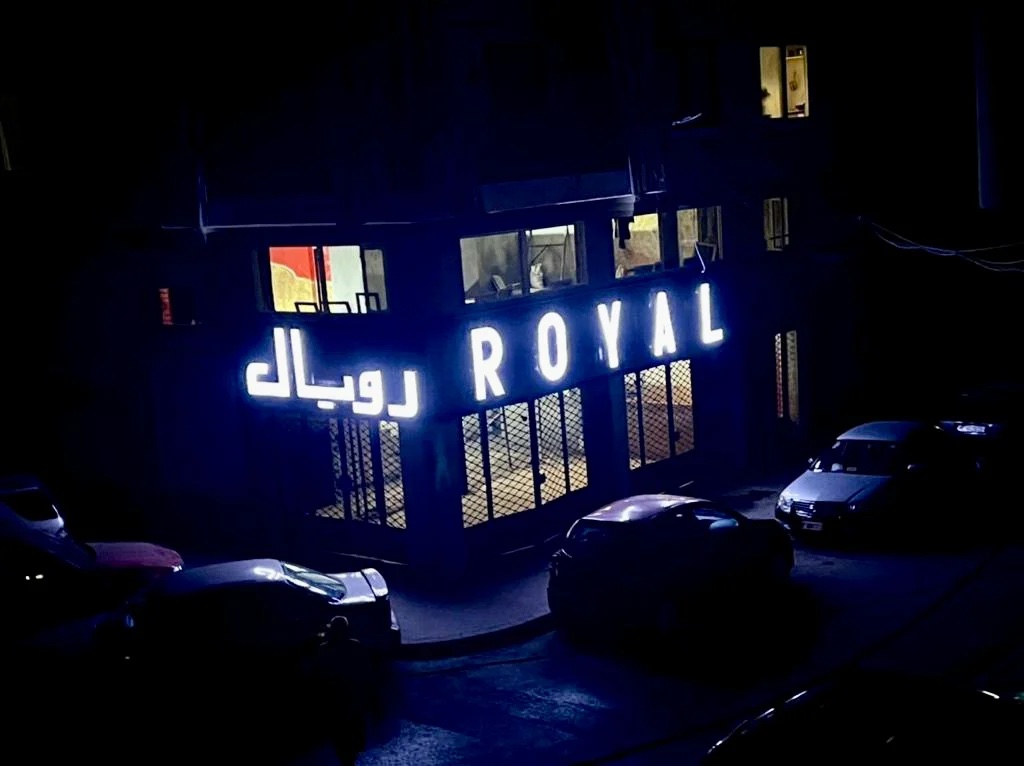 The Royal Cinema's sign has comes back to life after years of obscurity. (Credit: DR)
The director also has a mission to host shows that are out of the ordinary.
And this will be done, "by re-studying and rethinking the traditional mediums that artists generally use. By rethinking the structure, the way their pieces are presented, and trying to break a little bit of tradition in this area to create immersive experiences rather than performances," he says.
"We did not reopen this cinema for profit. But to give back to Lebanon a little of what it gives us, differently and in other areas," Hadife said — a promising ambition for a place that surely is worth discovering.
The first shows
In addition to "Hotel Beirut/Fractured Love Stories," a creation specific to this space presented during the opening night by the Beirut Contemporary Ballet, two other shows are on the program for the Royal Cinema's reopening selection.
This includes "Farha," which played on Dec. 23 at 7 p.m. and 9 p.m.
"Farha," an immersive and interactive piece by Julien Boutros and Karl Hadife, is inspired by the everyday stories of the neighborhood. It was performed by Faek Homaissi, Mazen Kiwan, Rita al-Achkar, Ramez Awad, Aline el-Chami, Katy Younes, Theresa Fattouch, Émile Chalhoub and Salam Makarsa, under the artistic direction of Assaad Khoueiry.
"Fistful of Love" is scheduled for Dec. 26, 27, and 28 at 7 p.m.
It is a theatrical concert depicting a broken home, written and directed by Karl Hadife, performed by Rita Chidiac, Malek Abi Nader, Mohammad Makouk and Nour Saad, withset design by Camilio Khoury and musical production by Rayan Sayegh.
It tells the story of a stubborn and conservative father who goes bankrupt, a nostalgic mother in need of attention, a sassy young woman discovering and healing from her repressed trauma, and a lonely young man on a path of self-discovery and sexual freedom.
*The Abroyan factories are now home to Union Marks, a nightlife hub with exhibition space.
This article was originally published in French in L'Orient-Le Jour. Translation by Sahar Ghoussoub.

On the first floor of a small building in Burj Hammoud, in an alley next to the Abroyan factories*, a large white iron gate opens directly to a bar/showroom.Inside, with the square brown leatherette armchairs, antique lighting fixtures and terrazzo floor, one feels transported to a bygone era from the 1950s.The Royal Cinema appears to be coming back to life and reconnecting with the public,...