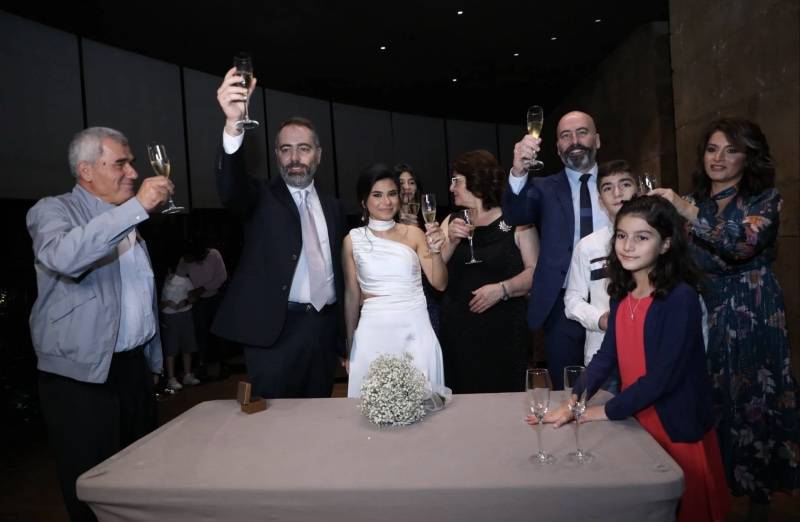 BEIRUT — A new draft law introduced to Parliament on Monday by nine MPs from the Forces of Change, Lebanese Forces, Kataeb and Progressive Socialist Party has renewed attention on one of Lebanon's recurrent controversies: personal status laws and the role of religious authorities in determining citizens' rights.
Marriage, divorce, adoption and child custody are governed by 15 separate religious legal systems, each of which sets its own rules. It is the largest number of personal status laws in the world, according to Maya Mikdashi, a professor at Rutgers University in the US, who researches the legal interplay of sect and sex in Lebanon.
This patchwork of rights and obligations, which discriminates between citizens on the basis of sect and sex*, has been a recurring target of feminists, secularists and reformists calling for a non-religious law that treats men and women equitably.
The draft law proposed on Monday and drafted by anti-domestic violence and women's rights NGO KAFA, puts forward a mandatory and universal civil personal status regime. The universality of the law — replacing the existing ones instead of adding another one — is crucial for supporters, as to leave it optional would merely serve to create a 16th personal status legal system that people could opt into by declaring themselves "secular" in the eyes of the bureaucracy. This means all citizens, regardless of sect, would use the civil personal status regime envisioned in the law.
"One people will have one law," MP Paula Yacoubian (Forces of Change/Beirut I) said in the press conference unveiling the proposal on Monday.
This feature works to promote equality among citizens of all sects and sexes, but it also makes the law potentially more dangerous for the religious courts that generate income from fees collected for handling legal questions that the state has delegated to them. But just how important those fees are for their budgets is unclear.
Asked about marriage, divorce, custody and inheritance, Yacoubian told L'Orient Today that "if the law remains mandatory, everything will be within the jurisdiction of the civil courts."
This would put the role of the religious courts in question. Citizens would no longer be obligated to deal with them regularly. "I think that is, if not existential, it definitely radically changes the everyday presence of these institutions in society," Mikdashi told L'Orient Today.
Dar al-Fatwa and the Maronite Patriarchate did not respond to L'Orient Today's requests for comment on the draft law proposal.
How the courts work

Muslim courts are part of the state judiciary, a continuation of Ottoman custom. Under Lebanese law they have jurisdiction over marriage, divorce, dowry, alimony, custody and inheritance for members of Muslim sects.
Sunni and Shiite judges are appointed based on the recommendation of each sect's Supreme Islamic Authority, with the approval of the Islamic Judiciary Council. Druze court judges are appointed by the justice minister in consultation with the Druze Initiates Council.

Muslim courts include a public prosecutor and an inspector to supervise proceedings, Mikdashi said, and the fees charged in these courts are set by law. These court officers are members of the civil judiciary from the same sect as the court who hold a simultaneous appointment to the Sharia courts, said lawyer and researcher Lama Karame, who is on the board of legal advocacy NGO Legal Agenda.
Some interactions with the courts have flat fees, while financial matters like dowry, inheritance, alimony and the division of assets post-divorce are set as percentages of the value of the money at issue. For instance, the law provides a fee of five percent of the net value of an estate, after the payment of debts, for its release. Dar al-Fatwa did not respond to a request for a schedule of the current fees.
"I don't think the fees are that important, at least for Muslim courts, because they receive funding from the state," Karame said.
State budget allocations for these institutions can be considerable. An analysis by government transparency watchdog Gherbal Initiative found that the 2018 budget set aside $41.3 million for religious state institutions like Dar al-Fatwa and the Supreme Shiite Islamic Council. A study by Legal Agenda found that, in the 2017 budget, the religious judiciary made up 13 percent of state judicial spending.
The post-2019 lira depreciation crisis and the resultant state budget crisis have not spared these institutions. Based on L'Orient Today's review of the recently published 2022 budget, it includes LL106 billion ($2.3 million at the parallel market rate) for religious institutions. Of that, LL61 billion ($1.3 million) is for the Jaafari (Shiite), Sunni and Druze courts that adjudicate disputes arising under personal status laws, with the remainder going to the associated religious bureaucracies that regulate these personal status matters and oversee the courts.
Christian courts are much more institutionally and financially separate from the state and have greater independence. "Officially Christian courts are not funded by the Lebanese state. They have their own funding, but the Ministry of Justice does provide certain amounts to Christian courts," said Karame. In the 2022 budget, this amounts to LL3 billion ($67,000).
Their jurisdiction does not extend to inheritance. This is because inheritance was not traditionally an area covered by canon law, Mikdashi says, unlike Islamic law. For Christians and Jews in Lebanon inheritance is covered by a civil law adjudicated in civil courts.
To a much greater extent than Muslim courts, Christian courts make their own rules and set their own fees. According to a 2015 Human Rights Watch study, fees in Christian courts can be much more expensive than in Muslim courts. Judges in these courts are appointed by the churches without state input.
According to the Maronite courts' official website, marriage annulments come with fees of LL1 million and adoptions come with fees of LL600,000. But a fee schedule circulated in the media in September, which L'Orient Today has not confirmed as authentic, shows fees have adjusted to the depreciation of the lira. Annulment is LL8 million and adoption is LL5 million according to that schedule. Another fee schedule circulated in local media indicates that fees for non-residents have been dollarized and reach up to $1,000 for annulments and adoptions. The Maronite Patriarchate did not respond to a request for a schedule of the current fees.
Intimate life depends on religion
The current diversity of personal status regimes leads to notable differences in citizens' experiences.
For instance, unlike other legal systems, Catholic sects do not permit divorce. By default, Shiite Jaafari courts grant divorced fathers custody of male children above the age of two and female children older than seven; whereas Orthodox courts give divorced men default custody rights but can decide to give women custody over children until they are 14 (for boys) and 15 (for girls), according to Mikdashi's research.
Inheritance is another realm where differences reign supreme. The civil law for non-Muslims gives equal inheritance amounts to male and female heirs.
Muslim courts, on the other hand, grant Muslim female heirs half the inheritance given to Muslim male heirs and any non-Muslim heirs are not allowed an inheritance. In the Sunni Hanafi system, the absence of a son means a third to a half of a decedent's estate goes to paternal male relatives, whereas in the Shiite Jaafari system a daughter(s) can inherit the entire estate if there is no son.
Lebanese citizens can marry anywhere in the world and register their marriage contracts with the Lebanese government. If one or both members of the couple are non-Muslim, Lebanese civil courts will then adjudicate conflicts that arise based on the law in force where the marriage was made — that is, following Cypriot, French or American divorce laws and so on. A current legal controversy surrounds the use of teleconference technology so that a couple in Lebanon can have a remote civil marriage with an officiant overseas without physically leaving the country.
Even under the travel scenario, however, if both people are Muslim, the Islamic religious courts have jurisdiction no matter where the marriage took place.
This thicket of different laws touching on some of the most intimate aspects of people's lives has given rise to various strategies to circumvent the restrictions of the religious courts, such as travel overseas for civil marriages (if at least one spouse is non-Muslim) or religious conversions in order to change the applicable religious jurisdiction.
The reform law
Efforts to reform Lebanon's personal status system are recurrent, and have a long history. Many of these have been somewhat limited in scope, trying to establish civil marriage while leaving much of the existing system intact. Mikdashi has identified civil marriage law proposals in 1951, 1957, 1972, 1976, 1977, 1998, 2011 and 2014.
This latest reform drive, which is the farthest reaching, dates back to at least 2019.
In Oct. 2019, KAFA was preparing a unified personal status law to be introduced to Parliament, says Zeina al-Awar of KAFA, when the nationwide protest movement against the political class erupted and the launch ceremony was canceled. "We stopped the process and started working on the ground in the protest square with the youths, holding discussion sessions," she said.
Less than a year later, the group again sought to register the proposal with Parliament, only to be stymied again — this time by the Aug. 4, 2020, Beirut port explosion that devastated large swathes of Lebanon's capital.
Fast forward to 2022 and KAFA is back with a law they drafted in cooperation with "female lawyers active within [various] political parties," was sponsored by nine deputies from multiple parties, just one shy of the maximum number of sponsors allowed.
"Of course we know there are going to be obstacles, there's going to be fighting against the law from parliamentary blocs that reject it but KAFA has prior experience in this field," Awar said.
Asked about the law's prospects, Awar explained, "Of course I don't have an answer of 'yes' or 'no' but, also, of course, we are working towards the goal of passing it. How long it needs to pass, or if it's going to be easy or difficult, this will take time to be known for sure. But we are continuing the campaign in any case to pass the law."
On the topic of the proposal's potential in Parliament compared to past efforts, Mikdashi was circumspect: "I think it has the added dimension that people are just fed up with everything. I don't know if that means that it has more potential or less. Because I'm not sure that people are that invested right now in what's happening politically. People have other shit that they're trying to deal with every day. And at the same time, I think religious institutions are always more powerful when there's political paralysis."
In the justification memo submitted on Monday as part of the proposal (all laws must be accompanied by a memorandum of justification), the sponsors of the proposal argue that the constitutional guarantee of freedom of belief has been misapplied, "giving priority to the rights of sects at the expense of the rights of citizens" and interfering in the principle of a direct relationship between the citizen and the state.
Moreover, the MPs charge that "the reality of women under sectarian laws contradicts the most basic human rights stipulated in the Universal Declaration of Human Rights." This declaration was endorsed by Lebanon in 1948.
"In addition to the discrimination that women suffer from the patriarchal system that does not place women in our society in a position of equality with men, these laws have come to distinguish between women and between children," the justification memo continues. "There are women who can obtain a divorce while others are deprived of this right; just as there are women who can obtain custody of their children until the age of 17 and there are women who are denied custody of their children when they reach two years old."
Specifically, the law would have citizens register marriages directly with the Interior Ministry's regional civil registry offices. Marriage is defined in the law as a contract between a man and a woman, who must be over 18. Marriages are considered invalid if entered into despite there being an existing marriage — a provision which, on its face, seems to outlaw polygamy. Divorce in the civil court would be easier than it currently is in most religious courts, especially for women seeking divorce.
Child custody would be shared by default, provided that the child remains living with the mother in the family home, although the civil court can modify these terms on a case-by-case basis. Adoption is standardized and inheritance is equal between male and female heirs.
Mikdashi said passage of the law, if it were to happen, would be a positive step, but it wouldn't be enough to achieve legal and bureaucratic equality for all citizens.
"A lot more has to happen to remove the sex and sect bargain," she said, pointing to related sect and sex discrimination issues in civil registration law, nationality law and criminal law. "There's a whole body of laws and procedures that need to change."
*This article uses the term "sex" instead of "gender" to align with the Lebanese legal categories being discussed.
This article has been corrected on Dec 27, 2022, to reflect that there is one Islamic Judiciary Council, not two.
BEIRUT — A new draft law introduced to Parliament on Monday by nine MPs from the Forces of Change, Lebanese Forces, Kataeb and Progressive Socialist Party has renewed attention on one of Lebanon's recurrent controversies: personal status laws and the role of religious authorities in determining citizens' rights.Marriage, divorce, adoption and child custody are governed by 15 separate...