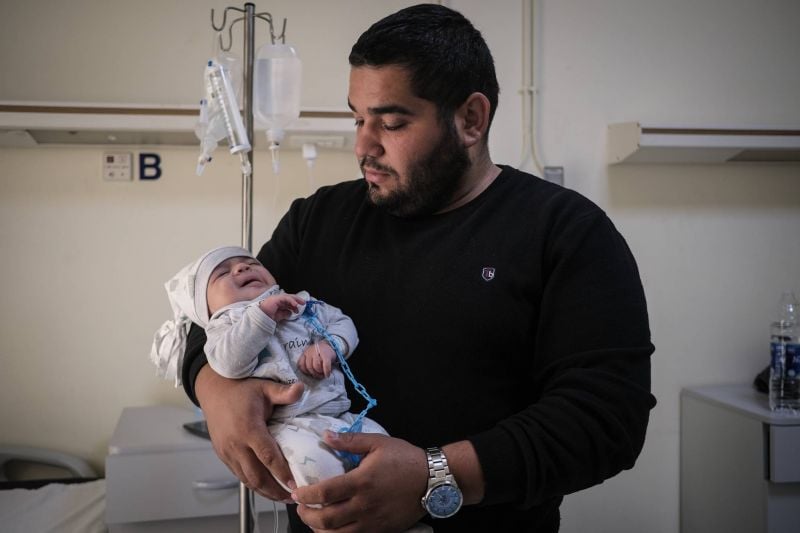 BEBNINE, Akkar — Past the overcrowded waiting area and down a set of stairs toward the basement of a mosque in northern Lebanon's Bebnine, a sparsely furnished cholera clinic has been hastily set up. UNICEF-emblazoned boxes sit stacked in a corner.

The clinic is aimed at treating cholera patients in Akkar, Lebanon's northernmost governorate and, now, the epicenter of a growing cholera outbreak.
In one of the hospital beds, 9-year-old Ali says he won't cry even though his stomach hurts.
"We tried to treat him for three days at home, but he didn't get better, that's why we brought him to this field hospital," his exhausted-looking father, Khoder al-Bitar, says.
"Today they were telling me they want to give him 500 milliliters of IV fluids," the standard dosage for a child his age, "but it doesn't seem to benefit him much. If this is the most they can do, then this is unacceptable," adds al-Bitar, who has two other children infected with cholera at home.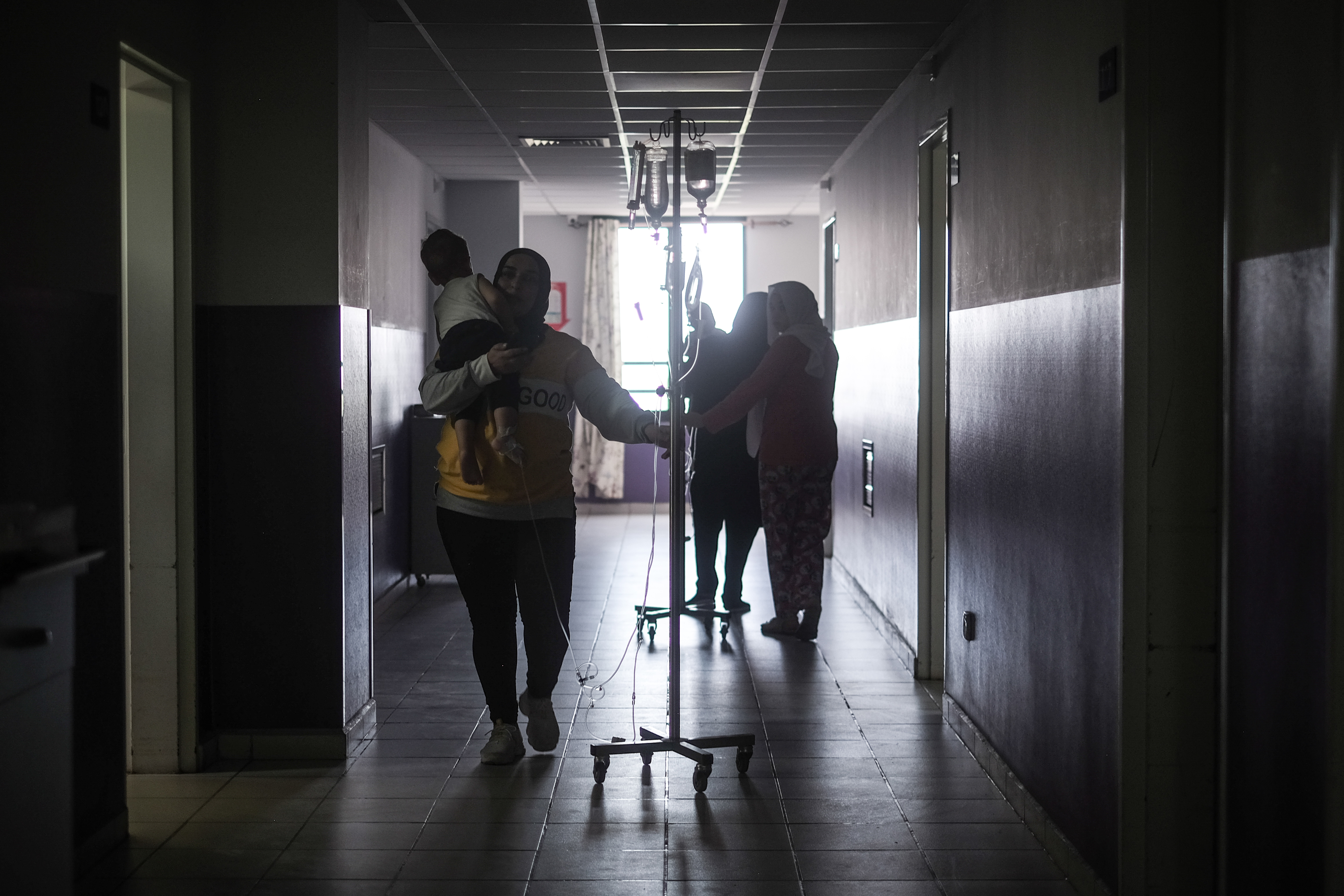 A woman cradles her infant son with cholera in the hallways of Dr. Abdullah al-Rassi Government Hospital in Halba. (Credit: João Sousa/L'Orient Today)
According to the latest count Sunday by Lebanon's Health Ministry, the country has registered 388 confirmed cases of cholera and 17 deaths as a result of the disease.
Akkar, Lebanon's northernmost governorate, has found itself the epicenter of the outbreak, with by far the highest number of cases in the country — 286 as of Saturday.
Cholera has yet to be detected in the country's government-run water provision facilities, Gaby Nasr, head of the technical department at the government's North Lebanon Water Establishment (NLWE), tells L'Orient Today.
Still, poor infrastructure and reliance on privately supplied water in many areas means the disease is continuing to spread.
During a press conference last week, caretaker Health Minister Firass Abiad called on the Finance Ministry to grant public health workers their "promised cash assistance," as Lebanon struggles with a collapsed health sector.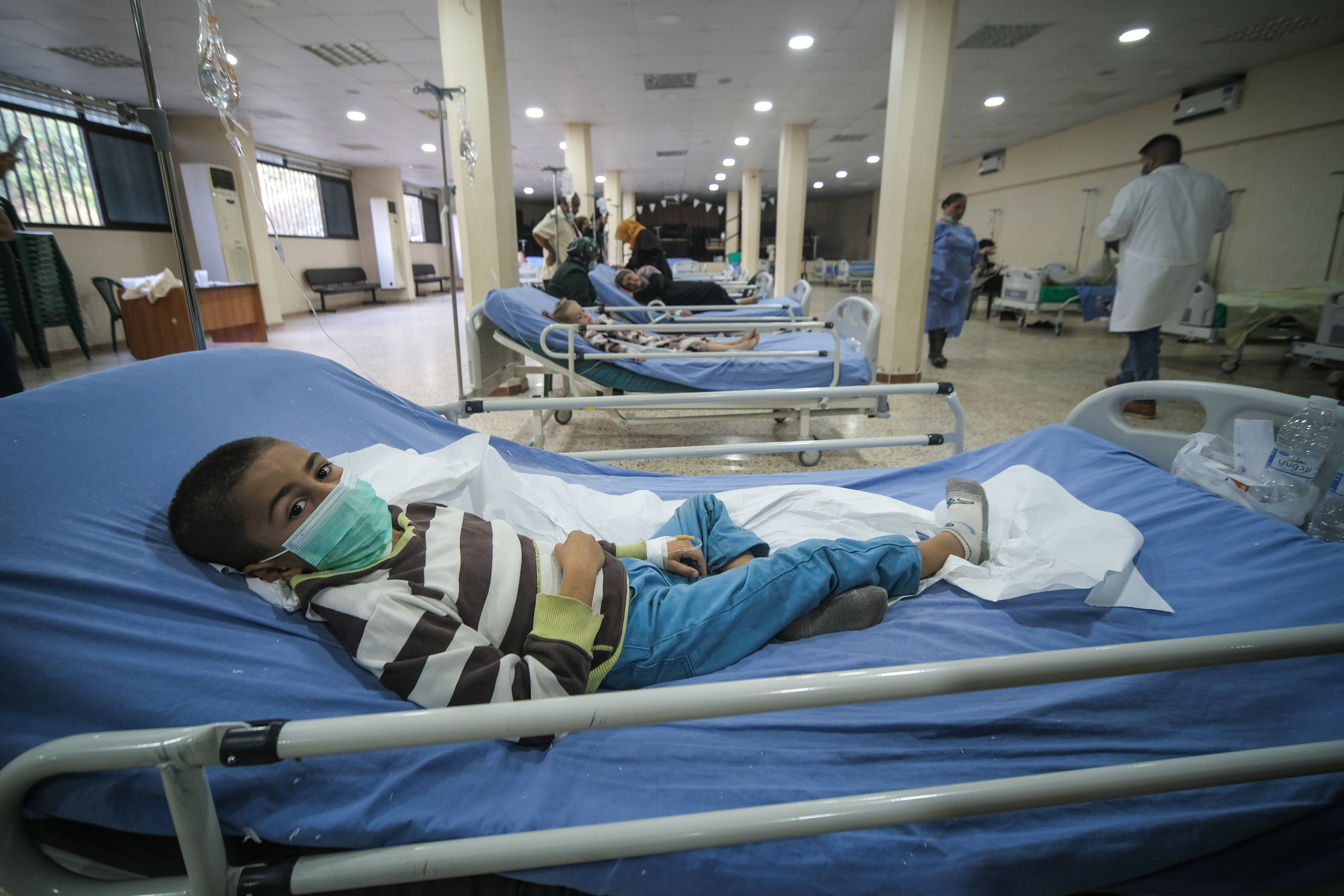 Nine-year-old Ali at the cholera clinic in Bebnine. (Credit: João Sousa/L'Orient Today)
On Sunday, Abiad had expressed concern that cholera could become "endemic" in Lebanon as the country faces its first outbreak of the disease since 1993.
The caretaker health minister has said in recent days that most of those who have to date died of the disease have done so because they did not receive the necessary medical care.
In a press conference on Monday, Abiad announced a donation of cholera vaccines from France. The roughly 13,000 doses would go to "Lebanese front-line health workers," French ambassador to Lebanon Anne Grillo said at the same conference.
According to the World Health Organization, cholera is an acute diarrheal infection caused by ingesting food or water contaminated with the bacterium Vibrio cholerae.
In serious cases, cholera can lead to death within hours if left untreated.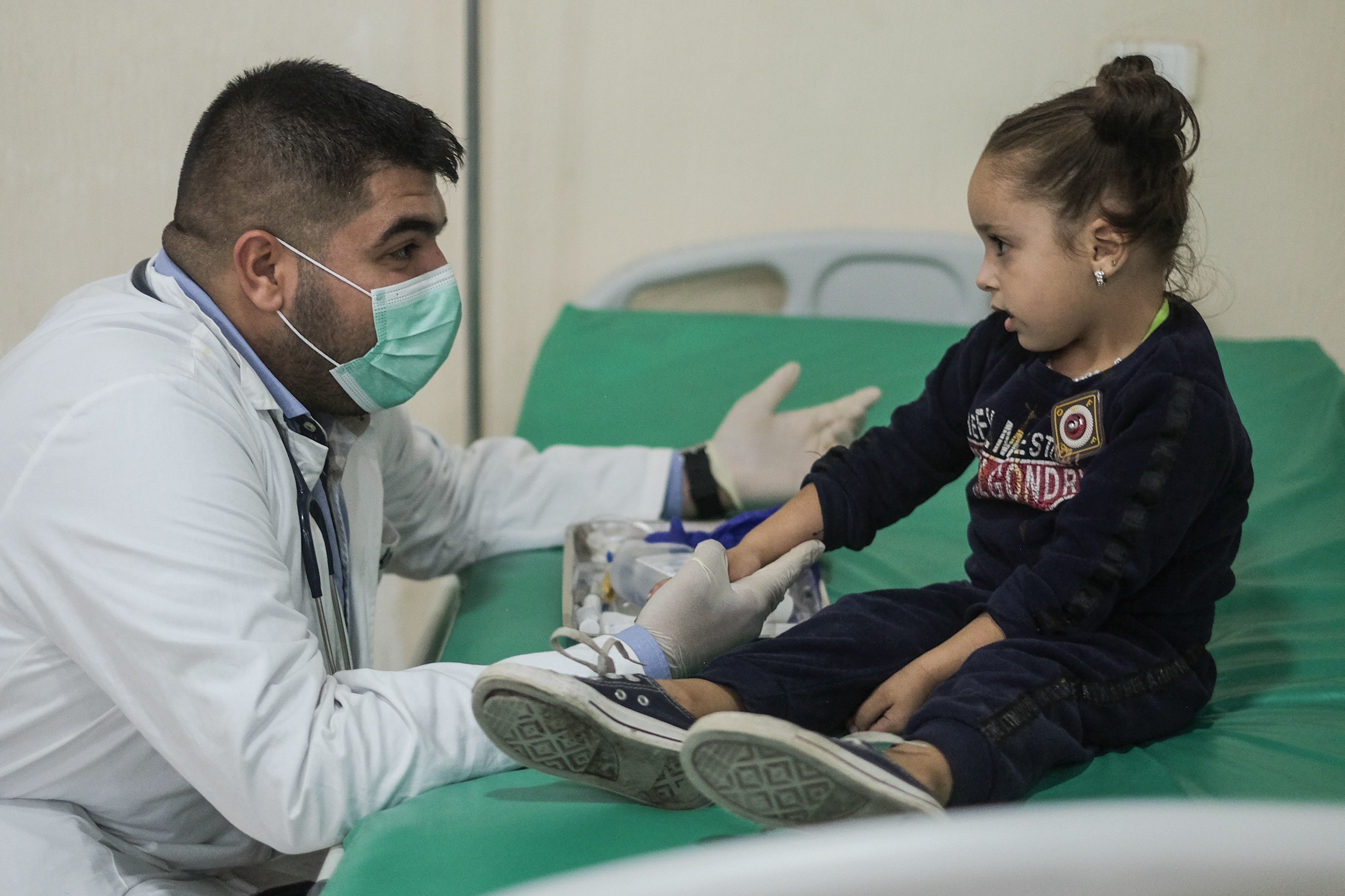 Nurse Amir Rashid at the cholera ward in Bebnine with a young patient. (Credit: João Sousa/L'Orient Today)
However, cholera is generally easily treatable by administering an oral rehydration solution. Severely dehydrated patients are at risk of shock and require the rapid administration of intravenous fluids.

Those are the fluids medical workers are now administering to the dozens of patients at Akkar governorate's only state-run hospital, the Dr. Abdullah al-Rassi Government Hospital in the town of Halba.
It doesn't take long to notice that the ward is predominantly filled with young children, babies and elderly people. Loved ones sit at their bedsides, trying to distract them.
Among them sits Mohammad Abdallah from Bebnine, the town with the highest number of confirmed cholera cases in the governorate, at 174. He says he has been basically living in the hospital for the past nine days as his mother, brother, nephew, aunt, uncle and cousins have all been infected with cholera. But the one he's most worried about is Abdallah, his 2-month-old son.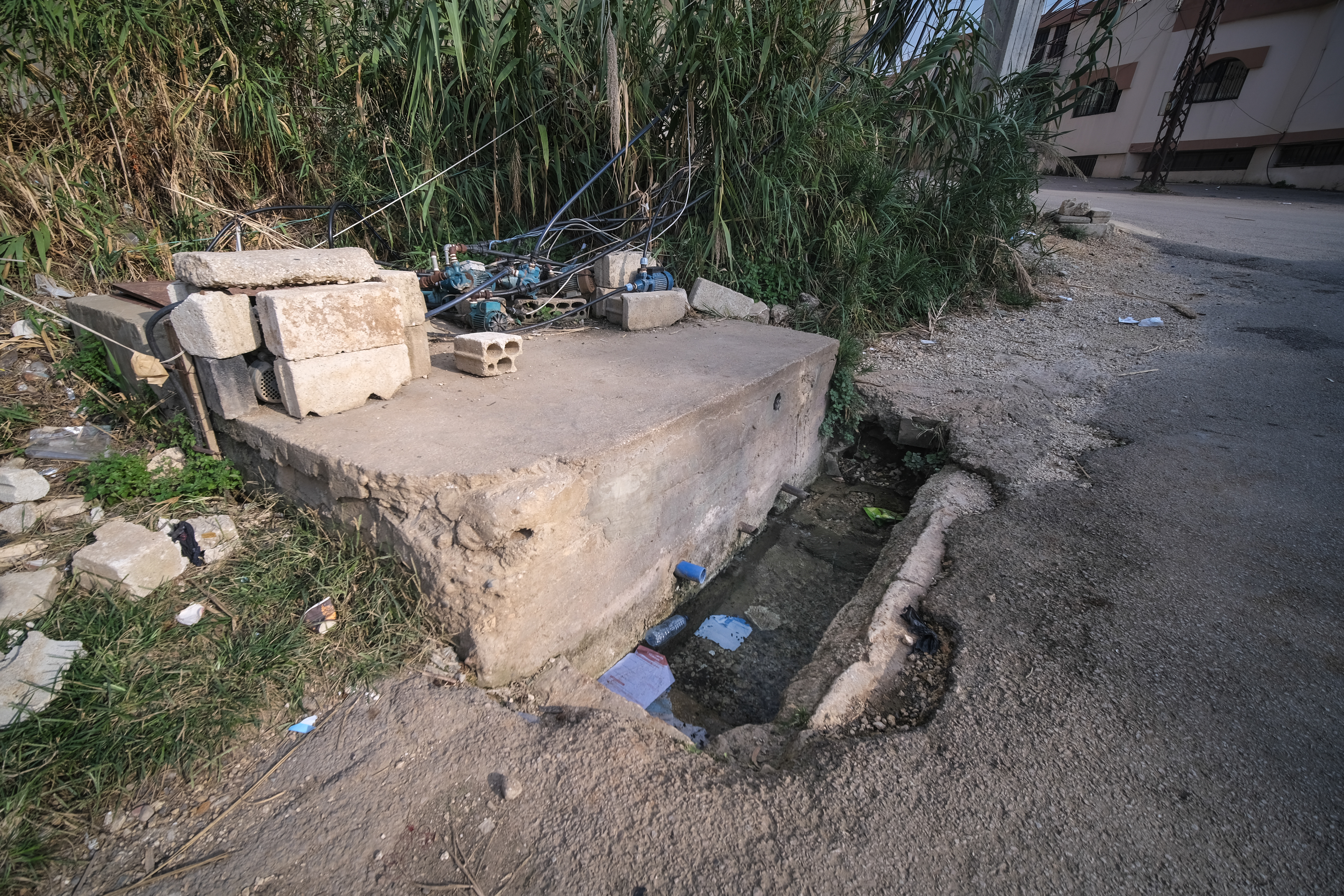 Water well infected with cholera in Bebnine, Akkar. (Credit: João Sousa/L'Orient Today)
Abdallah lies engulfed by his bed, where he is attached to an IV drip to make sure he stays hydrated. He alternately whines and smiles, as his mother looks on worriedly.
There's been a collective sense of confusion about how exactly cholera is spread as conflicting reports keep surfacing over the potential sources of the outbreak.
Mohammad is himself unsure of where the boy may have caught the illness. "Maybe our own household water tank is contaminated with cholera. Maybe from the huge amount of garbage on the streets, especially after all the rain, maybe all this got trailed down to the irrigation water," he wonders.
Mohammad adds that he urgently wants local authorities to test all local water sources for the pathogen. "What are they waiting for?"
For his part, Nouhad Salma, a member of Mohammad's hometown municipal council in Bebnine, tells L'Orient Today that the Health Ministry has started testing the local water sources in the town. NLWE technical department head Nasr confirms this is the case.
Among the samples that so far have tested positive for cholera was that of the privately run Ain al-Fouwwar spring, "which is not only a water source for our little neighborhood but also for the residents of Bebnine in general," Salma says. He estimates around 2,000 households use water from the spring.
Nasr confirms this number, adding that the NLWE, along with UNICEF and municipal authorities are working to decontaminate the water
Another local water source is the Ain Bebnine spring, which is also not government-controlled and has not been tested yet, according to Salma.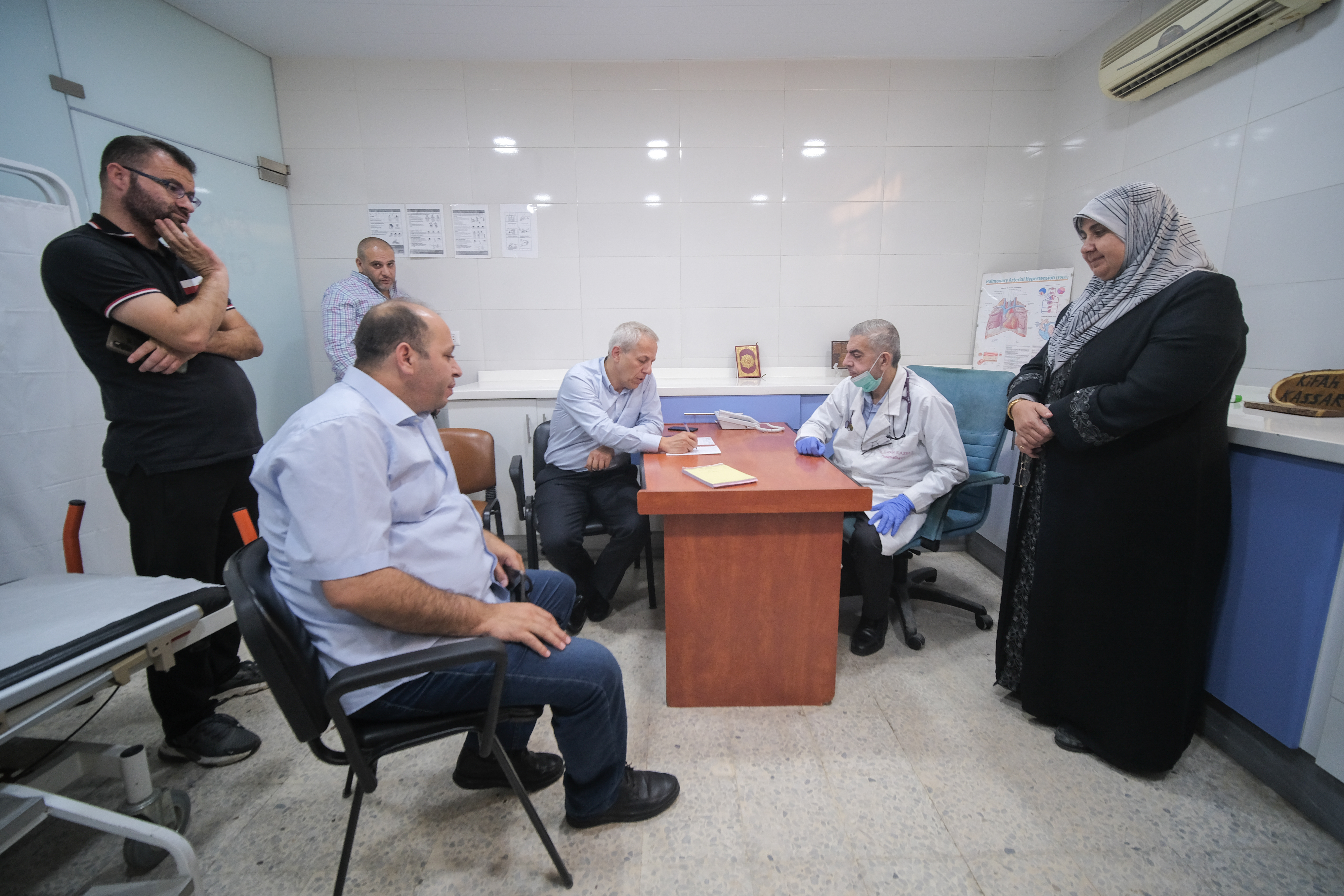 Bebnine Municipality member Nouhad Salma (in front), Akkar governor Imad Labki and Bebnine mayor Kifah Kassar at the clinic in Bebnine. (Credit: João Sousa/L'Orient Today)
What is to blame?
It is clear from the sheer number of people who greet each other at Dr. Abdullah al-Rassi Government Hospital in Halba that many patients are from the same area. While Mohammad shares his story, he receives a text informing him that a friend's wife died that morning, apparently after having contracted cholera.
Upon hearing the news, his sadness quickly turns to anger.
Salma, the Bebnine municipal council member, blames two main issues for the cholera outbreak in the area.
"First, there's the lack of government water provision, even though we have the infrastructural network," Salma says. Electricity shortages at water pumping stations in northern Lebanon have in recent months led to lack of state water flow to certain areas.
He also pointed to potentially dirty irrigation water, as well as "the sewage pipes we have here that are around 200-300 meters long," which he said were leaking into the ground.
According to Nasr, the irrigation line that passes Bebnine contains contaminated water. "Unfortunately, some people discharge their waste water in this channel despite our efforts to prevent this," he says. He adds that the percentage of contamination to the irrigation channel remains unclear, though it isn't safe for home use.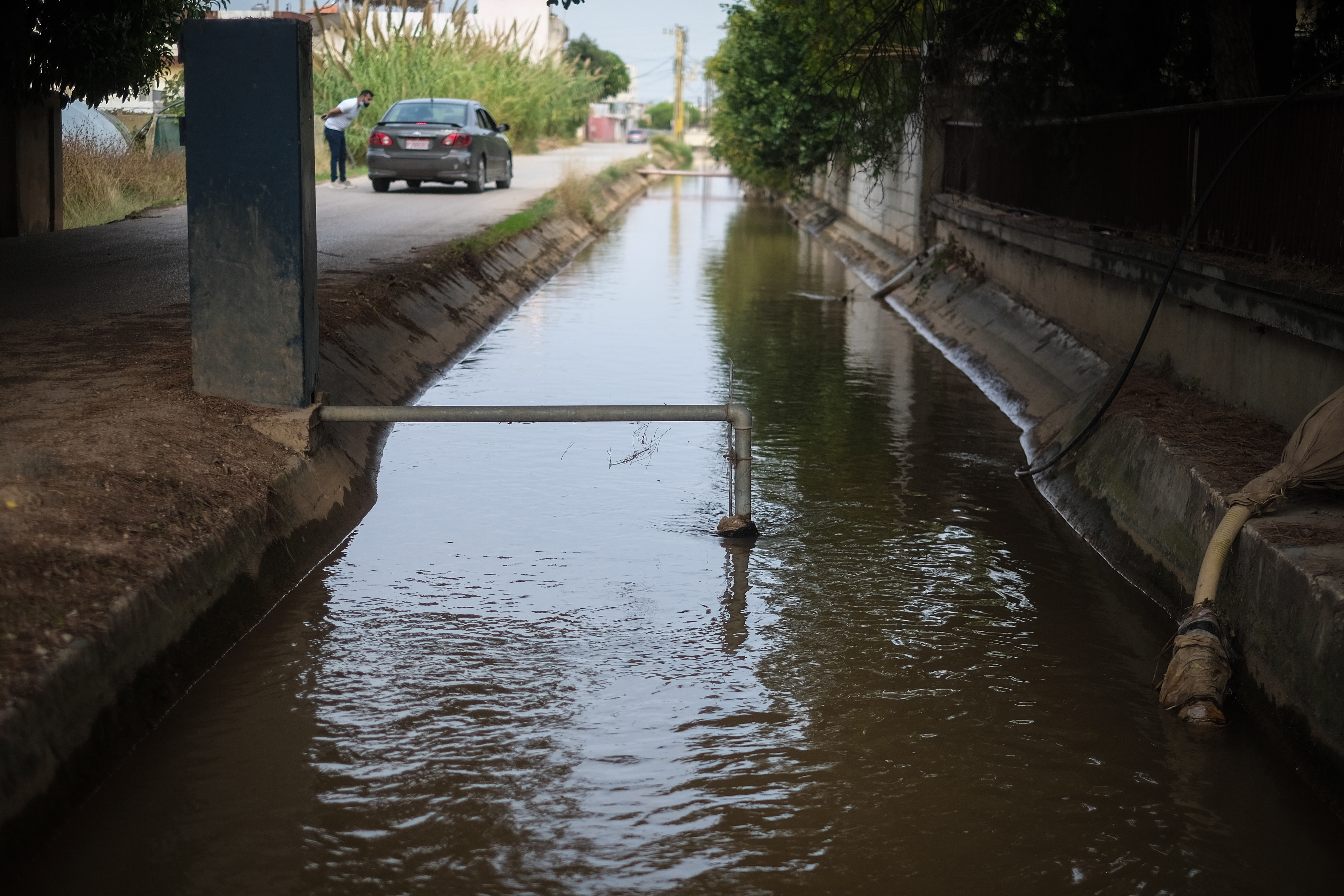 A water source in Bebnine. (Credit: João Sousa/L'Orient Today)
Salma also mentioned uneven garbage collection in the area, with trash bags at times lining the town's streets for days on end.
According to Mohamad, an activist in Akkar, some people in his community have been told to pay for their cholera treatments, despite the government promising last week to cover the costs for those receiving treatment for the illness. "This explains why many refuse to seek treatment at the hospital," Mohamad posits. He requested L'Orient Today not publish his full name as he also works with an international aid agency. L'Orient Today could not independently confirm his claim, although all interviewed patients made the same assertion.
'Lack of resources'
At the newly installed cholera field clinic in the Habib al-Mustafa Mosque in Bebnine, town mayor Kifah Kassar, a pulmonologist, is holding a meeting with Akkar governor Imad Labki in a small room next to the crowded general waiting area.
"We did neglect a lot of issues because of the lack of resources. And this is one of the reasons why the diseases are spreading," Kassar says. "And this is a cry for help to the Lebanese government, whose duty is to protect and help the local authorities who are not able to handle the issue alone."
"To be fair, the Health Ministry is doing its duties, and they set up a field hospital and the minister promised that all cholera patients will receive medical care and the ministry will cover their medical bills," Kassar says.
For his part, Labki says his office is preparing a plan to spread awareness of cholera in villages across Akkar governorate, including warning local schools and "gathering help from [international] organizations."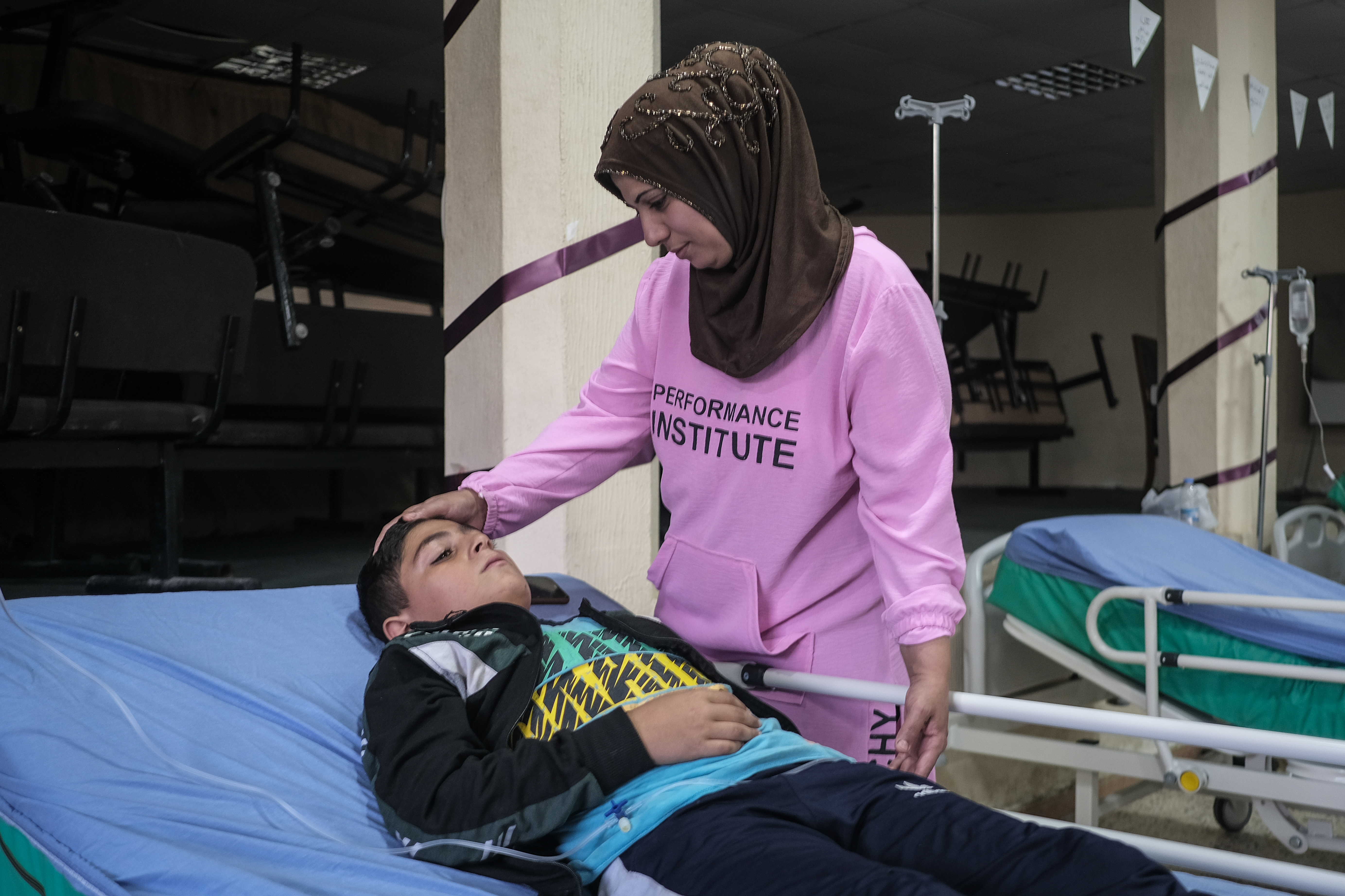 Mother and son at the makeshift clinic in Bebnine. (Credit: João Sousa/L'Orient Today)
Although he says that municipalities get funding for public projects two to three times per year, the last couple of years of the countrywide economic crisis have reduced the public coffers. "We can't rely on municipalities," Labki says. "We are relying on the ministries directly, as well as international NGOs and institutions. The Red Cross is providing a lot of help."
Several organizations, including the International Committee of the Red Cross (ICRC), UNICEF and WHO have formed a "coordination mechanism" with Lebanon's Ministry of Public Health and Ministry of Energy and Water to tackle the outbreak, according to a WHO situation report issued last week. Measures taken by the group reportedly include designating certain hospitals for cholera response, securing medicines and distributing test kits.
Grassroots response
The cholera outbreak in Lebanon follows one in the neighboring country where more than 24,000 suspected cases have been reported, including 81 deaths, according to the latest WHO count.
Nurse Amir Rashid, who is doing the rounds in the makeshift cholera ward, says he believes children are especially vulnerable to cholera because "you cannot really control their behavior."
"They neglect sanitizing their hands and in schools there isn't proper cleaning in the bathrooms," Rashid says. "Kids sit beside one another at the desks, they share objects or even water bottles."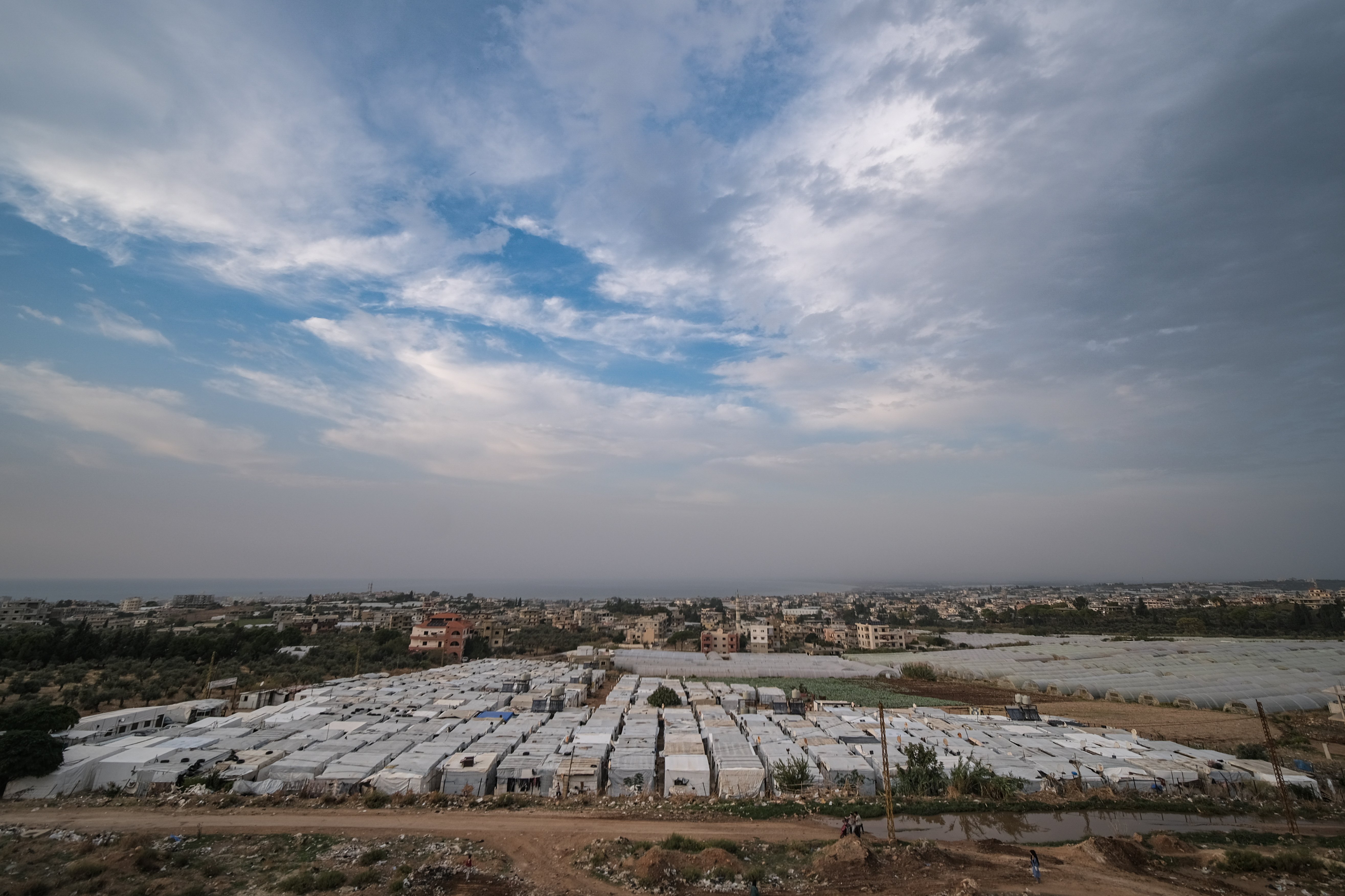 A view of the informal al-Rihaniyeh camp. (Credit: João Sousa/L'Orient Today)
Another issue, Rashid says, is that in Bebnine many households rely on water from private water distributors, the source of which is often unknown and largely unregulated. Nasr confirms this.
"Parents need to be careful and add chlorine to their water tanks. And for now the water they use for drinking, maybe it is better to pay a bit more and get Sohat water bottles."
Still, says Mohamad, a local social activist who worked in recent days to survey households in Bebine, many people in the area simply cannot afford clean drinking water.
A July 2022 UNICEF report warned that most Lebanese households depend on bottled water for their drinking needs, in part because of concerns over the quality of tap water. And yet in April 2022, the price of bottled water was three to five times what it was a year earlier, according to that same report, with a family of five needing to spend about LL6.5 million per year on the water.
Mohamad and a fellow local activist, Moetasem Ouwayed, say that they've recently raised around $1,700, with which they bought bottles of drinking water to distribute in the al-Hariq neighborhood, one of the hardest hit in Bebnine. They have also given out chlorine for families to sanitize their water tanks.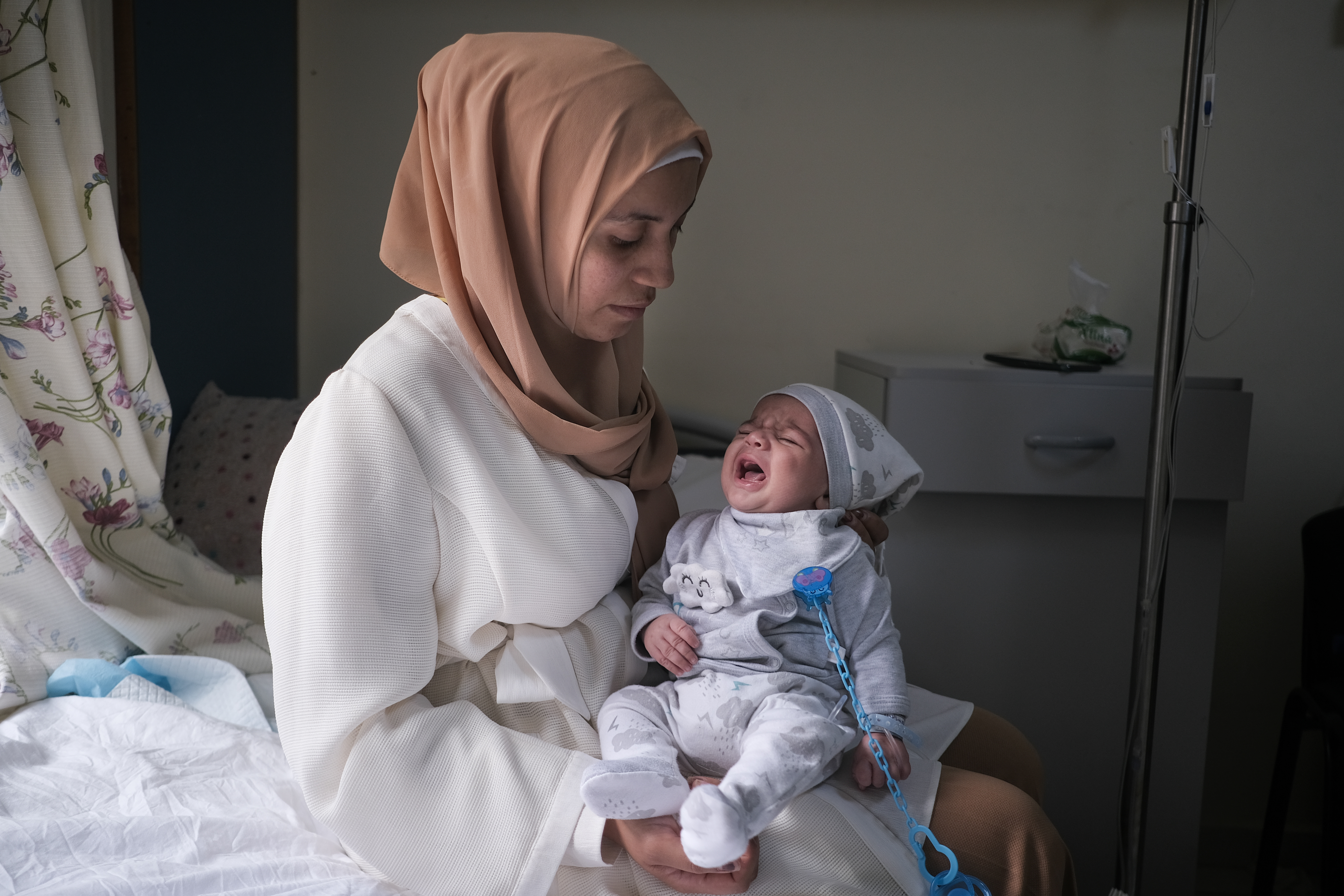 Two-month-old Abdallah who has cholera with his mother at Dr. Abdullah al-Rassi Government Hospital in Halba. (Credit: João Sousa/L'Orient Today)
But more organized intervention is needed, Mohamad worries. He says international organizations have yet to provide local families with drinking water and chlorine.

"Imagine," Mohamed says, "most of the money we raised comes from people in West Bekaa, who want to stand in solidarity with the people of Bebnine. Other funding came from activists in Beirut and people in the diaspora, after our social media post went viral."
For its part, UNICEF issued a press release last week stating it had provided "over fifteen metric tons of chlorine stocks" to Lebanon's water authorities, as well as several thousand "chlorine family hygiene kits" in vulnerable communities.
A stigmatized illness
About a 20-minute drive from the Halba hospital, a couple of children play outside the informal al-Rihaniyeh refugee camp full of white tents in disrepair. Most, if not all, of the residents are from Homs in neighboring Syria, according to local residents.
View of Rashiniyeh camp. (Credit: João Sousa/L'Orient Today)
Many patients now receiving care for cholera in the area are Syrian citizens, including residents of this and other nearby informal camps, local officials and health workers say, though there are increasing numbers of Lebanese patients as well.

But some people resent the stigma that has come along with the outbreak.
"Cholera is just other thing they try to blame on the Syrians," one man near the entrance of the camp says. "But this has nothing to do with nationality, it's about a lack of infrastructure."
According to Rashid, the nurse at the Halba hospital, many Syrian patients have been reluctant to seek treatment due to the social stigma.
The stage was already set even before Lebanon's cholera numbers began rising. According to a UN report from October 2022, many informal Syrian refugee settlements in Lebanon have been relying on water trucked in from largely unregulated private suppliers, increasing the risk of waterborne and food-borne diseases. And rising prices of such water have reportedly led some settlement residents to rely on less and less water per day for basic hygiene and food needs.
Despite reassurances from the town mayor and Akkar governor that concerted efforts are being taken to prevent the further spread of cholera, Bebnine's residents do not seem particularly convinced.
"They're waiting for things to get worse, and for people to start dying on the streets," Mohammad says back at the hospital in Halba, while he cradles his two-months-old son. "As usual," he adds.

BEBNINE, Akkar — Past the overcrowded waiting area and down a set of stairs toward the basement of a mosque in northern Lebanon's Bebnine, a sparsely furnished cholera clinic has been hastily set up. UNICEF-emblazoned boxes sit stacked in a corner.The clinic is aimed at treating cholera patients in Akkar, Lebanon's northernmost governorate and, now, the epicenter of a growing cholera...