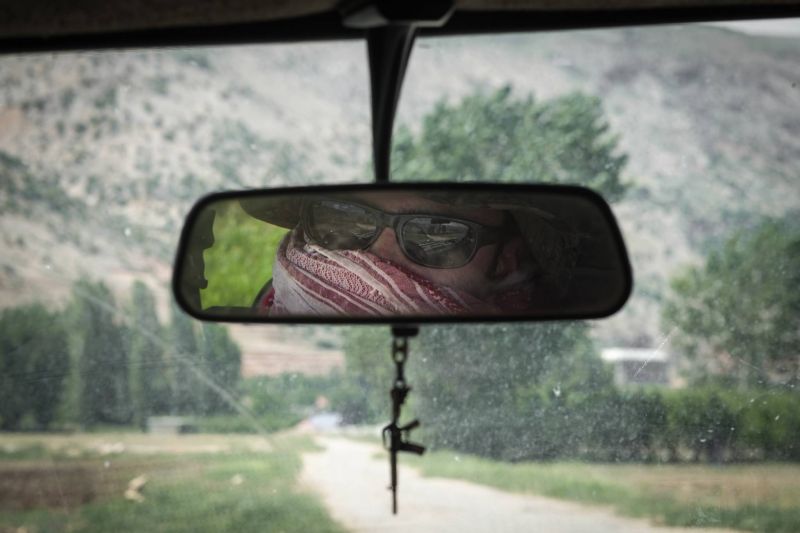 YAMMOUNEH, Bekaa Valley — Hashish, hardy and cheap to grow, has long been a favored crop in Lebanon's Bekaa Valley.
The cultivation of cannabis in the Bekaa pre-dates Lebanon's Civil War, but it expanded during the years of conflict, along with the farming of opium poppies. The returns of the two illicit crops by some accounts reached as much as $1 billion in 1986.
The poppies largely departed to other pastures beginning in the 1990s, following a crackdown by the Syrian forces then occupying the area in response to pressure from the United States. But hashish has remained stubbornly entrenched, despite various attempts by local and international donors and the Lebanese government over the years to coax the farmers to shift to other, legal, crops — among them, according to researchers, sunflowers, saffron, cotton and mulberries to feed silkworms.
Today, the economic crisis is changing the face of the local drug trade again, pushing some farmers into the hashish business for lack of other opportunities, while others have moved from hashish to more lucrative — and dangerous — products.
"We grew up with farming, and it was the essential income, the essential source that we were able to live off of," said Mohamed, a cannabis farmer with five hectares of land in Yammouneh, a tranquil town nestled on the northeastern side of the Mount Lebanon mountain range. The village is known for its pristine lake, Roman ruins — and vast fields of weed. "Apple and pears grow here. But the other crop, which is more profitable, is hashish."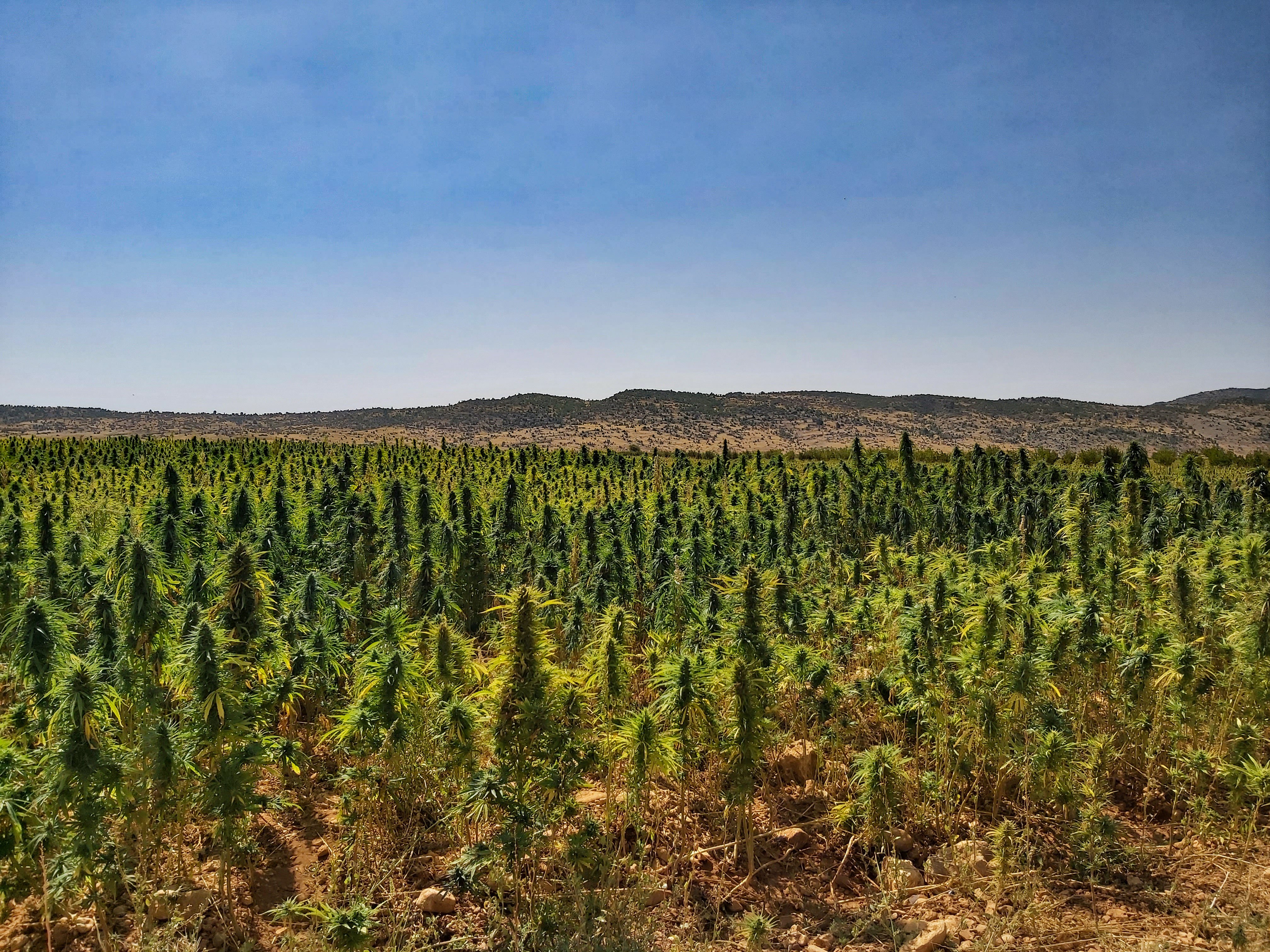 A hashish field in the Bekaa Valley. (Credit: João Sousa/L'Orient Today)
Mohamed, who asked not to be identified by his full name because his business is illegal, ticked off the characteristics that make cannabis preferable to other crops. "If you plant apples, for instance, the expenses are high. You need to wait nine months to get the apple harvest, and each month has its expenses." Cannabis, on the other hand, has a shorter growing season, he said, and "it can stand up to harsh conditions; it can be stored until the time comes to sell it. It costs less than apples, and its profits are a bit higher."
However, like everything else in Lebanon, the cannabis industry has felt the effects of the economic crisis. The costs of fuel and other imported farming inputs have skyrocketed since the collapse of the Lebanese currency and lifting of import subsidies. Meanwhile, the selling price of hashish has declined, farmers and researchers said. The trend has unfolded over years, as consumers abroad have come to prefer different strains of cannabis than those grown in Lebanon.
"In the beginning, people started planting hashish because its profits were high and its costs were low. Now it's the opposite," Mohamed said. "Before, you would sell a kilo of hashish for $1,000 or $1,200. Now a kilo of hashish only comes out to $100 or $150."
Still, he added, "You don't lose money — it's the best option available."
'Of course I don't want to work in it all my life'
For some, Lebanon's crisis has pushed them into the cannabis industry as other opportunities evaporated.
Twenty-three-year-old Ali from Yammouneh graduated from the Lebanese University with a degree in mechanical engineering two years ago and said he had hoped to pursue a graduate degree in computer science and look for work abroad. But the skyrocketing cost of living, and particularly of fuel, amid the country's currency crisis forced him to put his plans on hold.
"If I want to go to Beirut [to go to classes], I have to drive and pay the cost of the gasoline, and if I want to rent a house in Beirut, the rent of the house will be the same as the cost of gasoline," he said.
Ali, who also spoke on condition that he not be identified by his full name because of the nature of his work, decided to return to the family farming business while he figures out his next step. He has 20 dunums (two hectares) of land, all planted with hashish, which he will begin to harvest in the coming weeks.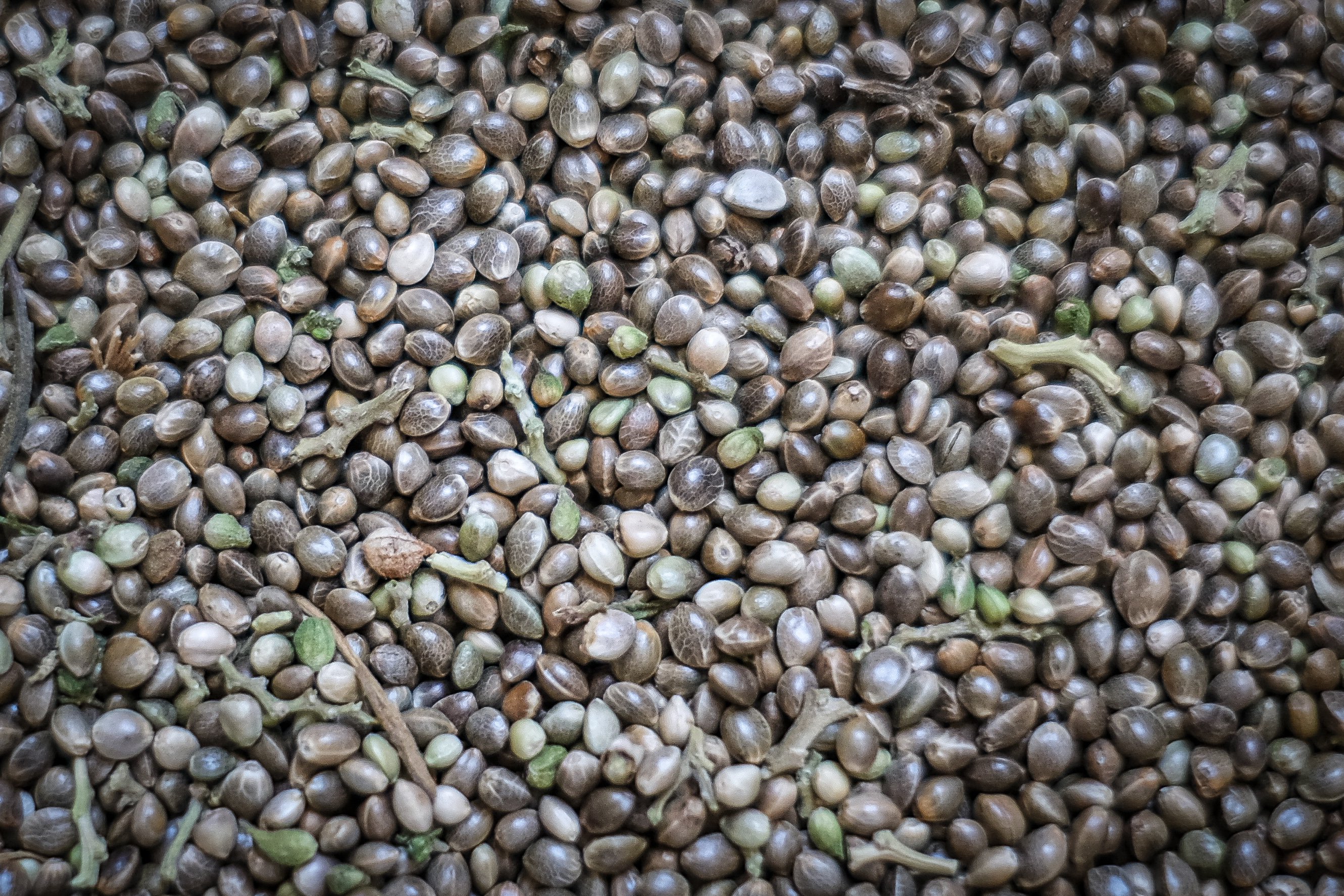 Seeds of the cannabis plant. (Credit: João Sousa/L'Orient Today)
"I began to work in hashish about four or five years ago, but I've known it since I was small," Ali told L'Orient Today, watching from the driver's seat of a pickup truck as a few Syrian workers pulled weeds from a row of tender young cannabis plants early in the season.
"When I got out of school and I realized that I have expenses I needed to cover … I decided to work in hashish. But of course, I don't want to work in it all my life," he said. For young people like him, he said, growing cannabis is a means to "eat and drink and help support our parents, not more than that."
Each dunum of land planted with cannabis costs about $300 to $400 per agricultural season, while, at the current prices, the proceeds might sell for $600 or $700, he said, meaning that the take-home income of a small farmer is only a few thousand dollars a year.
Mohamed, himself the father of school-aged children, said the hashish trade used to provide enough income for a typical small farmer to send their children to university. "But now, he's no longer able to cover his own expenses."
"Because of this, there are many young people who got to the first or second year of university and left because they can no longer pay the tuition and the transportation," he said. Many of them, like Ali, have returned to the cannabis business.
When asked if he would want his own children to follow him into hashish, Mohamed said, "God willing, no," but then had second thoughts. "God willing, they will find work, whether it's in hashish or not."
For now, knowing that he won't be able to afford university fees, he is pushing his eldest son, age 17, to learn the electrician's trade.
'People will go where there's more profit'
While Ali moved from the university to the fields, others have made a different kind of shift.
On the streets of Brital, near Baalbeck, a local driver pointed out a succession of mansions that have popped up over the past few years: "That's Captagon money."
As cannabis has become a matter of diminishing returns, farmers and analysts said, many hashish producers have gone into Captagon production. The stimulant, popular in the Gulf countries, is easier to produce and conceal, and more profitable by orders of magnitude. In some cases, the pills are produced in clandestine labs in Lebanon; in others, Lebanon is a transit point for pills produced in Syria.
"The hashish growers are facing a deep drop in their returns from hashish, and it's no longer feasible for them," said Riad Fouad Saade, director of the Lebanese Center for Research and Agricultural Studies (CREAL), which studies the annual production of all manner of crops, including illegal ones. The center provided the data cited above regarding the value of hashish and opium poppies produced in 1986.
"This year the kilo is sold at $100," Saade said. "Last year it was $200. Before, it was $500."
In light of the shrinking profits, he said, hashish has increasingly "been replaced by Captagon. Captagon is easy and quick to produce. Hashish needs months of agricultural season" and is more difficult to process, he said, "while with Captagon you just get your order, you process it in a few days and you deliver it."
A source involved in Captagon production in the Bekaa, who spoke on condition of anonymity, said the price of the pills has skyrocketed amid largely successful interdiction efforts in the Gulf countries that are its primary market.
"They used to sell a box of 200,000 pills for $400,000 — now it's $1.5 million," he said, while the cost for a producer to make that quantity might be $10,000.
"If you send a kilo of hashish to Saudi Arabia, it won't bring you money like a kilo of Captagon, so that's basically it," the source said. "People will go to where there's more profit, and [Captagon is] easier to make and there's more demand."
'Everyone got into it'
CREAL estimated the total value of hashish production for farmers in Lebanon at about $17.3 million in 2021.
By comparison, Caroline Rose, a senior analyst with the New Lines Institute, a US-based think tank, and one of the authors of a recent report on the Captagon trade, estimated that Lebanon's role in the trade was worth at least $1 billion last year, although she told L'Orient Today that "it's very difficult to pinpoint the exact value, given many unanswered questions about the degree of Lebanon's role in precursor supply and production."
The New Lines research found that some $5.7 billion worth of Captagon was seized globally in 2021. Rose estimated that Lebanon plays a part in about 20 percent of the trade, between "production, trafficking, and use of ports."
In the 1980s and 90s, Captagon production was centered in Bulgaria, but as geopolitical and market forces began to push the labs from Eastern Europe to the Middle East, the New Lines report said, "Syria and Lebanon proved to be natural successors in the mid-2000s," a role that grew further after the outbreak of the Syrian civil war. Since then, multiple players in the conflict — and allied groups in Lebanon — have allegedly gotten into the business.
"Hezbollah and the Syrian regime, but also ISIS and al-Nusra [currently known as Hay'at Tahrir al-Sham] are profiting from it," said the Bekaa source involved in Captagon production. "Everyone got into it. Captagon doesn't have a political identity."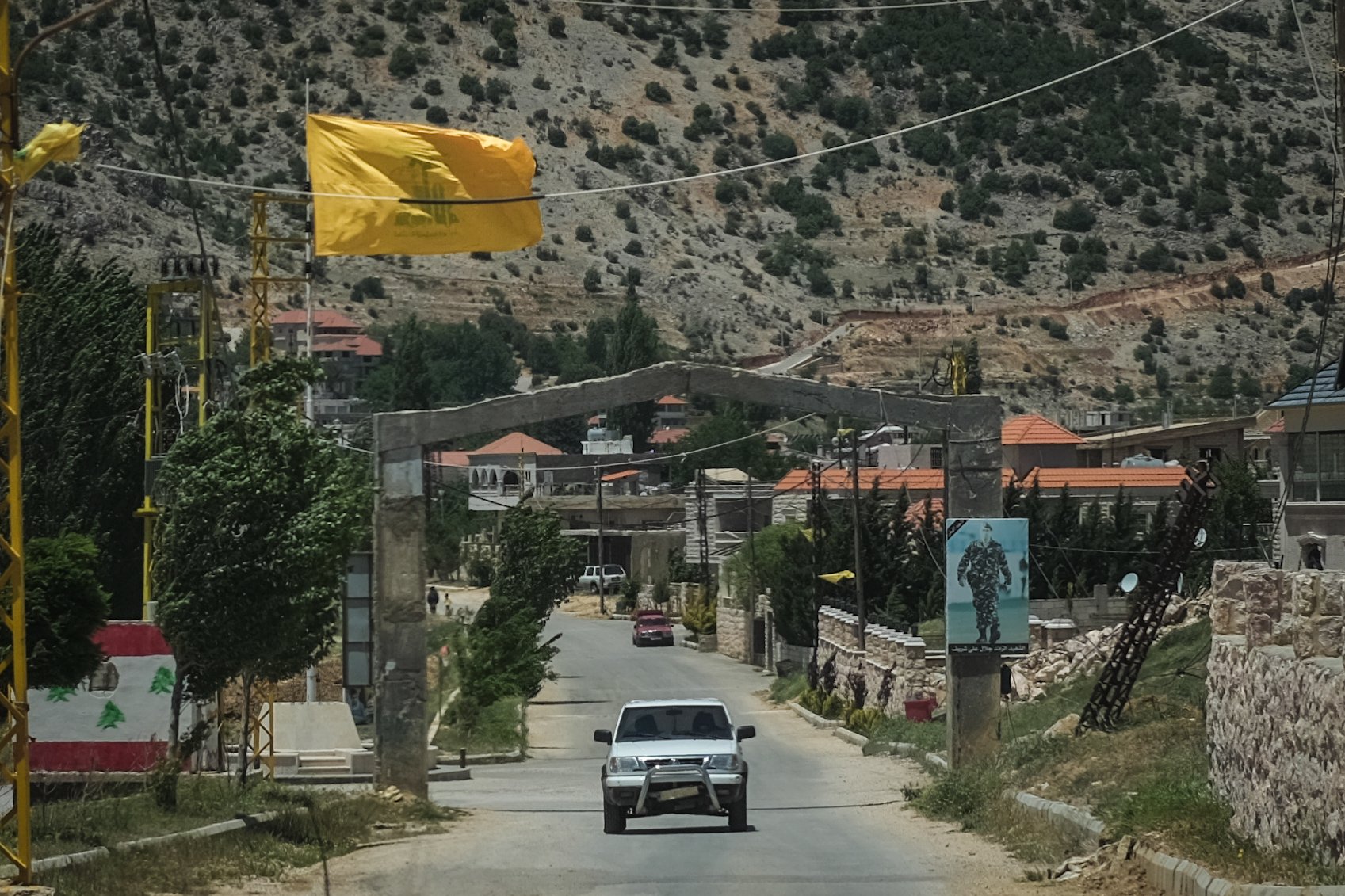 A Hezbollah flag flies above the main street in Yammouneh. Analysts say that the party is a major player, but not the only one, in Lebanon's drug production business. (Credit: João Sousa/L'Orient Today)
A Lebanese-American analyst who spoke on condition of anonymity to avoid jeopardizing ongoing research said that the increase in Captagon production in Lebanon is a "symptom" of the country's larger issues.
"It's just one manifestation among many of the general lawlessness in parts of the Bekaa Valley, but also the breakdown in the rule of law and public order in Lebanon generally," he said.
While Hezbollah is a "special case" when it comes to the "parallel lines of control and influence that factions in Lebanon enjoy," he added, it is not the only faction involved in the drug trade. "Even if they're the primary beneficiaries, and the people who sort of uphold the corrupt order, they're also not the sole organization engaged in it."
Asked about the apparent shift from cannabis to Captagon, a Lebanese Army spokesperson said in a statement that "given the requirements for growing hashish and marijuana, including land needed for planting, many drug traders find it easier to produce Captagon pills, which is relatively more discreet." The army was unable to provide statistics regarding the relative size of the Captagon and cannabis trades in Lebanon, instead referring the question to the counternarcotics division of the Internal Security Forces. Statistics provided by the ISF to L'Orient Today show the amount of hashish seized to be wildly fluctuating; in 2021 the agency seized 9,893 kg of hashish; in 2020, 24,827 kg; 3,216 kg in 2019; and 8,352 kg in 2018. The seizure figures for Captagon also fluctuated significantly.
Mohamed, the cannabis farmer, noted of his contemporaries who have moved into Captagon, "They didn't leave hashish. They've started to work in both hashish and Captagon."
For his part, Mohamed said he rejects the idea.
"I'm against Captagon. Its effects are much stronger than the effects of hashish. Hashish doesn't cause addiction," he said, although he added that he finds even hashish too strong for his liking. "I tried it, but I didn't make a habit of it. I don't have a problem giving it to others, but personally, I felt that it affected me a lot."
Remains of a picked cannabis parts to separate seeds from other parts of the flower. (Credit: João Sousa/L'Orient Today)
A peripheral area
The army's statement noted that the economic crisis unfolding since 2019 had fed into the production of illicit drugs in Lebanon "since poverty and harsh living are main reasons that push individuals, especially young men and women, to commit crimes in general and to use and promote … drugs in particular."
But in the areas where the drug trade is most entrenched, residents said, the 2019 crisis only exacerbated existing feelings of disenfranchisement.
"When you're talking about the Bekaa, and specifically Baalbeck-Hermel, you're talking about an area that, from the standpoint of the Lebanese state … was always considered a peripheral area," Hassan Naim, whose family has a construction company in Baalbeck — a business that puts him in contact with people on both sides of the law — told L'Orient Today. He noted, for instance, that there is no fully functional campus of the public Lebanese University in the governorate.
Many residents of the area "see the state only at army checkpoints," Naim said. "They don't see the state as a state, they see the army and the police … If someone says, 'The state came,' he means the army and the police came."
In some cases, these brushes with the law turn violent — a Lebanese Army soldier was killed in June in a shootout in Baalbeck in a raid on a suspected drug trafficker known as "Abu Salleh."
The army said in its statement that over the past two years its soldiers had conducted "hundreds" of anti-drug operations, which it said "led to the arrest of hundreds of drug traffickers, more than five extremely dangerous drug lords, and to the seizing of hundreds of thousands of Captagon pills, several hundred kilograms of hashish and cocaine and other types of drugs." The army "seized and dismantled at least three major drug-manufacturing facilities" during that time, it said.
The statement added: "All these steps, in which many soldiers lost their lives as martyrs of the homeland and others were wounded, dealt a powerful blow to the drug trafficking activities."
But many see those activities as the natural extension of state neglect.
"Abu Abdo" Mazloum, an activist from Brital who formerly served prison time on drug charges and in recent years has advocated for a general amnesty for prisoners, told L'Orient Today, "Like in any country in the world, if there's no work or opportunities for employment, you'll have crime."
A general amnesty, he said, "would turn over a new page for regular people and reduce crimes" by giving former prisoners and those currently wanted for arrest a chance to enter the formal job market.
Some are pinning hopes on the eventual implementation of a law passed in 2020 that would legalize the cultivation of cannabis for medicinal and industrial uses. Caretaker Agriculture Minister Abbas Hajj Hassan has touted the potential benefits of growing industrial hemp, in particular.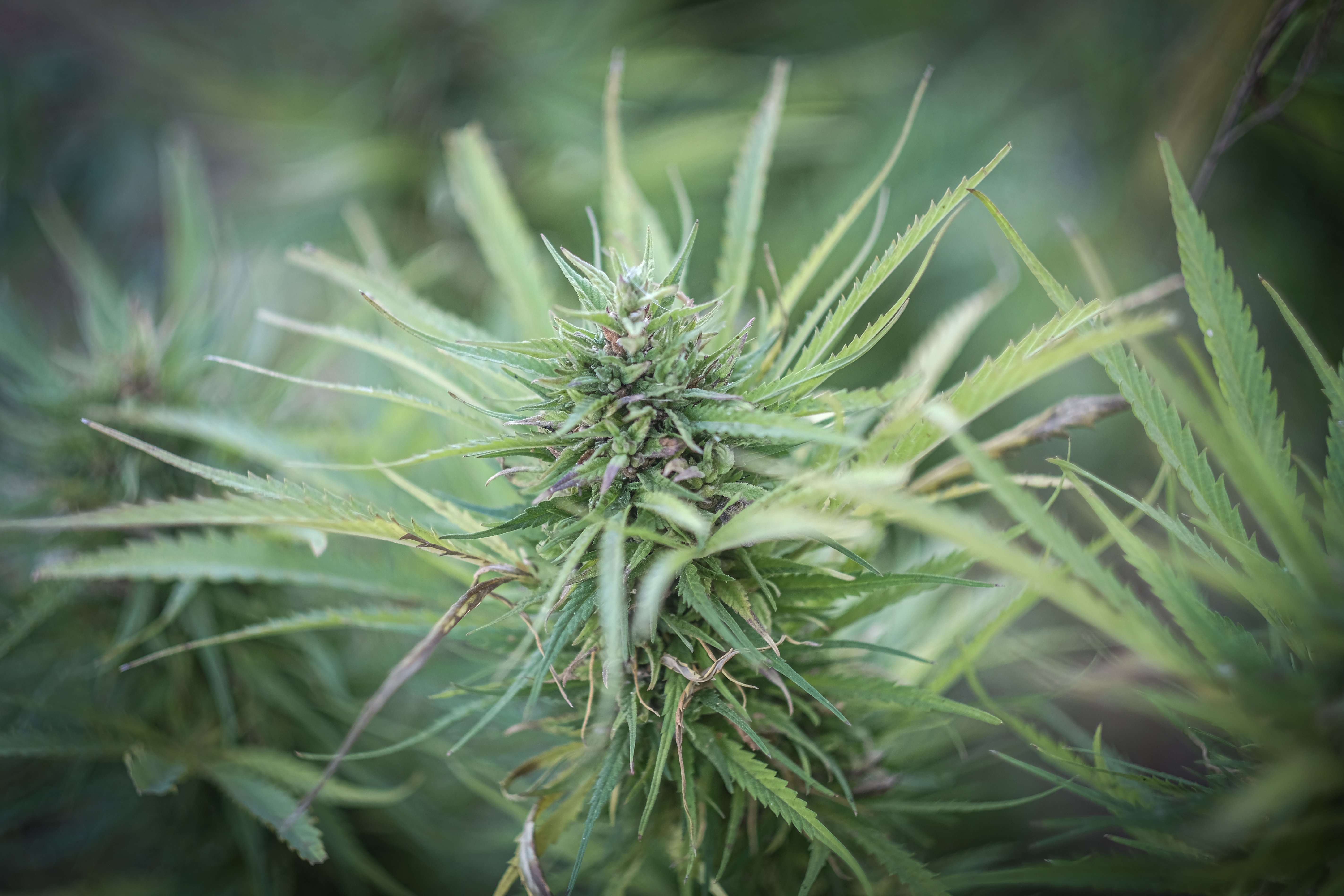 A cannabis plant in Yammouneh, Bekaa. (Credit: João Sousa/L'Orient Today)
Others are wary, particularly small farmers who fear that if the legalization law is implemented, the licenses to cultivate medical marijuana would be parceled out only to large and politically connected players.
"We hope that they will legalize hashish and benefit the Lebanese people — but not at the expense of the small farmers," Ali said.
CREAL's Saade is also skeptical of the hopes pinned on medical marijuana.
"The medical [cannabis] is not the same variety that we have here," he said. "If we want to introduce a new variety, we will need several years of trials to determine the best [agricultural] practices and how to reach the best yields." Even then, Saade said, there is no guarantee that it will be profitable. He added that there are "many other activities" that could take the place of hashish in the economy.
"It's not necessary to have [another] agricultural activity or crop replacing the crop, but to have an economic activity that will use the existing manpower for lucrative productions," he said. "That could be an agricultural one, as well as it could be an artisanal one, it could be an industrial one, it could be anything."
Staff writer Albin Szakola contributed additional reporting.
YAMMOUNEH, Bekaa Valley — Hashish, hardy and cheap to grow, has long been a favored crop in Lebanon's Bekaa Valley. The cultivation of cannabis in the Bekaa pre-dates Lebanon's Civil War, but it expanded during the years of conflict, along with the farming of opium poppies. The returns of the two illicit crops by some accounts reached as much as $1 billion in 1986. The poppies largely...