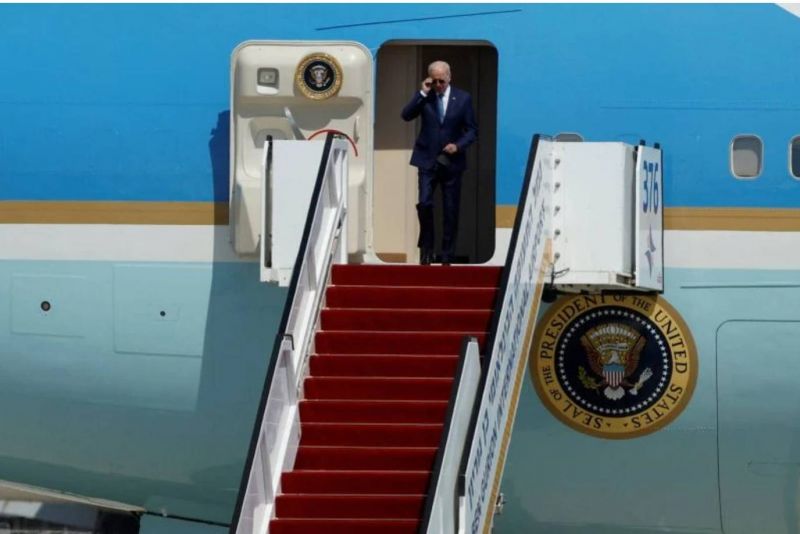 US President Joe Biden wants to make history. While rumors of a regional NATO-like coalition have been making the rounds for several years without any project having materialized, talk of reshuffling the region's security structure has intensified against the backdrop of Biden's trip to the Middle East, the first since he took office.
Arriving in Israel yesterday afternoon, the White House tenant was welcomed by Israeli President Isaac Herzog and Prime Minister Yair Lapid.
The second leg of his tour is to the West Bank, where he is expected on Friday for talks with Palestinian Authority President Mahmoud Abbas.
He is then slated to conclude his tour in Saudi Arabia, to meet Crown Prince Mohammad bin Salman and attend a summit of the Gulf Cooperation Council, which will include Egypt, Jordan and Iraq.
Through this trip, whose objective is to encourage a rapprochement between Saudi Arabia and Israel, Biden hopes to mark a significant step forward in the normalization of relations between Israel and Arab countries — a process that began under former President Donald Trump with the 2020 Abraham Accords.
This process, underpinned by the consolidation of an anti-Iranian alliance in the region, now seems all the more urgent to the members of that alliance, as the Vienna nuclear negotiations could end up faltering despite the efforts made for over a year to reactivate the 2015 agreement from which Trump withdrew.
The shared perception of the Iranian threat from Tel Aviv to Jeddah and the issue of regional stability will thus be at the heart of Biden's meetings, during which he is expected to reassure his allies by offering them guarantees.
"There is talk of a new security arrangement proposed by the US, a 'Middle East NATO' and no longer just an Arab one ... This arrangement would include Israel, giving it a very different dynamic from previous iterations of strategic alliances," Dania Thafer, director of the DC-based think tank Gulf International Forum, said.

Normalization and an alliance to counter Iran

Having planned to make an unprecedented direct flight from Tel Aviv to Jeddah, Biden stressed this "small symbol of the budding relations and steps toward normalization between Israel and the Arab world, which my administration is working to deepen and expand," according to his Washington Post op-ed on July 9.
In this piece, Biden tried to justify his controversial visit to Saudi Arabi, which was denounced by human rights activists and divided the Democratic camp, notably because of the murder of Jamal Khashoggi, a Saudi journalist and a Washington Post Global Opinions contributing columnist, who was murdered in the Saudi consulate in Istanbul in 2018.
No longer wishing to give the Gulf monarchies a blank cheque as was the situation under his predecessor Trump, as soon as he came to power, Biden tried to isolate the Saudi crown prince for his role in the Khashoggi affair.
With the midterm elections scheduled for November in the US, MBS has nonetheless become unavoidable in the context of the war in Ukraine and the surge in oil prices.

Much criticized, the meeting planned between the two senior officials is seen by many pundits as an attempt to clear MBS' image and a resumption of the US conciliatory policy toward allies with a dubious human rights record.

While Trump failed to convince Riyadh to join the Abraham Accords, putting the Wahhabi kingdom on the path to normalization would nevertheless allow Joe Biden to score points on the domestic and regional scenes.

The media site Axios revealed at the end of May that talks were underway between Israel and Saudi Arabia, via Cairo and Washington, to allow Israeli eastbound commercial aircraft to fly over Saudi territory, or even to open direct flights for religious pilgrimages. The deal would also involve transferring two strategic islands in the Red Sea from Egyptian to Saudi sovereignty.

While MBS, the kingdom's de facto ruler, is inclined to establish ties with Israel, developing the informal relations that have existed for years between the two countries, his father, King Salman, is firmly committed to the 2002 Arab peace initiative, which notably made recognition of the Jewish state conditional on the creation of a Palestinian state.

Although normalization is not yet on the agenda, bringing the two countries closer together would allow the American president to consolidate an anti-Iranian alliance in the region, at a time when the latest attempt at conciliation, held in Qatar last month to reactivate the 2015 nuclear agreement, failed.

On Tuesday, the French foreign minister signaled that "the window of opportunity [to revive the nuclear deal] will close in a few weeks."

With its uranium enrichment now reaching 60 percent in some nuclear plants, Tehran is trying to play for time in a bid to get guarantees of short-term economic gains and long-term stability of a return to the deal.

Reacting to Biden's visit to the region, Iran's President Ebrahim Raissi said yesterday that Israel's efforts to "normalize relations with certain states will not bring it security."

Israel, which has recently intensified its shadow war against Iran, aiming in particular to hinder the progress of its nuclear program, wants to ensure Washington's support in case of a major Israeli strike in the heart of the Islamic Republic.

According to Israeli officials quoted Tuesday in the Saudi daily Arab News, the US president is expected to sign an agreement with Israel this week committing the two countries to do everything in their power to ensure that Iran never obtains nuclear weapons.

Partnership in the making

In addition to Tehran's nuclear plans, its adversaries, particularly the Gulf petro-monarchies, are also concerned about the activities of its regional supporters and its ballistic program.

Supported by the Islamic Republic, the Houthi rebels regularly launched missiles and drones at Saudi territory before a truce that was concluded in April and renewed since, while they attacked earlier this year the UAE, which prided itself on being a haven of peace in the region.

Saudi Arabia has been leading a coalition that has intervened militarily in support of pro-government Yemeni forces since 2015, with the UAE among other countries being part of it.

As a gesture of assurance to his Gulf allies, Biden was ready to sign a formal agreement with Abu Dhabi containing security guarantees.

This is an agreement that Riyadh would also seek to conclude, with the aim of finding a way out of the war in the neighboring country.

According to Christian Koch, research director at the Gulf Research Center, while

an anti-Iranian alliance could further exacerbate tensions, a formal alliance is not expected to be announced soon. He added that for now, Arab countries want to hear what the US is willing to offer.
At the end of June, Israeli Defense Minister Benny Gantz announced that the Jewish state was "building a wide partnership with additional countries in the region to ensure a stable and prosperous Middle East," in reference to a "Middle East Air Defense" alliance that is in gestation with Arab neighbors.
In fact, coordination already exists between Washington's allies in the region, mainly as part of the US Middle East and Central Asia Command (CENTCOM), managed from the US base in al-Udeid, Qatar.
Shortly after the signing of the Abraham Accords, Israel was placed under this area of responsibility instead of Europe, thereby redefining alliances and allowing the exchange of information to ensure, in particular, an air defense against drone and missile attacks.
In February, the US Navy's Fifth Fleet based in Bahrain announced its intention to launch a joint force of unmanned drones to patrol maritime areas subject to tensions with Iran, which would potentially include Israel.
A loose coalition
"The security arrangement proposed by the United States could complicate matters for Arab countries that have not yet developed basic diplomatic relations with Israel and that would suddenly have to promote their relations into a strategic alliance," said Thafer.
While Doha said it only has a "working relationship" with Israel, especially on the Palestinian issue, Israeli representatives visited Qatar last weekend to attend a CENTCOM meeting led by Washington.
Qatari and Saudi representatives also took part in secret talks between Israeli and Arab military officials in Egypt in March under the auspices of the United States, The Wall Street Journal revealed at the end of June.
"The idea of a new US.-led coalition in the region is plausible, because it is clearly in the interest of all the countries that would be involved, especially if it takes the form of a flexible, tacit coalition rather than a formal partnership, or even more difficult, a true alliance," said Hussein Ibish, a researcher at the Arab Gulf States Institute in Washington.
The disengagement of the United States from the Middle East, which began a decade ago, has led its allies to adopt a policy of de-escalation and to resume contact with former rivals in order to ensure some regional stability.
Hoping to find a way out of the crisis in Yemen, Riyadh opened a direct channel of communication with Tehran by way of Baghdad in April 2021 — in parallel with the resumption of negotiations on the Iranian nuclear dossier initiated by Biden.
After lifting the blockade against Doha in January 2021, at the instigation of Riyadh, Abu Dhabi took steps closer to Turkey, which has itself tried to re-establish relations with Israel, or with the Saudi crown prince, against whom Turkish President Recep Tayyip Erdogan had led an international campaign after the Khashoggi affair.
If the dividing lines and alliances are being reconfigured in the region, the interests of the different actors are not aligned on all issues.
"It is a question of moving forward on two tracks, maintaining dialogue with Iran to avoid an escalation of tensions and at the same time strengthening defense and deterrence capabilities," said Koch.
Spearheading normalization with Israel, the UAE hopes to benefit from Israeli expertise in anti-drone and anti-missile air defense, embodied by its Iron Dome system.
Bahrain has also shown interest in this technology. Although rumors suggested that a technology transfer could take place after Israeli President Isaac Herzog's visit to the UAE in February, during which Houthi missiles were intercepted, voices within the Israeli security apparatus have been raised against it, and no official confirmation has been made public.
The article was originally published in French in L'Orient-Le Jour. Translation by Sahar Ghoussoub.

US President Joe Biden wants to make history. While rumors of a regional NATO-like coalition have been making the rounds for several years without any project having materialized, talk of reshuffling the region's security structure has intensified against the backdrop of Biden's trip to the Middle East, the first since he took office.Arriving in Israel yesterday afternoon, the White House...