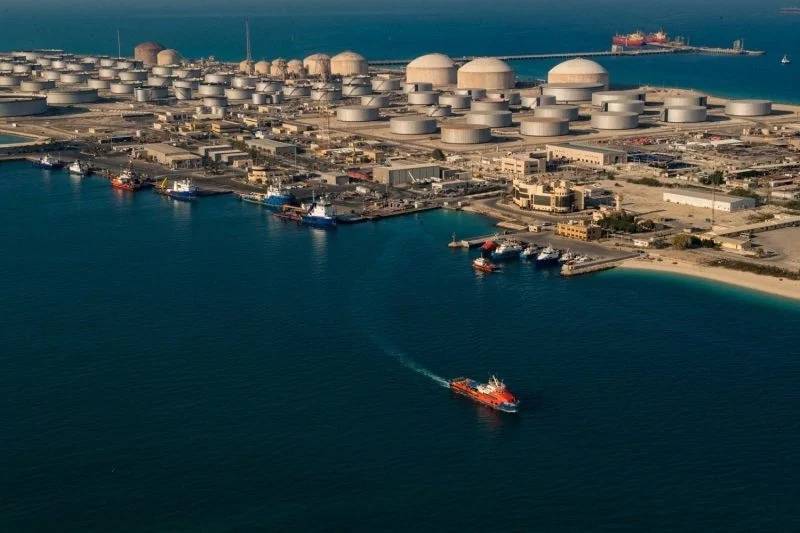 Particularly courted since the beginning of the war in Ukraine, the petro-monarchies in the Gulf are blowing hot and cold in the face of soaring global oil and gas prices. In stark contrast to their situation during the coronavirus pandemic, when the price of a barrel of oil fell below zero on some markets, they are now the ones who are making the most of this conflict on the edge of Europe.

After having approached $140, which would have been a historical record, at the beginning of March, the barrel is now sold around $120. This will allow them to replenish their coffers, which they have been forced to resort to in recent years.
While the Middle East and North Africa region is thus witnessing a 5.3 percent growth — more than double the global growth forecast, which is estimated at 2.9 percent for a protracted period of stagflation with feeble growth and high-inflation, the World Bank wrote in a report published this month — oil and gas producers are taking advantage of this opportunity to advance their interests at the national level with regards to their planning of the post-petroleum era, and in the face of other regional and international players, in order to promote their interests and obtain concessions at low cost.
While Saudi Arabia has significant unused production capacity that could be used to increase supply on the world market and thus lower oil prices, it has so far resisted US pressure in order to achieve, according to its own terms, reconciliation with this strategic ally.
To a lesser extent, the United Arab Emirates is also seeking to take advantage of its status as an oil producer to obtain security guarantees.
Qatar, the world's largest exporter of liquefied natural gas (LNG), is laying the groundwork for a strong entry into the European market.
"Net exporters of oil in the Middle East are probably among the few countries that are benefiting significantly from the rise in energy prices fueled by the conflict in Ukraine," said Carole Nakhle, founder and CEO of London-based Crystol Energy.
An exceptional windfall
While the rise in prices was a source of concern even before the war, the latter has accelerated the trend, giving Russia, one of the world's largest oil and gas producers, a significant windfall to finance its war effort against Kiev, despite Western sanctions.
A report by the Center for Research on Energy and Clean Air indicated that Moscow obtained $98 billion in the first 100 days of the conflict from oil and petroleum products, gas and coal exports, notably to the European Union, with Germany coming in just behind China.
Lowering hydrocarbon prices, and therefore the Kremlin's revenues, would allow Western sanctions to have a greater impact on the Russian economy. This objective is also of national interest for countries including the US, where inflation linked in particular to fossil fuel prices is affecting the households' daily lives and causing popular discontent ahead of the midterm elections.
Indirectly concerned, the exporting countries are benefiting for the moment from an exceptional windfall that is not meant to last.
"The oil and gas exporters' Achilles' heel continues to be their substantial economic dependence on oil and gas revenues. Accelerating economic diversification across the region, avoiding embarking on a spending spree and safeguarding the additional hydrocarbon windfalls will allow them to overcome the challenges a decline in oil prices can bring," Nakhle continues.
For years, the intention of the petro-monarchies in the Gulf has been to prepare for the post-oil era by seeking to attract investors and skilled workers, while diversifying their sources of income. This policy is included in the Saudi Vision 2030, the Saudi economic and social reform plan.
This boom "could give the Saudi Public Investment Fund (sovereign wealth fund) ideas to invest in technology companies in the US and Europe, when their idea of energy transition is to increase their tech capacity in many fields other than oil," said Jean-François Seznec, adjunct professor at Johns Hopkins University in Washington.
According to Bloomberg, Riyadh earned $1 billion a day in March from its oil exports. The kingdom could make between $342 billion and $400 billion in these revenues this year, according to various reports cited by UAE's The National newspaper.
"In 2022, the real GDP growth of the Gulf oil exporters is indeed very strong, ranging from 4 to 5 percent.It is the nature of procyclical spending and the benefit of these government deposits in banks that stimulate other sectors of the economy," said Karen Young, director of the Program on Economics and Energy at the Middle East Institute.
Obtaining concessions
It is in this vein that Riyadh has since the Russian invasion of Ukraine been exploiting its leading position in the enlarged organization of petroleum producing countries OPEC+, of which Russia is an almost equally important member.
After lengthy discussions, it was only earlier this month that the cartel finally decided to increase its production by 200,000 barrels per day for July and August, compared to what was already planned earlier.
"A change driven by a combination of political, strategic and economic interests: restoring relations between the US and Saudi Arabia, keeping Russia in the alliance, which is important for its longevity and influence, and reducing the risk of oil demand erosion," said Nakhle.
Joe Biden thus seems to have recently softened his position towards the Saudi crown prince, ready to rehabilitate him, while he initially intended to isolate him for its alleged approval of the murder of the Saudi journalist Jamal Khashoggi in the Saudi consulate in Istanbul in 2018.
While the Democrat president said on Saturday that a possible trip to Saudi Arabia to meet with Crown Prince Mohammed bin Salman (aka MBS) "has not yet been decided," it had, however, been announced as part of a tour by the White House president to Europe and Israel in the coming weeks.
Similar to its Saudi neighbor, the UAE is also using its oil power and its stated neutrality with regard to the war in Ukraine to obtain concessions from the US in the face of its fear of the Iranian threat in the region.
Faced with Washington's refusal to re-add the Tehran-backed Houthi rebels on its terrorist organizations list following attacks on its soil, Abu Dhabi refused to align itself with its American ally against its Russian partner in the vote on two resolutions at the UN Security Council.
In this balance of power, it seems that Abu Dhabi is seeking to obtain security guarantees from the world's leading power. While Axios news revealed in early June that Washington and Abu Dhabi are preparing a formal arrangement, in the midst of a stalemate in the Vienna negotiations aiming to return to the Iranian nuclear deal, this would require the US Congress' approval and could be seen as contrary to American interests.
The White House could instead give the UAE the status of a major non-NATO ally, according to Amwaj news, similar to Qatar, which obtained it after Sheikh Tamim bin Hamad al-Thani visited Washington at the end of January to discuss gas supplies to Europe.

Fundamental dynamics
As a preferred interlocutor with the West, this small, wealthy and gas-rich country positioned itself relatively early as a sought-after alternative to Russian natural gas for the European Union, which imported about 40 percent of its consumption from Moscow at the start of the Ukrainian conflict.
While Qatar had already announced a mega investment plan last year to increase its LNG production by more than 60 percent by 2027, it is now in a position to negotiate long-term contracts with European countries, while a business litigation was recently brought to a close by Brussels.
"By increasing its production capacity, Qatar has a huge advantage. Brussels will be obliged to work very closely with Doha," said Seznec.
Last month, Doha signed agreements to supply Berlin with 20 to 25 percent of its gas needs starting 2024 to compensate for the gradual phase out of Russian supply.
These circumstances should also affect regional dynamics. "As prices soar, the fact that Saudi Arabia and the UAE have a much important weight on the international market is difficult for Tehran to accept, as it cannot benefit from it in the same way," said Seznec.
Under tightened Western sanctions since 2018 and Donald Trump's "maximum pressure" policy after his withdrawal from the nuclear deal, Tehran — which is reviled by Riyadh and Abu Dhabi — faces financial and legal difficulties in exporting its oil and gas.
Although the Iranian Oil Ministry said it is currently exporting more than 1 million barrels of oil and condensed gas per day, according to the official IRNA news agency, China, which was its main customer, is now buying low-priced oil from Russia, which is also under heavy Western pressure.
"Tensions are likely to emerge between Russia and Iran, as Tehran is further isolated with its nuclear activities and Gulf states will circle back closer to the US and Israel in defensive postures," Young said.
This article was originally published in French in L'Orient-Le Jour. Translation by Joelle El Khoury.

Particularly courted since the beginning of the war in Ukraine, the petro-monarchies in the Gulf are blowing hot and cold in the face of soaring global oil and gas prices. In stark contrast to their situation during the coronavirus pandemic, when the price of a barrel of oil fell below zero on some markets, they are now the ones who are making the most of this conflict on the edge of...