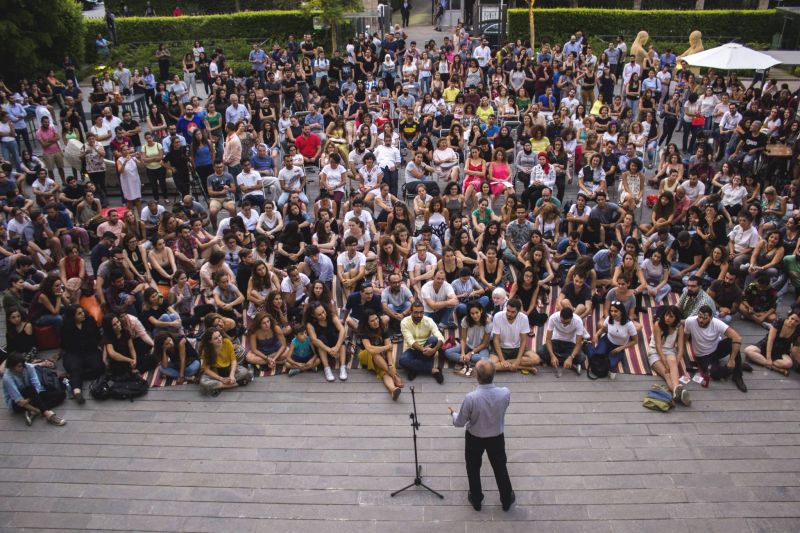 BEIRUT — Beirut's storytelling scene was almost inescapable, in the best of ways, a few years ago. However, with the coronavirus forcing it online, the explosion shattering both its most prominent podiums and its members and audiences' hearts, and a continuously spiraling economic crisis leaving less citizens with money to spend on nights out and gas to get there, the nights of titillating tales and intimate heart-to-hearts seemed to have gone into hibernation mode.

While some of the events moved online amid the pandemic, slowly but steadily, the stories are coming back to physical stages, filling a much-needed space in the city.
Surrounded by secondhand books, an old apothecary cabinet and a variety of potted plants at Barzakh, a cafe and bookshop in Hamra, Mayssa Jallad shyly approaches the microphone, sinking her feet into the massive woven carpet. Punctuated by the honking Hamra sounds that somehow add to the intimate living room-like setting (it's a sound that accompanies most Beirutis even while in the privacy of their own home, after all) Jallad shares a story about emotionally stingy fathers and "the loneliness of exile and abandonment" that drove her back to Beirut. Rich in emotion and told with charm, the audience audibly engages with her, from heavy silences to giggles of recognition. Her encore is a stirring acoustic song played on her guitar.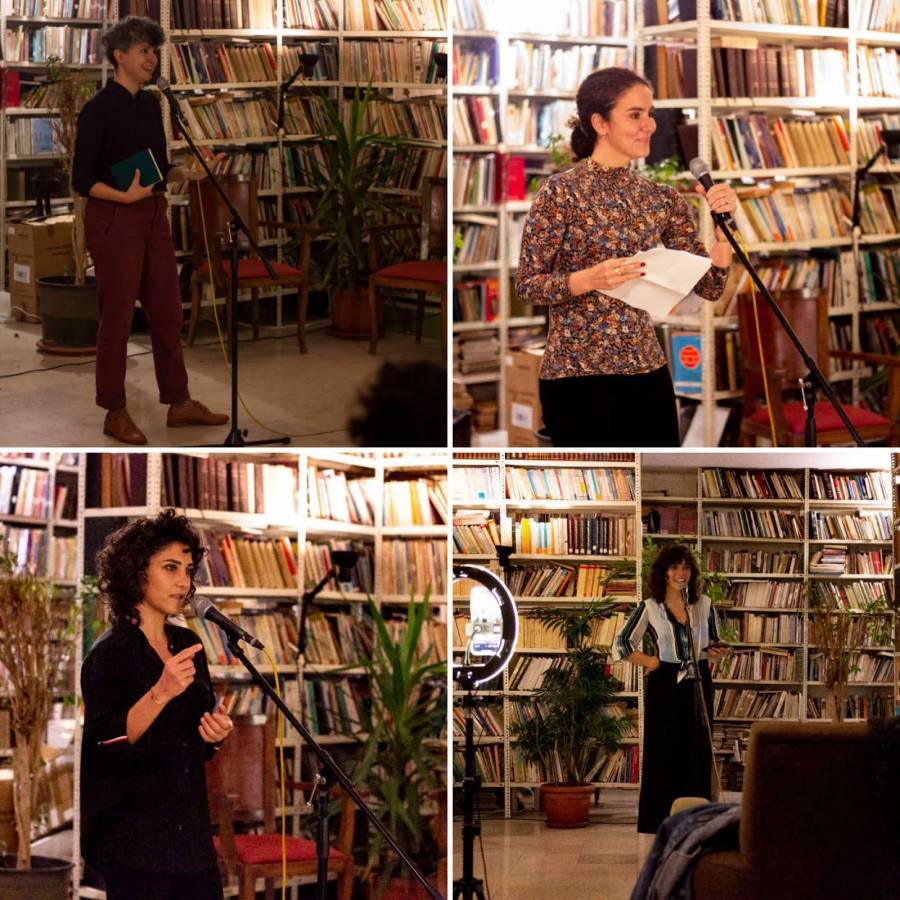 Storytellers at the first in-person Cliffhangers storytelling event after COVID-19 on Nov. 25, 2021 at Barzakh, a library and cafe in Hamra. (Credit: Whard Sleiman)
Before the likes of Netflix and social media served up an incessant stream of curated stories, the most common and celebrated form of entertainment in the Middle East used to be that of the hakawati, meaning "the one who tells stories."
In some cases, these master storytellers would spin out one long continuous tale night after night over several months.
According to legend, in the 18th century, Ahmad al Saidawi, one of the most famous hakawatis of his time, told the story of King Baybars for 372 evenings in a café in Aleppo.
While the Lebanese-American painter-writer, Rabih Alameddine, published his book The Hakawati in 2008 to critical acclaim, helping to reignite global interest in the Arabic tradition of storytelling, today, the hakawati has been largely replaced by various forms of modern entertainment.
In Lebanon, the tradition has sometimes been revived during Ramadan hakaya nights and even during a special festival of storytelling: the International Festival of Stories and Monodrama, a yearly event launched in 2000 at the Monot Theater, where storytellers from all over the world captivated the audience with traditional tales from their countries, ending with the highly popular "Liars Contest" where all the storytellers improvise tales based on cues by the public.
In recent years, a number of events had popped up in Beirut that merged the traditional hakaya format with that of more modern storytelling events like the Moth, launched in New York in 1997, which tend to focus more on stories of personal experience.
At least one of these initiatives — the Hakaya storytelling nights that used to take place at Hamra's Dar Bistr0 — fell victim to Lebanon's compounding crises; the storytelling nights ended when the cafe closed its doors in 2020 and the Hakaya organizers left the country. Others, including the Cliffhangers and Sidewalk Beirut initiatives, went online during the pandemic but returned to the physical stage last year. Cliffhangers resumed their in-person storytelling night at Barzakh in November after a two-year absence while Sidewalk Beirut restarted their open mic sessions at Riwaq, a bar and cafe in Mar Mikhael, in September, with a short hiatus between December and February.
Cliffhangers founder Dima Mikhayel Matta, a writer, theatremaker and storyteller, decided to bring to life a safe space for storytelling in 2014 in Hamra's Alt-City, a start-up community.While it was initially an intimate affair between friends, people kept asking when the next night would take place. It didn't take long before it grew into the wildly popular monthly "Cliffhangers'' events, held at various venues around Beirut. The events usually consist of a main line up of speakers, followed by an open mic period.
Matta named the storytelling community after the cliffhanger tactic used by hakawatis, leaving the fate of the protagonist in the balance, so as to bait the audience to return for the rest of the story the following night. However, the stories told during Cliffhanger nights usually begin and end the same night, although some topics and protagonists might return.
"I feel like I've been telling stories forever. I grew up around stories. I mean, my father was the original storyteller. He's the reason I love stories, he would improvise bedtime stories for me and my brother on the spot," Matta says. "Once we did the math, and we realized that he must have invented over 1,000 stories for us."
So, for Matta, coming up with a certain format to make storytelling accessible felt like "a natural continuation of something that is way bigger than me and way older than me especially in a country where this has been happening for centuries."
While the format is a nod to tradition, the Cliffhangers nights often center around distinctly modern themes.
The group attracted its largest audience to date in 2017 when, as part of the first Beirut Pride Week, its "Idahot Storytelling Night," held in Station Art Gallery on May 17 to coincide with the International Day Against Homophobia, Transphobia, and Biphobia. The event was featured in the Beirut episode of Christiane Amanpour's "Sex & Love Around the World" Netflix series.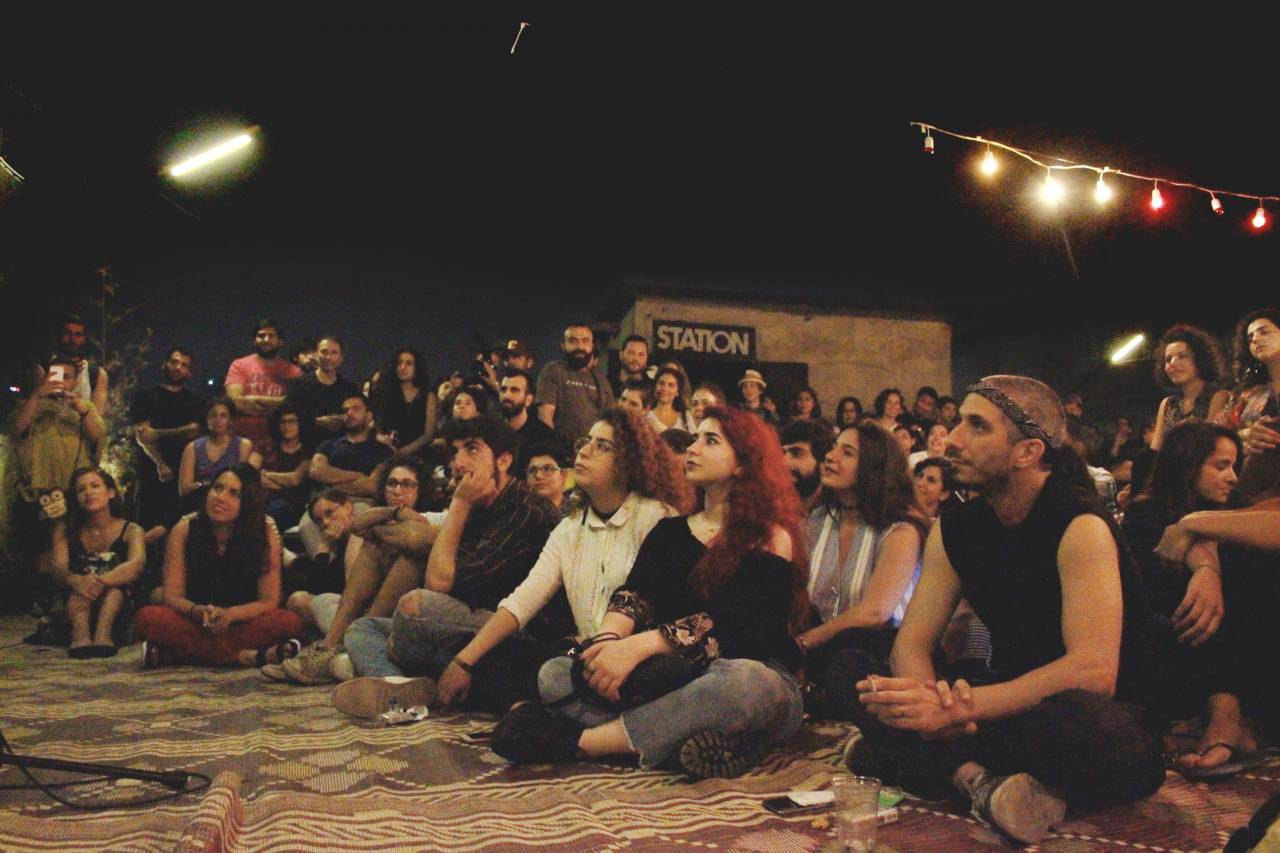 Cliffhanger's IDAHOT storytelling night on May 15, 2019, at Station Beirut. (Courtesy of Dima Matta)
"I thought nobody was going to show up because there was like a weeklong [lineup of] LGBTQ+ events, and they were receiving threats from extremist groups," Matta said. "So I thought nobody would have the courage to show up, understandably, of course. But suddenly, there were 400 people on the rooftop!"
Matta said, "I think what I realized early on is that what we were able to provide is a safe space for people to share stories, for people to come and listen. And to have a sense of community to know that for the two hours or so that they're in this room, all together. We're holding space for each other, which I feel rarely happens on such a scale."
While for many listeners and storytellers, the nights can be cathartic, Matta emphasized that she is not a professional therapist, nor are these events organized with that goal.
"And, although I do think that art is healing, I don't want to dismiss the actual craft of storytelling, that these are people who … have crafted their stories. So there's also cultural and artistic value to what is happening and how it affects people is beyond our control. Which is always the case with art," she said. "How the meaning is negotiated, how it's personal and at the same time, there might be one little thing that everyone feels. Those are like beautiful moments of catharsis."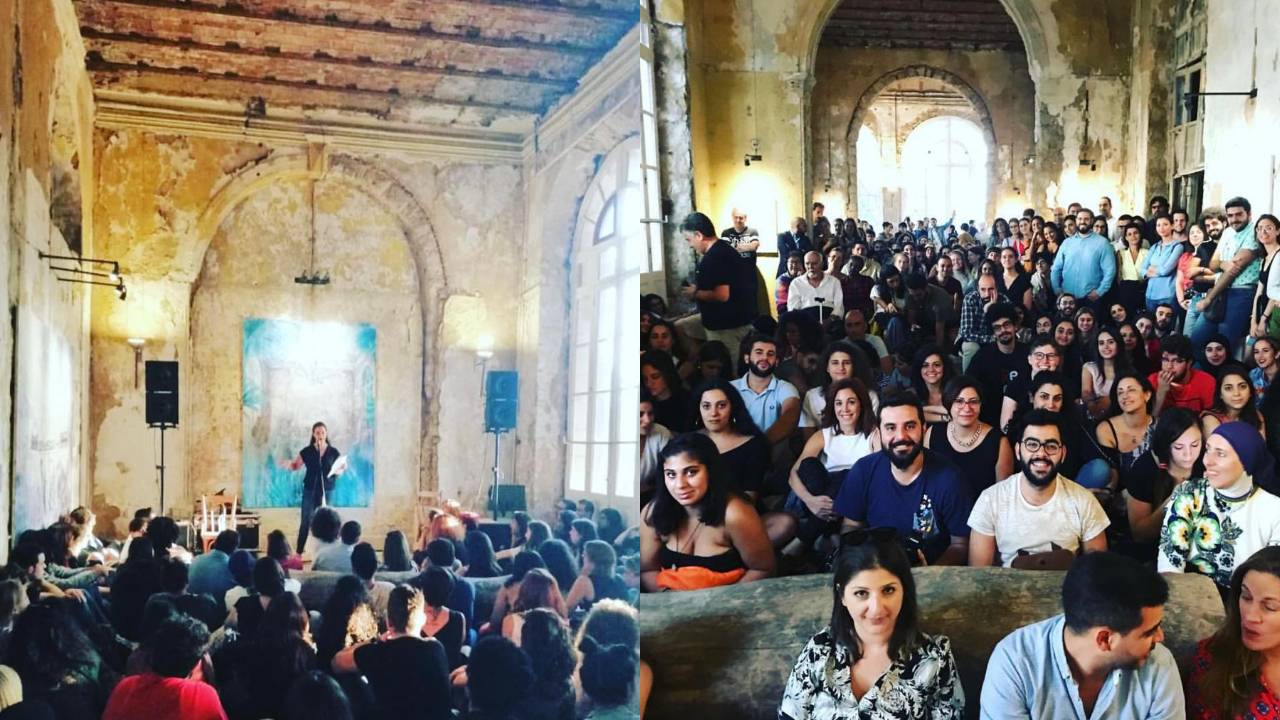 A Cliffhanger's event at the Grand Sofar Hotel on Sept. 29, 2018. (Courtesy of Dima Matta).
Amid the COVID-19 pandemic, the port explosion and multiple other crises battering the country, for a time it seemed that those moments would be lost.
"For a while, it seemed impossible to organize another [storytelling] night," Matta told L'Orient Today from Marseille, where she's putting the last touches to an upcoming theater performance. "I couldn't even clean my groceries, my mental health did not allow for anything more than the basics, if even that."
The storytelling nights moved online during the days that COVID was creating the most havoc, a period that lasted almost two years. There were two main effects, Matta said: being online allowed for people from all over the world to attend. "And when we went back to in-person events, people in other countries still wanted to attend, and that's why we live-stream the events."
"My thoughts around storytelling are very much in conflict," Matta said, "because part of me thinks that it should be this ephemeral moment that people share. And once it's gone, it's gone."
But she added, "Through the years, I became practically obsessed with documentation and archiving, for personal reasons, because my father was diagnosed with cognitive impairment. And so he was losing his memory. So suddenly, I thought, Oh, my God, if I don't keep these stories, they will be lost. I tried recording my dad as much as possible, I asked him everything about his childhood and growing up," Matta says.
"So I'm just becoming comfortable with the idea that yes, it's ephemeral, but also, let's save this … Because so many of our stories are not documented, like in this country, I also think of stories of queer people that are erased every day. And so whenever I tell a story, or other queer people tell stories, it's important to document them because in a while this will be our history," she adds.
Matta initially wasn't sure whether online events could recreate the cosy and intimate feel of the live events.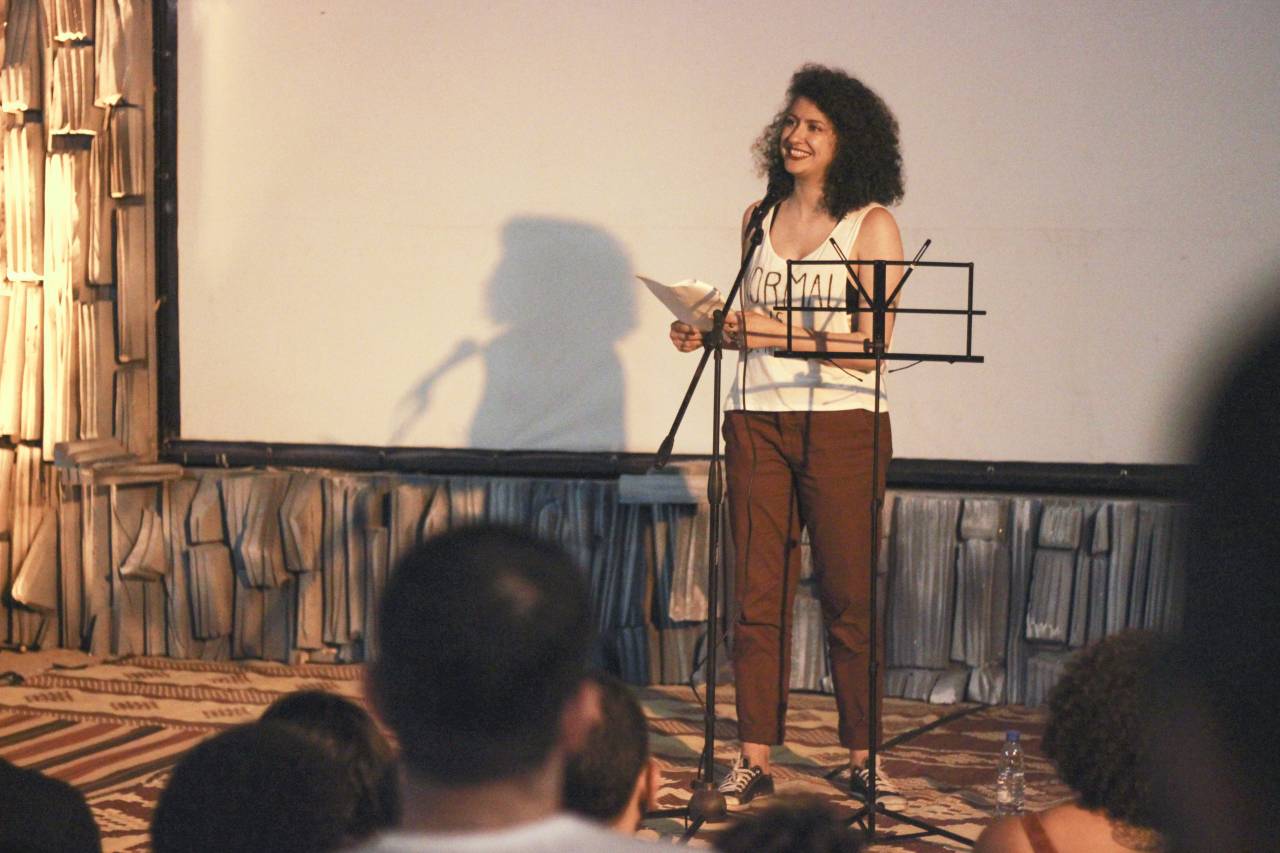 Dima Matta at Cliffhanger's IDAHOT storytelling night on May 15, 2019, at Station Beirut. (Courtesy of Dima Matta)
After collaborating with LGBTQ+ rights and advocacy organization Helem and Helem Montréal on the virtual storytelling "Queerantine," an event for LGBTQ+ of Arab heritage in January of last year, Medecins Sans Frontieres (Doctors without Borders) reached out to her to host an online event a month later with the theme "What sustains you?" The 100-person event was promptly filled to capacity, with people tuning in from places as far flung as Canada, Australia and Palestine.

Many of the guests kept their cameras on so they could see each other's reactions.
"At one point someone from Lebanon started singing and playing the guitar and you see all these people dancing in their little squares," Matta said.
"Two women lit up lighters and were swaying from side to side, like they're at a concert and then we had a break between the main lineup and the open mic and I had prepared a playlist on Spotify." At that point, "everyone started dancing."
After things opened up again, a young woman approached Matta at a concert. Matta started panicking a bit.
"I spent two years not seeing anybody. I felt like I had forgotten how to talk to people," Matta recalled. "And there was a look of panic on my face. I'm like, 'Oh, no, I'm supposed to know this person?' And she says, 'No, no, you don't know me. But I attended your online storytelling. And I was the one with the lighter. My friend and I were swaying side to side.' And she's like, 'I just want to say that that was exactly what we needed.'"
More niche storytelling initiatives popped up in the past years, including "de-construct. mental health," a platform where people can share their personal stories around mental health as a way to contribute towards normalizing the conversation around this topic. It took place a handful of times over the past three years, at venues like Riwaq, Aaliyah's and Onomotopeia. While Laban Studios, an improvisational theatre-based organization, relies heavily on storytelling in their performances, re-enacting stories shared by audience members.
Another popular storytelling platform in the city is Sidewalk Beirut, an open mic night founded by Maysan Nasser usually held at Riwaq. Anna Turner, a creative consultant and poet, who joined the Sidewalk Beirut crew about a year into its inception, emphasizes that Sidewalk Beirut is "for everyone and for all forms of expression."
Turner said the transition to online events during COVID took some adjusting. The intimate physical setting of the storytelling nights, where storytellers can meet the eyes of the audience members, is a crucial element of the experience.
"Obviously, everyone's lives changed. And we thought: what are we going to do now? Because people … needed even more joy during these circumstances," Turner says.
So about a month into the pandemic, Sidewalk Beirut started doing weekly online events, which they continued for almost two years. Although Turner says the organization was also worried that the crucial element of safety and intimacy would be affected once they moved online, she was pleasantly surprised.
"What was great is that people who are in Lebanon, but not in Beirut, were able to come to these. And then we had people joining from all over the world."
Although she still prefers the in-person nights, Turner says there's an added layer to the creativity and diversity you get online. And, something she didn't realize before, "sharing feels in some ways easier, because you're in your own comfortable space. But there's nothing like being on stage. Like the vibe that permeates the room."
Turner noticed when the event moved online that, for most people, COVID was not the biggest issue in their lives, despite lockdowns being implemented. "This just shows you how bad the situation in Lebanon is, that COVID wasn't even registered as the main problem."
She also noticed a clear difference between the online and offline crowd. "While there was overlap between the online crowd and the one we got in person, it's not as much as you would think … I guess some of that was because it was people who couldn't normally attend, we were seeing people from other parts of Lebanon."
Sidewalk Beirut has previously organized some nights outside of Beirut, for instance in Jbeil. With in-person events now being possible again, its organizers hope to expand to other cities more regularly.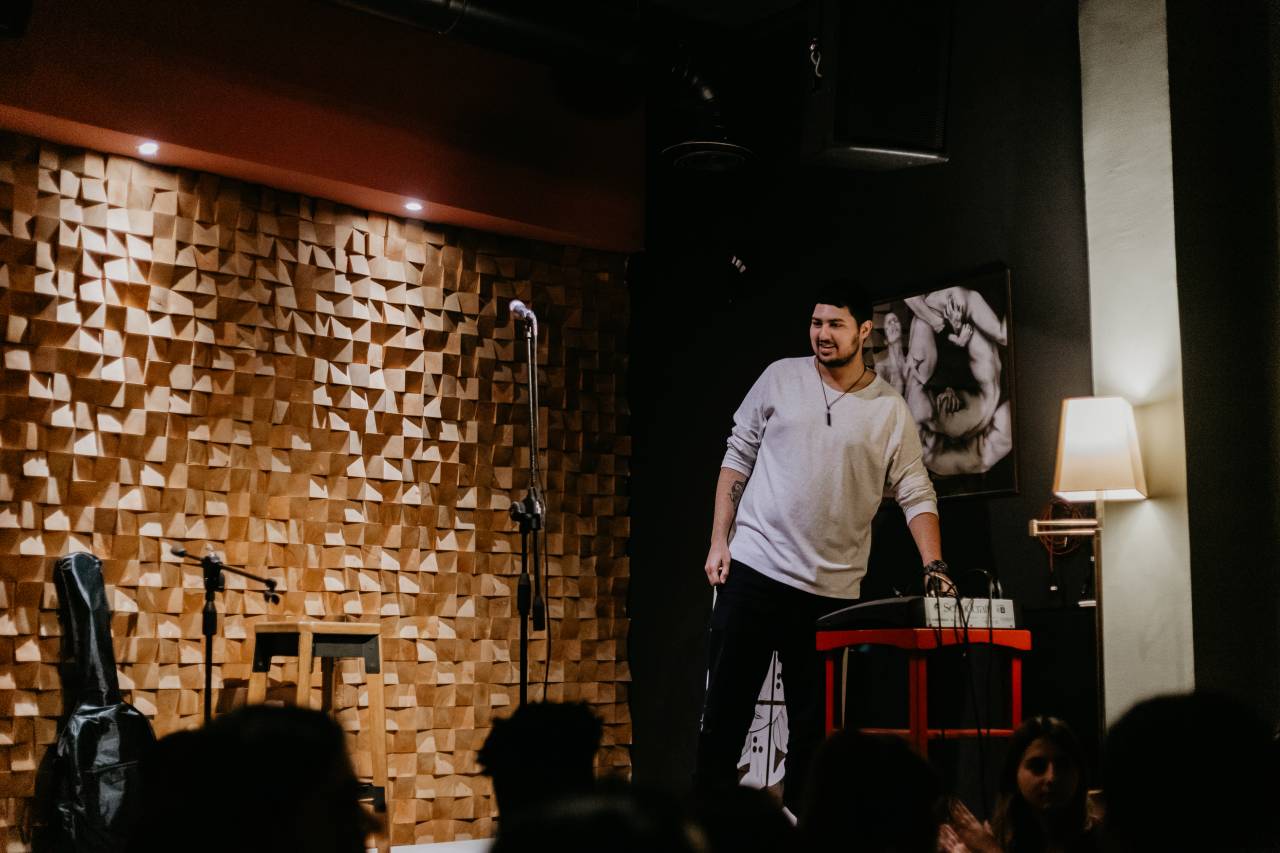 Rayyan Sammak, host and rapper, at Riwaq towards the end of May, during a Sidewalk Beirut event. (Credit: Gelis Atencio Madrid)
In addition to offering a safe space for creative expression, Sidewalk Beirut is ultimately much more than that, and its effects linger far beyond the night itself, says Rayan Sammak, also known by his rapper alias Find Muck, who quickly became part of the Sidewalk Beirut organization after performing at one of their open mic nights. "I've seen myself and other people really grow … Once you leave that room, and you continue about your normal life, you start noticing things, especially if you're performing ... You start becoming an upgraded version of yourself. It just ignites something inside," Sammak says.

"Someone performed once and brought her mom with her. She told me that her mom used to write stories all the time until one day she stopped," Sammak says. "Her mom came up to me another night and said that, a few days after attending the event, she started to write again."

The next Cliffhangers event should take place in July, Matta says. Looking at the future, she says she'd love to decentralize Cliffhangers but that involves logistical hurdles, including communicating with new venues and figuring out how to bring in local audiences and storytellers.
Beyond that, Matta says, "I don't even have a car to go meet with people. And the cost of benzene (fuel) — are people even able to make the trip?"
In the meantime, Matta says, she's just happy to organize "the good old Cliffhangers" once a month and keep offering a safe space for people to share their stories.
"The things that have happened were so apocalyptic that it robbed us of the right to dream," Matta says. "And I think we're all kind of trying to regain that right."

BEIRUT — Beirut's storytelling scene was almost inescapable, in the best of ways, a few years ago. However, with the coronavirus forcing it online, the explosion shattering both its most prominent podiums and its members and audiences' hearts, and a continuously spiraling economic crisis leaving less citizens with money to spend on nights out and gas to get there, the nights of titillating...