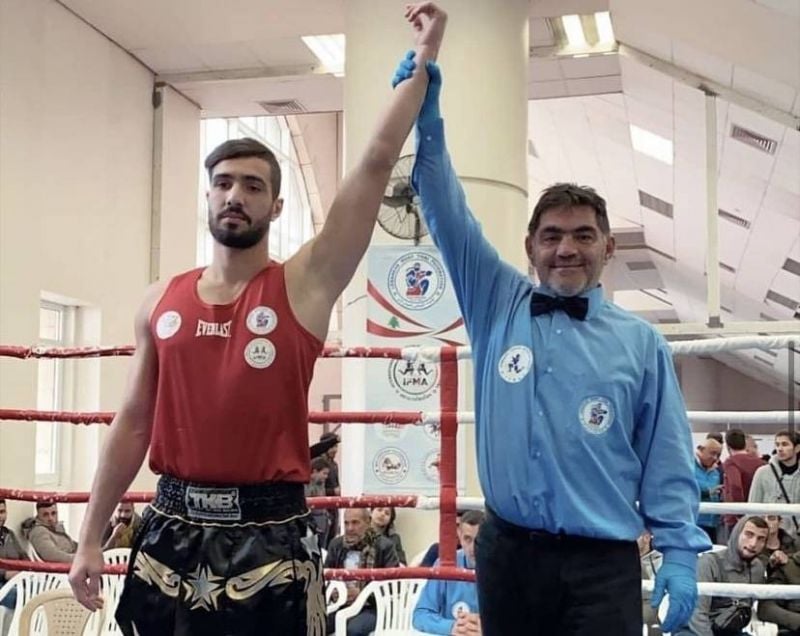 BEIRUT — With a mischievous smile, a strong build and a heart and head full of dreams,
Yahia Al Dana
, Lebanon's 29-year-old Mixed Martial Arts champion packed his medals, books, future plans and aspirations into suitcases and boxes, and left Beirut to Dubai in early January 2022.
"Our local champs opening up to the world is the best reward any coach could hope for," his trainer Rocky Kiblawi, himself a World Muay Thai Champion, told L'Orient Today. "Yet it is unfortunate to see them shine in other countries rather than their own home."
Known as Lebanon's third mass exodus, more than 215,000 individuals have immigrated from this country between 2017 and 2021, including 79,134 last year alone, according to statistics from Lebanon's General Security, as reported by the research firm Information International.
Since October 2019, the Lebanese lira has lost more than 90 percent of its value, eroding people's ability to access basic goods, including food, shelter, and healthcare. The COVID-19 pandemic increased poverty and economic burdens, pushing out the youth and worsening the brain drain in the small country.
Growing up in a poor neighborhood in Choueifat, south of Beirut, young Dana dreamed of the luxuries the world has to offer. In fancier neighborhoods he saw people driving expensive cars, and on television he was bombarded with stories of people who seemed to have ready access to everything they dreamed of. However, that lifestyle was far removed from the experience of a large chunk of the Lebanese population.
Knowing that the only way to a better life for himself and for his family was through persistent hard work, Dana started working towards that "better life" when he was 14 years old.
"Since my dad works in IT, I knew a bit about how to fix computers, format phones, download free games from the internet before it was common, and to solve minor technical errors in tablets, and mobile phones," Dana told L'Orient Today. "So, whenever any of my neighbors faced a problem with their device, I would fix it for them, and charge them way less than a professional would."
He would also buy old motorcycles that were no longer working, fix them, and sell them at a higher price.
After graduating from high school, Dana decided to pursue a degree in business management at the American University of Science and Technology. He knew he wanted to start his own business. In the meantime, he wanted to know who these people were who were living comfortably and did not worry about the problems plaguing the lower to middle class, and how they had found success. He read and observed voraciously and decided that what differentiated successful people from others was their persistence.
"It's not only about being motivated, it's about how much effort you're willing to put in, even when you're not feeling your best," Dana said.
He decided that there are two kinds of people in the business world: The professionals and the "jokers."
"The professional knows everything about one kind of job, while the joker knows a lot of things about many kinds of jobs. I decided to be a joker, and not a professional," he recalled.
He also decided that life is a system that tries to knock a person down, and the value of a person's success is determined by how many times they get up after being knocked down, so he started training in martial arts like Muay Thai, jujitsu, and free wrestling.
He started traveling across the country to participate in competitions, winning Lebanon's championship in wrestling and jiu jitsu in 2019 and the Lebanese MMA championship in 2020.
He started training kids and adults in martial arts. He was in a training session on the evening of Aug. 4, 2020 when Beirut port exploded.
"I was training a little kid, no more than seven years old, at the gym, when the building started shaking," he said. He picked up the child and ran outside, moments before the shock wave from the explosion hit, sending shattered glass flying into the gym.
"Had we been in the building for ten more seconds, we would have been seriously injured," he said.
That was when he started toying with the idea of moving abroad.
He and a business partner had founded insouks, an online shopping portal, in 2014. The company provided cheaper alternatives to imported clothing; many items were produced locally, and sold at a cheaper price than the ones offered in international brand stores.
In the beginning they struggled, losing over $20,000 in the first three years alone. Lebanese customers weren't interested in online shopping yet. The economic crisis had not yet spiraled out of control, and consumers were more attracted to international brands.
They continued to lose money until 2020, but then business took a turn for the better. When the country went into lockdown amid the COVID-19 pandemic, people were confined to their homes, and in the meantime, the lira had started losing its value against the dollar. With people stuck at home in a deteriorating economy, insouks started to bloom as it provided a cheaper, door-delivered option.
"That's when we started compensating our losses, and things seemed to brighten up. However, the fuel crisis rocked Lebanon shortly after. The delivery companies were not working, and delivery charges were skyrocketing," Dana explained.
The future in his home country was looking grimmer and grimmer by the day.
As a side job, Dana had started working in real estate, a dream he had since he was 16 years old. He started making a listing of houses in Beirut that were up for rent or sale and was connecting potential customers with homeowners.
Through an advertisement on Instagram, he found out that DAMAC Properties were hiring real estate agents from Beirut to Dubai.
He immediately knew that this was his way out. In the interview, he told them that he was flexible and "could fit in everywhere, a side effect of being Lebanese and living under bizarre circumstances,"
When he got the job, it was bittersweet for Dana and his family, but they all knew that for the Lebanese, success comes at the price of leaving home.
Hala Gharib, an economist and lecturer at the Islamic University of Lebanon, said that in the short-term, the youth leaving is an investment in their future.
However, she told L'Orient Today that in the long-term the effects will be catastrophic.
"They leave to pursue their dreams and ambitions, and to fulfill their dreams. Yet Lebanon remains without essential human capital in many critical fields. As there are no official reports and numbers being released, we won't know the exact effect of all that on our economy until a few years [later]," she said.
Dana said that after everything he had done to remain in the country, Lebanon had pushed him out.
"For every one step you take forward in Lebanon, the situation in the country pushes you back ten steps," he stated.
He accepted the offer and moved to Dubai, opening a fresh page.
"I look at Dubai and think of Beirut, of the potential Lebanon has that is being wasted due to political problems," he says.
The World Bank, in a recent report, warned that Lebanon is suffering a dangerous depletion of human capital and permanent damage would be very hard to recover.
Brain drain, on top of a severe economic and political crisis, possibly among the top three most severe global crises since the mid-19th century, will limit Lebanon's recovery potential.
"The sharp deterioration in basic services would have long-term implications," the World Bank stated, including mass migration. "Permanent damage to human capital would be very hard to recover [from]. Perhaps this dimension of the Lebanese crisis makes the Lebanon episode unique compared to other global crises."
Dana's departure comes at a time when Lebanon's MMA scene seems to be blossoming. Last week, 22-year-old Lebanese, Alexandra Sukkar, became the World MMA Champion in Amsterdam. As she was being crowned champion, Sukkar took the opportunity to say, "My country is going through a difficult time, and this is something to celebrate, so I'm very proud of it."
Trainer Kiblawi said that if he could have only one of his prayers answered it would be that "peace and stability be restored and to have all our champs back. Until then, I hope they will be great examples in their second homes around the world."
For Dana, it remains to be seen whether fate will bring him back to Lebanon.
"I can't look back," he said. "The only way is forward."

BEIRUT — With a mischievous smile, a strong build and a heart and head full of dreams, Yahia Al Dana, Lebanon's 29-year-old Mixed Martial Arts champion packed his medals, books, future plans and aspirations into suitcases and boxes, and left Beirut to Dubai in early January 2022."Our local champs opening up to the world is the best reward any coach could hope for," his trainer Rocky...