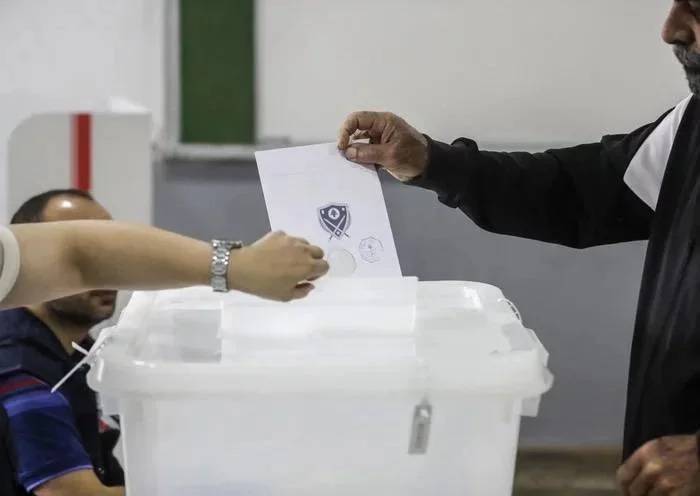 BEIRUT — Less than four months out from the parliamentary elections, there appears to be scant cohesion among the groups running in opposition to the traditional political parties.
While most acknowledge that a single opposition alliance is the best chance of wresting parliamentary dominance from an entrenched ruling class, the devil is in the details, and the formation of such a broad coalition has so far been blocked by ideological and personal differences between the groups.
In the last legislative elections, held in 2018, opposition groups largely succeeded in unifying under the "Kulluna Watani" alliance. The alliance ran candidates across the country, but the results of these elections were disappointing for those hoping the polls would usher in meaningful change in the composition of Parliament, with only one candidate from the alliance winning a seat.
However, since 2018, the socioeconomic context in Lebanon has changed dramatically and events have repeatedly laid bare the traditional parties' shortcomings when it comes to securing the nation's most basic needs and citizens' safety and security.
Just over a year after the last polls, the Oct. 17 uprising broke out, and monthslong nationwide protests against politicians' inaction ensued. Among demonstrators' grievances was their elected representatives' failure to make much needed structural reforms.
Simultaneously, an unprecedented economic crisis began to unfold, resulting in de facto capital controls on people's bank deposits, the rapid devaluation of the Lebanese lira and triple-digit inflation.
In addition, a massive explosion took place at the port of Beirut in August 2020, the result of the detonation of large quantities of ammonium nitrate which were stored unsafely at the port for years, despite top officials having been alerted to the potential dangers. The explosion, which resulted in more than 200 deaths and thousands of injuries, became for many Lebanese the most glaring example of the failings in the current political system.
Given these circumstances, many opposition groups are betting that conditions are now ripe to shift the political balance of power in Lebanon's Parliament.
For many, the best way to achieve the maximum number of seats in the legislature is for opposition groups to form one alliance across Lebanon, rather than splitting the opposition votes and breaking the momentum for change.
Paula Yacoubian, the only independent candidate who won in the 2018 election — as part of the Sabaa party, which she has since left — and who is running in Beirut's first electoral district with a group called Tahalof Watani, told L'Orient Today that this year's elections have the potential to change how the political system works if opposition groups can take a significant number of the 128 parliamentary seats from traditional parties.
"We should enter Parliament as a disruptive movement, with the goal of changing how things work in Lebanese politics and preventing the establishment politicians from hiding behind their usual sectarian slogans instead of presenting actual policies for the people," Yacoubian said.
In order to not only get to Parliament but to be effective once there, she said, the opposition groups need to agree on a platform.
"The groups do need to be united under one program and to stick with the details when they enter Parliament, rather than going in with a decent number of seats but having their disputes there," Yacoubian said.
Who we're talking about when we talk about the opposition
The groups presently referred to as the opposition make for a diverse bunch.
There are, of course, the groups that started to take shape prior to the 2018 elections and the groups that were formed after the October 2019 nationwide protests, such as Mintishreen, Taqaddom, 17 Tishreen Youth and Shabab al Masraf.
However, the term also encompasses individuals with historical influence in their areas and who ran with the traditional parties in the 2018 elections but have decided to run against them this time, such as MP Ousama Saad, head of the Popular Nasserist Organization, a leftwing party with its base in Saida. Saad ran with Hezbollah and Amal in the 2018 elections and is now running in the opposition; for the moment, he is in an alliance with the Communist Party.
Others like Chamel Roukoz, Neamat Freim and Michel Mouawad, who ran with the Free Patriotic Movement's Strong Lebanon bloc last time, are now running in the opposition; however, their alliances are still in flux.
Then there is the Kataeb. The party's inclusion under the "opposition" banner has been one of the most significant sticking points to a single coalition, with some other groups pointing to its history as an establishment party and one of the major militant groups in the 1975-90 Civil War.
Since the election of its new head Sami Gemayel in 2015, the party has been vocal against all the major parties, but has been particularly focused on Hezbollah. Kataeb resigned from the cabinet in 2016 and has refused to take a cabinet seat since then and its three MPs resigned from Parliament in 2020 after the port blast.
The three most clear coalitions that are announced to this date are "April 13," which includes Mintishreen and the National Bloc; "Chamalona," which is an alliance in north Lebanon; and "The Lebanese Opposition Front," which includes Taqaddom, Mouawad's Independence Movement and Kataeb, among others.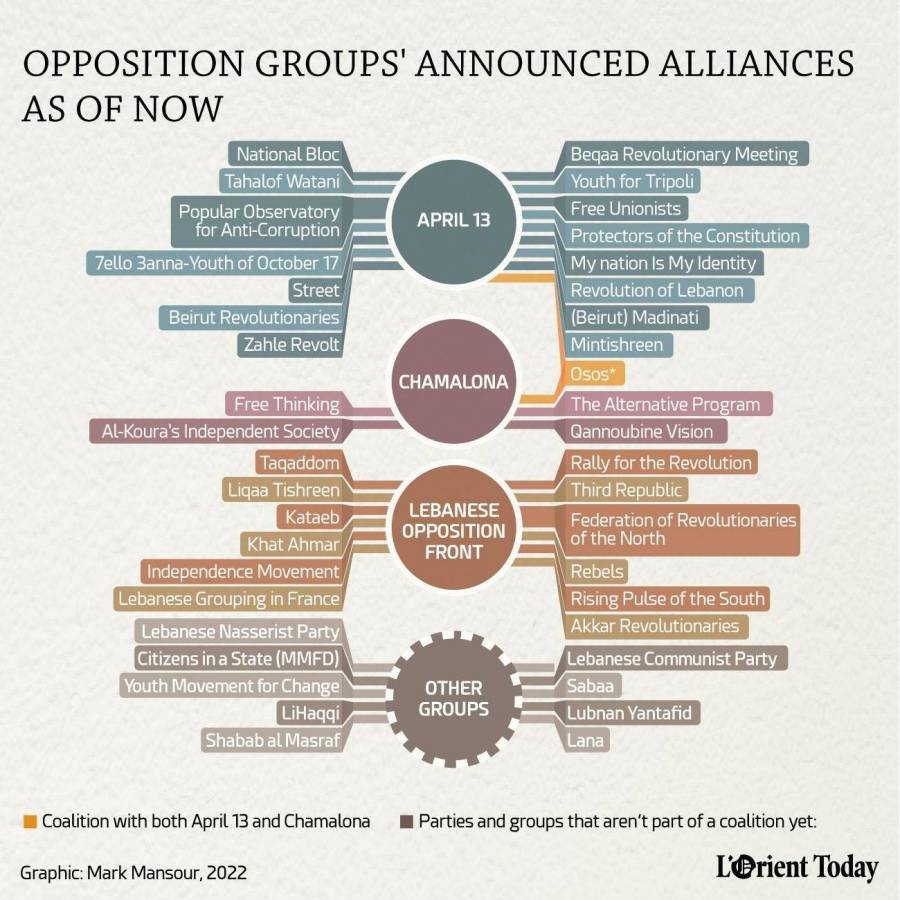 Additional reporting for this graphic contributed by Richard Salame
The barriers to a single alliance
In the eyes of many, uniting the opposition should be easy, considering that most of the groups agree on key points and in light of past minor elections where they ran together and succeeded in taking a seat.
In particular, opposition groups have had notable victories in professional syndicate elections since 2019. (In the absence of proper polling in the country, syndicate elections are often seen as an indicator of how things might turn out in the parliamentary elections.)
"The most clear example of the success of a one-brand approach is the engineers' syndicate elections [of 2021] where we were aligned all together and which we successfully won," said Naji Abou Khalil, the political director of the National Bloc — one of Lebanon's oldest parties that has since 2019 repositioned itself as an opposition group and is running on a centrist platform in the current elections in Beirut's first electoral district, Tripoli Zgharta district, Kesrouan-Jbeil, Baabda and Metn.
On the other hand, Abou Khalil said, "We want to avoid the experience of the lawyers' [syndicate] elections where personal conflicts split us apart and made us lose what could have been a significant seat."
In his view, Abou Khalil said, "Most opposition parties are aligned on the matters of sovereignty, an independent judiciary, achieving a civil society, a fair distribution of losses and a safety net for people."
He cited two main obstacles to a "one brand" opposition. First, although some groups are already united, there are many smaller groups. Second, some parties, despite agreeing on most major points, are opposed to each other for ideological reasons, Abi Khalil said, in reference to parties like Kataeb and the Communist Party, which historically come from the far right and the far left, respectively.
However, in many cases, the main factor preventing a single alliance among opposition groups seems to be a dispute about aligning with specific groups and individuals rather than a dispute over political points.
Imad Amer, a senior member of the leftist group Li Haqqi, which was formed to participate in the 2018 elections and is running in the upcoming elections in areas across Lebanon, told L'Orient Today that his group will not run in alliance with Mouawad, Roukoz or Kataeb, which he considers to be part of the establishment.
"We are for making alliances but I think the term 'one alliance' is a populist slogan that is impossible to implement and we have had bad experiences with parties like Kataeb during the engineers' syndicate elections, which made us decide not to think about allying with them again," Amer explained.
Citizens in a State, a leftist party led by the former minister Charbel Nahhas, has also shown reluctance to join a single coalition.
A spokesperson for the party told L'Orient Today that it would not give statements about elections before late February. However, in a TV interview with Al-Jadeed in November, when asked about a single opposition alliance, Nahhas expressed skepticism, saying, "We have tried this before and it didn't work, and we will align with parties that resemble us on the basis of a clear program."
The program of Citizens in a State (also known as MMFD, the acronym for its Arabic name), conflicts with that of some of the other opposition groups on one key point: their stance toward Hezbollah and its weapons. Nahhas's group has taken the position that the question of Hezbollah's arms should be dealt with in a program that tackles the whole sectarian clientelist system and sees Hezbollah as part of it rather than the main issue.
Meanwhile, for some of the other opposition groups, Hezbollah's arms are the primary issue.
Mouawad, head of the right-leaning Independence Movement,who was elected to Parliament in the 2018 elections but resigned his seat in the aftermath of the Beirut port blast and is now running in the North's third electoral district (Zgharta - Bcharre - Koura- Batroun), told L'Orient Today that he strongly supports a unification of the opposition groups with the objective of "the broadest possible national alliance, with the objective to fight …to restore sovereignty in the face of Hezbollah, their weapons, and the Iranian domination they are imposing on us."
Mouawad also listed off a set of other principles that are more broadly agreed upon by other opposition groups, saying they should "strive to achieve structural changes by not only fighting the corrupt leaders and holding them accountable but also to strive for a modern Lebanon built on sovereignty, a rule of law, civil state, decentralization, accountability through an independent judiciary, as well as a productive free economy and social justice."
Putting differences aside
Abou Khalil called on other opposition groups to sideline their ideological differences for the sake of the May polls.
"We have to put our national interests first and forget about personal and ideological differences even if it means that two historically opposed parties like Kataeb and the Communist Party are allied, in order to enable our country to avoid more misery, as its citizens emigrate and more people struggle with poverty every day," he said.
In fact, some historically opposed groups are not ruling out a potential alliance.
Fouad Ramadan, a senior member of the Lebanese Communist Party told L'Orient Today that his party is in discussions about whether to align with people "whom though we are opposed to politically, we can periodically unite with in the face of corruption, or whether we run with groups that are similar to us politically."
Ramadan suggested that allying with groups that favor normalization with Israel, for instance, is a red line "as we were always advocates of a resistance that fights Israel."
On Kataeb's side, the party's deputy chief Serge Dagher told L'Orient Today, "We don't have a veto on anyone, including the Communist Party, as long as they are clear on the matter of sovereignty and are not related to or do not defend any type of corruption."
He added, "I think the ones who oppose an alliance with us have double standards. When they say we held ministerial positions, wasn't Charbel Nahhas a minister? When they say we were in parliament, Paula Yacoubian was an MP … Kataeb was the only opposition against the current establishment way before there was a known opposition."
Some of the groups that emerged after the Oct. 17 nationwide protests also said they are open to alliances encompassing parties from across the political spectrum.
Mia Atoui, the deputy secretary-general of Minteshreen, which is running candidates in Beirut's second electoral district and potentially in Baabda and Nabatieh districts, told L'Orient Today, "We are open to a single alliance with groups that agree with us on essential points like Lebanon's sovereignty, an independent judiciary, a fair distribution of losses, a civil society and a productive economy rather than a dependent economy. We wish to see all groups in opposition unite under one umbrella for a national campaign that includes the widest range of groups, even if this includes cooperating with some traditional parties in some districts, such as Ousama Saad, the Communist Party or Kataeb."
Mark Daou, who was one of the founders of the social democratic group Taqaddom in 2020 and who is running in the Chouf district while his party is also running other candidates in the Chouf and Metn, told L'Orient Today that the main objective is to beat the "regime of six parties": Hezbollah, Amal, the Lebanese Forces, the Free Patriotic Movement, Future Movement and the Progressive Socialist Party.
"The opposition needs to be fully aligned to earn a maximum number of seats. They need to be aligned to beat Hezbollah, its allies and a mafia represented by Civil War parties," Daou said.
Regarding the inclusion of Kataeb in an opposition alliance, Daou said, "They are an opposition [group in] that they resigned from the government in 2016, opposed the presidential compromise in 2016 and resigned in 2020 after the [port] explosion, so they are taking tangible steps to face the establishment and have proven that they are committed to this track for several years."
Rashad Rafeh, a civic activist who co-led the Madaniya campaign in the 2018 parliamentary elections in the Chouf-Aley district but who is not running in the current elections, told L'Orient Today that opposition activists should not try to unify groups with different views by making it sound like they stand for the same principles, but rather should work together while acknowledging how each of them is unique.
"The single most powerful weapon we have against a disintegrated establishment is joint action towards a specific, achievable goal. We need to aim for the biggest civic bloc possible in Parliament," Rafeh said.
Rafeh said he believes there is a large bloc of voters ready to desert the establishment and vote for a political alternative capable of presenting a clear agenda with reliable faces.
"If groups fail to align, half of them [the potential opposition candidate voters] would not vote," he said.
Rafeh believes that to pull off such an alliance, the groups have to align political content, devise an inclusive, equitable and transparent selection process for candidates and a joint campaign for the 2022 elections with the purpose of "achieving the Oct. 17 revolution's demands inside Parliament, which would call for a transitional government with exceptional authorities that would save the country from ruin."
Given the potentially catastrophic impacts of the country remaining on its current political and economic path, he said, "Achieving such an alliance, no matter how hard it is, has to be done, considering that there is a real danger to the existence of our country."
Additional reporting contributed by Richard Salame.

BEIRUT — Less than four months out from the parliamentary elections, there appears to be scant cohesion among the groups running in opposition to the traditional political parties. While most acknowledge that a single opposition alliance is the best chance of wresting parliamentary dominance from an entrenched ruling class, the devil is in the details, and the formation of such a broad...