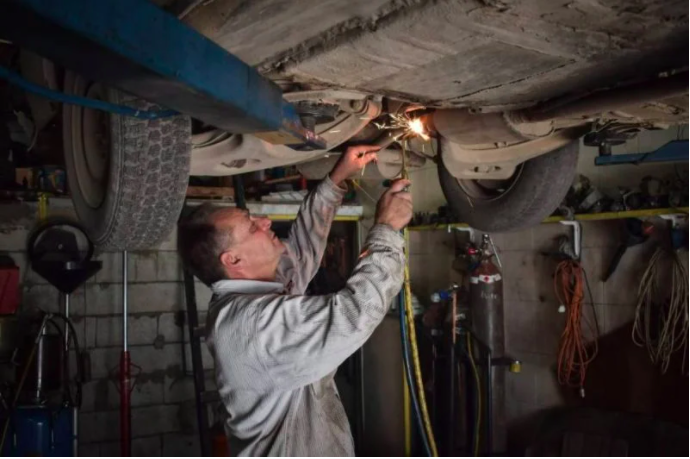 Lebanon's crushing crisis prevents more and more Lebanese from maintaining their cars
An increasing number of motorists are finding it hard to maintain their vehicles due to prohibitively expensive spare parts, putting themselves and other road users at risk.
Under a downpour of heavy rain at dusk, a vehicle slipped off the road and crashed into another. Somewhere else, a car suddenly broke down, inevitably causing a pileup.
In general, traffic laws, which consist of the basics of road safety, are rarely respected in Lebanon. But recently, another problem has been added to this state of affairs: As part of the acute crisis the country has been rocked by for over two years, car maintenance is increasingly being neglected.
"The economic crisis has contributed to worsening road safety because many people are no longer able to maintain their cars. They no longer have the means to change tires, to replace headlights, windshield wipers, brakes and shock absorbers. During precipitation, there is an increased risk of a car crash occurring," Ziad Akl, founder of the Youth Association for Social Awareness (YASA), an NGO specializing in road safety, said.
Speaking to L'Orient-Le Jour, a security source indicated that the rate of traffic fatalities rose by more than eight percent from 2020 to 2021. Non-fatal accidents have not witnessed a remarkable increase. Though lacking hard evidence establishing a direct link between the increase in traffic fatalities and the lack of vehicle maintenance, the source asserted that they are obviously correlated. A series of interviews with mechanics and road users confirmed that economic hardship is currently hampering vehicle maintenance and repair, even when they are more than vital.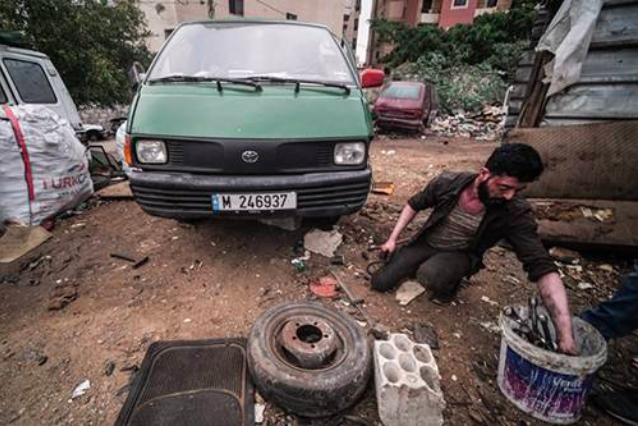 More and more often in Lebanon, customers are asking that defective parts be replaced with used ones, despite the risks this option presents. (Credit: João Sousa/OLJ)
Prices in fresh dollars

Prior to the crisis, on Tripoli's Muharram Street, cars would queue in front of the repair and spare parts service shops. Currently, this street is almost deserted. "Instead of entrusting me with repairing their car, many of my customers just ask if it is possible for them to continue to drive without repairing the cars," Rachid Maksoud, a well-known mechanic in this part of the country's poorest city, said.
While the Lebanese lira has lost around 90 percent of its value in the past two years, car repairs have become almost impossible for most motorists, because spare parts are priced in dollars. "For instance, headlights and indicators are rarely replaced nowadays, which leads to frequent accidents," the Tripolitan mechanic added.
Car maintenance has become less of a priority for Lebanese who are burdened by increasingly exorbitant bills, even if they are well aware of the risks. So, to avoid ending up with an excessive bill, some motorists are trying to extend the lifespan of defective parts.
"Some people ask for used motor oil as a replacement to pay less," said Mohammad, a mechanic in the Bekaa Valley, another disadvantaged part of a country, where three-quarters of the population is now living below the poverty line, according to the latest UN Economic and Social Commission for Western Asia report; this is a three-fold increase compared with 2019.
A few days ago, Mohammad came across a customer who could not afford to have their power steering rings replaced. "The cheapest part is priced at $10, or LL200,000 at a rate of LL20,000 per greenback on the parallel market. This is unaffordable for a customer like him. So, I tinkered with the existing part, but it could wear out at any time," the mechanic added.
He estimated that 80 percent of his customers are unable to ensure that their cars are properly serviced. This reality was totally different two years ago when some parts were replaced even when they were not completely worn down. "Today, customers are asking for used parts, even when it comes to the brakes," Mohammad said.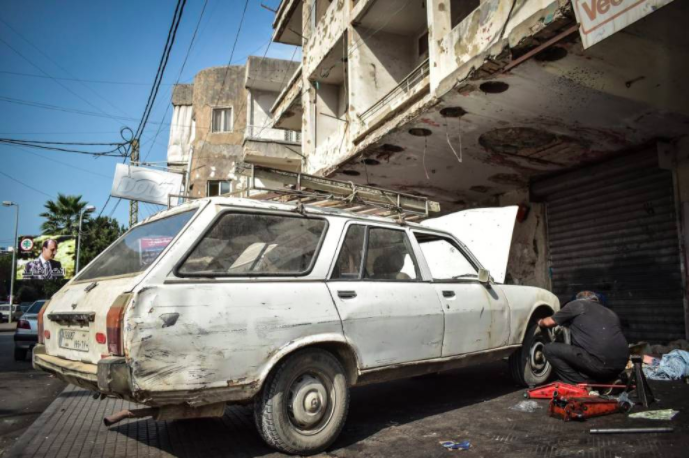 New parts are priced in fresh US dollars, putting them out of most people's budgets. (Credit: João Sousa/OLJ)
'A new battery is higher than one month's pay'

"A few days ago, the battery of my car died, and I had it replaced with a used one. I realize that it can die at any time, but I have no other choice. A new battery will cost me more than a month's salary," Abou Elias, who works as a parking lot attendant in Beirut's Mar Mikhael neighborhood, said. The man has not changed his tires for over two years, even though they are worn out.
By dint of delaying the necessary repairs, an increasing number of customers arrive at the mechanic when their vehicles are on their last legs. "A customer came for a simple oil leak, but he cannot afford to change the defective part. I warned him against a total engine failure, which will cost him much more," Ali, a mechanic in Beirut's southern suburbs, said.
"'I can't, I don't have any money.' I repeatedly hear this sentence. The customers leave with tears in their eyes. It's very depressing," the mechanic said, as he stood in front of his parking space where four cars have been waiting for more than a month to be repaired.
Last week, Ahmad, a taxi driver, walked into Ali's garage for an oil change. But when the mechanic took a closer look, he noticed that the driveshaft, which connects the gearbox and the wheels, was worn out. Without it, the car would stop moving forward.
"I told him that his life would be in danger if he does not get it replaced. He replied that he cannot afford it." Ahmad's priority today is to put bread on the table and to meet his parents' needs. "I don't know how we're going to survive," the driver said, in reference to the inflation rate, which surpassed 280 percent from June 2019 to June 2021, according to the latest ESCWA report published in September.
The headlights of many vehicles are faulty as well. This situation is particularly problematic at night, as streetlights are rarely lit. "The headlights [of my car] are not working properly, I can hardly see at night. I should fix them, but I am unable to," Ahmad added.
Degraded roads
The roads around Ali's garage are potholed. "Every day, I see a car with a flat tire on the side of the road," the mechanic said. In addition to the lack of vehicle maintenance, one must take into account that road conditions are deteriorating. "The Public Works and Transport Ministry, the government and municipalities are no longer able to conduct road and infrastructure maintenance, including traffic signal repair services," Akl said.
The collapse of the state's budget, which has failed to pay contractors since the devaluation of the Lebanese lira, is another compounding factor in the decreasing safety of roads. On Thursday, a water pipeline burst in a parking lot in Beirut causing damage to several vehicles. The almost century-old infrastructure had not been repaired or replaced in ages. Commenting on the issue, Tanios Boulos, director general of roads and buildings at the public works ministry, told the local television channel MTV that "the ministry is no longer capable of conducting maintenance works." "We need to get by as best we can," he added.
When some parts vanish…
Yet, the high cost of auto repairs and poor road conditions are not the only hurdles facing motorists. Many drivers no longer trust mechanics. "People are now afraid to entrust us with their vehicles. Some mechanics gave us a bad reputation: they steal some parts, such as the catalytic converter, which passes more or less unnoticed if missing, and resell them in order to pocket enough to cover the unpaid bills by some customers," Ali said.
Noha *, a teacher in Beirut, went through this misfortune. A few months ago, she discovered, while getting her broken engine fixed, that her catalytic converter was missing. She was wondering why a white smoke was coming out of her car. "When I wanted to solve this problem, each mechanic gave me a different cost estimate," she said.
Today, she keeps her movements by car to a minimum. "I fear that it will break down," recounted the teacher, who has seen her salary rapidly decrease in value over the last two years. But since she decided to do so, she could not help but notice the inefficiency of public transportation, when it is available at all.
"Our living conditions have declined dramatically to the point that we no longer have the means to maintain the cars we had purchased prior to the crisis," Noha said, as she stepped out of her 4x4 vehicle. "We would never have imagined that things would get this far."
* Name changed at source's request.
This article was originally published in French in L'Orient-Le Jour. Translation by Joelle El Khoury.

Lebanon's crushing crisis prevents more and more Lebanese from maintaining their carsAn increasing number of motorists are finding it hard to maintain their vehicles due to prohibitively expensive spare parts, putting themselves and other road users at risk.Under a downpour of heavy rain at dusk, a vehicle slipped off the road and crashed into another. Somewhere else, a car suddenly broke...