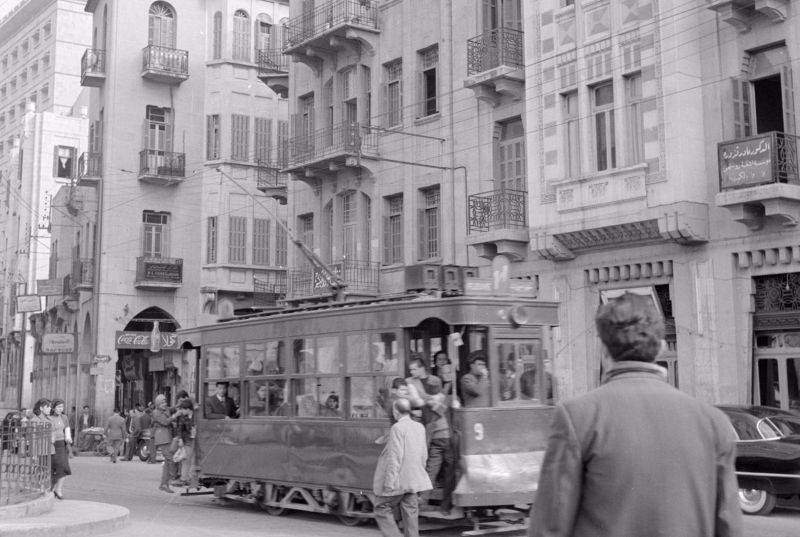 While the combined effects of the currency devaluation and fuel shortage are turning daily life in Lebanon into an obstacle course, many would like to turn to alternative means of transportation, as former Energy Minister Raymond Ghajar suggested in June. However, he was careful not to mention which alternative modes of transport he had in mind, prompting the mockery of many commentators in a country where private cars reign supreme on the road (with 434 vehicles per 1,000 inhabitants, according to the World Bank Urban Transport Development Project, 2012) and where cab fares are steadily rising (from LL2,000 in 2019 to LL10,000 today). But Lebanon was not always without public transport, and the 1975-90 Civil War alone cannot explain away the 30 years we had to rebuild our transport infrastructure. So how did we get here?
If the golden age of public transport in Lebanon had a symbol, it would probably be the Beirut tramway — which younger people only know through nostalgic pictures circulating on social networks. Based on a survey of old issues of L'Orient, here's how the old tramway was shut down. At its peak in 1962, it had 102 wagons (74 of which were operational), employed 432 people (174 drivers, 258 fare collectors, 30 comptrollers and three executives) and transported an estimated 200,000 passengers a day. Though by then, the already aging system was causing a lot of traffic congestion because of how slow it was. Additionally, its operator could not afford its upkeep or upgrade because the 5-10 piaster fare to ride it had not changed since 1939.
So in 1962, then Public Works and Transport Minister Pierre Gemayel held several meetings to discuss moving forward. Instead of upgrading the system with new wagons, Gemayel proposed that it be phased out and replaced with 150 state-owned gas-powered buses (with a capacity of 60 passengers each), which would cost LL12 million (equivalent to $3.8 million at the time) to purchase. The new system was projected to generate LL9.5 million in revenue per year, and save the state LL2.85 million annually. Also, it would have a larger reach because the buses would not be limited to the tramlines.
The trams were gradually phased out in 1964 and were entirely out of service a year later. At first, traffic circulation improved, but this would not last for long. By 1967, congestion returned. There were several reasons for this. First, the new buses were not affordable to the masses as they cost 45 piasters to ride, so commuters opted to take cabs instead. Second, the widening of streets and building of new highways led to what is known as induced demand, which explains the increase in the number of cars in Lebanon from 76,000 in 1962 to 130,000 in 1967. The process effectively created traffic despite trying to solve the issue of congestion in the first place. Globally, most countries faced this dilemma as they were building highways and getting rid of public transport.
To quell this issue, Gemayel commissioned a study from Soviet engineers on building a metro system in Beirut and its suburbs. But in 1970, the government of Lebanon chose not to implement the proposal. It was projected to cost LL1 billion and would not be fully operational until 2000. Also, there were no technicians to support this plan going forward. The government also argued that the newly finished Chehab Highway and Independence Avenue would alleviate the traffic problem.
They also felt that more immediate problems needed to be solved first. Primarily the lack of parking spaces plaguing the city; ironically, this issue was caused by the increase in the number of cars, which only happened due to the removal of the tramways. Since then, there have been no proposals to reactivate the tram or install a metro aside from the CDR's Greater Beirut Transport Plan of 1995, which envisioned the first phase of the metro by 2005 but was never implemented. Moreover, the Civil War killed any possibility for any future plan for the metro. War made it impossible to think of any other solution.
Lebanon was one of the first countries in the Middle East to have a railway system. Built in 1895, the network had 40 train stations connecting 200km of track with wide reach domestically and internationally. However, when the Civil War started in 1975, passenger trains ceased operation, but freight trains continued to work until 1979. Then, in 1984, they restarted operating briefly before shutting down again.
After the Civil War ended, much of the rail infrastructure was damaged, destroyed or stolen and sold off as scrap metal — only a few lines in the north of Lebanon and a 28km rail line connecting Beirut to Jbeil remained. In 1991 passenger and freight trains resumed service on the Jbeil-Beirut line. The former carried 14,000 passengers in a year before stopping, while the latter transported cement between Sin al-Fil and Chekka and stopped in 1994. That same year, the Lebanese government commissioned a feasibility study from Sodrerail to resurrect the railway.
The report recommended constructing an additional 170km electrically powered railway on the Lebanese coast from Tripoli to Sur with an additional 12 stations and would cost $500 million with work set to start in 1997. However, the plan never came to fruition. This too was the fate of a 1999 USAID study that looked into reactivating the Jounieh-Jiyyeh railway to reduce congestion, as well as a 2000 World Bank-funded assessment on the feasibility of building metro and commuter lines in archeologically rich sites.
One likely reason for the lack of implementation is that the benefits did not justify the cost, although Build-Operate-Transfer options were never explored. In the short term, despite advice that mass rail would pay for itself in the long run and that it would reduce the cost of imports, it seemed more appealing to pave roads instead of rebuilding rail. Additionally, competing interests from truckers extinguished any hope of the return of freight trains. For example, in 2004, Firas Abi Ranam, founder of the environmental NGO Green Line, estimated that transporting a ton of cement cost $4.5 by train compared to the $12.5 it cost to do with a truck. Abi Ranam suggested the reason why the government allowed [1] the bill to triple was that "the diesel trucks are owned by influential people."
Interest in reviving the railroad was resurrected once more in 2002 when bilateral agreements were signed with Syria and Jordan. These envisaged reconnecting Lebanon's future railway with the latter countries' rail networks. Work then commenced on rebuilding the lines between Tripoli and Aboudieh in Syria, and Rayek and Srghay, also in Syria. Despite this, delays persisted, and doubts arose over whether these plans could be implemented, especially after the assassination of former Prime Minister Rafik Hariri in 2005.
In 2017, China, eyeing Tripoli as the gateway to any reconstruction effort in Syria, offered to rebuild the Tripoli-Homs rail line. This was turned down due to high interest rates, and their follow-up discussions went nowhere. The most concrete effort to rebuild public transport links came in the form of the Rapid Bus Transport Link in 2018. With $295 million secured from the World Bank, the RBT would have several buses moving along the coast on dedicated lanes connecting Beirut's northern and southern suburbs. The project is a bit controversial as it entails building at the expense of the Corniche promenade in Ain al-Mreisseh. However, this project might never be realized. According to a recent L'Orient-Le Jour report, the Lebanese government has requested that the money be reallocated to "finance the cash subsidy cards to accompany the lifting of subsidies," and it looks as if the World Bank is willing to consider the "redirection of the loan towards a program to fight poverty."
Lebanon needs to make up for lost time, but the current financial crisis may stop such development dead in its tracks. In the meantime, the only viable short-term alternative to the car is bicycle use — at least for intra-urban trips. While the few bike lane projects have so far suffered from the same short-term logic that has hampered public transport, private initiatives (notably bicycle rental businesses) are starting to gain momentum, and Lebanon would do well not to miss this train. There are obstacles linked to the dilapidated sidewalk network and the encroachments on it, but that doesn't mean we can't encroach on the roads. The discussion of bike lanes is only a diving-off point.
While the combined effects of the currency devaluation and fuel shortage are turning daily life in Lebanon into an obstacle course, many would like to turn to alternative means of transportation, as former Energy Minister Raymond Ghajar suggested in June. However, he was careful not to mention which alternative modes of transport he had in mind, prompting the mockery of many commentators in a...