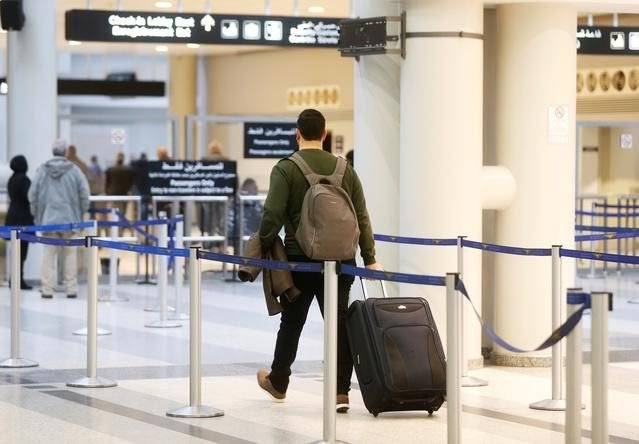 BEIRUT — Dana Mezher, an account manager in a Lebanese public relations agency, has been working from home for more than a month. She wakes up at 8 a.m. five days a week, sits in her room-office facing a view of a flax-gold beach, turns on the air-conditioning and works without interruption until 5 p.m.
Mezher wows her clients on video conference calls with the speed of her internet as she is able to turn on not only her microphone but also the camera — something that her co-workers fail to do because of their poor internet connection. Her colleagues, who also work from home, are impressed by her ability to stay online all the time, asking why "doesn't the electricity ever go off" at her place.
Sitting in front of her window that overlooks Antalya, Mezher usually responds: "The electricity and internet never go off in Turkey."
While many young Lebanese headed abroad to find work long before the current crisis, now even those who managed to find Lebanon-based jobs are heading abroad to be able to get their work done.
Mezher is one of a growing number of Lebanese workers, particularly in tech and white collar jobs, who have chosen to relocate to Turkey or elsewhere due to the increasing difficulty of working in Lebanon, where constant power and internet cuts, as well as fuel shortages interrupt their work and jeopardize its efficiency. While Mezher's relocation was an individual decision, some Lebanon-based companies have begun to move some or all of their employees on a wider scale, in an attempt to increase their productivity.
About two months ago, Mezher's employers, acknowledging that commuting to and from the office in Beirut was burdening employees amid the fuel crises, adjusted their work policies to allow their employees to work remotely from their home or a nearby café.
"I used to live in Harissa, which is two hours away from Beirut [when there's traffic], and with shortages in gasoline, commuting to the office became impossible," Mezher said. But working from home did not solve the problem since her house "barely gets six hours of electricity per day," between state electricity and the generator.
"My best bet was to move to Turkey, especially as I get paid in dollars and I didn't want to lose a job that gets me and my family fresh dollar funds," she said. Her employers welcomed the move, recommending she stay abroad until the situation in Lebanon improves enough for her to return to the office.
Many of the employees moving abroad work in software or web development, or other internet-reliant fields.
Software developer Antonia Yaacoub works for a Lebanese company that moved its headquarters to Dubai this year.
"Since the outbreak of COVID-19, the company had decided that employees would work online and offices would close," she said. "When the situation in Lebanon deteriorated, they started asking their employees to kindly move from the country because productivity levels went down."
Yaacoub initially didn't want to leave; she is attached to her family and friends in Lebanon and thought she could find workarounds for the internet and electricity problems.
"At the beginning I did not consider moving abroad because I had already secured a UPS battery for the internet router and another one to charge the laptop, and I was doing fine," she said. "I also had three internet providers instead of one. But at one-point electricity became too infrequent to even charge the UPSs and internet issues heightened."
Finally, around a month ago, she gave in and moved to Turkey at her own expense.
Marwa Hodeib another software developer, was hired amid the economic crisis to work remotely from Lebanon for a Turkish company, but ended up working from Turkey instead.
"As a software developer, I just need my laptop, internet and electricity. I found a job in my domain and it was remote work employment for Turkey," she said.
When Lebanon's electricity shortages first worsened, she resorted to working from cafés, Hodeib said, adding, "but sometimes even the cafés I went to had no electricity or WiFi." As a result, she found herself hopping from café to café to get her work done — and worrying that the working conditions were jeopardizing her job.
"I was fortunate enough to have understanding superiors who did not make a big deal out of the inconveniences I was facing, but it is not their duty to tolerate Lebanese employees," she said. "I can be replaced."
Finally, after all her efforts to secure consistent electricity and internet proved futile, she gave in and moved to Turkey.
Others also tried all possible workarounds before leaving Lebanon.
Samer, a freelance software developer who moved to Turkey two weeks ago, was paying two phone bills to ensure he would have 4G services.
"I bought two SIM cards, one from MTC and another from Alfa to shift between 4G services when one was unstable, but even this did not work as the service was weak for both," he said.
In some cases, Lebanese employers have actively encouraged their staff to move out of the country and even paid for relocation and housing expenses.
In general relocating is not easy because it incurs additional expenses, said Mohammad Ibrahim Fheili, an economist and risk strategist, so many companies try other solutions first.
For instance, he said, some companies have made efforts to assist their employees during the electricity crisis by getting them UPS batteries to make sure they have continuous access to power and the internet. Other companies have installed solar power in their offices in order to function all the time.
"Relocating, if it was a company policy, would incur additional expenses and the administration has to weigh the benefit from relocating versus keeping employees to work from home remotely," he said.
FOO, a Lebanon-based fintech company, tried multiple routes to secure electricity and internet access for its employees. The management was able to secure power for the company's office, but even then, few workers were able to show up to work due to transportation difficulties brought about by shortages in gasoline.
"We even bought gasoline for the employees on the black-market to help them reach the office," Rola Feghaly, executive assistant at FOO, said. But this solution was financially burdening and not sustainable as each 20-liter tank of fuel they bought cost LL700,000, she said.
"We had to have a Plan B, which is to open offices and transfer employees to Cyprus and Turkey," Feghaly said. "We have three employees currently working from Cyprus, and others are preparing to follow."
This transition has increased FOO's expenses since now they have to pay extra for their new offices and the apartments they rented for their employees.
But in Lebanon, Feghaly said, "We are wasting our work hours trying to figure out solutions for problems that shouldn't be there. Instead of putting energy into our work, we are exerting energy on trying to figure out how to secure gasoline for the employees and diesel to generate power and internet for the office."
FOO does not have plans to close in Lebanon or terminate work contracts and start new ones abroad, she said. But inevitably some companies that move their staff and operations abroad will close up shop permanently in Lebanon.
That has implications for Lebanon's economy, Fheili pointed out.
"The government collects income tax from employment, which generates revenue," he said. "As far as the economy is concerned, whenever there is employment there is income, and when there is income there is spending, and spending contributes to the local economy."
Employment domestically has its advantages, and so does employment outside Lebanon. People working abroad send fresh dollars to their families inside the country, "which boosts local spending and foreign currency reserves," Fheili explained.
No matter how difficult the conditions have become in Lebanon, many workers move abroad reluctantly.

"I don't have a social life here in Turkey, and I can barely communicate with locals because of the language barrier, but I had to take a step for my professional life," said Mezher. "I had to kill my social life in the process."
Hodeib also said she had been reluctant to leave behind her social life in Lebanon. But in the end, she said, "Living in Lebanon negatively impacted my mental health. Feeling low and worrying about fuel and how to attain it, along with stressing over the increase in cost of living, stood in the way of my productivity and hindered my work."
When she began to consider moving to Turkey, Hodeib said, she asked herself: "Should I sacrifice my professional life and mental health for my social life?" She chose not to.
For many Lebanese, Turkey is attractive because it allows Lebanese citizens to enter without a visa and stay for three months.
After entering the country, Yaacoub said, "I applied for a tourist residency that lasts for as much as two years … but when my time is up, I will have to search for a Plan B."
On top of the 24/7 electricity, Hodeib said she is able to save more money in Turkey.
"Out of my salary alone, I can pay my and my family's living expenses, alongside the rent, and still save an amount of money," she said, "As opposed to in Lebanon, where foodstuffs and transportation are becoming more expensive by the day."
Yaacoub agreed that one can live a very comfortable life in Turkey on a modest salary.
"Food is very cheap," she said. "You can eat all you want for only $200 per month. And you don't have to pay for [private] electricity or water providers because these are provided 24/7 from the government for $50 per month."
In Lebanon, five amperes of generator-provided electricity alone can cost as much as LL3 million — a bit less than $200 at the parallel market rate — and filling a car's fuel tank costs more than LL500,000 at the official price since fuel import subsidies have been almost entirely removed. It is difficult to find a family home for rent in Beirut for less than LL2,000,000.
Despite their initial reluctance to leave Lebanon, most of the workers who spoke to L'Orient Today said now they would not consider going back.
"I would not consider going back to Lebanon unless electricity and water are provided 24/7 at such a low cost as in Turkey. And under the condition of having fiber optics internet all over the country," Yaacoub said.
Even if the fuel, medicine, bread and lira crises end in Lebanon, Hodeib said, "I wouldn't consider moving back to it any more."

BEIRUT — Dana Mezher, an account manager in a Lebanese public relations agency, has been working from home for more than a month. She wakes up at 8 a.m. five days a week, sits in her room-office facing a view of a flax-gold beach, turns on the air-conditioning and works without interruption until 5 p.m.Mezher wows her clients on video conference calls with the speed of her internet as she is...