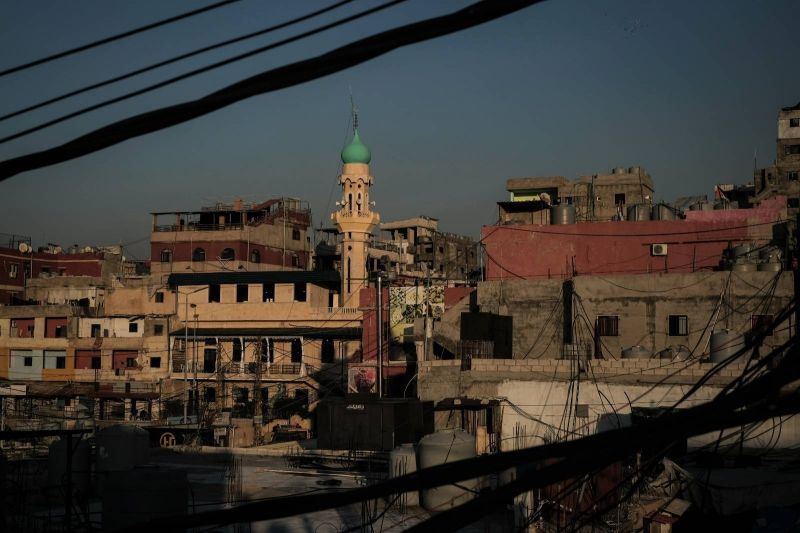 BEIRUT — Until recently, Nariman Attar lived with her two children in a humble, 110-square-meter apartment in Beirut's Noueiri area — two bedrooms and a bathroom, a kitchen, salon and dining room. She felt safe and independent in the home, where she'd lived since 2018, she told L'Orient Today. This was the first apartment they'd lived in on their own since her husband died the year before. It was close to her parents' home, in the neighborhood where she'd grown up, and they were close by in case she needed their support.
Earlier this year, she got a call from her landlord, who said that when her lease expired this summer, he would increase her rent from LL1.2 million to LL2.2 million. If she could not pay, she would have to vacate, he told her.
Attar works as a school teacher. Her salary — LL3 million — has not kept apace with the lira's depreciation, while her expenditures have increased dramatically. The new rent was equivalent to about three-quarters of her salary.
Unable to pay, she was forced to leave.
When the Lebanon's economic situation destabilized in mid-to-late 2019, the lira lost its footing and the country was capsized by the COVID-19 crisis, many Beirut tenants, like Attar, had a grace period before facing rent increases and eviction, or de facto eviction.
Now that the crises are more than a year old, the country is reopening and lease agreements signed before the crises are expiring, experts interviewed by L'Orient Today say residents are facing an increase in fees that are pricing tenants out of their homes, contributing to housing insecurity.
According to Housing Monitor, a project started by the research and design studio Public Works in September 2020 that tracks eviction cases across Lebanon, there were at least 115 cases of situations threatening housing security involving 322 residents, including 198 minors, from January to April, concentrated mostly in Beirut.
Eight cases involved actual evictions — four of which were related to rent cost burden. Ninety-seven cases were verbal eviction threats and eight were "indirect threats" related to rental cost burden.
Experts say this trend of forced and de facto evictions due to skyrocketing rent is likely to worsen as the country reopens and eviction procedures stalled due to COVID-19 are put in motion again.
"People are not being able to pay their rent as their incomes have become insufficient," says Nadine Bekdache, the head of Public Works' right to housing unit. "Besides the fact that an economic crisis surfaces, there are also household breadwinners who are losing their jobs."
Hani Atallah lived in his house in Mazraa for 35 years — that is, until earlier this year, when his landlord forced his family out. "The landlord used to extend the contract every three years with our family, but as the lease expired this year, he demanded to double the rent."
"We could not pay the fee he asked for, so we had to leave," Atallah says.
As Lebanon grapples with its worst economic crisis in decades — and with few, fuzzy protections established for renters — is housing insecurity set to become Lebanon's next social epidemic?
Rooted in policy
Until mid-1992, rent control was enshrined in what is commonly known as the "old rent" system. To promote housing security in the post-Civil War years, the system froze rental agreements signed before July 23, 1992, for most residential homes, which could then be passed down to the tenant's family and certain other future renters.
Evicting residents under this system was difficult, requiring months of arrears in rent payments or other extraordinary circumstances. Landlords could terminate rental contracts only under limited restrictions, and had to pay out large sums to the tenants — equal to as much as half the property's value, according to the case.
For all rental agreements signed after that date, a new system "gave the upper hand to the landlord," says Zeina Jaber, an attorney who specializes in property law.
It's true that renters have certain limited rights despite the new system, as well as a partially implemented law to phase out the remnants of the "old rent" system. For example, when the local currency's value began slipping in 2019 — first to some LL2,000 to the dollar; then to LL4,000; and reaching as low as LL15,000 — and many landlords tried to force tenants to pay their rent in dollars, tenants had the legal prerogative to make payments in lira at the official rate of about LL1,500.

But according to Bekdache, many tenants are unfamiliar with even those minimal protections. This can lead them to cave to ad hoc demands made by landlords whose interests lie more in the whims of the market than the public interest.
With Lebanon's economic crisis deepening, some landlords say it is no longer profitable to rent out their apartments. The cost of housing maintenance, which often must be paid in dollars, has in many cases come to eclipse rents that Lebanese tenants can afford in lira. As a result, some landlords say they prefer to leave houses empty until they find someone who can pay a rental price they are asking for.
"Since there is no tax enforcement on vacant properties, landlords can sit and wait until they meet their dream tenant, who would agree to pay them at whatever fee they have in mind," a Beirut-based real estate agent told L'Orient Today. The agent said the ideal renter is in most cases a single foreigner who does not have a family to damage the house and at the same time can pay in dollars.
A landlord for a property in Beirut's Mar Elias area told L'Orient Today, "I live with my family in Kuwait, and the amount we are getting paid from renting our apartment in Beirut does not exceed $160 [at the market exchange rate]. My sons' toys are worth more than that."
He continued: "We decided to close the apartment and rent it when the economic situation in Lebanon becomes more stable." He made the family living in the apartment vacate in May.
Karim Nammour, a lawyer and researcher with Legal Agenda, notes that the focus on expats and foreigners is also explained by the need to attract foreign investments to bolster Lebanon's economy, which has only drawn more emphasis amid the country's foreign currency liquidity crisis.
The phenomenon of apartments being left vacant because they are not profitable — or not profitable enough — is not unique to the current economic crisis. Even before the lira's depreciation, a survey conducted by researchers from the American University of Beirut found that a quarter of the apartments built in the city after 1996 were empty.
But renters, landlords and experts who spoke with L'Orient Today agreed it has worsened, especially in the wake of the Beirut blast.
"Houses that used to be humbly built or relatively old are now renovated" through NGO grants or other assistance, says Rami, a landlord in the heavily affected Karantina area. This has increased the value landlords can ask for renting them, he says.
As a result, evictions are happening "despite the fact that renovating entities are forcing owners to sign contracts that prohibit them from evicting tenants" for a period of a year, says Mona Fawaz, an urban studies and planning professor at AUB and a co-founder of Beirut Urban Lab.
Although tenants from blast-affected areas who are threatened with eviction before August of this year can seek legal recourse from the Lebanese Army, "very few people are doing that," Fawaz says. "Those who have contact or are connected with army members are the only ones refusing to vacate" and seeking legal recourse, Fawaz says.
The path forward
What can the government do to protect tenants facing rent increases that threaten to displace them?
Nammour recommends that Lebanon could take cues from other countries that have holistic housing policies in place, implementing a system that takes into account people's minimum wage and cost of living when establishing rental prices or allowing municipalities to own buildings and rent them at controlled and affordable prices. This could help set up a system driven by public interest rather than market trends.
Fawaz also cites a policy of standardization, but from the property side rather than renters' perspective. Policies could be put in place standardizing the rental price for houses with the same or similar specifications. This, she says, would help renters secure fair offers and not be scammed into paying amounts that exceed property values.
For Bekdache, the government should implement taxes on vacant houses, which would encourage landlords to rent or sell properties. And above all, she says, awareness is key.
Tenants must be informed of their protections, such as the law prohibiting landlords from demanding rental payments in dollars as the currency continues to fluctuate.
Fawaz agrees. "A lot of awareness spreading is needed to enlighten renters about their rights," she says.

BEIRUT — Until recently, Nariman Attar lived with her two children in a humble, 110-square-meter apartment in Beirut's Noueiri area — two bedrooms and a bathroom, a kitchen, salon and dining room. She felt safe and independent in the home, where she'd lived since 2018, she told L'Orient Today. This was the first apartment they'd lived in on their own since her husband died the year...