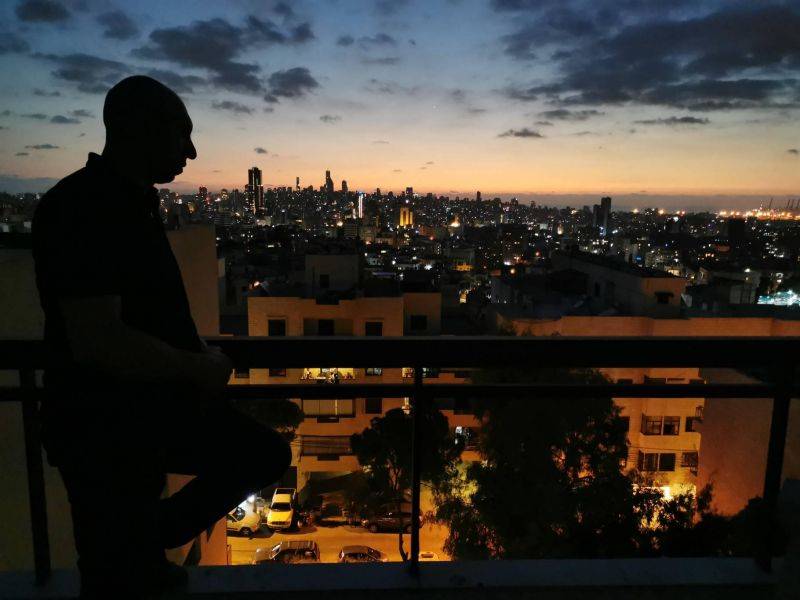 "It's been ages since I last got home at this hour," Nadim says as he enters the house, switches on the living room lights and walks toward a glass door leading to the apartment's large terrace.
"Have you seen this?" he asks with pride, opening the door, allowing an unobstructed view to Beirut's eastern suburbs. It is twilight, the sky a light pink with the last vestige of the day. Across the street, a series of buildings, some standing in darkness, faces the apartment. The sea lies to the west, and the remains of the Beirut port glitter in the distance. It is 8:15 p.m.

Nadim struggled to get his boss to let him leave work earlier than usual. Still, he didn't arrive home as early as he had hoped to. He first had to visit his father, who had been discharged from the hospital.
"He wasn't feeling well. He had low blood pressure, the doctor said," Nadim explains.
When he finally made it home, he found the house quiet. Carole, his wife, and their three children, ages 10, 16 and 18, were apparently out. Their names have been changed in this article to protect their identity.
Suddenly, a scream rips through the corridor, piercing the apartment's silence. "Are you there, Gabriel?" Nadim asks as he walks toward the bedrooms before returning. "He is my youngest son. He tends to barricade himself in the room. He's not doing well lately."
Nadim is restless. He is still wearing his work shirt, ready to take off as if he is still expecting a call for another delivery. He paces back and forth, from inside to outside, before deciding to sit down.
It is hard to tell whether he is naturally restless or is simply overwhelmed by his 18-hour workday. Although he lives through hell, he has smiling eyes. Once he sits down, he becomes sterner — he is now ready to vent.
The 48-year-old can't deal with his situation anymore. "Sometimes I feel like breaking down, but then I pull myself together. After all, the lord has given me good health."
Despite his three jobs, which prevent him from spending time with his children, his monthly income never exceeds LL3 million, or about $200 at the market exchange rate, half of which is used to pay off debts. Carole got hit with a 50 percent salary cut and is now earning LL1 million a month.
Nadim stares at the ground while telling the story of his descent into hell. He has a long list of problems. His father, 86, underwent several procedures necessitating a long ICU stay. But he cut it short, knowing his son would have to pay. Still, the cost of his hospital stay almost hit LL20 million.
It was impossible for Nadim to cover the payment himself, so he reached out to a few generous people — which is frequent in Lebanon, a crisis-stricken country where solidarity is a partial remedy for a nonexistent social safety net.
Yet their contribution covered only a sliver of the bill. For the rest of the sum, Nadim had no other choice but to borrow money from loan sharks, who lend money at extremely high interest rates.
"He is an acquaintance of my brother-in-law, and he paid the remaining LL17 million. I don't know how to pay him back."
'Payment defaults broke me'
Nadim's life is centered around an obsession for repaying debt. Things had gone well for him the past few years. Fluent in English and a college graduate with a bachelor's degree from Notre Dame University in Louaizeh, he had everything he needed to break away from the family business that he and his wife had focused on in the early years of their marriage.
"I ran a school canteen my parents had founded. Carole used to teach there. That had hardly yielded any returns. We were doing it just so we could help my father."
In 2005, he started a passenger transportation business that focuses on construction companies. He obtained several contracts, including with a large company, and began investing in a fleet of high-end buses, giving his clients rides, including to the Habtoor Hotel, the City Center mall and Beit Misk daily. The buses he managed would drop off and pick up passengers working at several major construction sites across Lebanon.
His business flourished. Carole was teaching at a reputable school. They were able to lead a comfortable life.
"I would not go to bed before 4 a.m.," Nadim says. "I worked really hard. I was not the kind of business owner who sits back and smokes cigars. The clients were able to reach out to me at any time, and I would go whole hog for them. That's why they trusted me so much."
This golden age stretched more than a dozen years. But in late 2017, the situation worsened in the land of the cedars. Rising prices for raw materials were accompanied by political instability. Economic downturn set in, and big projects were frozen.
Gradually, more and more customers began making excuses for delaying payments. But Nadim had to carry on. He had to continue to transport workers and purchase new buses. He spent millions of lira on gasoline and maintenance, and had to pay back loans and pay his employees. The golden age began to slip through his fingers.
"My clients' payment defaults broke me, humiliated me, buried me and destroyed my future and that of my children. I've got nothing to do with it. It is the country's situation that killed me."
Nadim failed to repay his loans, and his checks bounced due to insufficient funds. He found himself trapped in a hellish spiral of debt.
The fear of having to close his business pushed him into the arms of loan sharks. "The good thing with them, you immediately get cash in hand," he says — but at a very heavy cost. The required 10 percent monthly interest rate grows bigger each time payments are delayed.
Nadim's income was simply not enough to meet his expenses. He found himself unable to pay the sums he owed his lenders. Since then, his family's life has turned into a nightmare. Intimidation and death threats have become part of the daily routine.
"They were convinced that I did not want to pay them back. They hired men to chase and intercept me while driving. They held me at gunpoint and knifepoint. They also threatened to abduct my children. They came to the house carrying Kalashnikovs one day. I hid in a water tank on the roof. The children have witnessed everything. The little one talked about it for a long time."
Nadim's breath becomes short as he recounts his nightmare, as though he is anxiously reliving it.
He speaks for 10 minutes in the dark due to power cuts, which have grown in length and frequency across the country since the state utility further rationed supply. But he does not seem to realize it. He is fully engaged in the story, which he tries to render as best he can, as if he wants to convince himself one last time that he is not responsible for bringing ruin on his family.
"There was a point where I couldn't take it anymore. I used to make it home completely on edge, but at the same time I had to be careful not to lose my family."
Selling his parents' house and a family plot of land at a low price finally saved him from the loan sharks. He even mortgaged his own apartment. "They can throw us out of the house anytime they want, and I'll be out on the streets with the kids."
He transferred his buses to another firm and went out of business. The situation in Lebanon worsened due to COVID-19 and high inflation, resulting in thousands of households suddenly relegated to a lower social class.
There were no prospects for Nadim. "I didn't even have enough money in my pocket to buy a bag of flatbread," he bitterly recounts. He could never have imagined reaching this point.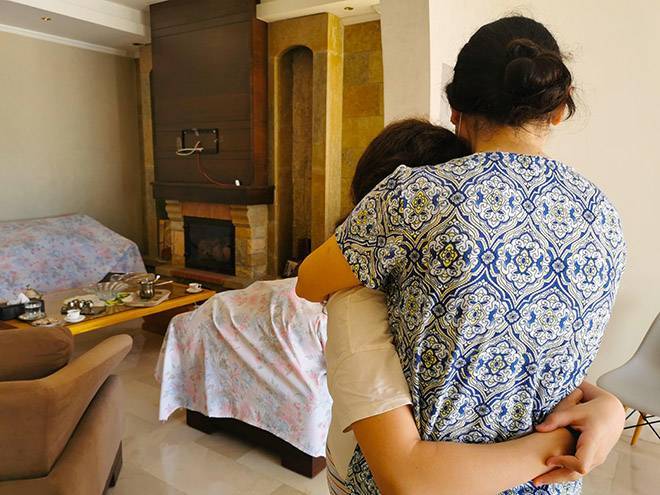 Carole hugs her daughter. (Credit Marie Jo Sader)
A broken family
Nadim leaves home every day at 3:30 a.m., not to return before 10:30 p.m. He borrows a truck in exchange for providing free transportation services for a few hours each day. The rest of the day, he can use it at his job as a delivery driver. It is an unbearable pace of work — his days are manic.
"Sometimes I fall asleep at the wheel. That's when I tell myself, 'This is it. You're done for.' Then I tell myself that I cannot be weak — otherwise the whole family will fall apart. But how long can I keep going?"
He points to the hole in his sneakers, which used to belong to his oldest son. "I deliver to upscale neighborhoods, and my boss keeps criticizing my outfit. These sneakers are worth more than LL1 million. How can I replace them if I don't make more than $150 a month [after paying the bills]?"
Today, Nadim is willing to endure even the worst of personal humiliations. Nothing matters compared to his children. He hasn't paid tuition for his sons for the second year in a row, amounting to millions of lira. His oldest is supposed to start university next year.
"Everything is very expensive. I can't even afford running errands anymore. My two sons agreed to work in a snack bar just to have free meals. These boys were supposed to focus on their social life and studies. Can you imagine?" he says angrily.
His eyes shine when he speaks of his daughter. "She's sharp. I must do everything in my power to make sure she finishes her studies." He frowns as he recalls that Chloe used her mother's cellphone for online classes during the lockdown, since she does not have a computer.
Nadim is well aware that his children stand by his side, but their lives have been thrown into turmoil. They no longer see their friends, and their parents' worsening financial situation has taken its toll. Marco, the oldest, is increasingly aggressive, and Gabriel attempted to commit suicide last year.
"He complained about severe back pain. We took him to the hospital, and that's when he told the doctors. My own son wanted to end his life."
Nadim's anger boils over when he recounts the event, which he says shook the entire family. "What kills me is that I did everything to get my kids to the top of the ladder, but I failed."
The physicians who took care of his son at the hospital asked Nadim whether he had thought of suicide as well. "Can you imagine?" he says.
He seems taken aback at such a question, as if he is the only one who cannot conceive how his ominous circumstances might lead others to worry. "What advantage could suicide bring me, apart from causing greater pain to my children and my wife?"
When he comments on their relationship, his head slumps. He briefly closes his eyes while recalling the hardships his wife has endured. "Things are more complicated with Carole. We don't get along anymore. She suffered bitter humiliation, to the point that she resents me in spite of herself."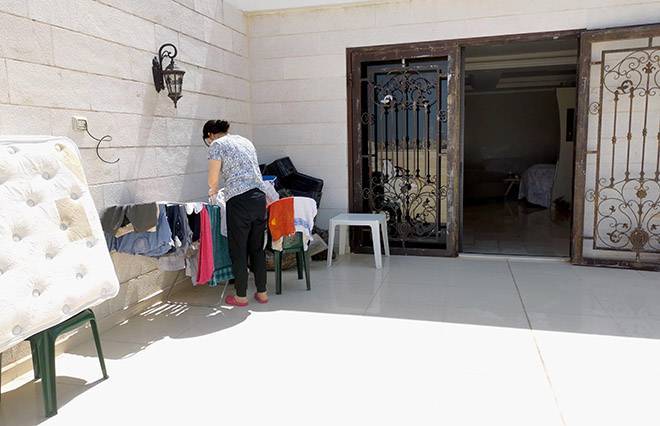 Carole tends to laundry on her balcony. (Marie Jo Sader)
'Every day is worse than the day before'
Carole, 44, is more introverted than her husband. She speaks softly, her broken voice betraying the toll the family's situation has taken on her. She is a graduate of the Lebanese American University and works as an English teacher at a small private primary school. When it comes to her salary cut, she has seemingly become resigned.
"The parents can't afford tuition and the school can't work out a solution [to the salary problem]. There are no other options," she told L'Orient-Le Jour a few days earlier when her husband wasn't present. She knows Nadim carries the heavier burden, but for her, failing to meet the children's needs is excruciating.
"It is easier for an adult to abstain. You can tell yourself, 'I don't care to have this or that.' But things are harder when your child needs shoes or your daughter is growing up and her clothes don't fit anymore, and there is nothing you can do about it."
Carole tries to cope. She has taken to cutting her daughter's pants into shorts and repairing her sons' shoes at the shoemaker.
Due to the financial crisis, the price of basic necessities has skyrocketed. A kilogram of beef costs about LL150,000, so Carole hardly puts any in the dishes she makes. She rations other products as well, including oil and milk.
"I don't make any fried food anymore, so that the bottle of oil can last as long as possible."
The couches in the living room are all covered with sheets, giving the impression that no one lives there.
Carole sits on the sofa, clasping her own hands together and staring into the void, as if she is begging someone. The clock facing her has not been set for daylight savings time; it is behind by an hour. The family has no faith that things will get better with time.
"Every day is worse than the day before. The sums that we need to pay back [after borrowing for] my father-in-law's medical bills have added another problem. I expect tomorrow to be even worse. I feel that prayers are what is keeping me going. Sometimes I feel suffocated and I need a break, so I pray a little bit and calm down."
Chloe, 10, enters the living room, wearing her pajamas. The mother and daughter hug each other. "Chloe, say hi and go get dressed," she says. "I'm trying to protect her. She's still too little. It is harder to pretend with the boys."
Carole speaks of the suicide attempt by her youngest son, the costly therapy they could not provide, and his recent bedwetting, which is probably linked to the terrors inflicted by loan sharks.
"All I want is for my kids to complete their studies and leave. Anything they find abroad will be better than what they have here."
This article was originally published in French. Translation by Joelle El Khoury.

"It's been ages since I last got home at this hour," Nadim says as he enters the house, switches on the living room lights and walks toward a glass door leading to the apartment's large terrace."Have you seen this?" he asks with pride, opening the door, allowing an unobstructed view to Beirut's eastern suburbs. It is twilight, the sky a light pink with the last vestige of the day....