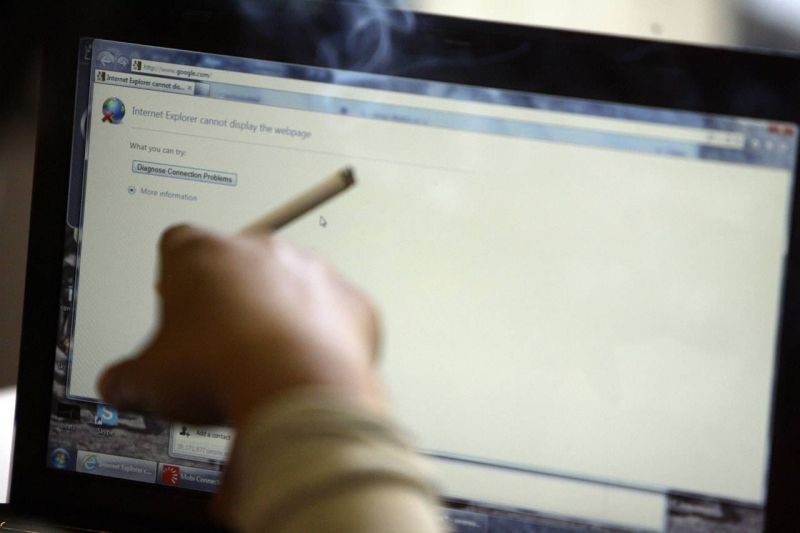 BEIRUT — On Friday morning, state telecommunications company Ogero announced that telephone and internet services in the Chouf area of Barouk were cut off. The same thing had happened down the road in Beiteddine on Tuesday.
The reason? The generators that provide back-up power to Ogero's central offices during interruptions in the state electricity supply were overloaded and had to be switched off.
Similar outages have happened at the towers that transmit cell phone signals.
With Électricité du Liban rationing the power it provides due to fuel shortages, the internet is only the latest service to face disruption. Water establishments and the port authorities have also complained that electricity cuts are threatening their operations.
Ogero's chairman, Imad Kreidieh, wrote in a tweet last week that continued electricity rationing and fuel shortages "seriously threatened Ogero's ability to provide services."
"My intention was not to create panic," Kreidieh told L'Orient Today, "but to highlight the many issues we are facing."
Plan B: generator power
As fuel stocks have run low, allegedly due to the central bank's delays in opening letters of credit to foreign suppliers, EDL has rationed its power to the point that it now only provides a few hours of electricity per day. This has left people and businesses — including Ogero and the two mobile providers Alfa and touch — dependent on diesel-powered generators to fill the gaps.
"Power is needed at every stage of the network," said MP Nicolas Sehnaoui (FPM/East Beirut), a former telecommunications minister and a current member of Parliament's Media and Communications Committee.
Mohamad Najem, the executive director of digital rights organization SMEX, highlighted the shortsightedness of this dependency. "We are dependent on EDL with generators as a backup, without a long-term solution," he said. "We need to find ways to generate power, to go green."
Ogero and the mobile providers are faced with two ongoing challenges to power generation: obtaining diesel that is in increasing demand and ensuring generators keep running.
"You can have EDL as Plan A, generator as Plan B," former minister Sehnaoui said. "But without fuel, Plan B is also out of the window."
For now, however, Ogero and the ministry have obtained enough fuel in coordination with the Energy Ministry, caretaker Telecommunications Minister Talal Hawat told L'Orient Today, without specifying for how long the secured fuel is expected to last.
The more pressing concern is that the generators backing up the network were never meant to be a long-term alternative to EDL power and they are only designed to to run for 4-8 hours a day.
"Combined with batteries, we are meant to be able to be self-sufficient for electricity up to 10 hours a day," Kreidieh said. "Now, we need to do it for 20 hours a day, which is putting huge stains on our capabilities."
When generators operate uninterrupted for long periods of time, they run the risk of overheating or breaking.
"When you run the generators for too long, you need more fuel, more oil and filter changes," Hawat said. "Some of the old generators cannot handle the pressure … and stations go down if the generator goes dead."
These generators then require spare parts, which are mostly imported and must be paid for in foreign currency. The same applies to cables and other equipment required for maintenance of the entire telecommunications infrastructure.
"We have enough parts to handle the situation for a few more months, but beyond that, it will be a critical situation," Kreidieh said of Ogero.
Internet providers still charge for their services at Lebanon's official dollar peg of LL1,507.5, while on the parallel market the dollar is now trading above LL15,000.
The discrepancy between revenues and the cost of imported parts has contributed to a rise in Ogero's operational costs. It has not helped that Ogero's budget for maintenance and operations was reduced from LL190 billion in 2019 to LL48 billion in 2020. The 2021 budget has not yet been passed.
"We have a very serious funding shortfall," Kreidieh said. "Our operational budget was cut last year, not taking into account the exchange rate."
For now, Hawat said, he has "no plans" to increase the costs of phone and internet services. "The only thing that would see it rise is if the central bank lifted the official peg — then it is out of my hands," he said.
'Slow and frustrating'
In tandem with increased reports of network outages across the country, several people told L'Orient Today that they have experienced slower than usual internet speeds over the last few weeks, disrupting their work and home life.
Léa Saab is currently studying for medical exams, but sluggish internet speeds — both over Wifi and mobile internet — have impacted her work.
"Documents take a slightly longer time to upload, calls are slower with the screen freezing more often," she said. "It's becoming difficult, slow and frustrating."
It is not the first time fuel shortages have impacted internet coverage. In July last year, when Lebanon was suffering similar shortages and subsequent power outages, SMEX tracked dozens of instances of both mobile data and fixed line internet going down due to issues with power supply.
Lebanon's internet speeds are already notoriously slow. According to the Ookla worldwide internet index, which takes average internet speeds on a monthly basis, Lebanon ranked 52 out of 137 countries for fixed internet speeds, where the No.1 ranked country has the fastest speed. Lebanon's internet runs at an average speed of 47.98 megabits per second. The global average is 54.53 mbps.

For mobile internet, Lebanon's performance in comparison to other countries is even worse. It has the 149th fastest speed of the 180 countries ranked. Lebanon's average mobile internet speed is 15.99 mbps, far below the global average of 105.15 mbps.
While Kreidieh and Hawat said there had been "no major shutdown" or reduction to the speeds being provided by Ogero and the cell companies, they admitted that increasing incidences of stations going offline have impacted service in limited areas.
"This happens — sometimes you have an outage and you have to reroute traffic," temporarily increasing pressure on other parts of the network, he said.
Unequal access
"We are not facing issues with the bandwidth, but with power," Kreidieh said. "People find themselves without service at times — especially outside the main cities."
While generators in Beirut and other larger cities can quickly be moved around between central offices to maintain power supply, this is not as easy in rural areas.
"Service is already worse outside the capital," Najem said. "In this case, it seems that the further outside the city you are, the worse your service will be."
"There shouldn't be differentiation between people in Beirut and people elsewhere in terms of the service they get," he added.
The consequences of continued internet cuts could also be damaging for Lebanon's economic recovery, Sehnaoui said.
"We are very concerned about this issue. In the future, if we want to have a place in the world economy and restart a new economy, we should be a regional digital and IT hub," he said. "For that, the internet is critical."
Beyond bold ideas for a future of digital innovation, prolonged disruption to Lebanon's internet services poses a much more fundamental problem, Najem said: "Access to the internet is a human right, but I am afraid that we're going to get to a point where the internet will be for the privileged."

BEIRUT — On Friday morning, state telecommunications company Ogero announced that telephone and internet services in the Chouf area of Barouk were cut off. The same thing had happened down the road in Beiteddine on Tuesday.The reason? The generators that provide back-up power to Ogero's central offices during interruptions in the state electricity supply were overloaded and had to be...