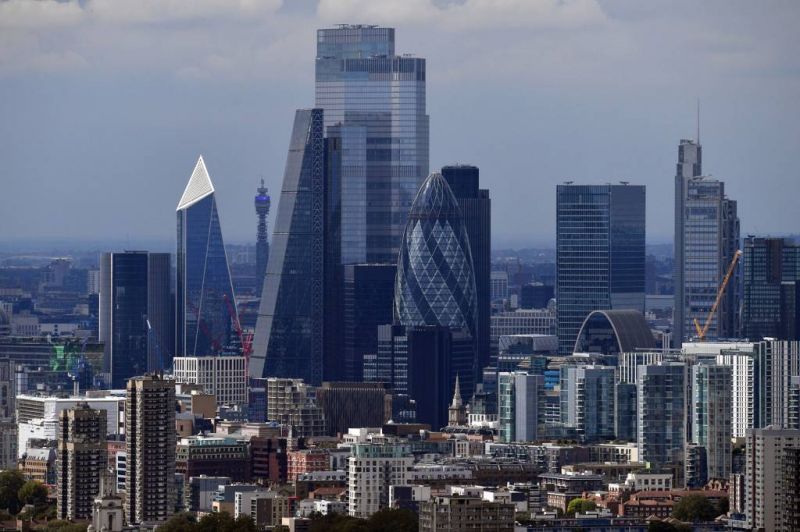 BEIRUT — Under investigation by Swiss authorities looking into possible embezzlement of Banque du Liban funds, the brother of Lebanon's central bank chief has over $10 million in real estate holdings in the UK, where authorities are reportedly considering a probe of their own into Riad Salameh.
From early 2014 until August 2019, firms controlled by Raja Salameh purchased a series of upscale properties in London, including in an Art Nouveau-style building featured in a Hollywood film, according to real estate and corporate records cross-referenced by L'Orient Today.
At least $7 million worth of funds were provided by two of Raja Salameh's firms in the British Virgin Islands — a popular tax haven — to UK companies under his control that acquired the flats in the British capital.
Neither Raja Salameh nor his son Emile, who helps manage the real estate investments, could be reached for response at their email addresses disclosed in UK title deeds.
Raja Salameh, a board member of controversial Lebanese real estate giant Solidere since 2012, told the Organized Crime and Corruption Reporting Project last year that he owns "private businesses and investments in the real estate and hospitality sector, locally and internationally, using solely my own private funds."
Publicly available biographies of the 60-year-old brother of the central bank governor offer scant information. Solidere's profile says that Raja Salameh set up a consultancy office in Beirut for high net worth individuals in 2003, served as a Lebanese representative for a foreign bank and has "20 years experience in hospitality business in Lebanon and France."
A US diplomatic cable from 2007, released by WikiLeaks, noted rumors that Raja Salameh benefited from commissions when Lebanese lira banknotes were printed on behalf of BDL, headed by his brother since 1993.
Although Raja Salameh's property purchases in the British capital do not necessarily indicate wrongdoing, his financial transactions elsewhere have come under scrutiny in Switzerland, while activists have pressed UK authorities to investigate him and his brother.
Swiss investigation, UK lobbying
In Switzerland, authorities are investigating "aggravated money laundering in connection with possible embezzlement to the detriment" of BDL, a probe that has looked into Raja Salameh's offshore holdings.
Sources with access to Switzerland's request for legal assistance to Lebanon told our sister publication Le Commerce du Levant that the investigation is examining an alleged $330 million in payments made between 2002 and 2014 from BDL to Forry Associates Ltd., a firm registered in the British Virgin Islands and owned by Raja Salameh.
Of these revenues, $258 million were then allegedly transferred to Raja Salameh's bank accounts in Switzerland, with $207 million afterward wired to his accounts at five Lebanese financial institutions, according to the sources. Lebanese authorities have opened their own investigation into the matter.
Meanwhile in Britain, an activist legal firm has lobbied law enforcement to investigate the activities of BDL Gov. Riad Salameh and his associates — including Raja — and to use a powerful court tool for illicitly obtained property.
Two weeks ago, the UK's National Crime Agency confirmed to Reuters that it had received a report from the Guernica37 law firm calling for a probe, with sources telling the news agency that the NCA had launched initial steps to "determine whether there were sufficient grounds to start a formal investigation."
L'Orient Today obtained a copy of Guernica37's submission, which cited reporting by the OCCRP and Lebanese outlet Daraj, among others, regarding Riad Salameh and his brother's financial interests outside Lebanon.
"Riad Salameh heads a complex and well-structured system that … is in reality an organized crime group/family under the guise of being the governor of the central bank," Guernica37's submission alleged.
Guernica37 called on British authorities to consider using "unexplained wealth orders," a legal mechanism in the UK that places the burden of proof on defendants to justify they acquired assets in the country with lawfully earned funds.
Although the law firm's submission did not bring up Raja Salameh's real estate holdings in London — which have not previously been reported on — it mentioned past articles on Riad Salameh's UK property investments, worth at least 30.8 million pounds (currently about $42.5 million), as well as Raja's interests in France.
Guernica37 declined to comment to L'Orient Today on the specifics of its report and its submission to legal authorities, citing the "confidential nature of such investigations."
London flats, offshore money
On Feb. 20, 2014, Raja Salameh, his wife and a firm owned by his son came together to incorporate White River Properties Limited in London, which the previous year ranked as the top city for foreign investments in property.
The firm swung into action four months later, purchasing three flats in Altitude Point, a then newly built high-rise in the Aldgate area situated near the center of London. Property records said the real estate cost just shy of 2.25 million pounds.
Raja Salameh and four members of his immediate family — including his wife, one of the owners of the Portemilio Hotel and Resort in Jounieh established by her late father — also established Black River Properties Limited on Mar. 7, 2014.
On Dec. 22, 2014, both White and Black River Properties Limited restructured their shareholding in a way that would have obscured their ultimate ownership at the time. Most of their shares were transferred to East Eleven Investments Ltd. and West Eleven Investments Ltd., firms domiciled in the British Virgin Islands, a secretive offshore jurisdiction.
It was only under stricter reporting requirements two years later that corporate filings revealed Raja Salameh was the beneficial owner of the UK real estate companies, and by virtue of this in control of their BVI-registered parent firms.
Black River Properties added three flats to Raja Salameh's property portfolio in 2015 for a combined reported cost slightly below 2.87 million pounds, according to the firm's balance sheet for that year.
The apartments were in the Sloane Avenue Mansions, an Art Deco-inspired building in the upscale Chelsea neighborhood of the British capital, and the Clarence Gate Gardens, a century-old building in the West End where Scarlett Johansson's character in the Woody Allen film Match Point resided.
In March 2016 and August 2019, the two UK firms went on to purchase another four apartments in the Altitude Point, Sloane Avenue and Clarence Gate locations for 2.4 million pounds, bringing their total expenditure up to 7,792,326 pounds.
A review of balance sheets filed by White and Black River Properties Limited up through March 2019, before the latest property purchases, reveal that these companies received 5,295,599 pounds from Raja Salameh's firms in the BVI. Their 2020 filings go into less detail, but hint that another 769,985 pounds were received from the two companies in the Caribbean tax haven.
Meanwhile, Blom Bank France and Byblos Bank Europe, subsidiaries of Lebanese banks, provided the UK firms with 950,000 pounds in financing in 2016. Raja Salameh provided personal guarantees for these loans, with the debt also secured by two properties, according to UK corporate filings.
Since August 2019, Raja Salameh's companies have not acquired any additional real estate, according to L'Orient Today's analysis of changes in UK real estate ownership by domestic firms.
His brother, Riad Salameh, however appears poised to add to his own substantial real estate portfolio in Britain, previously uncovered by OCCRP and Lebanese outlet Daraj. On Nov. 30, 2020, the central bank chief's son, Nady, established FIPM Limited, a firm registered in the UK for the buying and selling of property.
FIPM Limited is controlled by a Luxembourg-registered holding company Fulwood Invest, which in turn is under the ownership of Riad Salameh, as identified in the disclosures of the microstate.
Whether Raja or Riad Salameh expand their real estate holdings in the UK is yet to be seen, all while the web of investigations and activist work against the two brothers continues to expand.
BEIRUT — Under investigation by Swiss authorities looking into possible embezzlement of Banque du Liban funds, the brother of Lebanon's central bank chief has over $10 million in real estate holdings in the UK, where authorities are reportedly considering a probe of their own into Riad Salameh.From early 2014 until August 2019, firms controlled by Raja Salameh purchased a series of upscale...