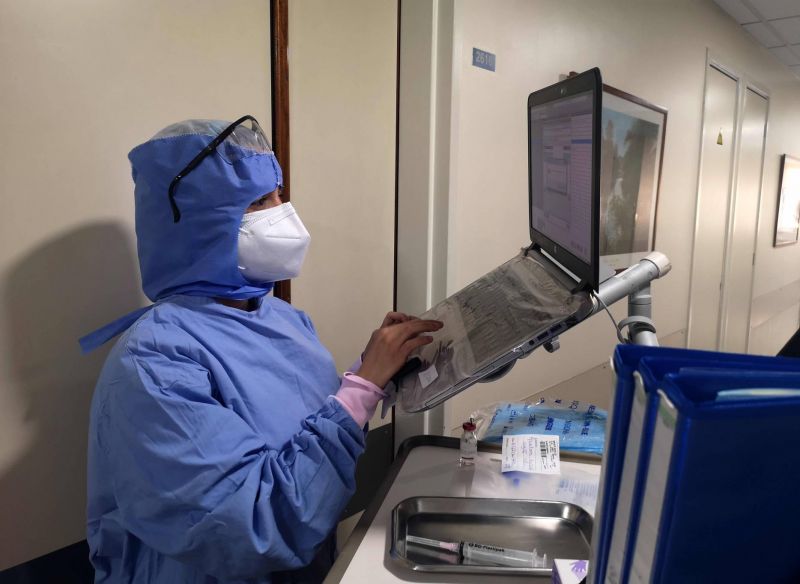 BEIRUT — As Lebanon nears its ninth month in the battle against the novel coronavirus, it appears to be losing.

The record for daily COVID-19 cases is now routinely being broken and the proportion of coronavirus tests coming back positive is hovering around 10 percent — double what the World Health Organization recommends before a country reopens. The trends all point to a grim not-too-distant future.
But the most terrifying part of Lebanon's coronavirus story is not case counts or positivity rates — it's the strain that treating those cases is putting on a long-neglected health care system, and the very real and dangerous possibility it will simply be overwhelmed.
Coupled with the country's economic crisis, this pandemic has revealed fundamental flaws in Lebanon's health care system: extensive privatization; poor coordination; a lack of health data; a focus on treatment, rather than preventive health care; and minimal investment in staff.
"Once a system is stressed, it will show its deficiencies. This was certainly the case in Lebanon," Firass Abiad, the general manager of Rafik Hariri University Hospital, told L'Orient Today.
In the first few months after Lebanon confirmed its first case of COVID-19 on Feb. 21, the country was able to contain the virus with relative success, thanks to strict lockdown measures between mid-March and June and the closure of the country's borders.
Daily case numbers were frequently in the single figures, and the health care system, though under strain due to the economic crisis, was still able to cope. The picture today is very different.
As of Wednesday evening, there were 31,583 active coronavirus cases in Lebanon, and as case numbers continue to rise, hospitals are running out of space. Seventy-two percent of beds dedicated to COVID-19 patients in Intensive Care Units are occupied, according to the World Health Organization's daily report.
"We are in an extremely dangerous situation," said MP Assem Araji (Future/Zahle), a cardiologist and the head of Parliament's Public Health, Labor and Social Affairs Committee.
Public-private divide
Lebanon's health care system is highly privatized. Eighty-five percent of all hospital beds in the country are in private facilities, and only around 1.8 percent of the government's health budget goes to public hospitals, according to a March report by the Knowledge to Policy or K2P center at the American University of Beirut.
The 1975-1990 Civil War hollowed out the Health Ministry and destroyed many of its facilities, paving the way for private hospitals to fill the gaps.
Despite the private sector having the lion's share of both funding and bed capacity, public hospitals have largely shouldered the burden of the fight against coronavirus.
While private hospitals house the vast majority of inpatient beds in the country, they only provide around half of all the some 900 designated COVID-19 beds, according to data compiled by the National Council for Scientific Research, or CNRS, and the Disaster Risk Management Unit, a disaster preparedness body that falls under the authority of the cabinet.
"The dominance of the private sector means that the most vulnerable people are the least likely to access health care services," said Fadi El Jardali, a professor of health policy and systems at the American University of Beirut.
Since the first case of COVID-19 was confirmed in Lebanon back in February, the Rafik Hariri University Hospital — Lebanon's largest public hospital — has been at the forefront of the response to the virus. It has 122 beds dedicated to coronavirus patients, according to the CNRS dashboard.
The Lebanese woman — who had traveled from the Iranian city of Qom, then a hotspot for the virus — was put into quarantine in RHUH's newly partitioned COVID-19 wing.
In a COVID-19 Operational Plan published by the Health Ministry on March 10, RHUH is named as the "first line" hospital, where efforts would be focused, followed by nine other public hospitals in the second line.
Two days later, the World Bank approved the reallocation of $40 million of a $120 million loan, originally destined for a "health resilience project," to support public hospitals' fight against the coronavirus.
As of the beginning of October, approximately $13 million had been spent on medical equipment for public hospitals, including personal protective equipment (PPE), ventilators and testing kits, according to the World Bank's Lebanon office.
As a third line of defense, the Health Ministry's plan called for private hospitals to accept patients once public hospitals reached capacity. It did not set out any mechanism for coordination between the two sectors, leaving the public sector primarily responsible for the treatment of coronavirus patients.
This is the same public health care sector that has been neglected by the government for decades, ever since the end of the Civil War in 1990, according to Karam Karam, an obstetrician/gynecologist who served as health minister from 1998 till 2000.
For years, employees of public hospitals have mounted strikes and held protests to demand the payment of overdue salaries and better working conditions.
In the 2020 state budget, health expenditures decreased by 7 percent from LL743 billion in 2019's budget to LL692 billion. The cuts were part of a larger austerity push by politicians, banks and the international community.
Houssein Toufayli was on rotation for his medical training at RHUH when the first case was announced in Lebanon. Since then, he has transferred to the Nabatieh Governmental Hospital in south Lebanon.
While he said that the work at RHUH was generally more stressful due to the higher number of patients and critical cases, "at least there was more equipment available."
At the Nabatieh hospital, many medications that are usually provided by the Health Ministry are unavailable, meaning staff members have very limited options when it comes to treatments.
"As COVID-19 is a new disease, we have to try different medications and treatments," he explained. "But in Nabatieh, we don't have that opportunity."
In the northern province of Akkar, the Abdullah al-Rassi Governmental Hospital is also struggling to cope with a surge in coronavirus patients. Sixty-three percent of all coronavirus cases in Akkar were recorded in the last month.
It is the only hospital in the province — one of the country's poorest and most neglected — to accept COVID-19 patients, and on Wednesday, 88 percent of its ICU beds were full, according to the CNRS dashboard.
The Health Ministry continues to pay its bills on time, but the money the hospital receives "is simply not enough," said hospital manager Mohamad Khodrine. "For years, governmental hospitals have been neglected."
The hospital can barely afford things as basic as disinfectants and sanitizers, which have soared in price as the value of the lira has plummeted against the dollar.
"We're even having to buy some supplies on the black market," Khdorine said.
Public health officials, including RHUH's Abiad and caretaker Health Minister Hamad Hassan, have criticized the private sector for failing to pull its weight and significantly increase the number of available beds to ease the pressure on the ailing public sector.
"They didn't want to do anything; they wanted the public sector to take over," Abiad said. "But when there's a national crisis, you do not have the luxury of choice."
Sleiman Haroun, the head of the private hospitals' syndicate, admitted that bed capacity must be raised. However, he flatly rejected any accusation that the private sector was deliberately choosing not to treat coronavirus patients, pointing instead to the fact that many private sector hospitals themselves are facing financial problems.
The cost of a day in a private hospital with a respirator or ventilator is around LL2.5 million ($1,700 at the official LL1,507.5 rate still charged by most hospitals). According to Haroun, this is approximately four times more than the daily cost for an average inpatient, due to the specialist equipment required and PPE that must be discarded and replaced after visiting each patient.
The destructive blast wave of the Aug. 4 Beirut port explosion also put three private Beirut hospitals completely out of action, further limiting their ability to respond to the public health crisis.
"The health sector is extremely fragile," Haroun said, adding that no additional support had been given to private hospitals, which are already owed some LL1.5 trillion by the state, since the outbreak of coronavirus.
"The state simply can't pay them now," said Araji.
As a way to cope with increasing financial woes, the American University of Beirut Medical Center, one of Lebanon's most expensive hospitals, announced on Oct. 2 that it had raised prices of some of its services for privately insured patients to match the BDL's platform exchange rate of LL3,900 in light of skyrocketing costs for imported medical supplies.
Haroun told L'Orient Today that other hospitals would likely follow suit. The caretaker health minister said on Twitter that there is no plan to raise prices at public or private hospitals for those covered by the ministry or public insurance, as long as the official rate remains at LL1,507.5.
Joseph Helou, a doctor and the ministry's director of medical care, explained that while AUBMC and other private hospitals have the right to increase prices of services for privately insured patients, they cannot do the same for patients covered by the ministry, the National Social Security Fund or other public insurance schemes.
Haroun has agreed to increase efforts to boost bed capacity at private hospitals, but the framework and timeline for doing so is still unclear more than half a year into the pandemic. Meanwhile, cases continue to rise at an alarming rate.
"The problem of collaboration and coordination is a chronic one," AUB's Jardali said. "We're not harnessing all our capacities or leveraging the private sector in a coordinated way."
Among private hospitals, there is a failure to work together to improve public health as, ultimately, their end goal is profit, said Iman Shankiti, the Lebanon representative for the World Health Organization.
This sentiment is echoed by Karam, who said, "Private hospitals have always competed with each other, especially after their financial situation began to deteriorate."
According to the K2P center report, there has been a lack of clear enforcement of the infectious diseases law of 1957, which emphasizes the importance of coordination between the public and private sectors in pandemic response.
"This is the worst thing that could happen in a pandemic," Jardali said.
Araji warned, "If there is a huge outbreak and private hospitals don't accept more patients, we will find ourselves in an extremely dangerous situation."
It is not just at the level of hospitals where coordination has proved a problem. The failure to agree on a unified strategy has reached the highest levels of government.
At the beginning of the coronavirus pandemic, Lebanon's cabinet was freshly formed and had something to prove: that they were a government of expert, skilled people who would meet the demands of protesters.
Seven months later, the government is in a caretaker position after Prime Minister Hassan Diab resigned his government in the wake of the port explosion, and there appears to be little political will — but rather disagreement — over the action needed to put the lid back on the coronavirus outbreak.
On Sept. 20, when daily cases first exceeded 1,000, a rift emerged between Hassan and caretaker Interior Minister Mohammad Fahmi over announcing a new lockdown in Lebanon. The health minister was pushing for a full closure of the country, prioritizing public health over private economic activity, while the latter was in opposition.
"Even if [a disagreement] happened, it should never have been a public debate," Abiad said, adding that good communication between health authorities and the public is an area that is still lacking.
Case in point, the Health Ministry has three separate mobile apps, each with a slightly different function, rather than a single centralized app, adding to the confusion around the virus.
There were no regular appearances by public health officials or political leaders to give updates on case numbers and plans being discussed. "We need a constant presence," said Ghinwa el-Hayek, a member of the Lebanese Epidemiological Association. "Otherwise it increases distrust in the government and decreases respect for the rules."
Data gap
Failure to coordinate has also brought into relief the absence of strong health information systems or a centralized health database in Lebanon. Patients toting large manila envelopes is a common sight in clinic waiting rooms as they are often required to carry their own medical records with them.
Data has been inconsistent and uncoordinated throughout the pandemic.
"We've not had access to raw data; all we've been seeing is general reports or dashboards," said Hayek. "There's a total lack of strategy and lack of planning."
At the end of September, coronavirus testing data was used to create a color-coded map of municipalities across the country that indicates risk level, and therefore the measures to be taken. However, this map also suffers from a lack of reliable data; large areas on the map appear blue, indicating there is not enough data available to appropriately code them.
Hassan himself admitted in an interview with Al-Manar on Oct. 5 that there had been "mathematical errors" in designating 111 villages and towns that were originally instructed to go into an eight-day lockdown. Localized lockdowns were extended for a further week on Monday and amended to cover a total of 169 towns.
While more and more data has been added over time, metrics on public reports are often amended or removed, and there are frequent discrepancies between numbers from different agencies, which each publish their own daily reports.
This has been most obvious when it comes to hospitals' bed capacity. On Wednesday, the Disaster Risk Management COVID-19 dashboard said there were a total of 902 beds dedicated for coronavirus patients: 696 ordinary inpatient beds and 206 in ICUs.
The World Health Organization, on the other hand, reported a total of 996 COVID-19 beds: 735 ordinary and 263 ICU.
These discrepancies "defy explanation and only serve to reinforce the public's distrust of the government, and by extension, the data," according to Sara Chang, a public health consultant. In turn, this makes the job of public health workers even more difficult.
The lack of detailed demographic information in COVID-19 reporting, Chang continued, means that it is difficult to understand how certain segments of the population — such as refugees and migrant domestic workers — are impacted, and therefore create inclusive health policy.
"Data is the backbone of public health and response planning," Chang said. "Without it, one cannot make informed decisions about strategies that will prevent the spread of COVID-19."
To deal with the situation, Chang has built her own spreadsheets and dashboards of key COVID-19 indicators, checking for consistency across data sets and making corrections where possible.
"The goal … is to improve data quality and usability," she said.
Lack of preventative care
As has been the case around the world, the number of beds available for coronavirus cases has taken the spotlight in discussion and preparation for the pandemic.
However, little attention has been paid to the primary health care services in Lebanon, which only elicit around 5 percent of total health care funding, but have a large role to play in fighting disease, according to the K2P center report.
Instead, most health care services in Lebanon are curative, provided only at the point at which someone falls ill, rather than working to prevent health problems from developing to start with, Jardali explained.
"Primary care is the gatekeeper of good health care," Jardali said, adding that it can serve a critical role during a public health crisis in terms of directing services, identifying early symptoms in the community and assisting municipalities with isolation efforts.
The Health Ministry oversees a network of around 240 primary health care centers, but around 190 of these are operated by local or international NGOs. Only around 45 centers are operating as they should, Araji said.
The Lebanese authorities have failed to capitalize on this large network of health centers, which has increased the likelihood of clusters breaking out, particularly in rural communities.
In parts of the northern areas of Akkar and Hermel, for example, some people may have to travel for up to an hour to the nearest hospital.
Traveling to hospitals, which are typically in cities, rather than being able to access good-quality primary health care centers in their neighborhood, means people who may otherwise have minimal contacts with others are forced to seek treatment in more densely populated, and therefore higher-risk, areas.
"You don't stop the spread of COVID-19 in a hospital," Chang said. "You stop the spread of a virus in the broader community through coordinated strategies."
All work, no pay
Since the start of the pandemic, 1,227 health care workers have been infected with COVID-19. Two — one doctor and one nurse — have died.
The enormous strain that the coronavirus crisis has put on doctors, nurses and other vital health care staff added to an already stressful workplace, while putting their lives, and those of their families, at risk.
For Jardali, the pandemic has revealed just how vital these health care workers are, and how the Lebanese authorities have failed to invest in them.
There is no centralized plan for human resources in the Lebanese health care sector, leading to issues such as maldistribution of staff and a lack of protection, Jardali explained, particularly in the less-regulated but predominant private sector.
"There is a large discrepancy between hospitals in terms of things like salaries, career development, training and mental health support," he said.
Lebanon's medical schools and nursing colleges produce hundreds of young doctors and nurses every year. However, many travel abroad to find work or gain experience after completing their initial training in Lebanon.
The exodus of medical staff has accelerated in the last few months amid the pandemic and the burden of the economic crisis, which has seen the real value of salaries plummet.
According to the Lebanese Order of Physicians and the Order of Nurses in Lebanon, more than 300 doctors and 200 nurses have left the country since April, and this number continues to grow.
"We're pleading with them to stay and help us through this difficult time," said Charaf Abou Charaf, the head of the Order of Physicians. However, he admitted it is difficult to coax them back, as the situation will not improve "in a couple of days; we need years. … Our capacity to cope with the virus is diminished."
In the COVID-19 ward of Nabatieh's public hospital, Toufayli and his team work 24-hour shifts, with only short breaks to eat and take cat naps. For all this, the doctor now earns less than $200 a month at the market exchange rate, following the lira's drop in value.
"Before, my salary was worth around $1,000. It wasn't a lot, but it was acceptable; we could make ends meet."
In August, the 28-year-old had to take his car to the mechanic for repairs. He paid $250 to have it fixed — more than a month's salary.
"Doctors really aren't treated well in Lebanon and they are paid very little," Abou Charaf said, "It's not encouraging to do such a difficult job with such a low salary, especially now."
Many hospitals and health care centers in remote facilities suffer from a lack of staff, Jardali said, as there is little incentive or motivation for professionals to work in these tougher environments.
This exacerbates the focus of the best health care resources, both material and human, on the richest areas of the country: Mount Lebanon and Beirut, which have the highest numbers of private health care facilities.
The public-private divide extends to the treatment of health care workers, particularly nurses, who are generally undervalued compared to other staff, according to Myrna Doumit, the president of the Order of Nurses
"In public hospitals, at least everyone is unified under one government. You may not be paid well or on time, but you will get paid eventually," she said. By comparison, "in the private sector, you're told to leave if you say you're not happy."
The heightened number of hospitalizations as a result of COVID-19 has increased the workload of already overburdened staff and put them in unsafe situations due to shortages of PPE.
In many hospitals, nurses are only being provided with two disposable masks for shifts that last over 12 hours, Doumit added.
In some hospitals, one nurse has to care for up to 20 patients, she said, putting the lives of staff at risk.
Toufayli said there are also shortages of PPE in Nabatieh, especially in the non-COVID wards. In the regular ICU, multiple staff members were infected with the virus as they were not adequately protected when patients — who had not been tested for coronavirus — were admitted.
The failure to properly protect and care for health care workers is perhaps the greatest threat to the system. As Abiad has pointed out on Twitter, "Ventilators can be bought, health care workers cannot."
Coronavirus has brought this systemic threat into sharp relief. "The pandemic is living proof that the health system and its workers are not equipped to address the complex requirements of health care," Jardali said.
COVID-19 has already taken 499 loved ones away from their families in Lebanon. As hospitals fill up and those health workers that remain are forced to do more with less, putting their own health at risk, it is no exaggeration to say that many more lives are going to be lost.
"If cases continue rising," Araji warned, "I am really afraid the entire health sector will collapse."

BEIRUT — As Lebanon nears its ninth month in the battle against the novel coronavirus, it appears to be losing.The record for daily COVID-19 cases is now routinely being broken and the proportion of coronavirus tests coming back positive is hovering around 10 percent — double what the World Health Organization recommends before a country reopens. The trends all point to a grim...