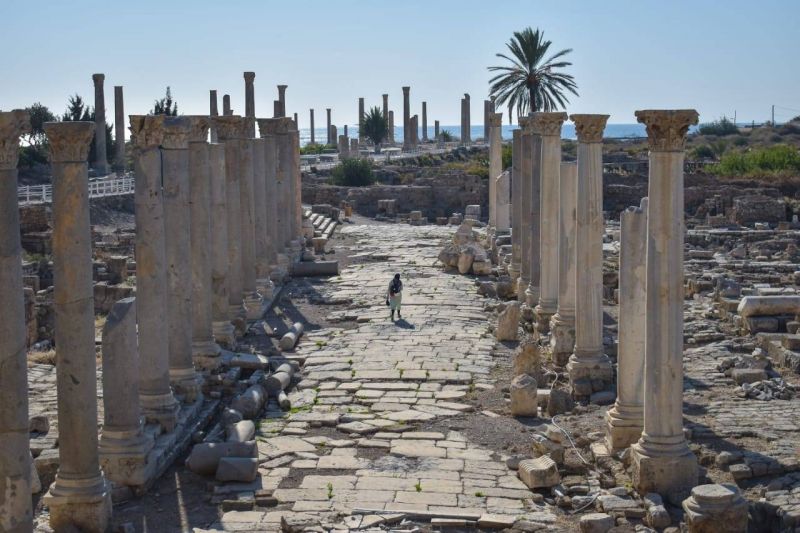 BEIRUT — Katherine Pangonis is swimming below the surface of the Mediterranean, with goggles and a snorkel. She is scouring the sea floor for vestiges of "the sunken city," the second port of Sour (aka Tyre). There she finds an abundance of evidence: monoliths of granite from Roman times, limestone blocks that mark the now-underwater Phoenician harbor, fragments of amphorae, and Byzantine coins, along with some twitching turtles and a coy octopus.
"The water is clear, obscuring nothing, and my eyes dart around, taking in every detail. It is dreamlike, gliding over the remains of this ancient city, as if I've stumbled on the suburbs of Atlantis. I've read about these ruins: for centuries, travelers have written home about the remains of ancient Tyre, half submerged in the glittering waters."
So writes British historian Pangonis in her book Twilight Cities: Lost Capitals of the Mediterranean, which was published in July in the UK. The book documents the rise and fall of five ancient Mediterranean cities: Sour, Carthage, Syracuse, Ravenna and Antioch.
It seeks to recall the forgotten glories of these cities, which were once the seats of powerful empires, harvesting wealth, trade and military might.
Today, these glories have been consigned to the history books. The passage of time has seen their slow decline in stature, overridden by the likes of Istanbul, Rome, or Jerusalem.
In the case of Sour, Pangonis sets out to navigate how the city's Phoenician legacy has shaped the complex identity and politics of its people today.
With the reader, she traces Sour's grand beginnings — its seafaring people in cedar-wood boats, their trade of luxurious purple dye and the multiple invaders who followed — while intertwining contemporary accounts of locals ranging from hardy fishermen to elderly nuns.
Pangonis explains that the nonchalant way in which "the city wears its history" captured her attention. "It's not like going to Athens and you have to queue for two hours and be herded around," she told L'Orient Today. "There is something very unspoiled about Tyre."
Old town port. (Credit: Joao Sousa)
"I was overwhelmed by the very visible, tangible layers of history that are around you in the old city of Tyre," she said. "You just go for an Almaza [beer] on the beach at the end of a long day, and you look under your table and there's a piece of Roman carving just in the waves."
A globally sought-after history
Pangonis joins a wealth of heralded explorers to have visited Sour.
Herodotus, the famed Greek geographer, landed at the city's shores two and half millennia ago to visit the temple of Heracles-Melqart, then patron divinity of the city.
Europeans too got their hands dirty. In an amusing anecdote, Pangonis recounts how in 1874, a group of German archaeologists led by retired politician Johann Nepomuk Sepp, eagerly sought the remains of Frederick Barbarossa, the Holy Roman Emperor allegedly buried under the site of Sour's cathedral — now adjacent to the Muslim cemetery.
"While they did not succeed in finding it," Pangonis writes, "they did succeed in turning over much of the archaeology and making a mess of the site, including damaging the remains of the cathedral. Sepp was a shoddy statesman as well as a shoddy archaeologist."
Speaking from France (she splits her time between there, Lebanon and the UK), Pangonis explained that there is "a history of archaeology as a form of colonialism," that was "very much spearheaded in Lebanon by the French and Germans." She found that much of the history of Sour has been written in French and German, rather than Arabic.
Fast forward to 2018, and the temple of Melqart was once again under the trowel. This time, Pangonis writes, a team of archaeologists from the universities of Barcelona and Warsaw were holding their breaths — though not underwater.
Instead, their intricate excavation near the ruins of the Crusader-era cathedral led to an unexpected discovery. They didn't uncover features typical of a Roman temple, she said, but "strange elements in the architecture" which led them to believe it could be the Phoenician temple of Melqart.
Their search made international headlines at the time and reminded the public of Sour's continuing importance as an archaeological site.
The Phoenician complex
Sour was at the center of one of the oldest civilizations in the world, founded around 2,750 BCE, ages ahead of Carthage, a Phoenician colony in modern-day Tunisia (815 BCE), and even Rome (753 BCE).
The sailors, traders and craftsmen who forged the city's reputation as a mighty and prosperous port for centuries, and unbeknownst to them came to be called "Phoenicians," left a deep legacy.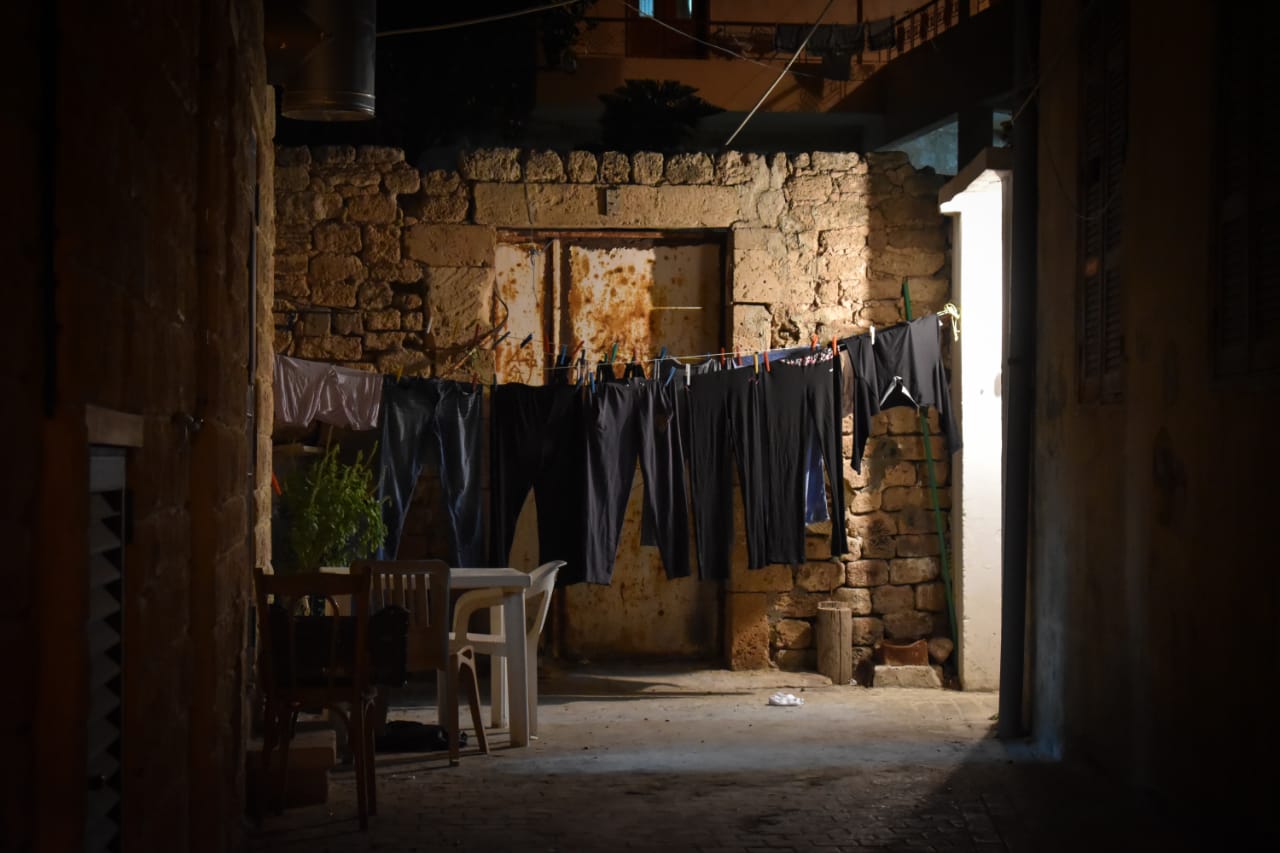 Scenes from the contemporary city, clothes drying on a line. (Credit: Joao Sousa)
This can be found in the city's complex contemporary identity. Pangonis does not steer clear of noting Sour's paradoxes: a Shia-majority city and Amal and Hezbollah fanbase, with an old Christian minority, against a backdrop of the UNIFIL peacekeeping forces.
As the historian discovers, locals from across the divide hold firm to the same heritage. One of these is Bachir, a Sour resident whom Pangonis befriended.
"We are Phoenicians," he tells Pangonis during a discussion about how the sea represents a timeless livelihood for Sour residents. "It's in our blood, in our DNA."
The personal connection some feel towards the Phoenicians is not unfounded. Pangonis digs up a DNA study by Lebanese American University geneticist Pierre Zalloua and National Geographic magazine from 2005, which sought to find evidence of a certain Y chromosome (male) gene passed down from Phoenician ancestors.
The results were intriguing. Some 30 percent of the men sampled in Sour had this Phoenician gene, while it was found in six percent of men across the Mediterranean basin.
"There is no distinct pattern that shows that one community carries significantly more Phoenician than another," Zalloua said at the time.
In Lebanon, the Phoenician identification has become contentious in recent decades. It has been used as a political tool by the Christian right to distinguish Christians from Muslims, which as Pangonis notes, took on an ugly face during the Civil War.
Paradoxically, it was during that Civil War that a story of coexistence emerged, as Pangonis learned from the elderly sisters at the convent of St Joseph of the Apparition. They recounted how, when sectarian conflict in the city led members of the Shia community to boycott a Christian-owned ice cream parlor, the renowned Shia cleric Musa al Sadr defused tensions by inviting his followers to join him for ice cream at that very same shop.
'Something that was great'
Sour is not seen as one of Lebanon's blockbuster archaeological sites. Tourists are more likely to be pointed in the direction of Baalbek or Byblos, despite the Al-Mina site and the Roman Hippodrome adjacent to Al-Buss Palestinian refugee camp (both UNESCO World Heritage sites) holding major significance for historians and travelers alike.
As Pangonis has sought to document, there is a trove of other treasures gathering dust in overgrown plots or hosting marine life, waiting for the next band of eager explorers.
In fact, Pangonis believes, it is these features of today's Sour and the casual attitude toward its past glory that makes it so resonate.
"This is a city that was once one of the great metropolises of the Mediterranean, one of the great cities of antiquity that is mentioned in the Bible for its riches, for its grandeur, for its sophistication," she said, "and now all of that is eroded, and you can see that erosion with your own eyes and no one is making loads of money out of it. It's just sort of there, part of the fabric and identity of the city in a very unassuming way. That is something that gives Tyre its magic."

BEIRUT — Katherine Pangonis is swimming below the surface of the Mediterranean, with goggles and a snorkel. She is scouring the sea floor for vestiges of "the sunken city," the second port of Sour (aka Tyre). There she finds an abundance of evidence: monoliths of granite from Roman times, limestone blocks that mark the now-underwater Phoenician harbor, fragments of amphorae, and Byzantine...