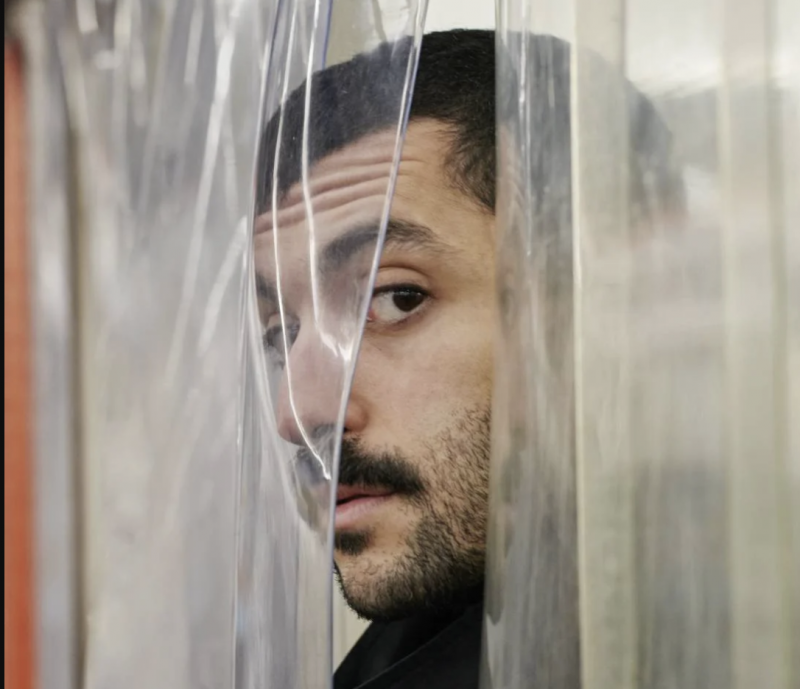 He initially rose to prominence as the frontman of the band Mashrou' Leila.
Pushing his vocals to astonishing heights, he was dubbed by many the "Arab Freddie Mercury."
However, his advocacy and support for LGBTQ+ rights, among other causes, swiftly transformed him into a target, if not a pariah.
Five years later, Hamed Sinno is back in the spotlight with Poems of Consumption, a performance that explores the boundaries between consumerism, mental health, and the environment.
Sinno told his story to L'Orient-Le Jour:
Where have you been for the last five years?
I decided to leave Beirut and move to New York in 2019, before the controversy caused by our planned concert in Byblos in August 2019. By then, Mashrou' Leila had already been banned from several countries, and I felt like I was caught in a never-ending battle.
It was becoming increasingly tiring and burdensome, this feeling of fighting against the wind and constantly going backward.
Both the fight for the rights of the LGBTQ+ community and the fight for political freedoms are noble causes that I'll never give up on, but having the same discussions with no end in sight was exhausting.
In fact, I realized by the end of my life in Lebanon that a lot of people simply didn't like what I stood for, apart from my artistic work, but they refused to say so, seeking instead to demonize me and the band.
At the same time, Mashrou' Leila's fame was expanding and Lebanon was shrinking to me. Going for a coffee without being recognized became impossible.
So, as we could hardly perform in the Middle East anymore, the idea behind my move to New York was to develop our activities in North America, where we already had an audience.
Did being perceived as an activist rather than an artist bother you?
Of course, it was all the more frustrating because I felt I was dragging along a bunch of young men who just wanted to make music in peace.

Again, I'm honored to be a feminist queer activist, but for a long time, I wanted to believe that my art was more complex than that label.
Unfortunately, people and public opinion refused to look at our music from a critical point of view, always coming back to my personal life and my personal choices. At the same time, the effort we put into our music, album lyrics, visuals, and production was immense.
There was little or no recognition of my work at the time.
This was also the main reason why I left. I needed to take a break from Beirut, become invisible, and no longer have to deal with things that were both futile and toxic.
The hardest part was that I left without any plan, and suddenly there was the ban of our Byblos concert, which plunged me into something very dark, especially as Carl Gergès and Firas Abou Fakher found themselves in the middle of a problem they had to deal with alone, Haig Papazian and myself being in New York.
Needless to say, I felt very guilty and responsible. Then came the pandemic, Sarah Hegazi's suicide [an Egyptian LGBTQ activist], and the 2020 explosion port explosion. Suddenly, I no longer had access to my savings, which became trapped in the Lebanese banking system.
I had to step back and concentrate on my survival.
There's been a lot of talk in the press about the disbandment of Mashrou' Leila. What's your view on this?
That's really not the case. There have never been any quarrels or differences between us, quite the contrary. The succession of events over the last five years has left us no choice but to put our band activities on hold, to take a step back and concentrate on our own lives.
How did your latest project — Poems of Consumption — which sees you return to the stage as a solo artist, come about?
In February 2020, while I was already in New York, I had the good fortune to meet Ash Fure, an incredible American new music composer.
I was fascinated by her person and her practice, and it made me want to go back to school. So, I joined Dartmouth College for a master's in digital music and research into vocal synthesis, the philosophy around the voice, and what it's like to have one in this day and age.
I received mentoring there that I'd never dreamed of, and that's something that almost saved me.
All of a sudden, after Beirut, which unfortunately remains a limited and limiting city, countless possibilities opened up for me. During my studies, Poems of Consumption was born, even though it wasn't originally a musical concept.
We were in the middle of Covid at the time, and I began to think about the way we are consumed by the way we consume, about the alienation caused by our capitalist societies.
At the time, I was not doing well, mentally, and I found myself caught up in a circle where I spent my time reading about products sold on Amazon, reading comments left by internet users who became some sort of a community.
I started writing poetry inspired by random objects — a pill box, Lego, umbilical scissors — that I'd ordered from Amazon, then published these verses in the website's product reviews section.
I found it both curious and interesting to raise the question of consumer alienation in a space that encourages just such behavior.
Earlier this year, while I was in residence in London to get back to writing and pursue my research work, I was asked to transform Poems of Consumption into a performance that explores the spillover between consumption, mental health, and the environment.
I only had three months to write the pieces, and the music, for a 75-minute show, but also to think about the visuals, work with a string quartet, and finally put together a whole performance with a crazy deadline without compromising anything.
What was it like performing at London's Barbican Center (on July 8), marking your return to the stage?
This performance was a very intense experience. The last few weeks have been incredibly stressful, and there was a moment when I really thought I was going to lose my mind and go mad.
In the days leading up to the performance, I hadn't slept for 60 hours and the previous two months had been a race against the clock, leaving me no time for reflection or doubt.
I prepared intensely, with intensive vocal training courses, to regain my voice in some way. Yet, just before the performance, I was so exhausted that I feared I'd ruin everything.
But the moment I was on stage turned out to be the most gratifying and restorative moment of my life.
Seeing the audience receptive to my art, to my performance, and receiving a standing ovation made me cry like a child.
It was so moving to see that the audience was still present and receptive to appreciating my artwork.
This performance was something completely new for me. It allowed me to master the stage as a complete artist, beyond my role as a singer, as was the case with Mashrou' Leila.
I worked in new ways, with new instruments such as a synthesizer and various objects that served as instruments. In fact, it proved to me that I can handle something on my own and come out on top.
What other projects are you currently working on?
I'm working on a collaborative project with the MET Museum in New York, where I've been asked to design an opera around the Temple of Dendur, which was donated to the museum by the Kennedys.
The idea is to delve into the history of this temple while connecting it to the immigrant experience, by raising questions about what it means to have a fragmented life and then reconstruct oneself.
This opera will explore these intricate themes, incorporating elements tied to mythology, memory, and monumentality.
I will also sing for this opera, adding elements of electronic music. Titled Westerly Breath, the opera is currently in the production stage and is set to premiere in January 2024.
If you were to return to Beirut, how would you describe your current connection with the city?
After being away for three years, I returned to Beirut last summer, initially planning for a two-week stay. When I departed in 2019, I had left my winter clothes behind, assuming I would be back just two months later.
On one hand, encountering my life almost unchanged from three years prior was unsettling.
On the other hand, what was disturbing was the realization that I found myself in a different city, not my own. My friends, familiar landmarks – nothing was there anymore.
I extended my stay, trying to find that sense of belonging. I was looking for home, in fact. However, it became clear that Beirut was no longer my home. Like many other people, I now feel like a stranger in this city.
This article was originally published in French in L'Orient-Le Jour. Translation by Sahar Ghoussoub.

He initially rose to prominence as the frontman of the band Mashrou' Leila.Pushing his vocals to astonishing heights, he was dubbed by many the "Arab Freddie Mercury."However, his advocacy and support for LGBTQ+ rights, among other causes, swiftly transformed him into a target, if not a pariah.Five years later, Hamed Sinno is back in the spotlight with Poems of Consumption, a performance...