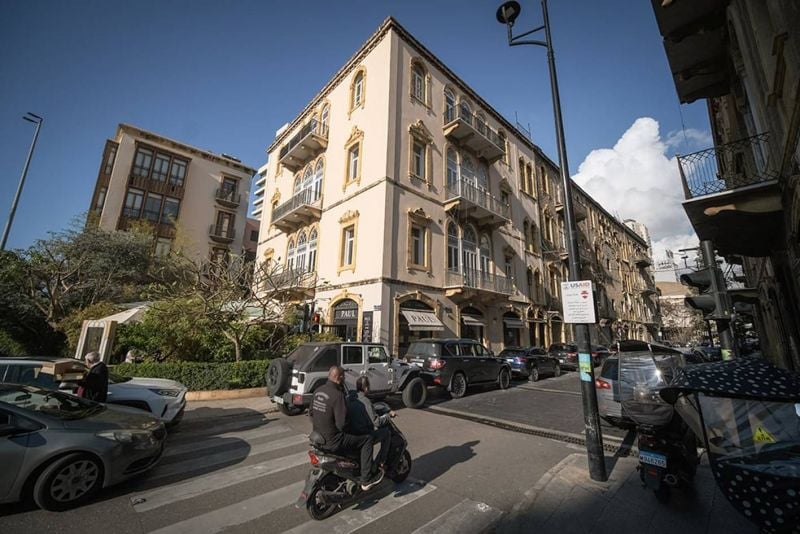 Not an hour passes without someone tripping while walking down the street. Cameras aimed upwards, tourists are lured by the renovated facades of many of the buildings that line the streets. Lost in its charm, they often fail to watch their step.
Even regulars find it challenging to walk straight. Their eyes are drawn to the newly opened ready-to-wear boutique on the left and the alluring aroma emanating from the ovens of a new restaurant on the right.
For several months now, Rue Gouraud has been turning heads and captivating visitors.
The "street with a traditional character," or heritage street, as indicated by signs at each of its two entrances, runs through the Beirut neighborhoods of Saifi and Gemmayzeh. Since last summer an economic recovery has been gathering steam, following two years of economic downturn due to the pandemic and the Beirut port blast, which ravaged swathes of the capital on Aug. 4, 2020, partially defacing the street.
Despite the setbacks, Gouraud's "resilient character" — as the "traditional character" signs were modified to say a few months after the explosion — has been reaffirmed.
"Aug. 4 marks a [watershed]," says Michel Abchee, owner of Lost, a hotel that opened in the neighborhood in July 2019.
While many construction projects are still underway, several private initiatives have restored Rue Gouraud's reputation. Though this recovery has come with its own setbacks — mainly in the form of daytime construction noise and loud bars at nightime.
The extent of the refurbishment and rebuilding is such that "one could no longer imagine that the explosion actually happened less than three years ago," says Marina al-Koussa, director of the Levantine Institute of Lebanon, which opened its Gouraud location in September.
On August 4 "I thought we were all dead," recalls Selim A,* a Gouraud Street resident since 2013.
Persistence "runs deep in the veins of Lebanese," says Charbel Bassil, manager of Le Chef restaurant, a neighborhood fixture since 1967.
It seems the street's shoppers and residents came together and rebuilt Rue Gouraud and its surroundings from the ruins once again. If that's true, their efforts paid off.
There are concerns about the proliferation of new signs popping up in every corner of the neighborhood. Guillaume Boudisseau, a geographer and consultant with the real estate consulting firm Ramco, cautions about the risk of "saturating the neighborhood."
A large concentration of assets
Boudisseau says Rue Gouraud boasts approximately "100 commercial locations," of which he estimates an occupancy rate between 85 to 90 percent.
In comparison to 2019, he says, when it was only "around 65 to 70 percent."
Boudisseau has no doubt that a recovery is happening in this "unique urban setting which boasts the largest concentration of heritage in the capital," dating back to the early 20th century.
He says the life of a trendy Beirut neighborhood typically lasts "between five and six years."
"There always comes a time when an area becomes saturated with newcomers," Boudisseau says, "and the trend naturally shifts to a new, less expensive and high-potential space."
He cites the example of what happened in the early 2000s between the Monnot and Gemmayzeh neighborhoods and between the latter and Mar Mikhael a decade later.
Starting 2011-12, the boom in nearby Armenia Street cast a shadow on Gouraud, which was said to be "in decline until 2018," the geographer says.
It wasn't until the opening of a few new shops, "such as Sip coffee shop in 2017 and Swiss Butter restaurant in 2018," that Gouraud Street regained some vibrancy.
Boudisseau says this phenomenon did not last long due to the crisis that escalated in October 2019.
Rue Gouraud is adjacent the city center, which was the heart of the weeks-long popular protest movement against the political class that broke out on Oct. 17, 2019.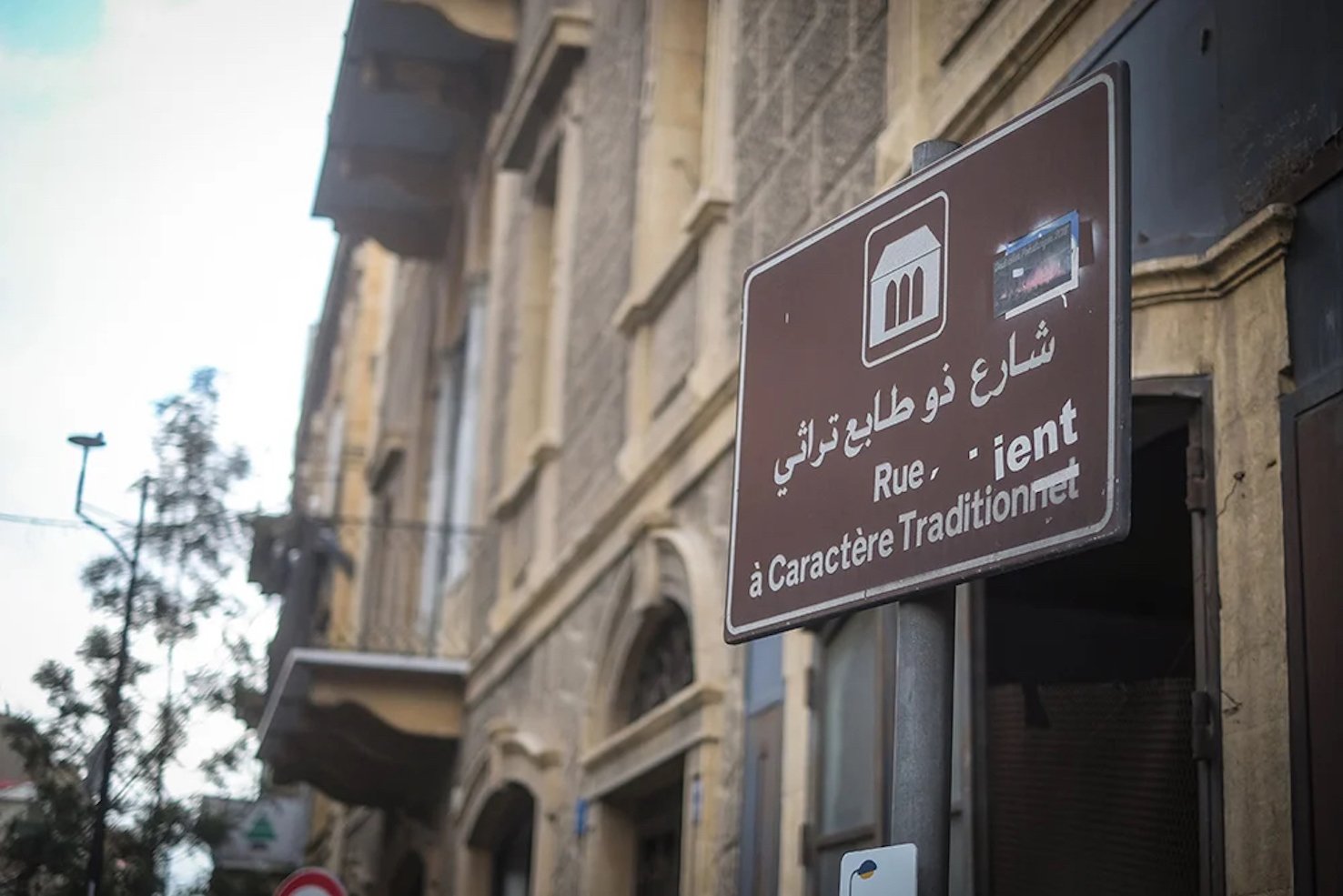 After Aug 4 2020, a label on this street entrance sign read 'resilient' instead of 'traditional.' (Credit: João Sousa)
'We're still here'
Despite the setbacks, the recent surge in activity on Gouraud Street has led some residents and shopkeepers to believe that the trend is likely to continue and last.
"Rue Gouraud has advantages that no other avenue in the capital has," says Raif Letayf, owner of Paul, the French-accented café-restaurant, citing its location, historical significance and pedestrian access.
Since opening in 2002 at the street's western entrance, Letayf's place has become a popular landmark for many people passing through, along with Le Chef.
While Le Chef is notable for its longevity, Paul — a franchise of a French bakery with more than 700 locations worldwide — is considered a "pioneer" in the real estate industry for its role in the unprecedented commercial growth seen in the area at the turn of the millennium.
"Before, this street was purely residential, with only a few local shops scattered here and there," recalls Boudisseau. "When Paul, among others, opened its doors, many thought it was a crazy idea."
The many were proven wrong.
"Between 2003 and 2004, the street had some 20 businesses, but by 2008, that number had grown to 60," he says.
The question is whether residents can expect a long-term economic recovery, given the persistence of the current financial and economic crisis.
The shopkeepers interviewed are optimistic, but this "would require a master plan to determine a collective vision for the street's future," says Abchee, who opened a pizza bar in the neighborhood last July. He will soon welcome new guests in a hotel extension above the restaurant.
"We have already revived the sidewalk cafes that had disappeared from the neighborhood and are adding a certain appeal to it," he continues.
It may not take much for this tourist area to regain its popularity.
"Here, people come as they are. It's like the Soho of Beirut," says Omar Jheir, owner of Sip, a popular coffee shop, and Peck, an upmarket rotisserie chicken restaurant, which opened in August 2021.
Six years after opening his first place and despite facing numerous crises, he says there is no doubt about one thing: "We are still here."
Moreover, Jheir is set to open two bars at the end of May on Rue Pasteur, which runs parallel to Gouraud, and is also seeing an influx of new businesses.
Popular with foreigners
In anticipation of a successful summer season, as recently announced by the country's tourism authorities, Gouraud's appeal has picked up and, if the stories of its visitors are to be believed, its reputation has extended beyond Lebanon's borders.
Travelers from all walks of life, including expatriates, are returning to Lebanon, and many are looking for a place to stay near this trendy neighborhood.
"Gemmayzeh has become a hub for freelancers [working remotely]," observes Selim A., who opened two Airbnbs there in June 2022.
Selim A invested heavily to ensure that his apartment had reliable electricity and internet, as both can be notoriously unreliable in Lebanon.
"As long as they have an internet connection, these workers prefer to spend some time in Lebanon for a cheaper stay compared to the surrounding countries," he says, "and more entertaining, according to their preferences."
Finally, based on feedback from his customers, Salim A. notes that since Rebirth Beirut association turned on the night lights on the main street, it "offers a feeling of security that tourists are looking for."
There are also foreigners who have arrived in Lebanon recently or returned after an absence, eager to explore or reacquaint themselves with the country. Whether students, employees, or freelancers, these individuals want to immerse themselves in the country's culture, perhaps study Arabic.
The Levantine Institute of Lebanon, founded in 2017 in Lebanon's northern capital of Tripoli, now offers courses in modern standard and Arabic dialect, as well as cultural and tourist activities open to everyone.
"The foreign community in Lebanon is well-connected," says Koussa, the Levantine Institute of Lebanon director. Thanks to word-of-mouth, the institute has successfully reached its target audience since moving to Gouraud, with its classrooms almost fully booked since its opening.
"We receive many foreign students, of course," notes the director, "but also Lebanese expats who want to improve their language skills."
An as yet unrestored historic façade in Gouraud Street. (Credit: João Sousa)
'We are resisting'
Zeina Abourrousse took a gamble and opened "Un peu de tout ...," a discount clothing store last November.
She tempers her enthusiasm surrounding this economic rebound. "The market remains unstable," she says. "While it is much better for foreigners than for locals, there is indeed a growing sense of recovery."
With a variety of shops, including many art galleries that "blend very well with the setting," Boudisseau suggests, there is something for everyone in this area.
"The space is larger than other neighborhoods, and there is this fascinating energy that mixes the historic and the modern, from which artists draw their inspiration," remarks fashion designer Salim Azzam.
After opening a pop-up boutique on the street last December, he decided to extend his lease.
At the heart of this effervescence, Le Chef — which is routinely mentioned in tourist guides — has nothing left to prove. This despite an unprecedented four-month closure after the Aug. 4 explosion, which," Bassil explains, "was the longest the restaurant has ever been shut, including during the [Civil] War."
While Le Chef continues to receive many foreigners who come to taste the restaurant's local dishes, it has remained true to itself, and its clientele remains mostly Lebanese.
"The restaurant is a neighborhood canteen, designed primarily for residents and workers in the vicinity," explains Bassil. The prices remain moderate and are in Lebanese lira, while many other Gouraud restaurants now charge in US dollars.
Despite the crisis, the choice to remain open was made, he says, "by virtue of many personal sacrifices."
"I don't really know what the word 'resilience' means," he says. "What I do know is that we are resisting."
Then, spotting a group of intrigued-looking Europeans at the door, Bassil launches a booming "Welcome!"
(*Selim A. spoke on condition of anonymity.)
This story originally ran in French in L'Orient-Le Jour, translated by Sahar Ghoussoub.


Not an hour passes without someone tripping while walking down the street. Cameras aimed upwards, tourists are lured by the renovated facades of many of the buildings that line the streets. Lost in its charm, they often fail to watch their step.Even regulars find it challenging to walk straight. Their eyes are drawn to the newly opened ready-to-wear boutique on the left and the alluring aroma...