BEIRUT — Beirut Art Center's Instagram account announced on Dec. 2 that "Artistic Director Haig Aivazian and Administrative Director Rana Nasser Eddin have taken the difficult decision to move on from Beirut Art Center."
"It's a transitional moment," Aivazian told L'Orient Today this week, a time of reckoning. "There are some things to think through."
Aivazian is a contemporary artist whose work has been exhibited internationally. Nasser Eddin has had years of experience working in Beirut's internationalized gallery scene. They were appointed to run BAC in Jan. 2020 alongside artist-filmmaker Ahmad Ghossein, who shared the artistic director's chair with Aivazian before leaving the post at the end of 2020.
When L'Orient Today contacted Aivazian about his decision to leave the center, he wasn't anxious to discuss it. He and his colleagues had inherited a central pillar of Beirut's contemporary art scene in the midst of Lebanon's 2019 thawra. To maintain the institution, they'd focused on how to make it relevant throughout financial and economic collapse, the COVID-19 pandemic and in the wake of the Beirut port blast. They're still processing it.
Aivazian spoke to L'Orient Today about some of the lessons learned from the experience.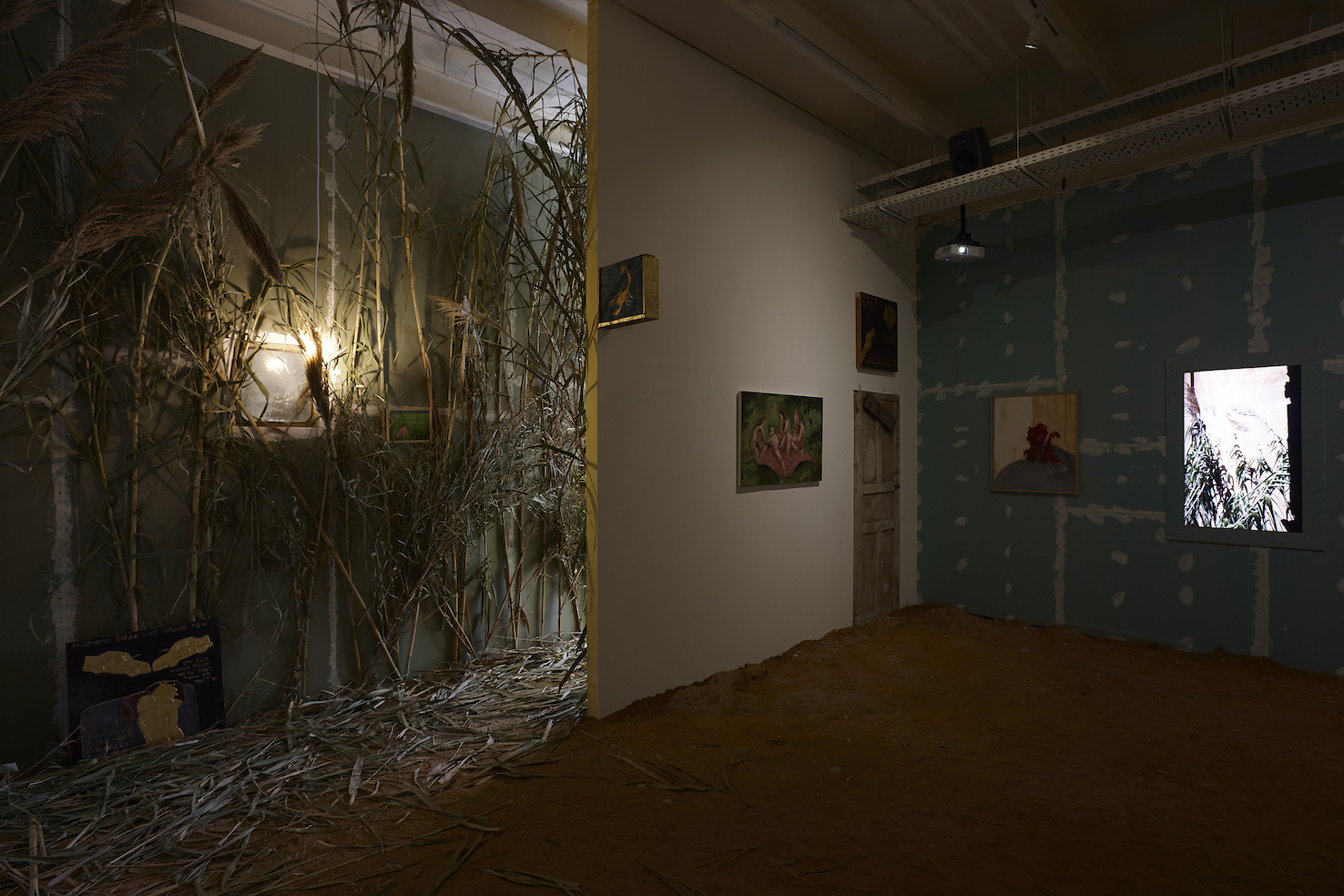 An installation view of "Maintain," which opened at BAC Nov. 10, 2022. (Courtesy of: BAC)
An art center in dangerous times
"There's a couple of different categories of difficulty" in running BAC these days, Aivazian says. "There are clear structural difficulties, then there are other challenges, more abstract, more difficult to quantify."
The structural difficulties underline the immense challenges involved in trying to run a non-profit art space here at this time. "Here" means a country like Lebanon (a wobbly state whose politicians are famously unconcerned with supporting artists). "This time" is one in which a crisis in domestic governance (and its political, economic and financial ramifications) happens to coincide with a period in which, globally speaking, late capitalism is shaky — severely limiting an institution's access to financial backing.
"Among the things that we had to figure out included strategies for fundraising that made sense in these times," Aivazian says near the end of the conversation. "On that front we were hoping for more support from the [BAC] board of directors. The board was never restrictive. They never stopped us from doing anything, but they weren't necessarily the most supportive either.
"We had to figure out ways for the staff to get paid and we managed to do that on a timely basis. But that often meant that we had to take cuts, or delay the salaries of managerial staff. That is getting sorted now, so I don't want to make a big stink about it. 'Were we paid in a timely fashion?' 'No, we weren't," he says.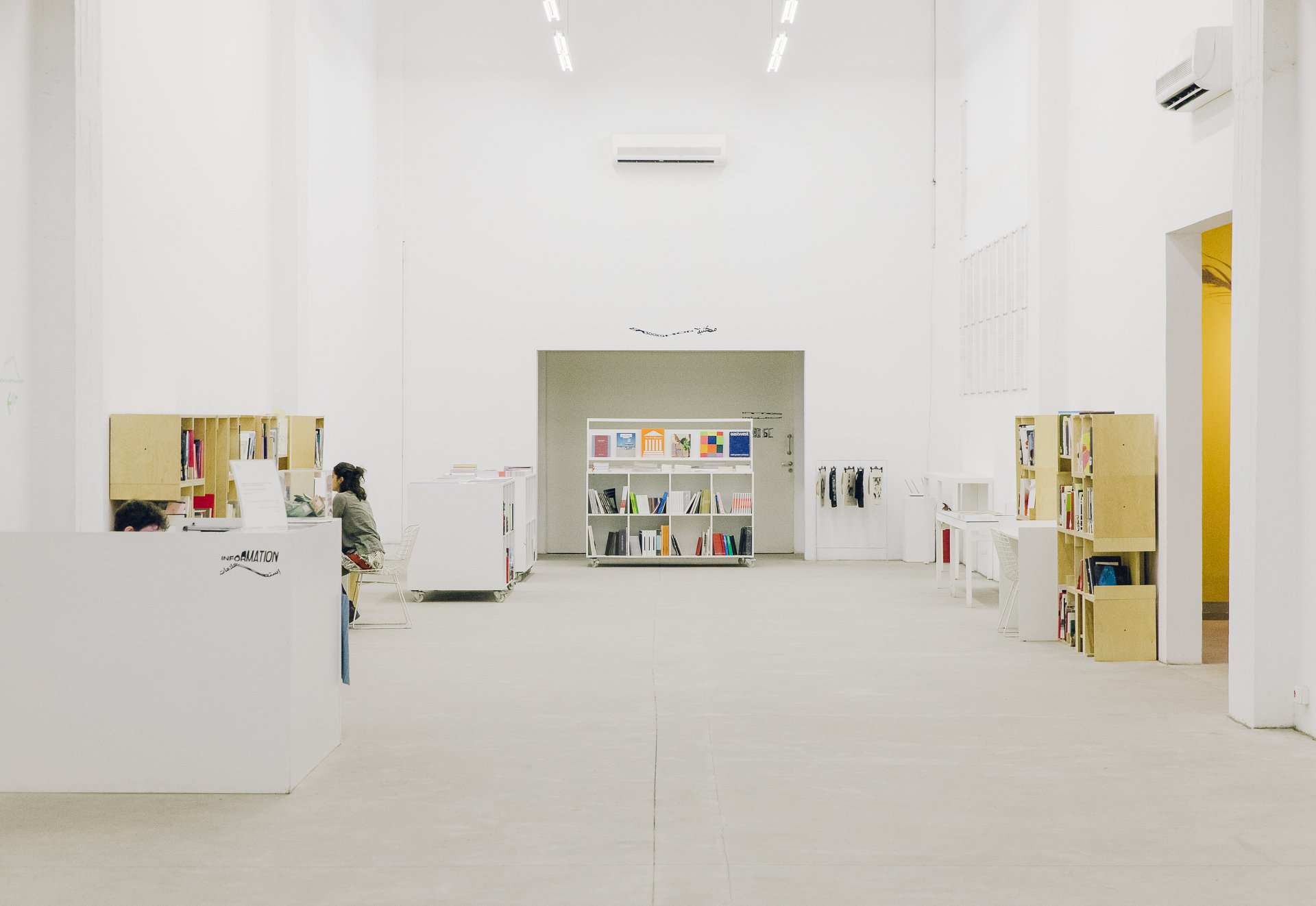 The BAC library. (Credit: Maria Klenner/L'Orient Today)
"The number of times that we were in the red, really having to count our pennies to close out the month ... It was a recurring thing, a burden my colleague Rana [Nasser Eddin] carried. That's a lot of stress, when you think about people's livelihoods. Regardless [of] what the center produces or presents or platforms, it is first and foremost a place that employs people when times are fucking rough. We had to make sure to pay people, pay them well and pay them on time."
Origins of a Beirut art institution
BAC opened its doors at its inaugural Jisr al-Wati location at the beginning of 2009. It was Beirut's first nonprofit space for exhibiting contemporary art by established and rising international and regional artists. The project was the brainchild of gallerist Sandra Dagher and artist Lamia Joreige, who were effectively co-directors — staging a series of widely varied solo and group exhibitions, enlivened by a rich public program of talks, performances and film projections, as well as hosting events like Irtijal, Beirut's experimental music festival and Ashkal Alwan's Home Works contemporary art forum.
By the time French curator Marie Muracciole took the helm (2014-2019), BAC numbered among the city's few robust contemporary art institutions — alongside Ashkal Alwan and a few associations and commercial galleries. Muracciole's final Beirut show, co-curated with Christophe Wavelet, was staged in the summer of 2019 at BAC's current home, another former industrial space in Jisr al-Wati a few minutes' walk from the original location.
BAC's board of directors had not yet decided on a new administration for the center when the deep contradictions in the country's economic, financial and political institutions burst onto Lebanon's streets in Oct. 2019.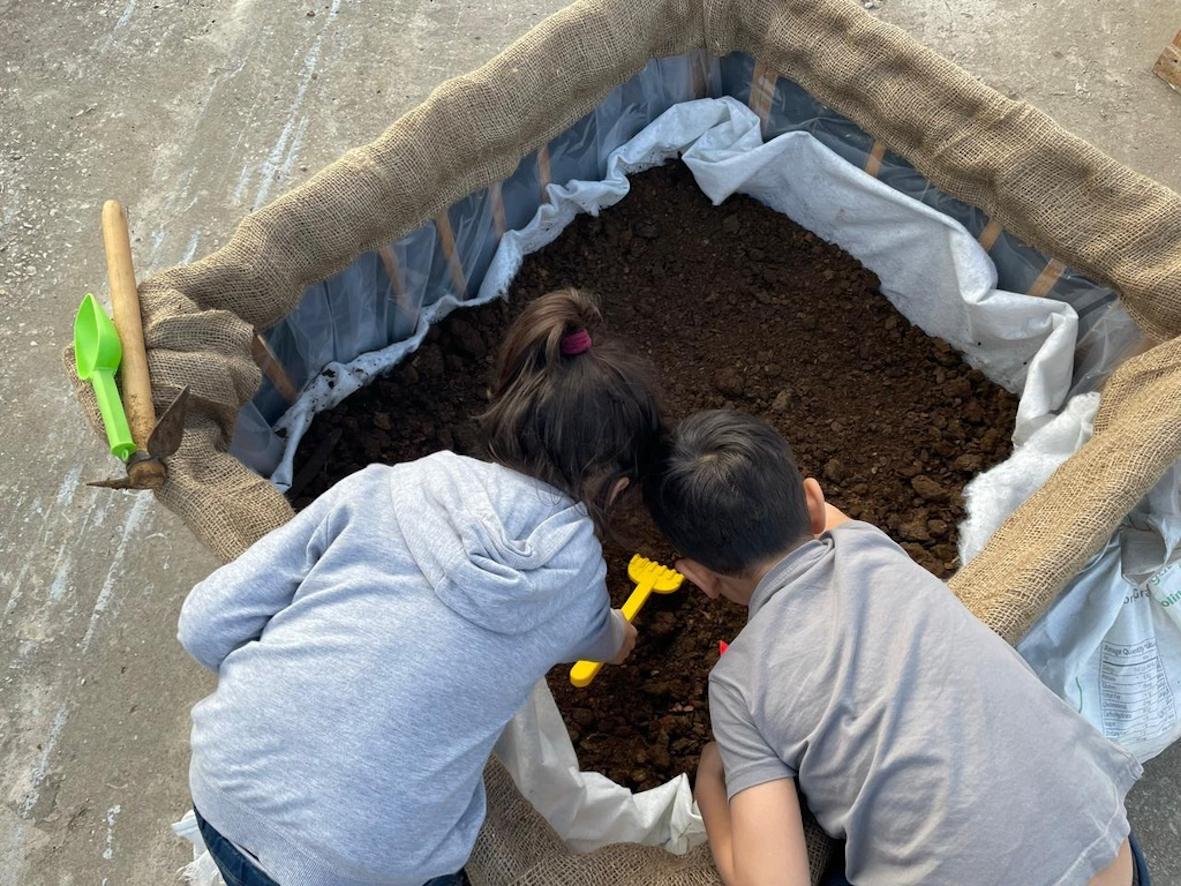 Visitors enjoy a bit of planting on the BAC rooftop garden. (Courtesy of: BAC)
Intangible challenges facing BAC
BAC's less tangible difficulties stem from what people were able to do amidst years of mutable crises, which state actors did little to address.
There were things that didn't feel timely, Aivazian says, or for which people didn't have the attention span. "Even when things began loosening up a little bit materially," he recalls, "that didn't necessarily mean that … our minds were opening up."
This "not readiness," he says, was across the board, including "people we were trying to hire — so audiences, artists, writers, the team. Sometimes, we were trying to figure it out together — rather than going into a closed preparation period, [ending with] a big reveal to an audience. It was just a way to try and work, and think, and produce things together and, as much as possible, to try to create processes, to not worry about the results so much. That was the intention, anyway."
Since the financial crisis began, Lebanon has undergone a massive brain drain, which peaked after the port blast — not least among its artists and cultural professionals. This has greatly depleted the support networks of those who remain. Aivazian doesn't dwell on this shift.
"One of the things that I think about a lot is how do we create networks that go beyond [friendship]." he says. "Friendship, I think, is an important political tool, but [we'd like to move beyond having] a circle of friends that re-circulate and re-cycle one another's work. I didn't reach out to friends — even artists [here or] outside to have shows here. We're trying to figure out something that felt to me more needed, or urgent.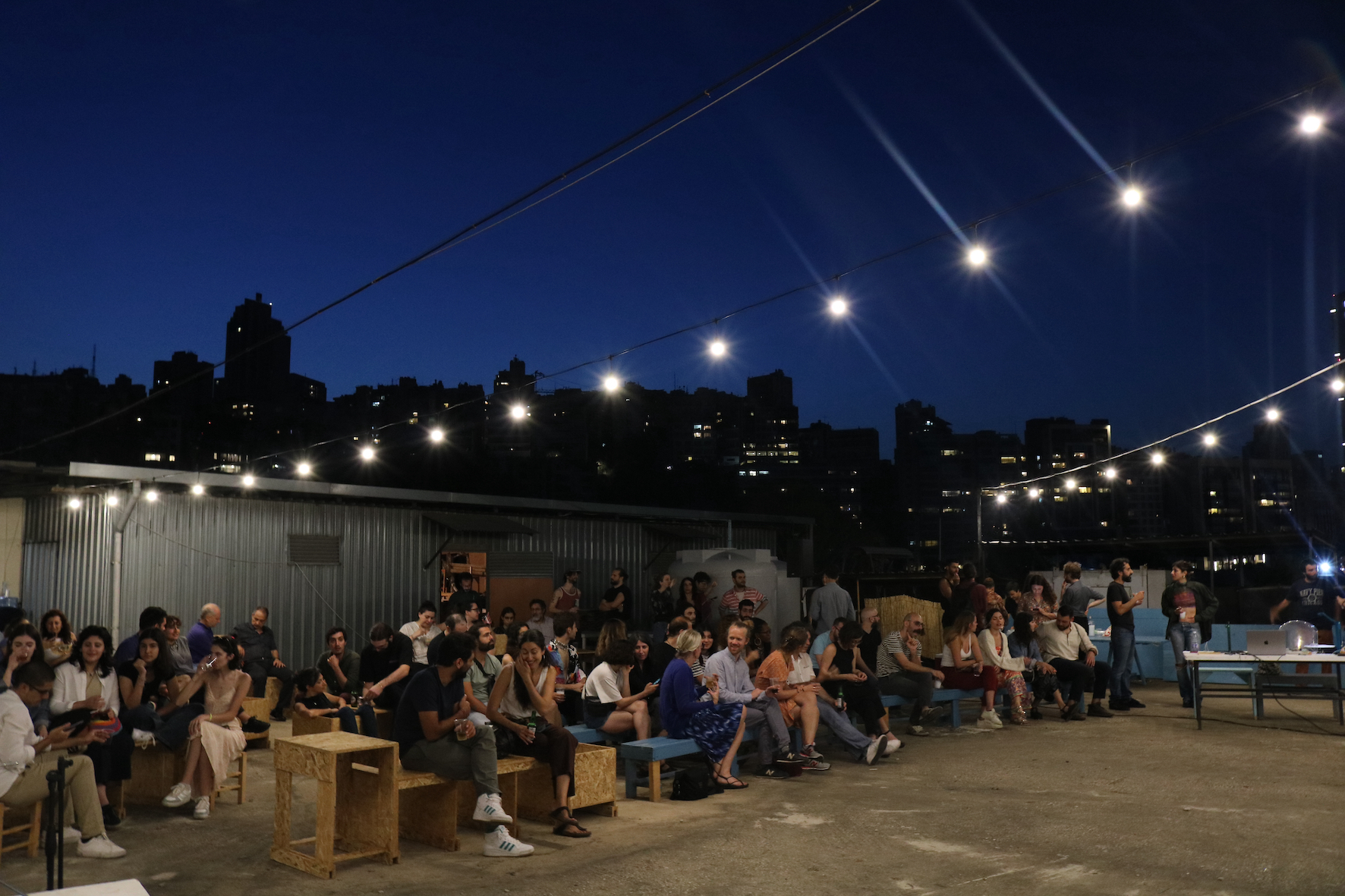 A still from a live drawing event on May 31, 2022, featuring the art of Carla Aouad and Carla Habib and the music of Shakeeb Abu Hamdan and Sary Moussa. (Courtesy of: BAC)
"This is one of those abstract things that I can't necessarily explain, but I knew to be true. I have a lot of amazing artist friends, and we could have done great shows, but it's not the time to go back to just staging really good contemporary art exhibitions. There was something else that needed to be figured out."
Securing BAC's legacy
What needed figuring out was how to secure BAC's operations, regardless of how hostile the environment becomes.
"There were conversations with artists and institutions, especially in the midst of the uprising, a kind of fervor that we have to do things differently. Of course, like everything else in the country, the momentum for that faded, and things sort of returned to normal. I think one of the biggest challenges for me, which I continue to feel is super important, is how to maintain some momentum — so that it doesn't just evaporate, so that should things happen again, hopefully soon, we don't have to reorganize again from scratch."
The lessons learned from his time helming BAC, Aivazian says, are not abstract. First, those who work with BAC must feel as though they own the center's work.
"One thing I feel pretty certain about is [the need] to do things, to make things, to be attentive to how things are made," he says. "That whole process has to be activated and participatory."
BAC's collaborations, he says, must be based on both shared goals and an acknowledgment that professionals must be compensated for their work.
"Rather than to try and bring people together based on ideas or ideals, or ethical notions — which are all great and necessary — [you need to] think about practical and pragmatic things that would be mutually beneficial."
He points to BAC's rooftop interventions — a mutual aid initiative in the form of a community-run garden on the center's roof.
"Initially we were trying to get people who are already doing work on rethinking agricultural networks and policies in the country, saying, 'Come dedicate some time to this rooftop and develop it so that we can have something in the city.'
"People were on board with this, but [it's necessary] to think more along the lines of exchange. 'Okay, we need your expertise, and we can quantify that expertise with this many workshops, of [this] many hours, and so on. In exchange, we can give you this much money, say, or this much space for this.' When it comes to bringing people together, we can't be purist about exchange value.
An installation view of "Ground to Dust," a show by Public Works Studio, staged Dec. 2021 - April 2022. (Courtesy of: BAC)
"Everybody's busy and everybody has finite resources, and the most finite is energy. So, [when you ask] for people's energy, I think you have to be clear about what it is that you're trying to do and what it is that you're confident that you can do, and somewhere along the line to repeat that, and turn it into a collaboration rather than an exchange of services."
As 2022 winds down, Aivazian and his team have tallied the number of artists and other professionals BAC has worked with since they were appointed.
Since Jan. 2020, BAC's micro-commissions financed work for exhibition by 17 artists and four collectives. BAC's artist residency hosted two artists and one collective. Three graphic designers held residencies and three artists and a collective did work on the BAC library. Rooftop programming (excluding the technical team that set up the roof) included 34 professionals and one collective.
The Derivative, BAC's bi-annual online publication, disseminated work by 58 separate writers and editors, 12 artists and 12 translators. For exhibitions and related programs 2020-21 there were 20 separate artists and 26 technicians; exhibitions and related programs 2021-22 had 30 separate artists and 66 technicians); and finally, exhibitions and related programs commencing in early 2020 featured 25 separate artists and 33 technicians).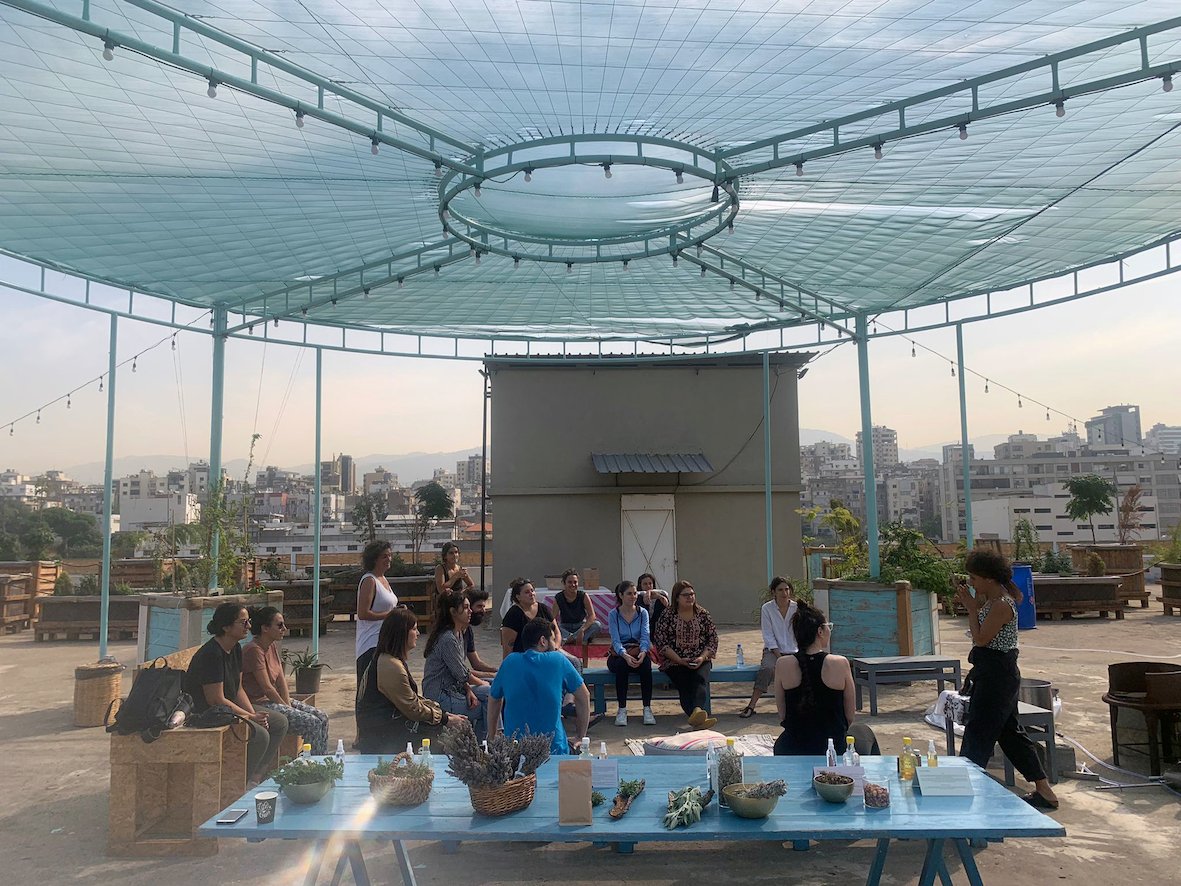 A still from Nathalie Abi-Khalil's herbs and flower essences distillation workshop, on the BAC rooftop, Oct. 29, 2022. (Courtesy of: BAC)
Given the circumstances over the past couple of years, these numbers are significant. But Aivazian is cautious about expressing pride about any particular accomplishments while co-managing BAC.
"My sense is, it's early to assess," he says. "The way we built a team — both the core team and the larger team with whom we either mount exhibitions or work on the rooftop or whatever — I think that's one thing that feels very dynamic and rich and kind of beautiful.
"I have a clear sense that we have a very different demographic than the one the center has been before. It seems to me like it's more inclusive, which also seems important. That goes for people of different ages, people who are not necessarily in the habit of going to contemporary art shows or art centers. The rest of it, or a lot of it, really feels like kind of trying to figure things out.
"Generally I'm somewhat proud that we managed to employ a considerably larger number of people than previous years, and we paid fair wages despite having very limited resources."

BEIRUT — Beirut Art Center's Instagram account announced on Dec. 2 that "Artistic Director Haig Aivazian and Administrative Director Rana Nasser Eddin have taken the difficult decision to move on from Beirut Art Center.""It's a transitional moment," Aivazian told L'Orient Today this week, a time of reckoning. "There are some things to think through."Aivazian is a contemporary...