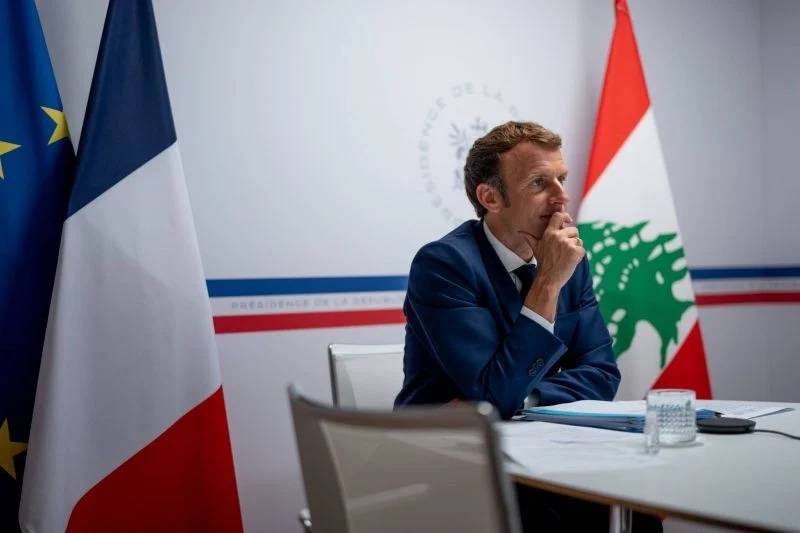 Editor's note: This interview was conducted on Aug. 3, 2022. Protesters who gathered on Thursday, Aug. 4 to mark the second anniversary of the port explosion cast blame on France for what they said was obstruction of an international probe into the blast, which killed more than 200 people and injured thousands.
Two years after launching an ambitious political initiative to get Lebanon back on track in the wake of the Aug. 4, 2020 blast, Emmanuel Macron says he is still determined to help Lebanon. Aware of the on-the-ground realities that have greatly hampered his approach, and which he likely underestimated, the French president says he refuses to give up.
"I will never resign myself. I will not let Lebanon collapse, let alone disappear," he said on Wednesday to L'Orient-Le Jour. While Macron maintains a tough stance on the ruling class in general, which he blames for the blockages that are hindering the country's recovery, he gives a small nod to outgoing Prime Minister-designate Najib Mikati.
The latter, he said, "is trying his best" to initiate much-needed reforms and to help restore "close relations" with Saudi Arabia and the other Gulf monarchies, without which Lebanon will enjoy "neither prosperity nor growth."
Commenting on the thorny negotiations for the maritime border demarcation, Macron implicitly warned against any risk-taking. According to him, Lebanon "would not survive a new conflict at the southern border, which would be much more deadly, much more destructive than that of 2006."
"No Lebanese actor has an interest in this," he went on.
Commenting on the Aug. 4 anniversary, the French president took the opportunity to denounce ongoing obstacles to the blast investigation. "I reiterate it today with vigor: justice must be done," he said.
Two years after the Beirut port explosion, the investigation is paralyzed by the people and parties called for questioning. Does France support the opening of an international investigation so that justice is finally done?
This Thursday is a national mourning day in Lebanon. Allow me first of all to say that my thoughts go out to the victims who unfairly died, as well as their families and loved ones who are still in pain, to the Lebanese people united in grief, to all of you. I want to express my solidarity with you and to tell you once again that you hold a place in the hearts of French men and women and in mine. It is with great emotion that I remember the shock I felt two years ago when I learned of this tragedy. The day after, I was there, with you, in the destroyed streets of Gemmayzeh, moved by your dignity and your courage despite the pain. There are moments that cannot be forgotten in the life of a president. This moment will remain one of them.
When I heard the call of the Lebanese people, I proposed an international investigation. The authorities of your country decided to open a national investigation, calling for international cooperation, by addressing several countries, including France. This is a sovereign choice that France and the countries friendly to Lebanon have respected. France has played its full role in this work. It has transmitted to the Lebanese justice system all the technical reports that have been drawn up to date, in support of the samples taken by the French experts on the site of the explosion with their Lebanese counterparts, as well as the satellite images available. Our willingness to continue this work is total.
This investigation has been suspended for several months. France has called for its resumption and for it to be brought to completion, in complete independence and free from any political interference. I reiterate it today with vigor: justice must be done. In order to mourn and start over, the Lebanese people and all those who live in this country — I am also thinking of the French men and women who lost their lives that day or who were injured — need to know the truth. Lebanon is going through an unprecedented crisis. It also needs justice to recover. Here as well, France will continue, with its partners, to help Lebanon.
You have devoted a lot of time and energy to the "Lebanese case" since the beginning of your first term, but the results have been limited. Why?
It is true that I have devoted, and continue to devote, a lot of energy to Lebanon. I do so driven by the deep affection and respect that unites us, by a shared history that obliges us, and by what this country has and which is unique in the region: its openness, its culture, its coexistence among the various sects and its democratic character that the Lebanese hold dear.
France led an exceptional and unprecedented international mobilization to avoid the country's brutal institutional, financial, economic, social and cultural collapse, which was looming after the explosion in the port of Beirut. With the Secretary-General of the United Nations, I took the initiative to hold three conferences in support of the Lebanese population, which, with the support of many countries and partners, made it possible to provide emergency aid so that the Lebanese, especially the most vulnerable ones, could continue to live decently, to be treated, to feed themselves, to warm up, to send their children to school [and] so that your security forces could continue to fulfill their mission in the service of the country's security and its population.
Under a pressure from France and several of its partners, serious negotiations with the IMF have, for the first time, been initiated, with an agreement being reached in April. This is an important step in restoring investors' lost confidence in Lebanon. It involves reforms to rebuild its economic model on a sound basis. It must now be implemented. It is the responsibility of all Lebanese politicians. We are keeping up the pressure so that we can convene a donors' conference for which France, as always, will be present.
I would also like to remind you that, since 2020, France's commitment also includes nearly 200 million Euros in targeted aid. France has thus invested massively in the survival of the Lebanese educational, university and scientific system, which is the matrix of Lebanese excellence that is recognized throughout the world. And we continue to do so. We are committed to the preservation of your health institutions, the reconstruction of your heritage and your creative spaces and freedom of expression. These are all essential sectors that determine the future of Lebanon.
In May, under the aegis of the United Nations, the European Union, the United States and other countries provided material and financial assistance to ensure that your parliamentary elections are held and that the polling stations could function.
I would add that there are other ways in which we are supporting Lebanon, and I am referring to our efforts to limit the consequences of the Russian war of aggression against Ukraine in terms of food security and energy. The efforts that are being carried out are mainly designed to limit its effects on weakened countries such as Lebanon.
This is not enough and more and better [efforts] must be done, but what would it be like today without the mobilization of the international community led by France? So no, I do not regret putting all my energy into it, driven by my attachment to the Lebanese people, first of all because they deserve better and greater than what they are experiencing.
In the aftermath of the Beirut port explosion, you went twice to Lebanon, and these trips became the starting point of what the local media called the "French initiative." What is your assessment? Do you think, in hindsight, that it was possible to adopt another method?
What you call "the French initiative" is first of all a remarkable surge of solidarity by France at a highly emotional time after the tragic explosion at the port of Beirut. A surge that I have effectively demonstrated through two trips in one month. It is the promise I made to you that I would not give up on you.
This solidarity was not limited to words. It has been translated into the concrete actions of solidarity that I have just mentioned in a difficult international context, in the wake of the COVID-19 pandemic, when there are terrible crises all over the world.
"The French initiative" also involved the call to form a government in charge of implementing a roadmap of reforms and changes necessary to stop the collapse of the country. It took several months to be formed. It is a fact that we have not succeeded in overcoming the inertia of the Lebanese system and its actors. I do not want to reiterate their responsibility here, it is known.
But was this French approach unfounded? I do not believe so. On the contrary, I believe that the motivations, which resulted in clearly suggesting the ways and means that would truly help the Lebanese and overcome the crisis, continue to be relevant. To date, I see that nothing else has been proposed, and that this is the only approach that still has the consensus of the international community and the vast majority of the Lebanese population. I also see that the measures recommended as part of the "roadmap" that is at the heart of this "French initiative" are more relevant than ever.
I know and I understand the impatience and frustration. But one must not take aim at the wrong target by always questioning what France does, does not do, or does not do enough.
I had the opportunity to state on several occasions the vision that constantly guides me: a Lebanon united in its diversity; sovereign, stable and prosperous. A Lebanon that takes up its place in its Mediterranean and Middle Eastern environment. This is the goal. There is no other agenda for France in Lebanon. I will never resign myself. I will not let Lebanon collapse, let alone disappear. Despite the headwinds and difficulties, I will stay on course, determined, lucid and pragmatic. For the Lebanese women, for the Lebanese men, for Lebanon, I will always take the initiative.
You have worked hard to re-engage Saudi Arabia in relations with Lebanon. Why is this so important? Are Paris and Riyadh on the same line in Lebanon, especially regarding Hezbollah?
Let us be clear: there is no stability for Lebanon without being included in its regional environment, in which Saudi Arabia is obviously a leading power. There is neither prosperity nor growth in Lebanon without close relations with Saudi Arabia and the other Gulf countries. I remind you, also today, that the Gulf absorbs half of Lebanon's exports. You know, moreover, the essential role played by Lebanese expatriates who live there. The diplomatic crisis that broke out in the fall of 2021 was therefore a serious threat to Lebanon. That is why I decided to work for de-escalation and a return of the Gulf countries to Lebanon. Today, the ambassadors of Saudi Arabia and its allies are back in Beirut. Saudi Arabia is contributing with us to a Franco-Saudi humanitarian fund. This mechanism is already operational. The first projects have begun, in the health and food security [fields]. We will further strengthen it. I did my part of the job with Arabia; I did so again during Crown Prince Mohammad bin Salman's visit to Paris a few days ago. But the Lebanese leaders must do theirs, and I know that this is the deep desire of Prime Minister Mikati, who is trying his best: Saudi Arabia, like the rest of the international community, expects the authorities of your country [to implement] serious reforms, and balanced regional positioning, in order to restore the lost confidence.
We may have with Saudi Arabia, as with other partners, differences related to the approach with regard to this or that actor, but they count for little when compared to our desire to act effectively together, in support of the population, and in support of reforms so as to overcome the economic and political challenges facing your country.
You have been accused of going easy on Hezbollah to save the nuclear deal with Iran. How do you respond to this criticism?
Let me put the situation as it is. Regardless of those in Lebanon who believe that your country is at the center of all international negotiations, the Lebanese file and the Iranian nuclear file are separate. The Vienna talks are not about Lebanon or Hezbollah, but about Iran's nuclear activities.
In the event of a non-agreement on the Iranian nuclear issue, Lebanon could be the scene of a new regional conflict. How can this scenario be avoided?
The best way to avoid destabilization of the region is to return to the Iranian nuclear deal. We are making every effort to do so, in collaboration with our European partners. Direct negotiations must now resume and Iran must do its part, while there is still time, to seize the opportunity that is presented to it to return to the JCPOA [the 2015 nuclear agreement].
But whether or not an agreement is reached, we will still have to work to strengthen regional security and stability. The 2015 agreement did not prevent increased tensions in the area. A new agreement would not magically remove them either. I worked with the Iraqi authorities to set up what is now called the "Baghdad" format [Baghdad conference], a space for dialogue that brought together for the first time, in August 2021, all the countries of the region, including Iran and Saudi Arabia. This process can be expanded to address regional security as a whole. We are working on that. While war has returned to the European continent, it is clear that the Near and Middle East are also at a crossroads. Crises persist, new ones emerge and others break out. The current events in Iraq bear witness to this. I am particularly concerned about the situation in that country. I am in contact with several Iraqi political leaders, starting with Mr. Mustafa al-Kadhimi, with whom I spoke over the past few days. Iraq must find the path of dialogue and consultation between the Iraqi political forces, which is the only way to prevent the country from sinking into chaos.
Coming back to Lebanon, it is crucial that everyone demonstrate their sense of responsibility. Your country is facing the worst economic crisis in its history. It would not survive a new conflict at the southern border, which would be much more deadly, much more destructive than the one in 2006. No Lebanese actor has an interest in this. Everyone must be aware of this.
In this respect, it is particularly important that the difficult issue of the maritime border with Israel — for which France is also doing its part to facilitate a solution in collaboration with the American mediator — not be exploited. What is at stake is the stability of your country, its prosperity, and its ability to once again be considered a country that can take its destiny into its own hands.
What place do you think Lebanon can have in the new regional configuration? And how can France help it?
Lebanon has tremendous assets to leverage in the ongoing reconfigurations. Its human capital, unparalleled in the region, and the talents of its men and women, which I know well, could enable it to be a role model and model of stability for the region if it agrees now to completely overhaul its economic and financial model. To do so, you must not only agree to face the crisis, to talk to each other and to reform your country, but also not to import the conflicts of the region to your territory.
I will go further. The role of Lebanon in the new Middle Eastern configuration that is yet to be built could be to help build bridges between countries, to resolve crises, to promote stability... Lebanon, thanks to its diverse population and its political history, could play this role.
The key to this is that Lebanon decides by itself [to implement] the indispensable reforms; the reforms that affect the daily life of the Lebanese as well as [the reforms] that will allow the adoption of the institutional rules that are indispensable for the country to progress.
By doing so, Lebanon will be able to gradually rid itself of the foreign influences that import regional tensions into a country that is already weakened.
France is obviously ready to accompany your country on this path. But on this issue as on others, you must help us help you.
This interview was originally published in French with L'Orient-Le Jour. Translation by Joelle El Khoury.
Editor's note: This interview was conducted on Aug. 3, 2022. Protesters who gathered on Thursday, Aug. 4 to mark the second anniversary of the port explosion cast blame on France for what they said was obstruction of an international probe into the blast, which killed more than 200 people and injured thousands. Two years after launching an ambitious political initiative to get Lebanon back on...