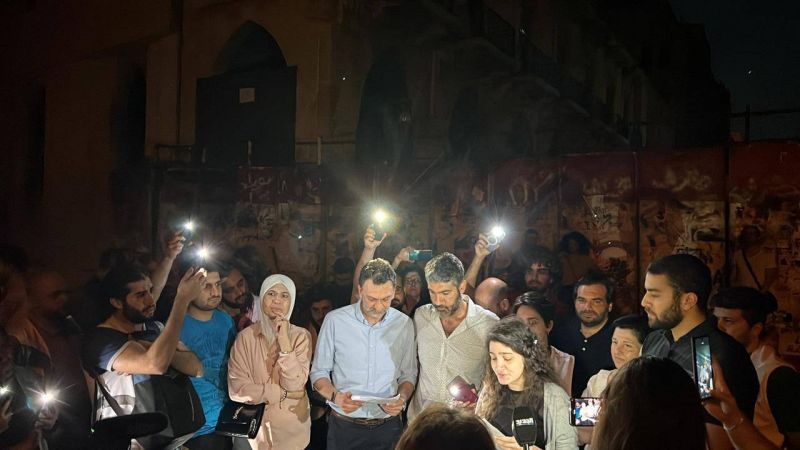 Want to get the MorningBrief by email? Sign up here.
The Interior Ministry released voter turnout numbers for the parliamentary elections. The semi-final tally Sunday night showed 41.4 percent of people voted. Figures showed that the most votes came from the Mount Lebanon I (Jbeil-Kesrwen) district comprising almost 56 percent of the total votes. This was followed by Baqaa III (Baalbek-Hermel) 48.9 percent; Mount Lebanon IV (Chouf-Aley) 44.49 percent; Mount Lebanon III (Baabda) 43.44 percent; Beqaa I (Zahle) 43.02 percent; and South II (Sur)42.77 percent. According to Reuters, long-time MP Talal Arslan lost his seat to Taqqadom's Marc Daou in Mount Lebanon IV. Hezbollah lost a three-decades-old seat, a historical moment for that district, to Elias Jradi in South III. Diaspora votes have not yet been included in these figures. Lebanese Forces reported they gained enough seats to replace the Free Patriotic Movement as the largest Christian party.

We're expecting official votes to be announced soon, so check back in for our live updates.
As the first wave of voters headed to the polls at 7 a.m., the Lebanese Association for Democratic Elections noted a number of varying violations at voting centers. LADE confirms a video of party poll workers associated with Hezbollah stuffing envelopes with ballots during vote-counting in the Hermel sub-district of Bekaa III. Another violation occurred at a polling station in Nabatieh, when members of Hezbollah and the Amal Movement "surrounded the tent of the 'Together for Change' list" and attacked a Megaphone videographer, Hussein Basal, for filming the incident. After the opening of some centers was delayed, LADE reported that supplies, including pens, and — crucially — ballot slips, were missing in many polling stations. Several media that had obtained the necessary permits to cover the polling were denied access to voting centers. L'Orient Today's correspondents also reported some altercations and issues in voting centers, including in Jdeideh (Jouma), in Akkar, where a delegate for one of the candidate lists entered a voting station on the pretext of helping a voter fill out her ballot because she was "illiterate." The head of the polling station objected and asked police to remove him. In the days leading up to the elections, LADE had already reported several violations at election workers' polling.
Several disputes and scuffles were recorded across the country on Sunday between voters and delegates from political parties in and around polling stations across Lebanon, leaving at least one person injured. The situation at the polling station in Bireh Official High School escalated to a point that voting had to be suspended while the army intervened and shot in the air. Voting in other areas was also temporarily suspended due to altercations and chaos forcing the Army to intervene on several occasions. At a polling station in the Ram area of Baalbek, Bekaa III, voting was suspended following a dispute between voters during which the lists of voters in registers 34 to 50 were damaged, LADE reported. In Kfar Houne, Jezzine, supporters of Hezbollah and Amal attacked a Lebanese Forces tent, which was denounced by the Lebanese Forces leader Samir Geagea, who called on the security forces and the army to arrest those involved in the incident. Some citizens on the Metn coast complained about the administration's arrangements as some names disappeared from the electoral lists and others were incorrectly mentioned which meant some citizens were deprived of their right to vote as a result.
A number of voters across the country on Sunday said they had been paid or offered money by candidates or had been otherwise influenced or intimidated by party members. In Beirut's Tariq al-Jadideh neighborhood, part of the Beirut II constituency, 65-year-old widow Amina says she was paid LL1.5 million (a little over $50 at the recent exchange rate on the parallel market) to vote for a candidate. "I would not have voted otherwise, I don't trust anyone," she said, adding, "everyone I know is desperate" and the politicians are "all crooks so they might as well give us some of the money they stole from us." Meanwhile, in the Chouf, a voter who asked to remain anonymous said that parties were giving between LL1 million lira and $200, depending on family size and how needy they are. Other bribes included repaying debts and covering tuition fees as well as the distribution of food aid boxes, the source said, noting that Sunnis in particular were being targeted to boost their turnout. Ahead of the elections, voters in multiple districts reported political parties handing out everything from grocery vouchers to hair styling, as well as, in some cases, cash for votes. Given the economic crisis, election observers told L'Orient Today, the dollar price of a vote has decreased. Pre-election intimidation tactics of candidates were also widely reported in the previous month.
Throughout the day, many disabled and elderly people across the country reported instances of lack of access inside their polling stations. The Lebanese Union for People with Physical Disabilities, which monitored the voting centers for accessibility, had requested that ground floors or — if not available — courtyards be used for voting. The monitors found that 138 polling stations out of 177 they visited had such facilities. They also found 465 accessibility violations in the centers they visited around the country, which included lack of accessible parking, barriers to entering the building, and issues with the stairs and elevators, among others. After touring a polling center, European Union Election Observation Mission (EU EOM) chief observer György Hölvényi said that two-thirds of Lebanon's polling centers were deemed not accessible or "very difficult to access" for people with mobility issues.. Some people with critical medical conditions criticized the lack of accessibility Sunday, noting that many were not on the ground floor or in buildings accessible by wheelchair ramps. Many voters had to be carried to their respective voting areas by Civil Defense or Lebanese Army members, family members or random bystanders — and, in some cases, political party members. Human Rights Watch had questioned in a statement the ability of people with disabilities to vote "in safety," noting that 10 to 15 percent of the Lebanese population has a disability and that the country has the oldest population in the Middle East.
A video of people partying in two separate inflatable pools in the Hariri stronghold Tarik al-Jadideh neighborhood went viral on social media. The pool party was described as an attempt to boycott the 2022 parliament elections, several people in the overwhelmingly Sunni neighborhood said. Hariri in January left a void in the Sunni political sphere when he took himself out of the running and called upon his fellow Future Movement party members to do the same. More than 100 people were sitting next to the pool while music played and some smoked shisha. In Tarik al-Jadideh's Berjaoui street, Rabih el-Omari said, "We are boycotting the elections because we feel it is the same result whether we vote or not. It is clear who is running the country and we want to prove that the low turnout within the Sunni sect discredits the results of the elections." Despite the boycott, throughout the day, Beirutis took to social media and WhatsApp to circulate encouraging messages to other citizens to vote in Beirut.
While the votes are still being counted in the parliamentary elections, read the full series of immersive regional reports written by L'Orient Today and L'Orient-Le Jour. Don't forget to check out our Mapping Lebanon series to get all the latest statistics on the legislative elections.

Want to get the MorningBrief by email? Sign up here. The Interior Ministry released voter turnout numbers for the parliamentary elections. The semi-final tally Sunday night showed 41.4 percent of people voted. Figures showed that the most votes came from the Mount Lebanon I (Jbeil-Kesrwen) district comprising almost 56 percent of the total votes. This was followed by Baqaa III...