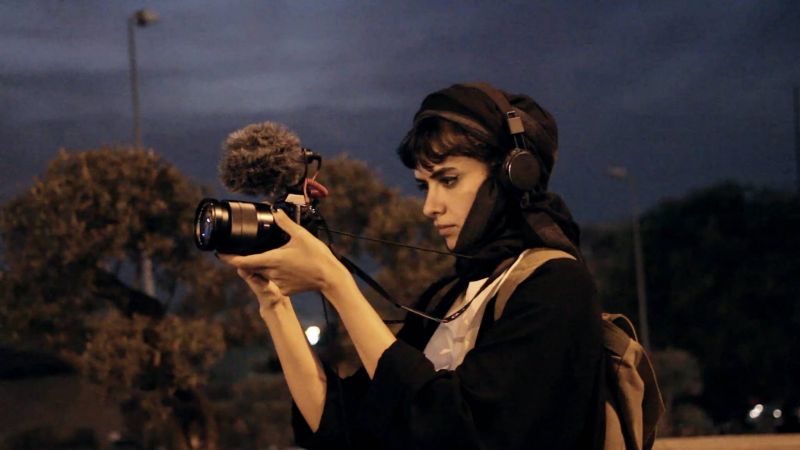 BEIRUT — In a Mount Lebanon town, filmmaker Jad Andari has been shooting his debut feature. The story revolves around a young man who, having lost everything, finds himself living in a mountain village — a premise that might resonate with Lebanese, after two and a half years of bruising economic crisis and pandemic that's pushed most of the population toward poverty.
The project hasn't been titled yet, but the filmmaker told L'Orient Today that it's a docufiction inspired by a poem from ancient China about the search for understanding, enlightenment and inner comfort. Conceptually, the new work grows from "Stove," Andari's mid-length nonfiction film from 2019, which had its Lebanon premiere in 2021 during Écrans du Réel, Metropolis Cinema's international documentary film festival.
In an era of international co-productions, one of the most striking features of Andari's shoot is its distinctly "made in Lebanon" quality. The filmmaker is financing the production without institutional support — only from his savings and contributions from a few friends — and his cast and crew is 100 percent Lebanese.
"Our country doesn't lack talent and we are not in need of anyone else," he said. "I'm very independent. I don't really like to look for money and I try to do everything on my own ... Don't stop your project because you are waiting for other people to give you money."
The filmmaker's do-it-yourself spirit echoes that of Lebanon's post-Civil War cultural sector — grassroots organizations whose tough-minded pragmatism developed in a vacuum created by state indifference to the country's artists.
The cast and crew have employed a number of creative measures to make ends meet. The director's mother has been brought in to feed the cast and crew, rather than hiring a restaurant or catering company. The team also carpools to save on fuel. The residents of the village that's hosting the shoot have billeted cast and crew in their houses and provided transportation, storage space, props and wardrobe.
Andari's indie approach is a rarity these days. Since the early 2000s international and regional filmmaking institutions — film funds, co-production markets, incubation platforms — have encouraged young filmmakers to delegate tasks. While it's not uncommon for a scriptwriter to direct, directors seldom shoot or edit their own work and rarely produce.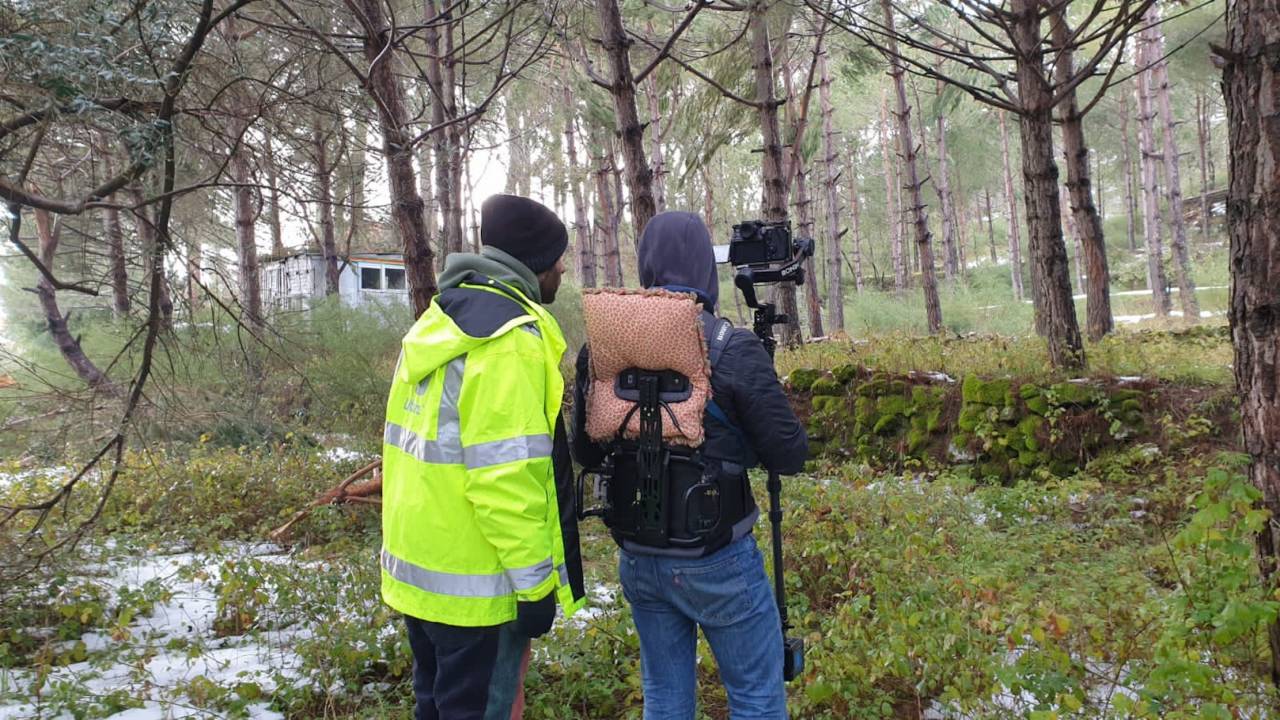 Filmmaker Jad Andari, left, and the film's Director of Photography Ramzi Hibri. (Credit: Tarek Majzoub)
Though digital technologies have placed DIY-style production within reach, cinema is still the most expensive of the visual arts, and responsibility for financing and coordinating the filmmaking process falls to the producer. Lebanon's film producers offer a unique perspective on how the country's cinema landscape has changed since late 2019.
Though they face similar challenges in trying to work in this small, chaotic country, their experiences and perspectives are diverse.
'No fuel, no electricity, no nothing'
Lara Abou Saifan and Niam Itani co-founded placeless films in 2013. They've had projects in development, production and postproduction since Lebanon descended into its most-recent season of crises in late 2019. Like other Lebanese producers, placeless films also has projects outside Lebanon.
In June 2021, Abou Saifan was working on "Valley of Exile," the feature film debut of Iranian-Canadian-Lebanese director Anna Fahr.
"We shot in the Bekaa as the fuel crisis was just starting," Abu Saifan recalled. "Gas stations would open 11-1 only with the lines and so on. Shooting in a Syrian refugee camp during COVID was very challenging. We were the only people wearing masks. We'd do PCR tests every week after the break."
Unlike some producers shooting in Lebanon since late 2019, Abou Saifan has no horror stories she's able to share about accessing production funds secured for the film.
"We were very worried about running out of money but Anna had prepared herself well. Every few days I'd go to Chtoura with the bag of money on my back to exchange. They'd give good rates, better than in Beirut."
Sabine Sidawi's Orjouane Productions has completed a number of projects since October 2019. Among them is Michel Kammoun's feature "Beirut Hold 'Em," which premiered at Jeddah's Red Sea Film Festival in December 2021, and Palestinian-Lebanese filmmaker Mai Masri's feature-length doc "Beirut: Eye of the Storm," following four young women activists from the Oct. 17, 2019 thawra (uprising) to the Beirut port blast, which premiered at the International Documentary Filmfestival Amsterdam in 2021.
Orjouane's greatest challenge so far, Sidawi said, may have been Carlos Chahine's debut feature "Night in a Glass of Water," shot in September-November 2021 and now in post-production in France.
"It's set in the mountains of Lebanon in 1958," she said. "There was no fuel, no electricity, no nothing, but the shoot was like therapy for the crew. We were working in [Hadith al-Jebbeh] near Bsharri, and because of the fuel problems we were all living there, even on weekends.
"It seemed this film had a star protecting it," she laughed. "When I arrived at a fuel station [en route north] the guy told me, 'There's no fuel.' So I made a drama. If I can't make this film, these people will have no income. How will they feed their kids?' He filled all 20 cars. 'This is my contribution,' he said. Of course, we paid for it, but we could work, and we were able to finish."
All Chahine's film financing is from overseas — French state funds, private equity from expat Lebanese and a grant from the Doha Film Institute. The most challenging aspect of production for Sidawi was getting those funds through Lebanese banks.
"It was a disaster," she recalled. "Every week I had to withdraw money, an enormous headache, because the bank lets you take a limited amount and I had to divide it among the crew by the week. They give you $25,000 a week. I'd tell them, 'Guys I need $5-600,000 for six weeks.' So I started withdrawing money weekly since pre-production."
"I photocopy all the notes and when I pay you, you sign a waiver confirming that you received notes from me with these serial numbers. This way I have a guarantee that what I withdrew and what I paid match. Before I would just write a check."
Orjouane's Lebanese bank did the production no favors when it came to transfer fees.
"At the beginning [the banks] were charging $6 per $1,000, which is a lot when you're talking about hundreds of thousands of dollars. Now it's $8 per $1,000. In addition, they charge you for the transfer and more for the commission, because you're taking cash. I begged the bank to let me have a checking account with fresh money. They said no.
"Then we had to exchange part of it for Lebanese because there are a lot of things you have to pay in lira — another headache."
Sidawi decided not to exchange daily to take advantage of the fluctuating exchange rates.
"It would have driven me crazy," she said, "so once a week we exchanged money at the given rate and lived with it. [Each week] our accounting was at a different exchange rate. I'm not ready to repeat that."
"I know other films have people bringing in bags of cash money," she sighed. "I hate the banking system but I didn't want to take this risk. It's a lot of money that's not yours. At least when it goes through a bank ... they give you the serial numbers, so that if you have a problem you can go back to the bank. If you bring in cash, there's no security."
Before 2020, Abbout Productions, run by CEO Georges Schoucair, was the busiest Lebanese production house specializing in festival films. Among the features Abbout has completed since October 2020 are Ely Dagher's "The Sea Ahead" and Mounia Akl's "Costa Brava Lebanon" — both debuting in 2021, at Cannes and Venice respectively. Corine Shawi's feature "Perhaps What I Fear Does Not Exist" will have its world premiere in Beirut on April 8, during Écrans du Réel.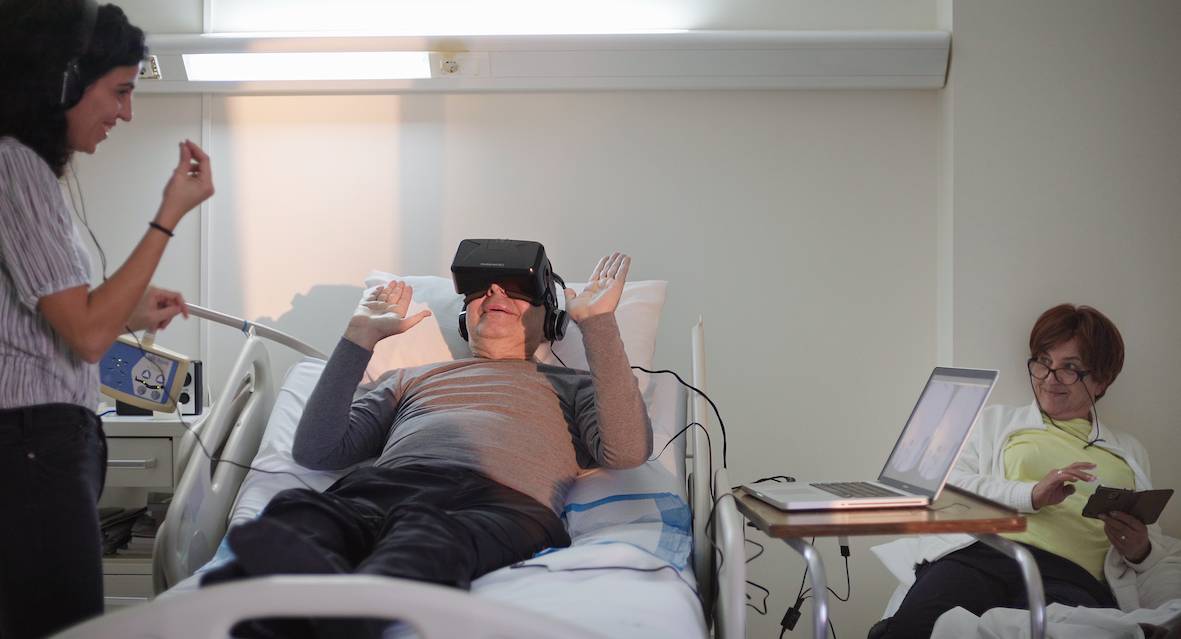 A still from Corine Shawi's feature "Perhaps What I Fear Does Not Exist," premiering April 8 during Beirut's Écrans du Réel documentary film festival. (Credit: Courtesy of Abbout Productions)
Producer Myriam Sassine guided these films to completion and, though she's diversified into other facets of Lebanon's film sector since 2020, she told L'Orient Today that she'll complete several other Abbout titles now in development or postproduction. These include Myriam El Hajj's feature "Suspended," Cyril Aris' doc "Dancing on the Edge of a Volcano" and a co-production with the working title "Children of Beirut," helmed by a pair of Irish directors.
What's to come?
Schoucair joined Abbout shortly after filmmaker-artist team Joana Hadjithomas and Khalil Joreige created the company in 1998. In 2009, he and Metropolis Art Cinema founder Hania Mroué collaborated to co-found the indie film distribution company MC Distribution. In 2016 Schoucair created Schortcut Films, a production company devoted to international co-productions. The producer lost a lot in the Beirut port blast — his house, his sister's restaurant, the office housing Abbout/Schortcut — and now divides his time between Beirut and Paris.
Lebanon's crises forced Abbout to change its business model.
"Before it was just 10 people, one office, one mission. That's no longer sustainable. Half the people I worked with before I'm working with now on a freelance basis. We have two people with us full-time.
"Now we have an office again, so it's something like normality, hopefully, but it's not normal at all really. In a stable country you have a minimum horizon of two years. Now it's day-by-day. This is why we need to be lighter, because it could happen again."
Currently, Schoucair is personally developing three features. Two are Lebanese fictions — Cyril Aris' project, currently titled "It's a Sad and Beautiful World," and another with the working title "Warshe," by Nadim Tabet. The third, a co-production with the US, is a biopic about American jazz legend Thelonious Monk.
"We're maybe halfway through the financing process for Cyril's project," Schoucair said. "Both Cyril and Nadim will be shooting at the end of this year or next spring."
Like many of his counterparts around the world, Abbout's CEO is exploring television. He's developing two Lebanese series — "The Golden Age," set in Beirut in the 1970s, and "Faraya," located in the titular Lebanese resort town — and reworking a third, "King's Wives," helmed by Palestinian writer-director Hany Abu-Assad.
"We don't have money in cinema," he said. "The good thing is now if you don't have money, you don't care. Nothing's changed. If you raise money for a Lebanese movie it's funded usually by AFAC [the Arab Fund for Arts and Culture], which is not Lebanese, or Doha [Film Institute], not Lebanese, pre-sales, not Lebanese, and co-production with France or Germany, also not Lebanese. Sometimes you may have some Lebanese private equity, but today nobody wants to invest $50,000 in a movie.
"It's very bizarre for me not to go to the office every day and have 10 people around me to help plan the next six months. The guerrilla style is very unfamiliar to me, but exciting. And you know, we're still alive, which is a good thing too."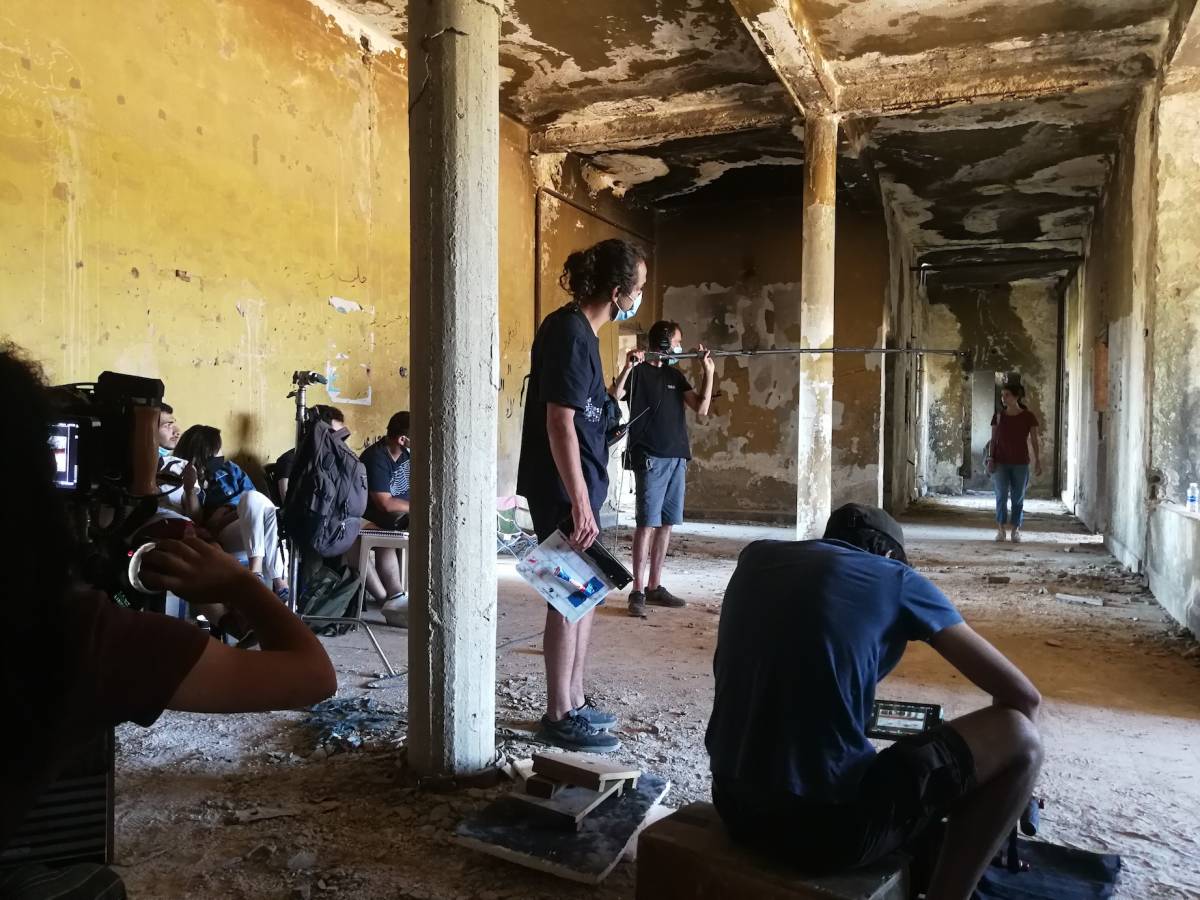 A production still from Anna Fahr's feature film project 'Valley of Exile,' in Riyak, Bekaa Valley, June 2021. (Credit: Lara Abou Saifan)
Abou Saifan and placeless films have several projects in the pipe — "Dead Dog," the second feature of Lebanese artist-filmmaker Sarah Francis, is close to production; "Tide," another Lebanese feature is in development, as is the debut feature of Seyfettin Tokmak, a Turkish coproduction — but the project that seems closest to her heart is "Rawi."
"It's a big project. It's a dream," she smiled. "It's an animated series in Lebanese Arabic, targeting kids who live outside of Lebanon who are just starting to speak Arabic — 3-4 to 7-8 years. We did a crowdfunding campaign last year ... and we gathered a little money to make a pilot, which we're working on right now."
Abou Saifan said the "Rawi" project grew from the frustrations of a Lebanese friend living abroad who can find no resources to expose her sons to Lebanese Arabic. "He's allowed an hour a day of screen time," she explained, "and all she could find was [formal Arabic] and Egyptian, which he doesn't understand."
"When we've established the audience, I'll go to television, streamers, maybe investors. The first phase will have a few four-minute episodes that will be free for everyone to consume. I know there aren't that many Lebanese, but the people in Jordan, Syria and Palestine also understand Lebanese, and there's the foreigners who want to learn."
Orjouane's upcoming projects include a French film called "The Fourth Wall," adapted from the Sorj Chalandon novel, set in Lebanon in 1982; the directorial debut of the well-known film editor-producer Michèle Tyan, now in pre-production; and Marc Karam's debut feature, a comedy called "Mia Khara."
Like Schoucair, Sidawi believes Lebanon's film production strategies must change, but she's seeking different solutions.
"Today," she said, "we can try to make films the old way, where you bring money from outside, or we can say, 'Sorry, fuck the whole system and we go back to troc [barter]' — you help me with this and I'll help you with that. Now, with a few friends, we're trying to create such a cooperative system."
The malaise that fell upon Lebanon's artistic community in the wake of the thawra — accompanied by economic free-fall, out-migration, and the global financial constriction wrought by the pandemic — prompted plenty of discussion about the need for institutional collaboration in the country's cultural sector. The challenge facing Lebanon's assortment of organizations — most founded separately by stubborn, singular-minded individuals — has been how to collaborate.
"Right now we are seven people working on a ta'waniyya (cooperative), trying to figure out how to make it work. The old system is already an 'out-of-the-box' system; Lebanese filmmakers never had a box to think inside of.
"For a year now, we seven have been trying to figure out how we can do it. For sure we already try to work like this — when one has a project we send it to the other — so it has to be like this but on a bigger scale.
"[The cooperative idea] means putting yourself in the background, and placing the art in front. This isn't very easy for everyone to accept, but if we want to keep making cinema, I think this is what we must do."

BEIRUT — In a Mount Lebanon town, filmmaker Jad Andari has been shooting his debut feature. The story revolves around a young man who, having lost everything, finds himself living in a mountain village — a premise that might resonate with Lebanese, after two and a half years of bruising economic crisis and pandemic that's pushed most of the population toward poverty.The project hasn't been...