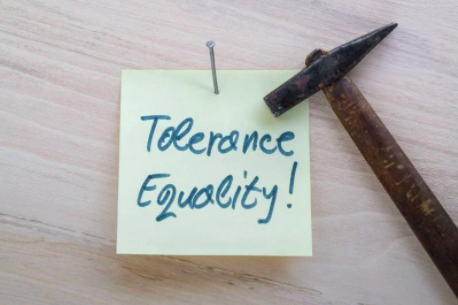 On March 16, the conviction of a former Lebanese Army soldier who was sentenced to one month in prison for homosexuality in May 2021, was overturned.

The 29-year-old deserted the Lebanese Army following charges brought against him in reference to Article 534 of the Penal Code, which criminalizes "unnatural" sexual relations.

His sexual orientation, but also the intimate relationship he had with a fellow soldier during his service, had been the subject of a criminal case before the military court.

The case, denounced by Helem — an organization dedicated to the rights of the LGBTQ+* community — provoked a reaction from Legal Action Worldwide, an international non-profit made up of lawyers and jurists who defend human rights in conflict-affected areas.

LAW appealed the imprisonment decision at the military court, demanding that it be overturned, and that its client, the former soldier, be exonerated. The final decision was handed down on the same day as the appeal hearing, reports LAW.

While the prison sentence was annulled, the former soldier was nevertheless required to pay a fine of LL300,000, around$17 at today's parallel market rate.

The reversal decision remains undoubtedly a victory for the LGBTQ+ community in Lebanon. It comes at a time when violations of the rights of queer people are exploding, according to a recent report published by Helem.

In 2021 alone, Helem documented 4,007 such abuses, compared to 2,161 in 2020 and 522 in 2019. The overwhelming majority of these were related to housing, employment, access to health care, livelihoods and other socioeconomic indicators.

These disturbing figures are further proof that in a country that still criminalizes same-sex relationships — Article 534 of the Penal Code and other articles referring to public morality — homosexuality and LGBTQ+ rights are excluded from, and even restricted in , social, economic and political rights.

Meanwhile, the Lebanese Constitution claims to protect human rights and upholds equality among citizens.

A community hit particularly hard by the crisis

In a time of widespread collapse in the land of the cedars, the LGBTQ+ community has been among the hardest hit by the impacts of the 2019 popular uprising, the Covid-19 pandemic, the economic crisis and the aftermath of the 2020 Beirut port explosion.

The blast had particularly stricken areas of the capital where a large portion of this community lived and worked.

"Since the beginning of the deterioration of the economic situation and until today, the number of recorded incidents related to sexual and gender-based violence (SGBV) has increased alarmingly," said Wael Hussein Chamas, head of Protection and Services at Helem.

But what are the reasons behind this surge in incidents?

"Lack of jobs and the exclusion of LGBTQ+ people from workspaces," Chamas replied.

The situation is not something new. But with the significant decrease in job opportunities on the local job market, "the already minimal employment opportunities for the queer community have become even more tenuous, especially for non-binary people [who identify as neither male nor female, or both]," he explained.

"Lacking job security, these people often depend on the help of others, which in many cases results in exploitation, sexual harassment, blackmail and other types of violence," he added.

Most distressingly, "some people have no choice but to resort to survival sex, which involves unprotected sex, forced use of illicit substances and the associated risk of detention," Chamas said.

According to Oxfam's 2021 report, produced in collaboration with Helem, 70 percent of a sample of 101 LBGTQ+ individuals surveyed lost their jobs in the previous year, compared to 40 percent of the overall workforce.

As a result, 41 percent were unable to pay their rent, 35 percent were forced to move or reduce their standard of living and 39 percent had no access to safe housing or even shelter — a deterioration in quality of life that had a profound impact on community safety, security and survival.

"Demand for basic needs was so high that Helem had to include socio-economic support in its interventions, alongside other LGBT+ organizations and community initiatives," Chamas explained.

Sexual and gender-based violence

These hardships are compounded by the fact that homosexuality is criminalized in Lebanon, which prevents members of the community from accessing any state protection, especially SGBV victims.

Violations of the rights of queer people have traditionally been perpetrated by state institutions, particularly security offices and apparatuses that operate in parallel with each other, according to Helem.

"Institutions such as the Internal Security Forces (ISF) and General Security (GS) were active in perpetrating the largest number of arbitrary arrests and detention od LGBTQ individuals under Article 534 of the penal code or any other article within the realm of public decency and morality," the report read.

"In 2021, 369 violations were recorded against LGBT+ people, from state or non-state bodies, [based on five indicators analyzing sexual and gender-based violence] that is, 12 arrests, 66 cases of blackmail, 254 cases of physical violence, 30 cases of rape and seven cases of sexual trafficking," said Nour el-Khazen, program director at Helem, in a joint statement withthe Mawjoudin, a Tunisian NGO, which also campaigns for human rights and those of the queer community.

These figures, which concern both Lebanese citizens and Syrian refugees, are largely underestimated.

Many members of the community remain reluctant to speak up or share their experiences "mostly due to the shame and danger associated with being outed as LGBTQ+ in Lebanon," Helem's report read.

The same goes for cases of rape, physical abuse, blackmail, or sexual trafficking.

"Many individuals prefer to tolerate the mistreatment in the police station and not risk the incident being shared with their families and social circle," the report said.

"Furthermore, any arrests that happen outside the Morality Protections Bureau at the Hobeich Police Station in Ras Beirut, the bureau responsible for processing any and all cases involving violations of article 534 of the penal code throughout Lebanon, are generally not reported to Helem as the general dysfunction and lack of resources throughout Lebanon's security apparatuses often leads to complete disregard to protocol," the reported explained.
This is not to mention that the reasons for the arrests are diverse, often related to a lack of official papers for Syrian refugees, suspicion of possession of illegal substances or even suspicion of involvement in sex work.

Those arrested have revealed that they have been subjected to various forms of mistreatment, including "torture, abusive language," Khazen said.

Other arrested people cited, "forcibly extracting false confessions as part of the interrogation process in exchange for the promise of reduced sentences and better treatment."

What could be the solution?

"Legal and governmental reform to ensure the safe inclusion of LGBTQ+ people in public services, to provide protection in the workplace and to hold violators accountable," Chamas said.

This is a necessary reform to amend the existing archaic homophobic laws.

*The term LGBTQ+ refers to the entire LGBTQIA+ community (lesbian, gay, bi-sexual, transgender, queer, intersexual, asexual, and + for other orientations).

This article was originally published in French in L'Orient-Le Jour. Translation by Sahar Ghoussoub

On March 16, the conviction of a former Lebanese Army soldier who was sentenced to one month in prison for homosexuality in May 2021, was overturned.The 29-year-old deserted the Lebanese Army following charges brought against him in reference to Article 534 of the Penal Code, which criminalizes "unnatural" sexual relations.His sexual orientation, but also the intimate relationship he had...