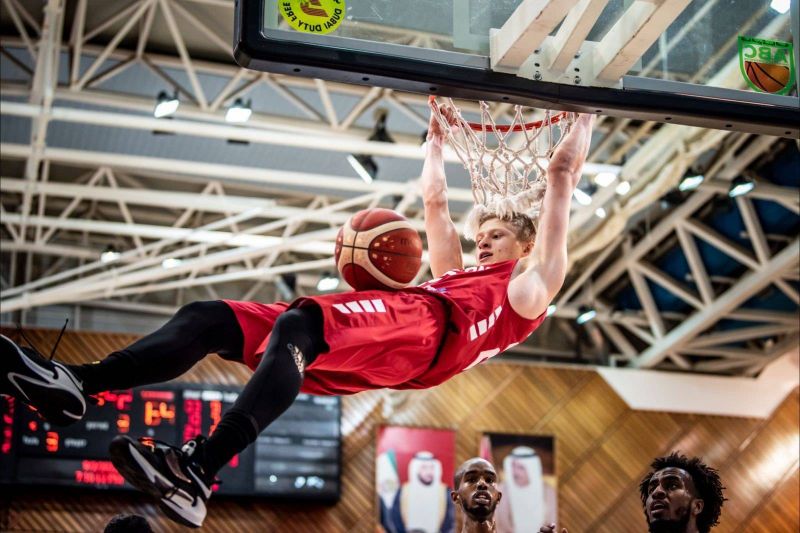 BEIRUT — Amid the multiple crises in Lebanon, the country's basketball team is a rare success story, recently beating Tunisia to win the Arab Nations Basketball Championship in Dubai.
Usually, one of the secret ingredients to such success in Lebanese sports is the naturalization of a foreign player on the team, as FIBA regulations allow one player on a country's team to be a naturalized citizen. Lebanon has a long history of recruiting American players such as Joe Vogel and the late Jackson Vroman to its national team after granting them Lebanese citizenship.

But this time around, the team's star is a departure from this system: Youssef Khayat, at 19 years old and standing 6'7 — making him both younger and taller than most of his teammates — is a homegrown talent. He was born and raised in Beirut but has been living in France for the past four years, after being recruited by French team Limoges CSP.

Khayat darts across the court, stealing the ball from his opponents to dunk. His signature move is the floater, a shot that looks like an overhand layup.

He started playing basketball when he was 5 years old. At the time, he was not doing well in physical education class, so his mother put him in a basketball academy to try to shape up his grades.

His mother, May Darwish Khayat, told L'Orient Today that, after hearing from the school that his coordination skills in PE weren't the best, she decided to enroll him in an after-school activity.

"We're a football household, so I went to enroll him in that," she said. But because there were no classes open in his age group, she signed him up for basketball instead.

Youssef says his father's encouragement motivated him to stay and excel at the sport.

From there, he moved between academies and clubs. Because he was so advanced, he would regularly be placed above his age group in training. At 13, he turned his hobby into a career; he tried out for the under-16 national team.
He was nervous. "Everyone else was older," Khayat recalled, but his father encouraged him to do it, saying, "You have nothing to lose."

He made the team.
There was a downside: while all of his school friends were out and about on the weekend, he was training on the court. But it paid off. Khayat, 14 at the time, got to represent Lebanon in Tehran for the WABA U16 Championship in 2017 and, a week later, the FIBA U18 Asian Championship in Bangkok.

Around that time, his coach told his mother that he was very advanced and recommended that he train abroad because he had a bright future ahead of him.

But his mother was not willing to let him go until he finished his 9th-grade Brevet exam, so his move was postponed to the next school year.
His parents considered the United States because it is the best-known country for basketball, but decided on France instead, partly because Khayat had studied in French-language schools in Lebanon, so the transition would be more seamless.

France is also known for its training centers for basketball that belong to the clubs and often recruit teenagers like Khayat. He was offered a position in two different clubs. His parents wanted him to pick Limoges because it is in a rural area, and he did.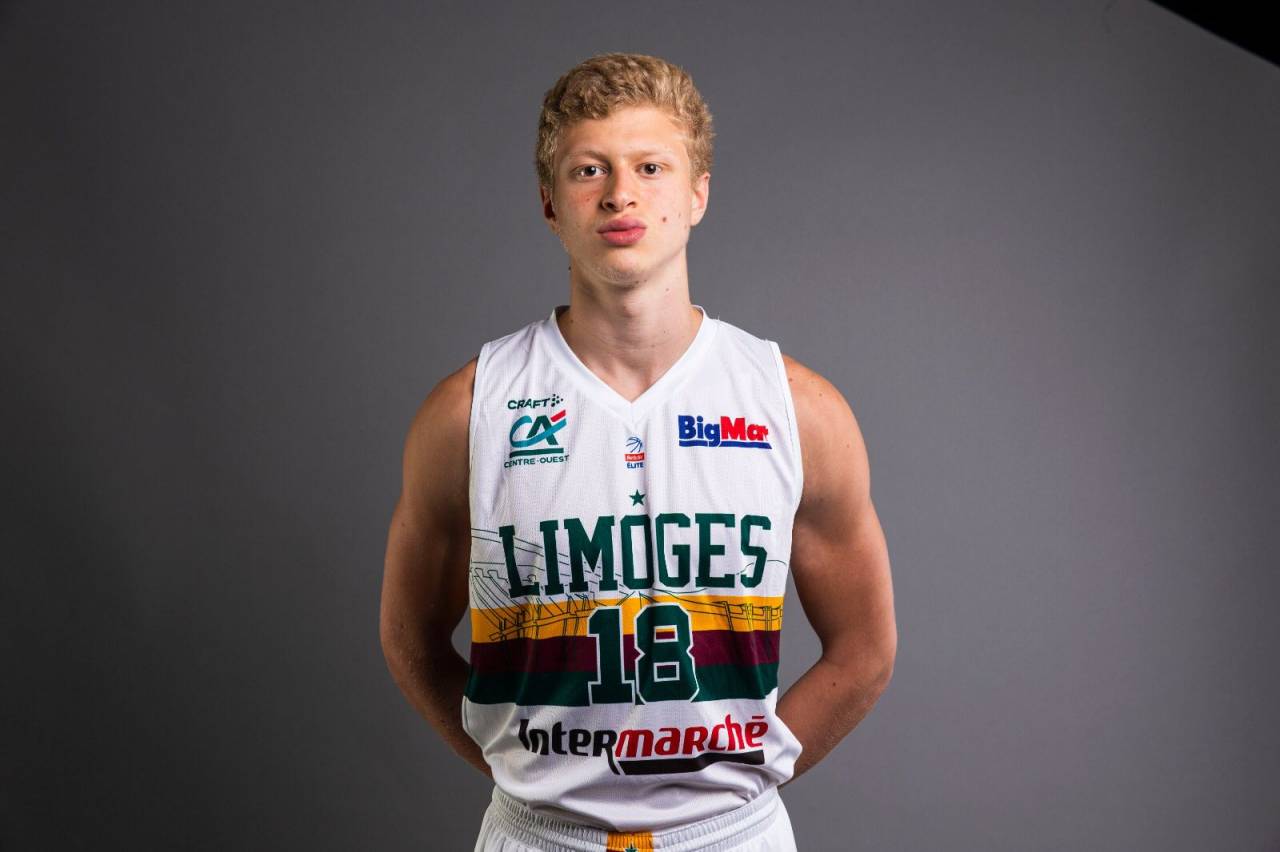 Youssef Khayat wears jersey of Limoges, the club team he plays for in France. (Credit: Photo provided by Youssef Khayat)
His mother moved with him, renting an apartment near the school. Her sister, Sima Darwich, who holds French nationality, takes turns with May in looking after Youssef while in France.

In France it was "totally different" from Lebanon, Khayat recalled. Everything was tailor-made to his specifications: his workout, diet and even education.

Whereas in Lebanon, he had to squeeze sports into the rest of his life, and where sports facilities were often sub-par, he had all possible resources at his disposal in France. Among them are a staff of four coaches — two assistant coaches, one gym coach and one basketball coach — as well as a kinesiologist.

There is also a nutritionist who does his meal plans for him, and the meals are provided as well. Before graduating last year, his classes were arranged so that they didn't interfere with his training.

The school he enrolled in has a history of accommodating athletes, not just basketball players but also pro swimmers. A bus would pick him up during free periods, take him to training, and then take him back to school afterward.

In Lebanon, Khayat said, there was no gym attached to the basketball court where he would train: "You have to join another gym and get a physical trainer, which costs extra money."

If he had stayed in Lebanon, Khayat believes he probably would not have reached the career heights that he has today, especially in light of the financial crisis.

As a young player, he said, "you need somebody to follow up with you constantly. In Lebanon, you train twice a week. In France, you train four times a day."

The sporting facilities available in the respective countries make a huge difference in the athletic careers of players, says Danyel Reiche, an expert in sports policy and politics in the Middle East and a visiting associate professor at Georgetown-Qatar.

"France has a much better-developed sporting infrastructure and is one of the leading sporting countries in the world, particularly doing well in ball sports," he said. "It is rational to go there as a young athlete, if one has the opportunity."

However, Khayat's departure from Lebanon was not permanent.

Last year, he got a phone call from the Lebanese national team's coach, Joe Moujaes, asking him to play with the team.

Joining the national team for his debut game against Indonesia meant taking a three-week leave from the French club and college, but he said he couldn't pass up such a huge opportunity.

"I was ecstatic to go train with the team," Khayat said. "I met players that I look up to. It was always a dream of mine to play for Lebanon."

At just 18, he was one of the youngest players on the Lebanese national basketball team. However, with most of his teammates being in their 20s and 30s, he felt extra pressure to prove himself.

His debut with the team was in November 2021, in Zouk Mikael, against Indonesia.

When he saw his parents in the stands, he said the anxiety lifted off his shoulders, and when he scored his first basket, he felt the pressure was all gone.

In the next three years, Khayat plans to dominate the under 21 league and focus on making it to the big leagues. He even hopes to make the NBA draft, and he believes he'll make it if he keeps playing at the level he is now.
As for next year, he has a lot of offers from universities in the United States and clubs in France, but he has until the end of the season to decide. Both, he said, are "very good options."

For now, he will continue playing with both the French club and Lebanese team. He's not the only player in Limoges who also plays on a national stage. A lot of his teammates play for their respective home countries internationally.

For Reiche, this is an indication of what he terms "strategic citizenship."

"If players can choose between multiple countries because they grew up in one and lived in another like this gentleman, it seems, then they make it to the national team," he said.

Khayat only has Lebanese citizenship, and has used it to play on the national team in Lebanon. Usually, Lebanon's teams, especially at the Olympics, are composed of diaspora players who did not qualify for the teams in their country of residence, so they utilize their Lebanese citizenship strategically as a backup to at least get the chance to compete at a mega-sporting event.

According to Reiche, this was the case on Lebanon's ten-person team at the London Olympic Games, three of whom were dual nationals.

Khayat is now dreaming of a potential move to the United States. His favorite basketball players growing up, apart from Lebanese player Fadi Al Khatib, were NBA titans Blake Griffin and Chris Paul. And his favorite team is the Los Angeles Clippers.

"Every player has an ambition to go on to the NBA," he said, but added, "I need to see where the best option is. A lot of players are getting drafted in Europe, so both are good options. I'll wait until the end of the season to see."

For all its attractions, the potential move to the United States has a downside.

"If I move to the States, I won't be able to continue playing for Lebanon because of scheduling," Khayat said, "but if I stay in Europe it's not a problem."

A move to the United States would also put him far from his family, but his parents are supportive.

"Everything he's done so far is just an introduction," his mother says. "He's got a long way to go, but it's important that we encourage him to do it … He's just begun his journey. Nothing is granted."

BEIRUT — Amid the multiple crises in Lebanon, the country's basketball team is a rare success story, recently beating Tunisia to win the Arab Nations Basketball Championship in Dubai.Usually, one of the secret ingredients to such success in Lebanese sports is the naturalization of a foreign player on the team, as FIBA regulations allow one player on a country's team to be a naturalized...