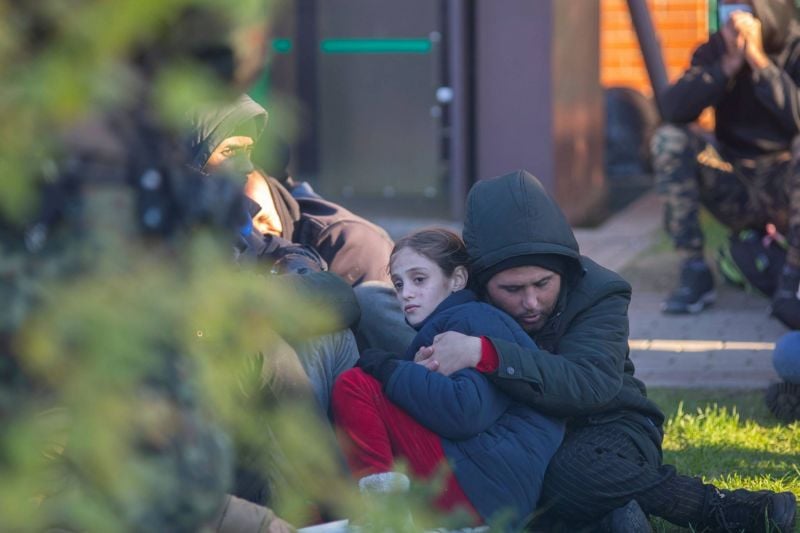 BEIRUT — Until recently, Fadi, a Syrian refugee in Lebanon since 2014, had been trying in vain to gain asylum abroad. Though better off than many other Syrian refugees in the country, Fadi was still not able to legally work in his field, accounting, and he and his wife have held off on having children because of the instability of their situation.

"There's no future in Lebanon. There's nothing clear in Lebanon with regard to education or health care or security or anything as a Syrian," Fadi told L'Orient Today.
Having exhausted all legal options without success, the 35-year-old decided to pursue a new migration route to Europe — one not aboard a smuggler boat bound for Cyprus or the dangerous route back through Syria to Turkey and on to Greece.
"After every other door was shut in my face, I decided to go by way of Belarus," he said.
After inquiring on social media groups, Fadi found a travel company that would get him an official invitation to Belarus, allowing him to collect a tourist visa on arrival. He flew to Minsk, where he stayed in a hotel for a few days before going with smugglers to the Polish border.
There, he said, he and a friend he was traveling with were caught twice by Polish border guards and denied entry, but on the third attempt they managed to get through.
On the other side of the border, a car arranged by the smugglers was waiting to take them to Warsaw, and from there they continued on to Germany. He is now going through the court process to apply for asylum, and if it is granted, he will apply to bring his wife to join him.
In recent weeks, a steady stream of Syrian refugees in Lebanon has been turning to this new migration route to Europe, which has also attracted thousands of asylum seekers coming from Iraq, Syria and elsewhere. Having not been granted resettlement via the United Nations or other asylum programs, they are boarding flights at the Beirut airport bound for Belarus, where many of the "tourists" then try their luck crossing into neighboring countries that belong to the European Union.
A representative of a tourism office in Beirut's Hamra area, which is offering $2,500 package deals to Belarus, said the company has been inundated with requests for the package over the past month. The company obtained official tourism invitations from Belarus for about 70 Syrian customers in that period, she said, which entitle them to a visa on arrival in Minsk, although recently Syrians traveling from Lebanon have been required to get a visa from the consulate before departure.
The trip — whose success is far from guaranteed — is an expensive gamble. In total, Fadi said, he paid $9,000 to reach Germany, including $2,000 he lost to a purported smuggler who cheated him.
While for him it paid off, others have not been so lucky. Many of the would-be asylum seekers are being detained at the Belarusian border, where at least six have died of exposure and hypothermia; some have also been detained at the Beirut airport while trying to depart.
As a wave of immigrants has flooded European Union borders by way of Belarus in recent months, the EU has accused Belarusian President Alexander Lukashenko of permitting the entry of thousands of would-be asylum seekers from Iraq, Syria and other conflict-torn countries with the aim of pressuring European powers to lift sanctions on Minsk.
"It's a death journey. It's not a joyride," Fadi said. "The one who wants to go this way has to be prepared that he might die on the route."
Stuck in limbo
Amid the recent wave of crossings, the Polish government has declared a state of emergency and sent troops to the border. The country's foreign minister said Monday that at least 9,400 people have attempted to illegally cross the border since August; 8,200 of them were turned back, while another 1,200 people are being detained after having illegally entered the country.
Marta Górczyńska, a Polish human rights lawyer working with an ad hoc group of aid workers and activists who provide humanitarian assistance to migrants crossing from Belarus, told L'Orient Today, "I have been working at this border for years, and the situation was never as critical as it is in the last weeks."
While in theory those who enter the country have the right to claim asylum, Górczyńska said that in practice very few have been permitted to do so.
Meanwhile, many have gotten stuck in limbo in the densely forested border area, where temperatures are already dropping close to freezing at night. Górczyńska said that in many cases migrants who are caught and pushed back to Belarus by Polish security forces are then pushed back toward Poland by Belarusian border guards.
"For some people it's been already a few weeks that they've been ping-ponged like this between both border guards without any proper assistance, human assistance, medical assistance," she said. "Sometimes when we find these groups of people, they're at the absolute level of almost death from exhaustion and dehydration and also hypothermia."
Some would-be travelers never make it out of Lebanon.
Mohammad Sablouh, an attorney working with the Access Center for Human Rights in Lebanon, told L'Orient Today that he has filed a court complaint against General Security over its detention of three young Syrian men who were trying to fly out of the Beirut airport bound for Belarus earlier this month and are now being held incommunicado without having been charged with a crime.
Ahmad al-Aalu, whose brother Tarek is one of the detainees, said his brother and the two other young men, all from Daraa, had crossed into Lebanon via smuggling routes about two months ago, because they were wanted for army service and would have been arrested had they tried to leave via an official crossing.
Once in Lebanon, he said, his brother went to the Syrian Embassy and got a new passport issued and then found a company that secured an invitation to travel to Belarus for him.
Despite his brother having entered Lebanon illegally, Aalu said they did not anticipate that he would have issues leaving.
"There were many people who left without any problem" despite being undocumented, he said, after either paying a fine at the airport or being banned from entering Lebanon in the future.
"There are some who paid the LL600,000, which is the fine for entering illegally, to be able to re-enter Lebanon some day, and there are some who went [without paying] because they don't want to return to Lebanon, or to Syria either," he said.
But his brother and the two others were detained at the airport and told that they were wanted, without being given a reason, he said.
"They took them to General Security for interrogation, and until today we don't know anything about their fate."
A General Security spokesperson did not respond to requests for comment.
Caught in a political battle
The wave of migrants coming by way of Belarus has drawn the ire of European officials.
A spokeswoman for the European Union in Lebanon said in a statement the EU's position is that Belarus is "using human beings in need to advance political goals, [which] violates fundamental European values and principles," adding, "The EU and its member states condemn the instrumentalization of migrants and refugees by the Belarusian regime."
The honorary consul in Lebanon, a Lebanese businessman named Elie Sarkis, did not respond to requests for comment. Upon visiting the consular office located in Sarkis' business office in Zalka, L'Orient Today was told he was traveling.
Speaking at the United Nations General Assembly on Monday, Belarusian Foreign Affairs Minister Vladimir Makei called the EU countries' accusations "false and groundless" and asserted that "it is precisely as a result of the inhuman policy of the collective West that the problem of refugees is reaching an unprecedentedly alarming level today."
Meanwhile, the demand for visas has continued apace, despite the dangers. Facebook groups in which would-be migrants discuss the potential paths to Europe are inundated with queries about the Belarus route.
A post in one group on Sunday asked, "Guys, what is the situation of the route from Belarus to Europe?" While some respondents cautioned against attempting it, pointing to the recent deaths on the border, another wrote, "We all know the route is not very good and the border security has become very tight, but that doesn't mean it's impossible. It's still easier than the route through Greece and Bulgaria."
A Syrian who posted on the same group looking for advice earlier this month after he was turned back at the airport for having an electronic invitation rather than a visa in his passport told L'Orient Today that the Belarus-based smuggler he is coordinating with is now trying to arrange for him to get the visa in his passport that will allow him to complete the journey.
His wife, who will remain behind with their three children until he is able to successfully claim asylum and bring them, told L'Orient Today that the risk is worth it.
"We're not able to return to Syria," she said. "And you've seen the situation here."

BEIRUT — Until recently, Fadi, a Syrian refugee in Lebanon since 2014, had been trying in vain to gain asylum abroad. Though better off than many other Syrian refugees in the country, Fadi was still not able to legally work in his field, accounting, and he and his wife have held off on having children because of the instability of their situation."There's no future in Lebanon. There's...