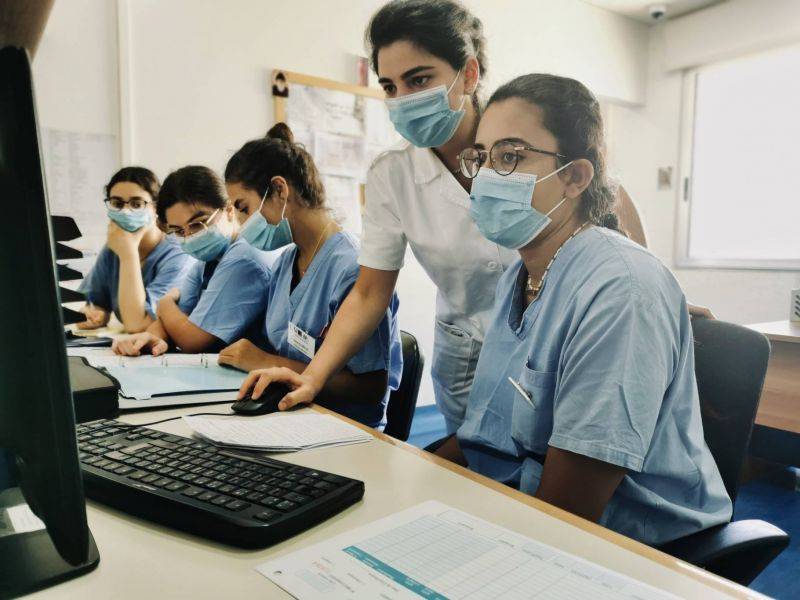 A synthetic voice calls out "302" as the number flashes on a screen in the waiting room. It's Antoine's turn. The man, who is almost 80 years old, is there for his wife, Genevieve, who needs cataract surgery.
"Is it her first admission to Hôtel-Dieu?" the admissions agent asks. "What is her date of birth? Did you really forget your wife's date of birth?" They both laugh.
However, the mood swings when the conversation turns to health care coverage.
"Are you covered by the National Social Security Fund? Only chronic illnesses and major emergencies are now permitted under this system. Try to get … approval and get back to me if you need a confirmed date of the surgery."
In case his wife's application for coverage is rejected, which seems likely according to the agent, Antoine would have to pay the full cost of the hospital stay if they decide to go ahead with the operation.
"No, no. An out-of-pocket expense is impossible to pay. We will just forget about it. You see, we're poverty stricken — no more payrolls and not a penny in our pockets," he replies desperately.
Stress is palpable at the admissions office because Hôtel-Dieu is obliged, due to the crisis, to enforce restrictions on those with public health care coverage. This can be a disqualifying factor for patients and their families needing medical care.
The admissions office receives files before the hospital's management screens them. This is also where bills are settled, and conflicts sometimes take place when patients find themselves unable to pay them or furiously discover that they have been recalculated as the lira's value continues to plummet.
A man arrives at the main counter. Sweating profusely and not older than 40, he seems befuddled and struggles to fill out a form.
"Should I write my daughter's name here?" he asks.
His 18-month-old daughter suffers from a cardiovascular problem and needs surgery.
"Why am I sweating? Because my monthly salary amounts to LL1.5 million" — less than $90 dollars at the parallel market rate — "which is barely enough to feed my daughter. I am a soldier who fought the battles at Nahr al-Bared [against the radical group Fatah al-Islam in 2007]. I risked my life for this country. Today it has reduced me to begging for treatment for my child."
The man, Ahmad, is on the defensive. He had thought the surgery would be fully paid for through his military health care coverage, but more and more hospitals are declining to accept that coverage scheme. When the doctor's fees came, Ahmad was shocked. He still has to pay LL1 million from his own pocket.
At the admissions office, the young father hopes to succeed in pleading his case and getting a discount. A representative was quick to find a temporary solution [and de-escalate the situation]. "I will open a file, and we will schedule the operation for June 23. Do not take any health care coverage–related steps for now. We will call you later to explain the rest."
"The management will examine his daughter's file and may decide to admit her to the hospital," an employee told L'Orient-Le Jour. "Each case is treated separately. It may also decide to put off the surgery if there is a lot of pressure on the hospital. Although there is a social fund designed to assist patients, unfortunately it cannot cover everyone."
Weeks later, the scheduled date for his daughter's surgery had come and gone, and Ahmad had still not yet heard anything further from the hospital.
Such cases have become commonplace at Hôtel-Dieu, which first opened in 1922 and eventually became one of the country's most reputable institutions.
In light of the lira's sharp depreciation, Hôtel-Dieu's expenditures no longer are commensurate with the sums collected from public third-party payers, which reimburse the hospital at an exchange rate of LL1,500 to the US dollar.
"They have no value since all our purchases, including the cleaning products, are paid for in real dollars!" Georges Dabar, the hospital's medical affairs director, says.
Furthermore, public funds may take up to three years to settle payments. They currently owe the hospital more than LL60 billion.
The situation with private insurers is also critical, as they pay out the sums due to the hospital at an average rate of LL2,700 to $1.
In light of this, admitting and treating patients without respect to their health care coverage would be tantamount to "unpaid charity work" according to the hospital's management.
The hospital, which was damaged by the Aug. 4 Beirut port explosion, already had to shell out about $1.5 million for repair work after the blast. This was after the institution limited its treatment to COVID-19 patients while Lebanon was in the throes of the pandemic, from February 2020 to March 2021, which contributed to its growing deficit.
'That is no longer consistent with the logic of medicine'
"Look at our lab — it's empty!" Dabar is baffled by the hospital's testing lab, which just months ago teemed with people to the point that he had to resort to the guards to enforce social distancing when long lines formed. "The people filled the place, even the steps."
Hôtel-Dieu, like most private hospitals, has now limited access to its testing lab to inpatients and those who can afford to pay for the tests in full.
Lab traffic has been in freefall since the hospital put these restrictions in place. In the lab on Wednesday morning, two or three people vie for a chance to get tested, although the chances that any of them will get tested are slim due to a shortage of lab reagents.
A man in poor health sits in a seat, waiting for his turn. He is wearing two masks and a face shield to protect himself against the coronavirus. He is there to measure the amount of cyclosporine, which helps prevent organ rejection, in his blood. He has to take this test every few months after undergoing a renal transplant.
However, a lady standing at the counter explains to him that the test is no longer available.
"I must leave this country as soon as possible because I cannot tell if I have kidney failure or not without this test. This test is vital for me," he says before heading for the exit.
"We are receiving only a minimum supply of lab reagents. We have to account for the shortage in stocks and give priority to hospitalized patients and life-threatening medical emergencies at the expense of others," Corinne Aad Naba, the hospital's deputy director for financial affairs, says.
Traffic has decreased in most of the hospital's departments, and those who seek out medical care are either displeased or heartbroken by the prices, which in some cases have gone up fourfold due to inflation.
At the billing counter for X-ray, an employee says, "It saddens me to tell the patient that the radiograph costs LL2 million. People generally turn their backs and walk away. It is horrible."
Fluctuations in the lira's parallel market exchange rate have made prices absurd. For one patient, the estimated price for an artificial joint surgery rose by 30 percent in the three days between when the quote for the procedure was given and the day of the surgery.
"That's no longer consistent with the logic of medicine or with the ethics of the profession. What is more precious than the people's health?" Aad says.
However, she insists the price hikes are not driven by a profit logic, but out of necessity, as Hôtel-Dieu faces an unprecedented number of resignations of nurses and medical specialists whose salaries have not been increased to keep up with hyperinflation.
"We have to include the cost of tubes, masks and gloves in the fees, which we did not care about in the past. A glove bundle now costs us $15 at the parallel market rate."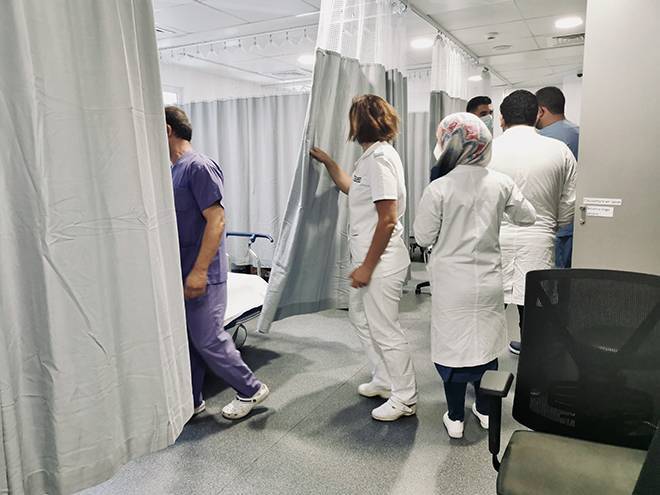 Caregivers work with patients in the triage room at Hôtel-Dieu. (Credit: L'Orient-Le Jour/Marie-Jo Sader)
Continuity of care is now at risk
The administrative concerns and financial obstacles afflicting patients and their families are also deeply affecting the work of hospital staff. Hospitals' management and caregivers say they are left flummoxed as they do their best to maintain the quality of their health care despite the increasingly difficult conditions.
In the ER, physicians no longer abide by traditional protocols, because patients with public coverage are no longer admitted unless they receive a life-threatening diagnosis. In the triage area on the ground floor, the caregivers must consult one another to make a rapid diagnosis, even for patients who turn up for emergency care. Barring near-fatal circumstances, the patients are then examined in slapdash compartments behind curtains.
"You will have to wait. There's nothing we can do before we get [the management's] consent," a concerned resident doctor tells an anxious lady. Her elderly mother has been lying in the ER for more than two hours. Her vertebra is fractured, requiring surgery.
"My mother has been in pain for three weeks, and I have been treating her at home. But she keeps screaming out in pain, so I had to rush her to the ER," says the woman, whose mother is affiliated with the Civil Servants Cooperative, a public third party, whose members should receive public health care coverage but are increasingly being denied admission to hospitals.
The term "insurance" is said over and over again dozens of times at the ER throughout the day. Resident doctors spend their time on the phone, justifying the care prescribed while private insurers are increasingly unwilling to cover treatments for ailments that were once deemed emergencies without question.
"Insurance companies complicate our lives and public third parties no longer cover anything. We are forced to triage patients, which seriously affects medical care. Basically, we can no longer treat them," Antoine Zoghbi, the hospital's emergency services director, says, looking vexed.
"It's not our first crisis, but it is excruciating to adapt this time. We are losing this burning flame inside us, our conviction," says Zoghbi, whose department received 700 wounded residents on the evening of Aug. 4, including 300 people whom they treated on the sidewalk.
That moment was forever imprinted in the caregivers' memories, deeply affecting them to this day.
"The blast created a real rupture. All departures were triggered at that time," Dabar says.
'It used to be very good, but now …'
In the oncology department on the fifth floor, a doctor completing the fourth year of his residency is making his rounds. "Hello, how are you? Is the blood still flowing?"
The young resident performs an abdominal examination on a cancer patient crying out in pain. The work of this doctor, who is close to completing his specialization, has drastically changed in the department.
Care is now focused on complications associated with chemotherapy doses. New patients are not being admitted, and the medical challenges have declined.
"A diagnosis facilitates the provision of health care and heightens our ability to provide treatment," says the resident, who is preparing to study for the next two years in France.
Although he is in his residency program's final year, he is paid only LL2.5 million, or less than $150 dollars at the parallel market rate. "It used to be very good, but now … Well, you know."
Chances are high that the future oncologist will not return to Lebanon. "It is not my salary that is forcing me to choose, but rather the whole situation in the country. I can't see any prospects on the horizon. I cannot even prescribe simple medications, such as Daflon, because they cannot be found in pharmacies anymore."
Medicine shortages make physicians' jobs unbearable. They watch, powerlessly, as patients with chronic diseases suffer.
In the first room on the left of the hallway, a young woman barely 30 years old sits on a bed, wearing a headscarf to hide her hair loss.
She was admitted a day earlier to begin receiving a five-day treatment that she undergoes every two weeks. When she speaks, her voice is brittle. Her cancer medication is no longer available, not even at the hospital. She had to fill out dozens of papers, shuffling back and forth among the doctor, the pharmacist and the supplier in a bid to obtain a substitute before her admission.
"Of course I'm scared. This medication is the basis of cancer therapy. I was barely able to find an alternative. But will I succeed in obtaining it for my next treatment?"
"I am faced with this kind of situation on a daily basis — providing the patient with the right treatment, while knowing that even though the medicine might be available [in the country], it cannot be administered," says Marwan Ghosn, an oncologist.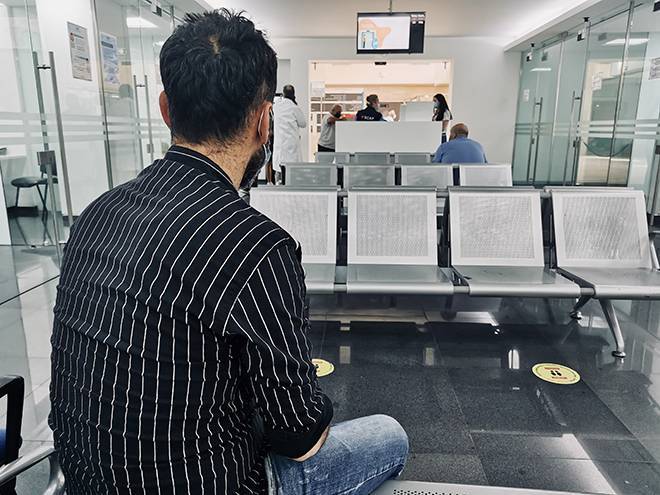 Ahmad waits to be called to the admissions office. (Credit: L'Orient-Le Jour/Marie-Jo Sader)
'We are one of the last remaining bastions of resistance'
Down the hallway, the daughter of a hospital patient seems on edge. The hospital had required a LL5 million deposit to treat her mother's liver infection in case the National Social Security Fund refuses to pay out for her mother's treatment.
"It was shocking! My mother has cancer and has been treated here for seven months. She has insurance. We left the hospital two weeks ago without being asked to settle any charges," the woman says.
Feeling shaken, the young lady lashes out at the nurses looking after her mother. The reaction is something they have become familiar with, as they are forced to bear the burden of families' stress and bitterness.
Chantal Lichaa has worked as a nurse for 20 years. Her dedication to her profession is still intact despite the heightened pressure that she and her colleagues have been placed under.
"Sometimes they yell at us or insult us when they see their bill. I explain to them that we are not making any profit and that the financial crisis is behind the rising fees, even though it is not my job to manage this kind of conflict," she says calmly.
She is now under greater pressure as dozens of nurses have resigned, having received compelling job offers abroad, especially in Belgium and France, where Hôtel-Dieu's caregivers do not need to have their diploma approved.
As the hospital's departments are emptied of qualified staff, Chantal is now one of the few able to supervise younger employees taking their place.
"I need to constantly monitor the team so as to maintain optimal health care quality. In the oncology department, we need to be very rigorous, and we are managing thus far. But the conditions are getting too difficult."
Retaining caregivers has become one of the hospital's biggest challenges.
"Those who left have sometimes almost 25 years of experience. That has never happened before. This age group was not interested in emigration. The problem is that these skills cannot be replaced," says Soha Abdel Malak, the head of Hôtel-Dieu's nursing council.
"We are one of the last remaining bastions of resistance in a sinking health system. But how long are we going to resist?" Dabar asks bitterly.
The difficulties faced by Hôtel-Dieu are shared by all university hospitals in the country. Their effective operation is essential, particularly given that the public hospitals are broke and no longer able to treat patients.
"Apart from Rafik Hariri hospital, the government hospitals have all turned into clinics. They just administer fluids to the patients who arrive there and the transfer them to us," says Sami Rizk, the director of the Lebanese American University Medical Center.
Rizk called on the United Nations and NGOs to send funds directly to their institutions, without going through the Health Ministry. He also warned that the alarming situation is affecting the Lebanese, who can no longer afford exorbitant bills.
"People are no longer seeking health care. This can be seen at the ER, where almost 37 percent of patients who arrive end up being hospitalized, compared with 20 percent previously. They disembark, which means that they are not seeing their doctor or doing the tests."
University hospitals are holding regular meetings to form a joint front against insurance companies and public third parties, and to demand that they scale up reimbursement rates to ease the cost burden on patients.
Another major challenge they face is having Banque du Liban approve subsidies to finance the import of basic medical products so that they can continue treating patients.
"If it does not, we might even stop giving care in emergencies. I do not know. I do not know anything anymore," Rizk says.
This article was originally published in French in L'Orient-Le Jour. Translation by Joelle El Khoury.

A synthetic voice calls out "302" as the number flashes on a screen in the waiting room. It's Antoine's turn. The man, who is almost 80 years old, is there for his wife, Genevieve, who needs cataract surgery."Is it her first admission to Hôtel-Dieu?" the admissions agent asks. "What is her date of birth? Did you really forget your wife's date of birth?" They both laugh....