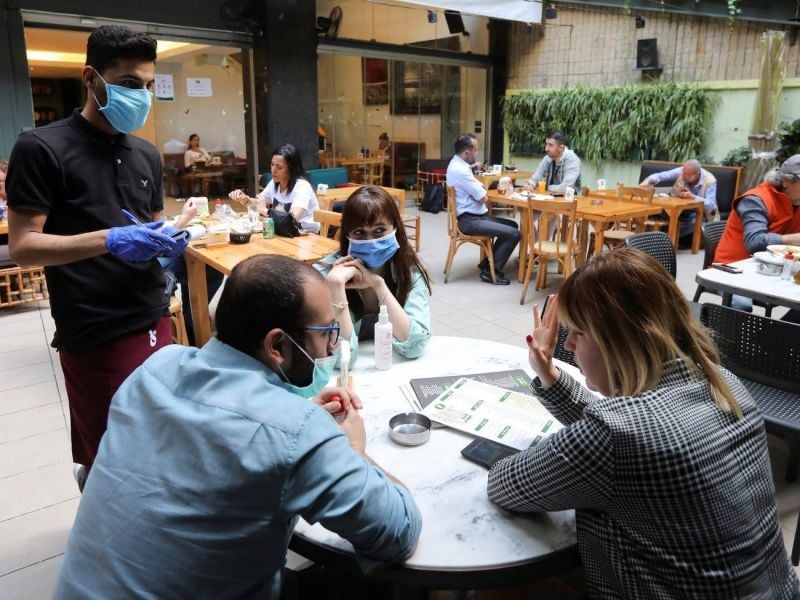 BEIRUT — There was no other choice. Hassan Hammoud knew the power had been out for two full hours and that he just couldn't be sure the ice cream and meat stored in his restaurant's freezer and refrigerators remained safe for human consumption. All of it — LL1 million worth — would have to go in the trash.
Amid increasingly lengthy cuts in the state power supply, that at times have led to the overloading and subsequent outage of backup generator systems, food safety has become increasingly difficult — and expensive — to maintain. Restaurant owners have two choices: pay extra for a second backup power system or risk prolonged power outages, which result in potentially tainted food due to lack of refrigeration having to be thrown out. Both options are costly.

Just a few weeks ago, Hammoud, who owns the restaurant Dar El-Gemmayzeh, received a bill for 2019 from the state power provider Électricite du Liban. This tardy bill, for what he describes as "the electricity that never comes," cost him LL20,000,000. But, this "exorbitant amount," he says, is just the tip of his business's power supply expenses this month.
He also had to pay $1,200 in cash dollars to repair an electricity transformer that broke following repeated interruptions in the electrical supply, as well as LL12 million for the restaurant's monthly private generator subscription. At the beginning of this year, the latter bill was coming in at LL3 million per month — but the financial and electricity crises have since worsened, increasing generator dependency and driving up the cost of this utility.
But the extra expense is essential and restaurant owners are obliged to find their own solutions to power outages, no matter how financially burdensome, Hammoud argues, because electricity cuts are "problematic for refrigerated goods during the hot summer season and dangerous for the consumer."
The alternative is to "lose our customers' trust," he says.
Etianne Sabbagh, who owns Baron restaurant in Beirut's Mar Mikhael area and who also represents Mar Mikhael and Gemmayzeh restaurant owners at the restaurant owners' syndicate, is confronting the same struggle. Sabbagh says that since most generators are not designed to run nonstop — and overheat if they are on for too many consecutive hours — and since restaurants can't risk losing power, his and other food and beverage businesses "are resorting to a secondary [subscription with a] generator owner who can turn the motor on when the other is resting."
Meanwhile, Ghassan Kassab, owner of Kassab restaurant in Haret Hreik, has gone a step further. He has invested in his own generator so that he can bridge the gaps that arise when the owner of the generator to which he subscribes rests his motor while the state power supply is simultaneously out. However, with this fix comes an additional challenge for Kassab: sourcing enough fuel amid countrywide diesel shortages to keep this backup generator going.
Restaurant owners said they have gotten little external support when it comes to dealing with the power cuts. In the immediate aftermath of the Beirut port explosion, "Germany provided a number of generators for the restaurants in affected areas for four months," but after that restaurants were left to their own devices, Hammoud said.
A weak regulatory system
The power crisis and associated food safety risks come on top of an already weak system for enforcing food safety standards.
A food safety law passed in 2015 mandates the establishment of a food safety commission that would be responsible for setting food safety regulations and supervising their implementation.
However, the commission still has not been formed. Although a president was appointed in 2018 to lead the commission, in practice he is not able to operate without a team, Issmat Kassem of the Lebanese Association for Food Safety, an NGO, told L'Orient Today. In the absence of an oversight body, the government's approach to food safety inspections has been disjointed.
Nabil Rizkallah, founder and CEO of GWR Consulting, a company that provides quality control and food safety training, said that government restaurant inspections "are not consistent and do not follow a proper procedure."
"The government does not monitor all restaurants but rather investigates ones that have been reported," he explained.
When asked about the role of the government in inspecting restaurants, Dar El-Gemmayzeh owner Hammoud said, "The last time we witnessed inspections from the Health Ministry dates back to Wael Abou Faour's tenure [as health minister in 2016]."
Baron's Sabbagh said that in the past, the Health Ministry would send inspectors once every two months, but after the Aug. 4 Beirut port explosion and COVID-19 lockdowns, the scheduled visits had gotten backed up. "There are not enough inspectors or staff members to go over all of the restaurants in Beirut," he explained.
Furthermore, responsibility for government health checks is fragmented between different ministries. According to Rida Moussawi, a Health Ministry spokesperson, the economy, agriculture and health ministries, as well as municipalities, are all allowed to conduct inspections.
Moussawi said that municipalities play the main role in periodically inspecting restaurants, and they then call on ministry teams to close businesses in which quality standards are not met. He was not able to provide statistics on the number or frequency of inspections taking place.
Health threats
Officials do not perceive food safety as a priority given the financial instability and political uncertainties the country is facing, Kassem of the Lebanese Association for Food Safety said, arguing that the state should take the risk of food contamination more seriously.
"In 2019, one out of four meals [in Lebanon] was contaminated," he said. "This percentage inevitably will increase during a crisis."
Currently there are no countrywide statistics to document whether food poisoning cases have been increasing. Rafik Hariri University Hospital head Firass Abiad said he had not witnessed an unusual number of cases recently, adding that "it is not uncommon to see more gastroenteritis in the summer months."
However, on Tuesday, the National News Agency reported that 10 people from the Beddawi Palestinian refugee camp in north Lebanon were transferred to al-Kheir Hospital in Minyeh following a case of food poisoning. One child was severely affected and developed health complications, the report added.
At a time when the medical system is struggling under the weight of both the repercussions of the country's economic crisis and the COVID-19 pandemic, food poisoning cases represent both an increased health threat and a financial burden, Kassem said.
Equipment and drugs have been in short supply, increasing the risk of complications. In some cases, Kassem said, food poisoning can lead to serious health issues such as kidney failure and blood poisoning. Meanwhile, he said, hospital bills represent an added burden on cash-strapped families and on the National Social Security Fund.
Even without a trip to the hospital, food poisoning is far from pleasant.
Lory Sleiman from Beirut told L'Orient Today she experienced food poisoning after eating a chicken burger in the city a couple of weeks ago. She felt the symptoms two hours after her meal and experienced bloating along with nausea and vomiting, suspecting that the infection had come from the garlic sauce as she felt nauseous just by smelling garlic even days after recovery.
Mayda Azoury, who is also from Beirut, experienced a similar case around the same time, which she believes was the result of dining on beef in a different eatery in Beirut.
"After eating out that night, I felt knives in my stomach. I could not put any food in my mouth the day after from nausea," Azoury recalled.
Rizkallah explained that people often confuse the food source that caused them to become ill.
"For example, one food irritability or infection case is not enough to confirm that the restaurant has contaminated goods. No one burger can be contaminated, it is either that all the burgers are not healthy or none of them is," he said.
Other experts explained that the harmful bacteria that cause food poisoning can also be picked up elsewhere. The problem-causing bacteria don't only come from food and drinking water but also recreation, Kassem said, while Maya Bkhaazi Noun, a board member of the restaurant owners' syndicate, said people are also getting poisoned from the polluted beaches and rivers.
In some cases, the consequences of food poisoning can be dangerous.
The First Nation-Wide Analysis of Food Safety and Acceptability Data in Lebanon, which was published in 2020 by American University of Beirut's Faculty of Agricultural and Food Sciences, warned of the listeria bacteria, which can be fatal for unborn babies. The study found that listeria was present in some meat and dairy products found in Lebanon.
The analysis showed that 55 percent of water, 49 percent of spices, 34 percent of red meat , 31 percent of poultry and 28 percent of dairy products sampled for the study were contaminated with bacteria deemed to pose a food safety risk to consumers. The most common biological contaminants detected were sulfate-reducing bacteria, Escherichia coli, coliforms, Staphylococcus aureus and Salmonella.
The study concluded that "Lebanon needs rigorous and sustainable programs to monitor the quality and safety of foods. Given the lack of resources, we recommend putting emphasis on extensive outreach programs that aim at enhancing food safety knowledge."
Additional burdens on the restaurant sector
Given the lack of government resources, many restaurants contract food safety consultants to make sure their service abides by quality standards. However, Lebanon's deepening economic crisis, which has seen the national currency lose more than 90 percent of its value, has been driving some restaurants to cancel their subscriptions to such programs.
"The economic crisis has been financially burdensome for some restaurant owners [making it difficult for them] to subscribe to consultancy services," Hammoud said, adding that as the lira has deviated from its official dollar peg of LL1,507.5 many consultancies have adjusted their pricing — either by increasing the price in lira or by using the so-called Lebanese dollar, or "lollar," exchange rate of LL3,900.
In an attempt to maintain food safety and offset increased costs, the restaurant syndicate and other groups, such as the United States' aid agency USAID, financed GWR over two years to give free COVID-19 inspections and consultancies to all restaurants, said Tania Abou Merhi, deputy CEO of GWR.
Food safety services, on the other hand, are not financed, and given the worsening economic situation, "the number of restaurants seeking safety consultancies has been decreasing," Abou Merhi said. However, she added that "out of all the services [customer service, packaging and delivery etc.] food safety services are the last to be compromised."
GWR's reporting suggests standards, at least by those establishments subscribed to its services, remain high. Over the past six months, more than 90 percent of 50 restaurants inspected were found to be sanitizing and abiding by personal and hand hygiene, one of its recent reports revealed.
Restaurant owners also said that they are not compromising on food safety, but instead are looking at other areas in which to make savings.
"We are not compromising on food standards but rather on quality of packaging," Kassab said, while Hammoud said he has been reducing the quality of napkins he buys and has halted his environmentally friendly utensils project because of financial constraints.
Restaurants owners told L'Orient Today that they demand government support in a list of areas, including halting taxes and initiating touristic programs and campaigns that encourage foreigners and locals to try the Lebanese restaurant experience.
Interviewed owners further asked for help from the private sector as they pleaded with landlords to be more lenient on rent fees and due dates.
Hammoud said he believes the government should exempt restaurants from paying electricity bills during the crisis.
"We don't want to gain money or make revenue, we just want to survive," he said.

BEIRUT — There was no other choice. Hassan Hammoud knew the power had been out for two full hours and that he just couldn't be sure the ice cream and meat stored in his restaurant's freezer and refrigerators remained safe for human consumption. All of it — LL1 million worth — would have to go in the trash.Amid increasingly lengthy cuts in the state power supply, that at times have led...