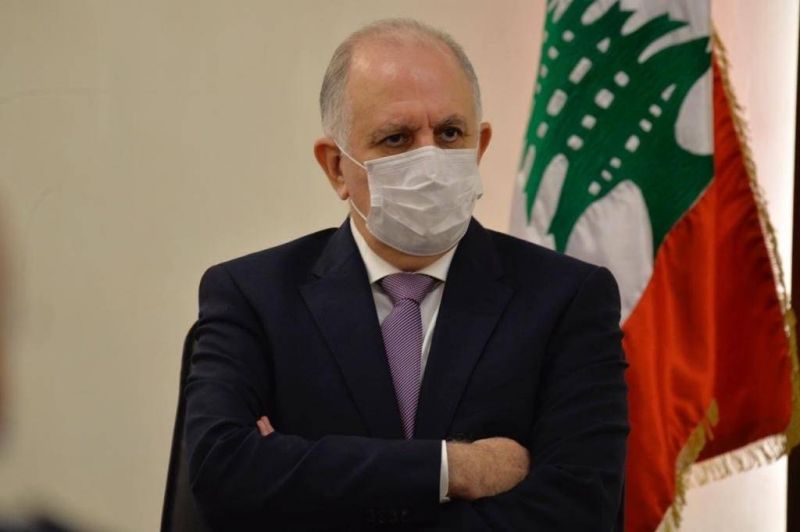 BEIRUT — Seconds after the shockwave from a colossal explosion at Beirut's port tore through the city on Aug. 4, caretaker Interior Minister Mohamed Fehmi said he ran to the back room of his office, certain he was experiencing an assassination attempt.
"Because of my army experience I have a reflex. … Within a fraction of a second I thought there would be another explosion in the office, so I ran to the back," Fehmi said, gesturing to a room behind his desk at the ministry.
A retired army general and former head of the armed forces' powerful military security department, Fehmi said his over 35 years of military experience have honed his survival instincts. He thought there would be another explosion — another attempt on his life. "I have been threatened with [an assassination attempt] before," he said in an interview with L'Orient Today.
Fehmi, 62, referred to these survival instincts often throughout the interview to explain choices he has made throughout his long military career and his short stint in politics, including the decision to use excessive tear gas against protesters. A newcomer to the political limelight, Fehmi's remarks often oscillate between rehearsed statements and sudden, oafish comments on Lebanon's state of affairs.
He reluctantly refers to himself as religiously Sunni, but insists that he is secular and belongs to no political party. However, he described his association with President Michel Aoun, whom he fought under during Lebanon's 1975-90 Civil War, as a "spiritual relationship," in an interview with Al-Manar in June. Sources told L'Orient Le-Jour that during his time in the Lebanese Army, Fehmi forged close relationships with its onetime head, Gen. Emile Lahoud, later elected president of Lebanon, and Maj. Gen. Jamil al-Sayyed, who became Lebanon's feared intelligence chief during Syria's 15-year hegemony over the country after the Civil War, and is now an MP.
Fehmi was appointed interior minister in Prime Minister Hassan Diab's so-called cabinet of independent specialists on Jan. 21, which has been criticized as being largely made up of those loyal to the pro-Damascus March 8 alliance. The cabinet was formed exactly one month before the first coronavirus case was detected in the country and nearly three months after nationwide protests forced Saad Hariri's government to resign.
The Interior Ministry, which oversees internal security, has grappled with one of the worst years in Lebanon's tumultuous history. The year 2020 brought with it a triumvirate of crises: the country's economic collapse, the coronavirus pandemic and the Aug. 4 Beirut port explosion, which destroyed large swaths of the capital and killed at least 200 people. The explosion led Diab's government to resign on Aug. 10.
When Fehmi found out the blast was the result of some 2,750 tons of ammonium nitrate that authorities had haphazardly stored more than half a decade ago at the port, meters away from residential areas, Fehmi said his first thought was "screw this country" — a watered-down English translation of the minister's words, a crude Arabic insult referencing a female relative's genitals.
Fehmi, a father of three, said his son was badly injured in the explosion. "His back was full of glass, I told him to come [to my office] and not to take the place of someone [in the hospital] who might be more injured," Fehmi recalls.

After cleaning the wounds with rubbing alcohol, Fehmi removed the bits of glass from his son's back with a pair of tweezers. "I learned how to do these things in the army," he said.

More than five months later, Lebanese are still waiting for the results of the blast investigation, which has so far been slow moving and opaque. Several senior officials have been detained and the lead judge in the explosion probe has charged Diab and three former ministers with criminal negligence.
"Everyone [from the past seven years] should be summoned and investigated … all people," Fehmi said, speaking about officials. The ammonium nitrate had been stored in the port warehouse since 2014, a period spanning four governments, including two led by Hariri, the current prime minister-designate.

When asked if this statement included Aoun and Hariri, Fehmi responded: "Everyone."

"I said all people. Is President Michel Aoun not one of the people? Is he not at the top of the authority?" Fehmi said.

'Tear gas isn't harmful at all'

Even with this, Fehmi stopped short of condemning security forces for the use of excessive force against anti-government protesters demanding justice in the days following the explosion.
"Why don't you talk about the citizens that attacked the Internal Security Forces?" the retired general asked.

"Rubber bullets were used only when non-peaceful protesters attacked the security forces. Fehmi said. "Self-defense is a right, it is sanctioned by God. If someone attacks me, I have to defend myself." He however later denied the use of any type of ammunition by security forces under his ministry.

A heavily documented Human Rights Watch report found that security forces had used excessive force against mostly peaceful protesters in downtown Beirut on Aug. 8, 2020, causing hundreds of injuries. The report found that security forces fired live ammunition, metal pellets and rubber bullets, as well as excessive quantities of tear gas at protesters. The ISF denied claims they used live ammunition, but said that the Parliament Security Force did, an allegation the latter security organization also denied.

Of the thousands of protesters that day, 728 people were injured and at least 153 of them were taken to the hospital for treatment, according to the Lebanese Red Cross. Meanwhile, the ISF reported that one of its members had died and 70 of its members had been injured.

Fehmi insisted that the use of tear gas was necessary to prevent violence from escalating and to protect peaceful protesters.

"Tear gas isn't harmful at all," the minister said.
"Tear gas was used, yes. But look at France, look at what happened in the United States," he said, recalling violent anti-government protests that had also erupted in both countries this year where the chemical weapon was heavily deployed. "We didn't use [tear gas] in the way that some developed countries use it."
"I don't have another solution. I have tear gas, [which is] legal across the world to use, so I used it," the military man said. "We didn't use anything that we didn't need to use."

Fehmi maintained he was only doing his job as interior minister to protect peaceful protesters from violence and rioters who were destroying private property. He said he had provided buses for protesters to be sent home when the violence began. "We told them if they want to stay, they are not considered peaceful protesters," he said.
"I protected [peaceful protesters] with my body, in the same way I protected them before. You weren't alive when I was fighting to protect Lebanon and to protect the Lebanese citizens."
Fehmi claimed that he would never use his experience in war against a Lebanese citizen. But when asked how this experience has helped inform his decisions as interior minister, he said, "You saw how I dealt with protesters after Jan. 21. There were military tactics in dealing with protesters. This is my work; it is an instinct now."
'My whole life was with the army'
Fehmi began his military career at the age of 18. "My whole life was with the army. I was far away from the civilian world," Fehmi said.

Fehmi fought in the war as a first lieutenant and eventually rose through the ranks to become a brigadier general.

"I don't know how I survived," he said, pointing to a small indentation on top of his head where a bullet hit him during a clash in the midst of the Civil War. He lifted the side of his blazer to show where another bullet had entered his ribs. "This is the dirty war in Lebanon."
"Who was it [that shot me]? Doesn't matter, I forgot," he smirked.

Fehmi caused a stir in June when, during a live interview on Al-Manar television, he nonchalantly admitted to killing two people in 1981 during the Civil War. It was a rare admission of deadly violence by a Lebanese politician, many of whom also fought — and commanded military or paramilitary units — in the war.
Fehmi told Al-Manar that Aoun had vowed to protect him after the incident, which he said had formed a "spiritual relationship" between the two men. "[Aoun] said, 'Listen Mohamed, as long as I am breathing, no one will even poke you with a fork,'" he said. Aoun went on to become commander of Lebanese Army in 1984.
When asked why he made such a bizarre public statement, Fehmi shrugged and said, "I was still new to politics and media."

The minister explained that he and his team shot at armed militants that tried to ambush a checkpoint they were manning. "They're shooting at you and I shot at them. My reaction was to survive, which is an animal instinct," he said.
Fehmi's unusual confession is only one of many media blunders this past year. "I'm not good at public relations; I say what is on my mind," Fehmi laughed.
Most notable have been his persistent, sexist remarks during interviews, which have received widespread backlash.
At the tail end of 2020, Fehmi said in a televised interview with Al-Hurra that his predecessor Raya El Hassan's stint as interior minister had been a failure because "we're not in Britain, Sweden or London. In Lebanon, we have a culture where a woman cannot stoop down to such a low level." Hassan was Lebanon's first female interior minister.
"A man can stoop to low degrees in society; a woman cannot," he said.
This followed equally bewildering remarks in November during an LBCI interview in which Fehmi was discussing new coronavirus lockdown measures. When the interviewer asked how people were expected to manage with the closure of restaurants and delivery services, Fehmi said, "Let the women cook."
"I said it as a joke," Fehmi claimed. When asked if he could cook, he said, "I cook. I cook an amazing steak," but added that he only cooks from time to time.
'I can't arrest someone for not wearing a mask'
The arrival of the coronavirus pandemic soon into Fehmi's time in office, in conjunction with the economic crisis, was an enemy he had not encountered in war, but had to urgently address.
"The economic situation was already bad, and it got worse with COVID-19," the minister said.
Throughout the interview, conducted before the most recent spike in cases and lockdown, Fehmi appeared unconcerned about wearing his mask, only donning it when prompted.
For almost a year, the Interior Ministry has been tasked with the unprecedented role of enforcing nationwide preventive measures in an attempt to stop the virus from spreading. But for Lebanon, a country teetering on the brink of total economic collapse, forcing businesses to shut and citizens to stay at home is particularly complicated.
"[Measures] cannot be implemented because the economic situation is terrible in Lebanon. I have had a lot of difficulty with enforcing COVID-19 measures," Fehmi said prior to the current state of emergency. "Can I implement the law in every municipality? No, to tell you in all honesty."
Several attempts to enforce previous lockdowns and curfews had been met with nationwide noncompliance among many, some of whom say their only choice is to either die of starvation or contract the illness.
"I can't arrest someone for not wearing a mask. … Where am I going to put them? In what prison?" Fehmi said.
Despite high daily infection rates and intensive care units across the country almost at capacity, over the Christmas season, the Interior Ministry announced strangely conflicting measures, including the reopening of nightclubs at 50 percent capacity — but with a "no dancing" policy. Unlike many countries, Lebanon eased restrictions during the holidays in hopes of injecting foreign currency into its flagging economy.
The loosened restrictions — and the officials such as Fehmi who endorsed them — have been blamed for the ongoing COVID-19 disaster that picked up steam at the beginning of 2021 and has now overwhelmed many hospitals in the country.
But Fehmi points out that "in order to implement the [measures], the Lebanese government needs to provide citizens or businesses with aid at the very least."
A World Bank report said that half the population would be living in poverty in Lebanon by 2021, while the continued collapse of the national currency has made basic food and household items unaffordable for residents without access to dollars.
The future of Lebanon
Reflecting on his short term in office from January until Cabinet's resignation in August, Fehmi said he had no regrets. "I fulfilled all of my duties," he said with certainty.

However, he was far more critical of the overall performance of the Diab government as a whole.

"We didn't make any accomplishments as a Lebanese government," Fehmi admitted. "We've been busy trying to find a solution and organize around the collapse of the economy and health sector."'

When asked what the government could have done better, the minister said, "We should have been more united … the current government, we were shoulder to shoulder to a certain extent but not a lot."

Still, he insisted Diab's government was clean. "Point out which one [minister] is corrupt from the ones that are here now," Fehmi said. "I am certain there is no corruption in the caretaker government."
"They're all decent people, the ministers … well not all, but 90 percent of them," he said, smiling. He refused to name the 10 percent he was referring to, a commonality among politicians alleging corruption.
When it comes to the future of Lebanon, the Civil War veteran's outlook is bleak. Lebanon has been without a government since Aug. 10, when Diab's cabinet resigned over the explosion. Sectarian bickering over key ministerial positions has hindered efforts to form a new government which is desperately needed to enact key reforms and stop the country from hurtling into economic oblivion.
"We need to get rid of the sectarianism and confessionalism and get rid of the filth that has destroyed Lebanon," Fehmi said. "If we stay in this mentality and if the government is not formed soon … Lebanon is headed toward a tragedy."

"I'm saying a new civil war."


BEIRUT — Seconds after the shockwave from a colossal explosion at Beirut's port tore through the city on Aug. 4, caretaker Interior Minister Mohamed Fehmi said he ran to the back room of his office, certain he was experiencing an assassination attempt."Because of my army experience I have a reflex. … Within a fraction of a second I thought there would be another explosion in the office,...