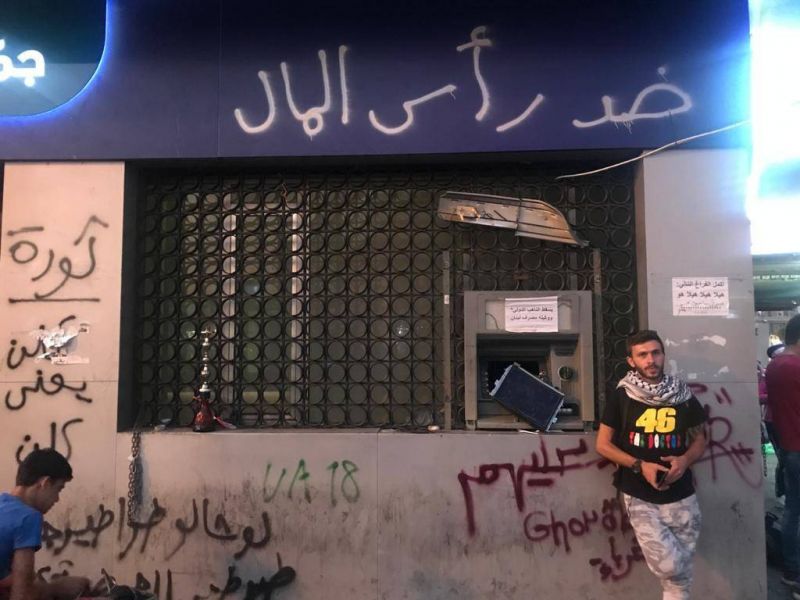 BEIRUT — On the afternoon of Oct. 17, 2019, Taher Zoghbi joined a small vigil in downtown Beirut's Martyrs' Square for a volunteer firefighter who had died while battling one of the massive wildfires that had torn through Lebanon's mountains days earlier.

"We were maybe 20 people," he recalled. "We lit our candles and said what we wanted to say … and then we were going to leave when one person said, 'Why don't we do a march and go from Martyrs' Square to Riad al-Solh Square next to the government palace, to deliver a message?'"
As they circled through downtown, he recalled, more protesters began to descend on the streets, with dozens swelling to thousands over the course of the next few hours. At the end of the night, Zoghbi and a few others decided to set up camp at Riad al-Solh to wait for the next day of protests.
"From that moment, I began to have a feeling that I was one of the original people who began this thing, and I really believed that this thing was going to get a result," he said.
* * *
Sarah Lily Yassine was out for coffee with a friend when the protests started. After she returned to her apartment in Ain al-Mreisseh, around 7:30 p.m., she walked out on the balcony and heard the sound of motorbikes revving and people shouting, "The people want the downfall of the regime!" and "Revolution!"
"When I heard that, I realized what was happening, even before turning on the TV or going online," Yassine recalled. After quickly checking the news and social media, she said, "I just went down to the streets."
* * *
The October Revolution drew people from disparate backgrounds, fed up with the status quo in Lebanon for different reasons, and they have taken different trajectories over the year since. Zoghbi and Yassine are a case in point.
(The two do not know each other. L'Orient Today chose to profile them because they represent different experiences of life in Lebanon and in the revolution).
Yassine describes herself as coming from a "privileged background." She grew up with a journalist father and a mother who was a human rights activist and encouraged her daughter to be politically active. A landscape architect, Yassine studied and worked abroad off and on but remained involved in Lebanon's affairs, joining civil society campaigns like Beirut Madinati and organizing efforts to protect Lebanon's coast from uncontrolled development.
Zoghbi comes from a working-class family. At the time when the revolution began, he was working occasional shifts in a restaurant but had struggled to find a steady job. His mother is Lebanese and his father Palestinian, meaning that in Lebanon, where he was born and raised, he is legally stateless, because the country's nationality law only allows men to pass citizenship on to their children. Changing that was of the main causes that sent him to the streets.
While Zoghbi camped out in Riad al-Solh, Yassine walked to the protests every day. In the evenings, she joined discussion groups in the tents that had been set up in the nearby Azarieh parking lot.
As an urbanist, seeing Beirutis out walking the streets of downtown and coming together in public spaces was like a glimpse of the Beirut she had always wanted.
"The city changed. From October to December, I witnessed something amazing in the city that didn't have a precedent," Yassine said.
While in the past she had joined organized activist groups, now she preferred to go alone to the protests and mingle with the crowd, befriending people she likely never would have gotten to know in normal life, like a teenager from Beirut's southern suburbs who used to sleep in the abandoned theater in downtown known as the Egg because he'd had a fight with his parents.
"The protest created squares and the squares became places to meet. … I feel like we were practicing democracy — this revolution gave us the chance to actually practice democracy," she said.
Zoghbi made a similar observation.
"The revolution made it so that someone with a lot of money would stand or sit or eat with a person who has no money and is someone normal, without the two of them knowing who the other was," he said. "This person owns a company, he has money, he has a family and so on, and I'm someone who has nothing. When we were in the revolution, we were together without me taking into consideration that he has all of this."
But with the euphoria there also came hard times — the nights when the rain would seep into his tent or collapse it altogether, the days when he could barely scrape together money for a pack of cigarettes. At one point, he tried selling bottles of water to the crowds but ended up giving them away and making no money. Another time, he tried selling corn on the cob.
But the hardest thing, Zoghbi said, was when supporters of Hezbollah and the Amal Movement — many of whom came to believe the revolution was against them — would descend on the square and smash or burn the protesters' tents. He would see among them many familiar faces, people from his own neighborhood.
"I would get really upset when I would see people who I know personally, and I know how poor they are and how they are not finding work and that in their house they don't have enough food for three people and they are more than five people and despite this, those people were beating and attacking people who were calling for their rights," he said. "This is something that will never get out of my head."
As the months went on and confrontations between protesters and security forces and between protesters and counterprotesters grew more violent, the size of the crowds dwindled.
But both Yassine and Zoghbi kept going to the streets until March of 2020, when authorities forced protesters out of the squares amid the coronavirus lockdown.
When the country began to open again, amid a worsening economic situation with the value of the lira crashing, protesters returned to the streets, although not in the same numbers as the previous fall.
Yassine returned with them — and kept returning even as the number of protesters dwindled.
As the anniversary approaches, protesters' hopes for an overhaul of the power structure look, in some ways, more out of reach than ever. Former Prime Minister Saad Hariri, who resigned in the first weeks of protests, has been gathering support for a return to the post, while other political leaders never left theirs. Still, Yassine remains optimistic that change is coming. She points to smaller victories — like the recent student council election at the Lebanese American University's Beirut campus, in which, for the first time, a majority of independent candidates won out over established parties — as a harbinger of things to come.
"I am very sure that next [parliamentary or municipal] elections will change a lot, because people have changed. People have left their political parties," she said. "We haven't had the opportunity to see this change really manifest, because we haven't had any elections yet."
Zoghbi is more ambivalent. He sees little point in returning to the streets and believes the authorities would move more quickly to quash a mass movement next time around.
"The revolution — the security forces agreed to let it happen, the state agreed to let it happen," he said. "Don't think they will agree to it a second time."
Like Yassine, he believes that the next parliamentary elections will be the true test of how much has really changed.
"We will know if the revolution succeeded or not when we get to the time when the Lebanese go and vote and decide who they want to represent them," Zoghbi said. "If I am a revolutionary, but in the end, I lose hope when the elections come and look for who will give me $200 to vote for him … that will be a failure." (He has, at least, gotten his mother to promise she won't take political parties' money or give them her vote next time around).
Yassine wants to be in the streets for the anniversary, but she faces a logistical challenge. She's on crutches after she fell in a hole and fractured her ankle during a recent protest decrying military trials of civilian activists and the security forces' violent response to mass demonstrations in the wake of the Aug. 4 Beirut port explosion.
Zoghbi isn't sure if he wants to go. For him, the anniversary commemoration feels more like a memorial. He would have preferred for the one-year mark to be a time to celebrate successes, "and not like we were coming down to light a candle for the soul of the revolution."

BEIRUT — On the afternoon of Oct. 17, 2019, Taher Zoghbi joined a small vigil in downtown Beirut's Martyrs' Square for a volunteer firefighter who had died while battling one of the massive wildfires that had torn through Lebanon's mountains days earlier."We were maybe 20 people," he recalled. "We lit our candles and said what we wanted to say … and then we were going to leave...