BEIRUT — "Even in Beirut, where we're used to a lot of smells, the nose needs to relax some time. So during this performance, people can —" Petra Serhal yanks the neck of her T-shirt over her nose like a surgical mask, and inhales. "Smelling your own body is the best way to reset your nose."
It's Saturday afternoon, Oct. 7, 2023, "smells day" on the reminders app of this reporter's mobile phone. Later in the evening, Christian Lange of Utrecht University will be at Orient-Institut Beirut, in Zoqaq al-Blat, to talk about olfactory thought in a selection of works by 17th-century Muslim philosophers, legal scholars and mystics.
This afternoon Beirut Art Center (BAC), in Jisr al-Wati, is hosting a performance of artist Petra Serhal's "Or When I Slept for 18 Days and Nights," a more visceral, but thoughtful, experience of scent. The bloodletting in Gaza has yet to begin.
Serhal's show mingles scent with movement, installation and sound design to explore how human bodies can be affected by intense, multi-faceted and enduring crisis — particularly the one that Lebanese have been enduring since 2019.
Before her show, Serhal sat to discuss "18 Days" and, as L'Orient Today doesn't have the most sensitive nose, its relationship to the other work she's completed since 2019.
Aromatic performance
The wall adjacent to BAC's small exhibition hall is stenciled with Arabic terms and phrases connected to breathing, both literal and metaphorical.
"Everything affects how we breathe. The way we breathe directly affects our movement and our body," Serhal says. The breadth of these expressions suggests the centrality of breath. "Like 'qat3a nafasi,' 'my breath is cut.' '3atara al-nafas' literally means 'on the beat,' but it's also 'with every breath.' Some phrases, like 'the breath between us,' are related to distance. 'Lafasit al-nafas al-akhir' is like, 'I died.' Whenever you breathe, it speaks to what your body is doing."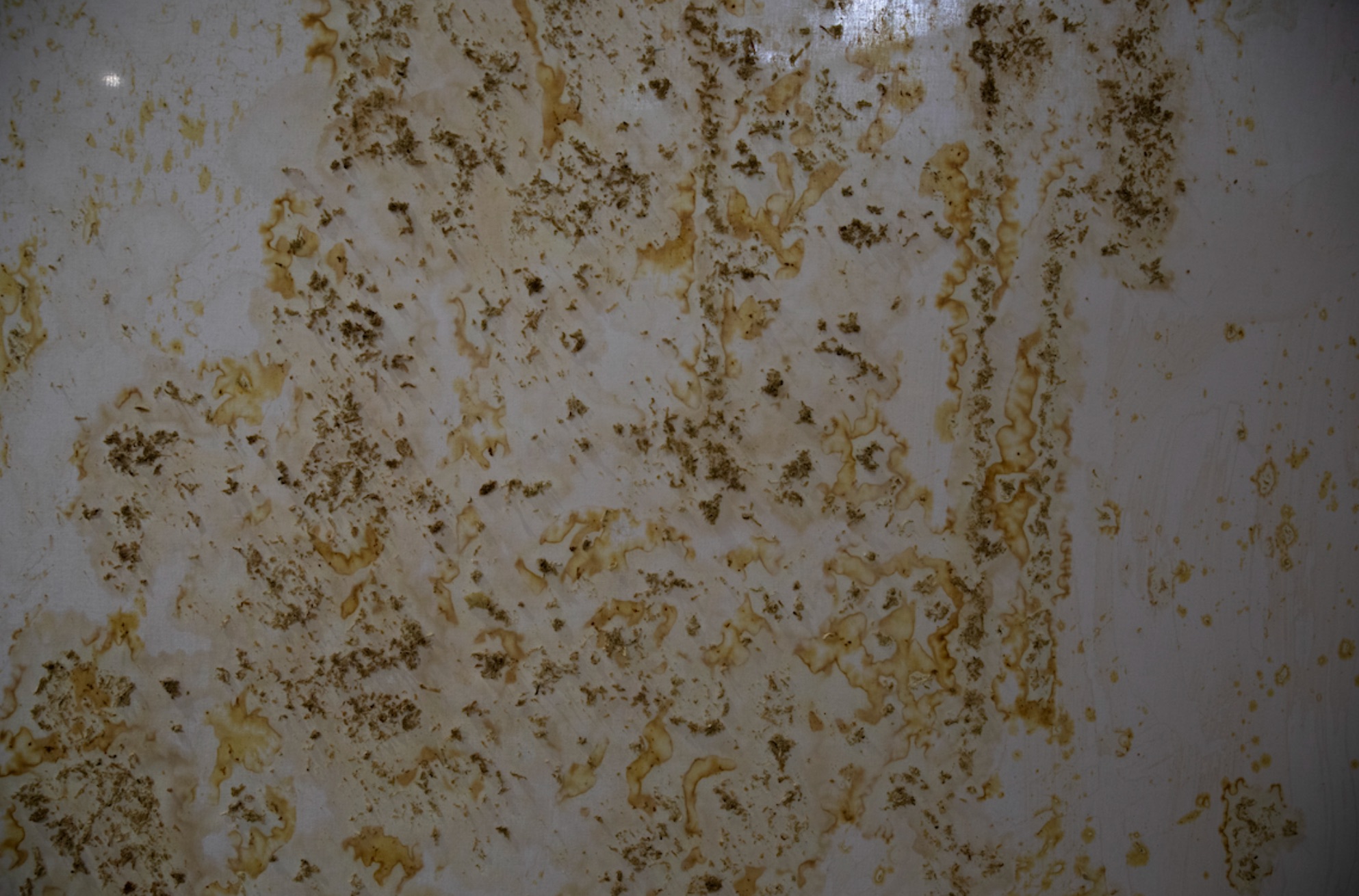 The scent installations in Petra Serhal's Beirut Art Center performance 'Or When I Slept for 18 Days and Nights' don't necessarily evoke pleasant odors. (Credit: Elsie Haddad)
A necessarily small crowd, fewer than 10 people, has assembled in BAC's lobby. Each guest is given a piece of unscented cloth — to help purge lingering odors. The hall is hung with lengths of gauzy fabric to create a translucent, maze-like installation, designed by Daniel al-Choueiry.
On the floor of the maze, you find a barefoot young woman (Serhal) sitting in a formal-looking dress, cut to maximize freedom of movement. An elaborate coil of black gauze-like material about her head hides her eyes.
With the audience arrayed around her, the performer crouches, as if in a defensive stance, sniffs the air, above and below, left and right, then extends a hand. Serhal never utters a word during the work, but the sound of her breath is a principal motif of Kinda Hassan's sound design. When one of the guests takes her hand, the performer leads the party deeper into the maze.
For the next 40 minutes or so, the performer takes visitors on an interactive journey through a space where odors redolent of Beirut — whether fragrant or pungent — provide a mise en scene of scents for her choreographic interpretation of a body in crisis.
The smell of trauma
"Since I was young I've had a very peculiar sense of smell," Serhal tells L'Orient Today. "When I had COVID in 2021, I stopped being able to smell and I realized I lost my sense of direction too. I didn't feel the space around me the same way. Very weird."
In various ways, she says, the first months of the crisis — the state's liberal use of teargas on demonstrators in late 2019-20, the masking and isolation of the COVID pandemic — literally restricted Beirutis' breathing, while the economic and financial crises arrested Lebanon's breath metaphorically.
"I felt the need to use smell in a new work. Smell is part of the space we inhabit," she says. "The 'smell-scape' of each place stays in our bodies.
"I didn't want to talk about the collapse itself but how the collapse affected my body between 2019 and 2022. I wanted to look at moments where I lost control over my muscles in different parts of my body."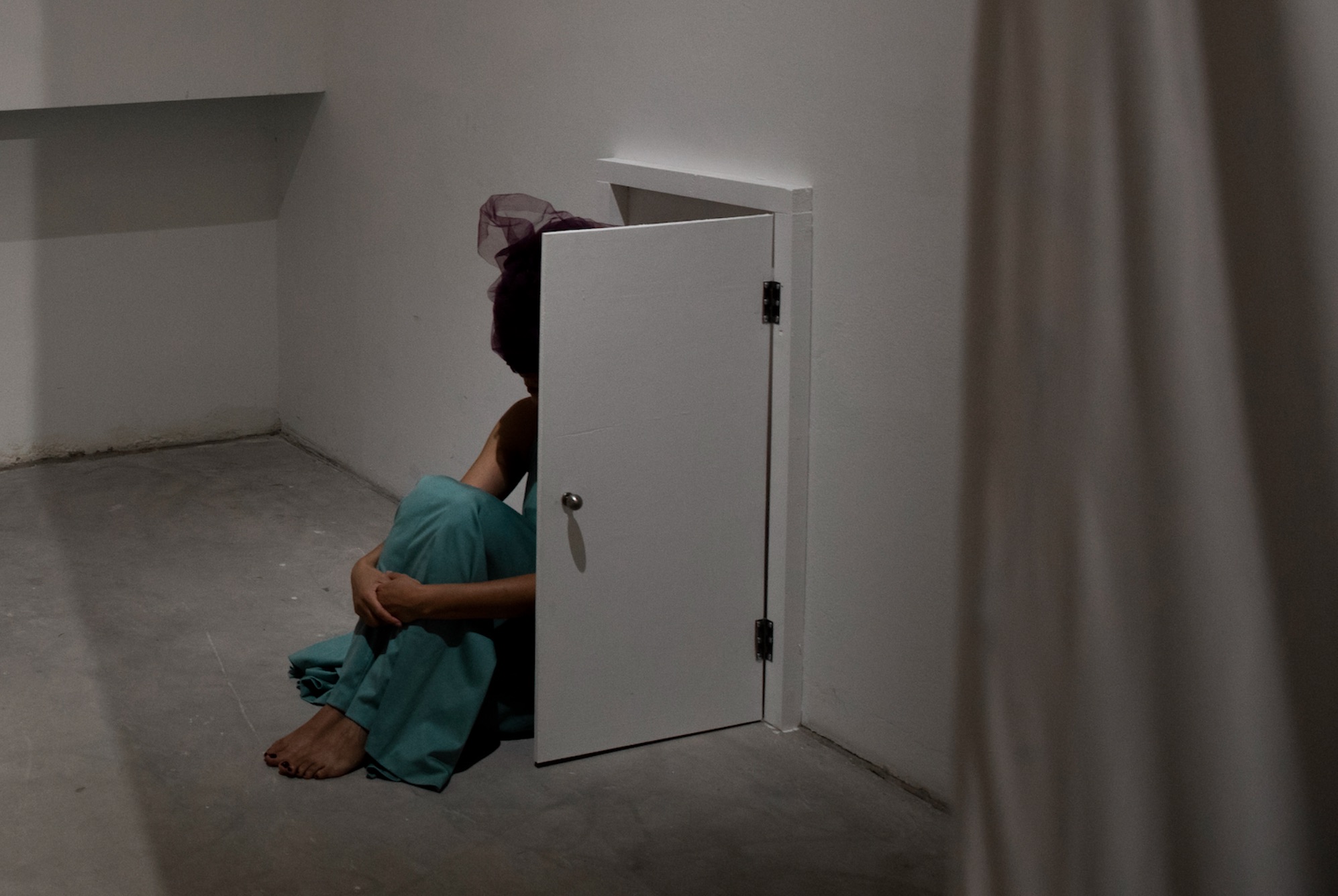 Artist and performer Petra Serhal in place for the start of her Beirut Art Center performance 'Or When I Slept for 18 Days and Nights.' (Credit: Elsie Haddad)
Serhal began researching perfume-making in France and, responding to an open call from Nafas (a mid-crisis residency program French institutions offered to 100 Lebanese artists and creatives), launched a collaboration with the Grasse Institute of Perfume, recreating Beirut's smells and fragrances.
"I started researching both how we extract smells and where smells can take us — how they trigger memory ... Because I work in choreography, the space, the body and time are the most important elements of this piece."
Developing these Beirut scents took about four months.
"I had in mind certain private and public spaces in the city that I think affect or are part of our collective daily lives in Beirut. So I explained [to the Grasse perfumers] the smell of a specific tunnel in Beirut, for example… They would have me smell the molecules they'd combined ... Some fragrances, a flower say, were easier, but in most cases, it's not a single smell that gives you the feeling of a place but a mix of odors."
Because some of this show's odors aren't benign, Serhal uses fabricated scents, not strong-smelling materials.
"I didn't want to trigger allergies and physical reactions during the performance," she says, "but I did create smells of trash, burned tires, poop — stuff that you encounter on the street. Some smells are not exactly the same [as the original], but they would make you feel that you were in Beirut."
Scents were also part of the artist's 2019 performance "Toyota 89," staged at The UMAM Hangar in Haret Hreik. In that show, members of the public were blindfolded and led into a darkened space to tread across a range of surfaces (metal, plastic, tile), then to recline amid tactile sensations familiar to the Beirut experience — whether foam mattresses, gravelly ground or wire mesh — and follow a story Serhal recounts, occasionally accentuated by the scent of fresh coffee, yasmine or mint.
"In ['Toyota 89'] I used very small doses of the actual material — benzine [gasoline], zaatar [thyme], etc — so it didn't affect people badly. It worked, so I wanted to develop the concept. There are many Beirut smells that I didn't use [in '18 Days'], because I wanted to try something else."
Theatre of intimacy
"The body and the senses," Serhal says, "are present in most of my work."
The artist's early performances were with Dictaphone Group, the research-performance collective co-founded by artist Tania El Khoury and architect Abir Saksouk. A trace of Dictaphone's activist aesthetic was evident in her earlier solo work, like the 2017 performance "Overlooking and Panoramic," but Serhal's recent performances have been more intimate.
"I'm present live in most of the work I've done in the past few years, but not all," Serhal says. "I also work on the absence of the body. The work brings the audience into an intimate space with the performer, whether the performer is live or not."
Serhal points out that the narrative component of "Toyota 89," while apparently recounting a surreal drive from Hamra to Achrafieh, is using "a body's fragmentation as a way to talk about the fragmentation of the county and its history of political assassinations."
The artist's body was physically absent, too, from "If You Wish To See Me Dancing, You Ought To Visit The Passing Cloud," her contribution to "Allo Beirut?" — the long-running multidisciplinary exhibition that opened at Beit Beirut in September 2022.
"Dancing" takes the form of a 14-minute audio-visual installation for one audience member at a time. It's the third in a series executed during COVID lockdown. The first, "Live /laiv/" was Serhal's live-stream exchange with her UK curator, exploring what "live" performance means when physical contact between performer and audience is impossible. What remains is a video document of that conversation. The series' second work staged a version of "Dancing" on Serhal's Instagram page.
"Dancing" is pegged to a post-apocalyptic ambiance familiar to anyone living in Beirut in 2020. A young woman is shown moving through a nighttime urban space. Light is largely absent, cast by her mobile's flashlight, candles and random movement-triggered illumination she encounters along the way. The silent protagonist moves through a series of frames whose perspectives suggest she's being monitored by security cameras. The lone audience member assumes the role of voyeur.
"Although I'm not present live," Serhal says, "the audience experiences an intimacy similar to [a live show] because they follow the sound and visuals and navigate the space the same way."
Losing control
While a degree of audience intimacy is integral to her past work, the performer is much more present in "18 Days" and, as the beads of sweat on her exposed skin suggest, Serhal has choreographed extremity into the movement — as when she staggers back after holding a pose in demi-pointe (the balls of the feet) for some minutes.
"18 Days," she says, "is rethinking how choreography and movement can lead the body to a moment where I lose control ... I'm working on deep muscles — the stomach, the knees, the legs … body parts affected [when I lost my nose]."
Partway through, the artist sheds the formal attire and completes the show in a two-piece ensemble reminiscent of a 1930s swimsuit. The performance ends with Serhal reclining atop an elevated surface, daubed with various scents.
It might be an awkward moment for some audience members. The gesture is reminiscent of some performative body art from the 1960s and '70s — when artists used their flesh as media to experiment with vulnerability and self-harm — though here the harm is figurative or latent.
"It made sense for the body to finally collapse, or relax [as if in] death," she says, "as when you put a corpse on a table … to dissect it through its smells. What's happened to this body? What traces are left of this body?"
Serhal has drawn upon a variety of cultural references for this final gesture.
"The smell of a body, and what kind of scent you put on it to smell good before [burial], is important in our culture," she says, "and there are paintings that depict Jesus being laid out after crucifixion, for example, or a body on a dissection table. I'm not representing any of these. I'm simply referencing the images.
"Representing the body's vulnerability is the hardest part in this piece." She pauses. "People ask if I feel safe. I do feel safe. I don't feel violated. It seems organic."
Being smelt is not always benign. Serhal choreographed the act of smelling into a recent piece, the duet performance "Suspended Between the Second and the Third Kiss," which premiered at Tanz Bremen contemporary dance festival in 2021. Performed within a transparent cube that separated the two performers from the audience, its movement explores physicality in human power relations and how it oscillates between intimacy and control.
"I let go. I let things happen and, yeah, I don't feel very relaxed," she says. "It's choreographed to make the audience feel uncomfortable. It makes me feel uncomfortable too. Every time I do this scene, it's very hard for me."
She pauses, and chuckles.
"But I choreographed it."
BEIRUT — "Even in Beirut, where we're used to a lot of smells, the nose needs to relax some time. So during this performance, people can —" Petra Serhal yanks the neck of her T-shirt over her nose like a surgical mask, and inhales. "Smelling your own body is the best way to reset your nose."It's Saturday afternoon, Oct. 7, 2023, "smells day" on the reminders app of this...