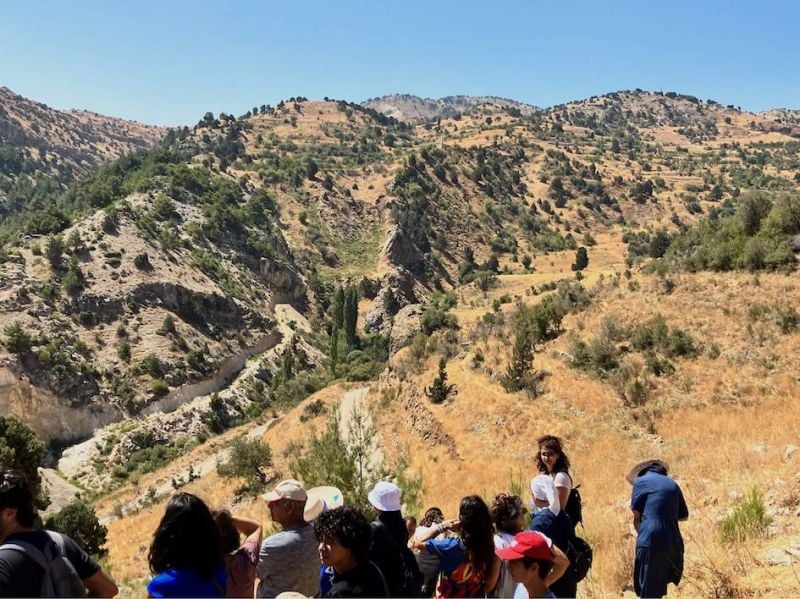 QOBEIYAT, Akkar — "This wadi is very deep and long," Ata Elias gazes down to the valley below. "It should have been created by some big watershed."
He glances left, where water can be heard trickling on the west side of this ridge. "But this watershed is too small to have carved this valley. You can see there is a misfit between the two."
The nearest of a series of stone outcroppings juts skyward from the grass, dwarfing this cluster of humans like the weather-beaten dorsal fin of a gigantic stone shark.
The geologist has led a party of hikers into Karm Shbat nature reserve in northern Lebanon's Akkar governorate. A 45-minute drive from Qobeiyat, the 520-hectare reserve is said to be 1,400-1,900 meters above sea level. In addition to several species of flora and fauna, it's home to this photogenic segment of the Yammouneh Fault, which bisects Lebanon north-to-south. This ridge demarcates the meeting point of two tectonic plates — the African plate to the west and the Arabian plate to the east.
The mountain landscape here was transformed by the movement in the earth's crust, causing the Arabian plate to break off from the African plate — and creating the Yammouneh Fault, where the two plates grind against one another as they migrate north.
At this fault, the plates "move horizontally past each other. Here we are now on the Arabian side of the fault, so we're moving north faster than the African side ...
"The rock where you're sitting," Elias nods to one of the hikers, "it cannot have come from more than 105 kilometers south."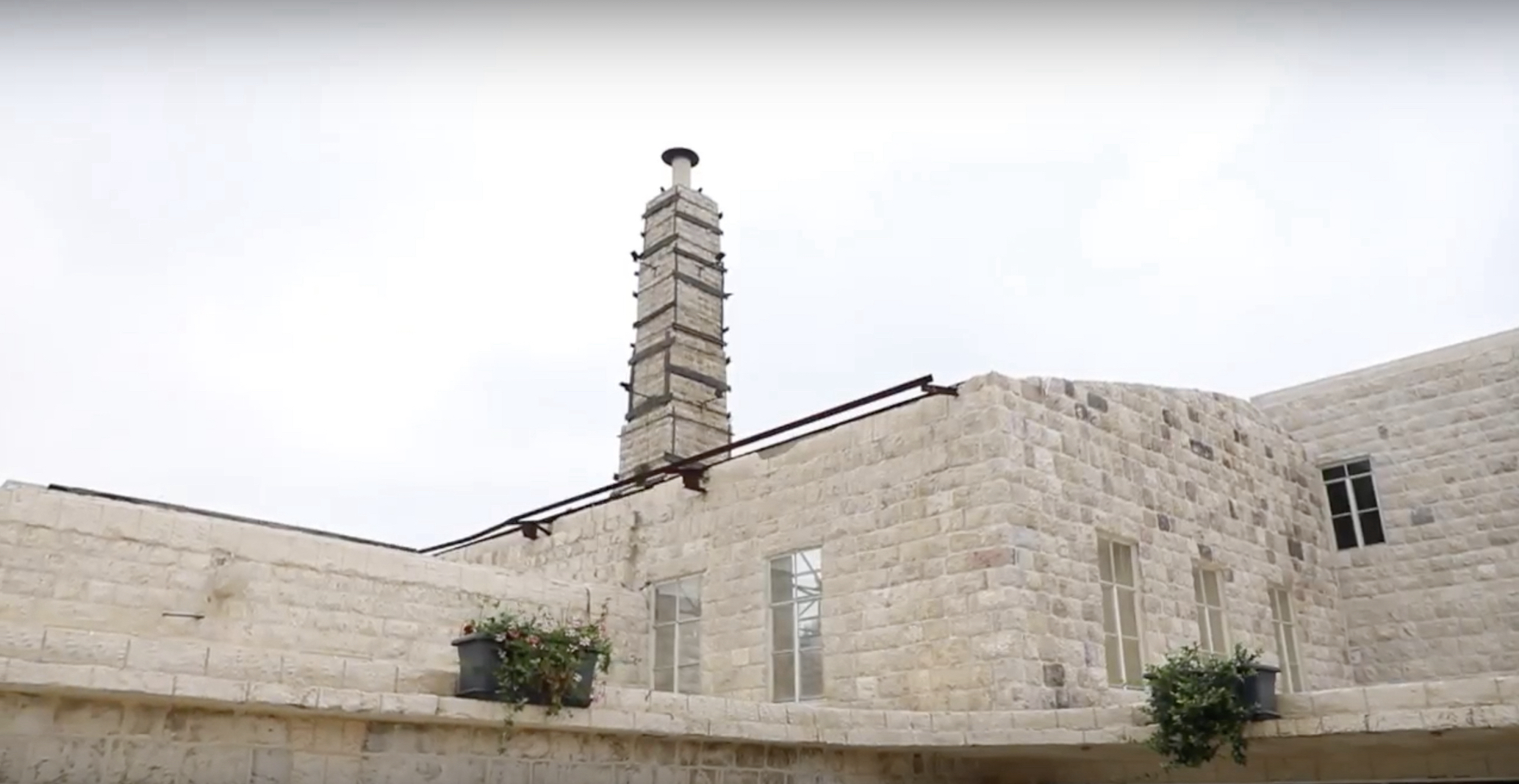 Qubayat's old silk factory smokestack as seen from the facility's courtyard. (Credit: Courtesy REEF)
Silk to cinema
There are Lebanese villages further north, but Qobeiyat itself feels far from the charming grime and humidity of Beirut. The town comprises seven quarters, each with its own mukhtar. Its altitude apparently varies from 550 to 900 meters, depending what district you're in. As Google flies, it's about as close to Tripoli (50.6 km) as it is to Homs (49.8 km), but a crow will reach Homs faster — Tripoli is 90 minutes by car, while Homs takes just an hour.
Qobeiyat's former silk factory is a short walk downhill past a church, a Carmelite convent and monastery, and a house flying the flag of the Knights of Malta. In the shadow of its 30-meter stone smokestack, the factory has been renovated on a monumental scale, now an impressive multi-storey, stone-clad complex ranging around a broad paved courtyard and a more intimate garden enclosure.
It's late Friday afternoon, the start of September, and filmmaker and educator Eliane Raheb sits near the facility's front gate amid a handful of white plastic chairs. As young volunteers and attendees come and go, she regales a Brussels-based filmmaker with the location's origin story.
Sometime in the 19th-century, when the coast was one entity and the mountain another, a doctor named Alessandro Cassini landed in Beirut. The Italian was mourning his wife's death when his friend, a priest, took him to his village in the Akkar uplands, in hopes of elevating his spirits.
"He fell in love with the place and married a Lebanese woman," says Raheb. "In those days the region had no doctors so he became the local physician."
Lebanon was then a center for sericulture and, as "Cassini was wealthy, he built a silk factory here. He owned three of them. The other two were nearby, in Andaqit. This one operated until the mid-1980s. It closed after they started importing silk from China — a problem for silk production all over Lebanon," she says. "After that, it continued as a soap factory, I think, but it shut for good during the [Civil] War."
Today Cassini's descendants have an Italian restaurant in Achrafieh, Raheb smiles. They sold their great grandfather's first silk factory to a wealthy expat living in Brazil.
"The owner wanted to develop the factory as a cultural space," she says, "so when he heard we were doing a film festival, he offered it as a venue. He renovated it. We equipped it."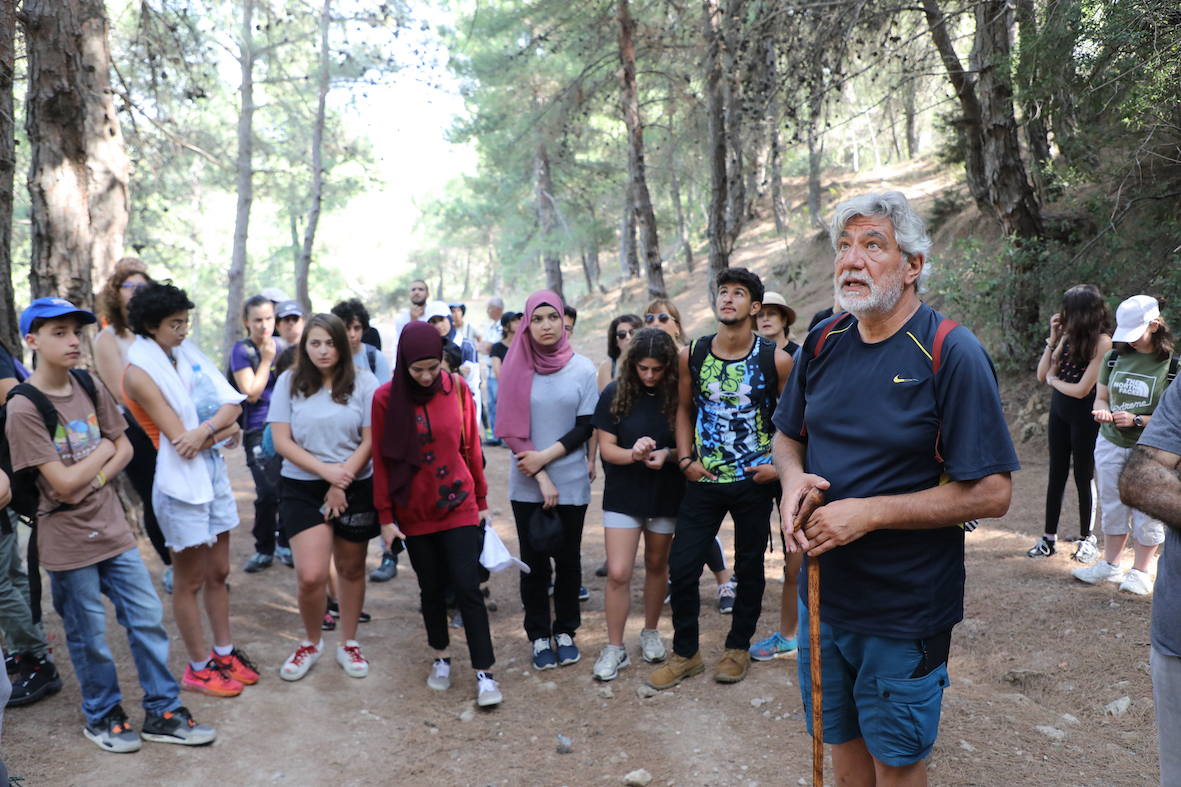 REEF hikers in the Halbousah valley with REEF president Antoine Daher, right, Sept, 1. (Credit: Courtesy REEF)
Raheb is the artistic director of REEF (Rural Encounters on Environment and Film), meaning "countryside" in Arabic. Her collaborator in Qobeiyat is festival president Antoine Daher, the head of Akkar's Council of Environment and, like Cassini, a medical doctor.
L'Orient Today has arrived on site during a scheduled lull in the festival program. This morning Daher led energetic attendees on a hike through the Halbousah valley, whose springs provide Qobeiyat's drinking water, and chatted with farmers about how they've been affected by climate change and unregulated logging.
Later in the morning, REEF projected "Lene and The Forest Spirits," Dieter Schumann's kids-friendly (Arabic-subtitled) feature-length nonfiction about a German girl's discovery of the Bavarian forest.
The day will end with a projection of Jerzy Skolimowski's 2022 feature "E.O." — a scalding critique of human disregard for living things, disguised as the sweet tale of a donkey (E.O.) taken against its will from the down-at-heel circus where it performed. The film's roomful of accolades includes the Cannes film festival's jury prize.
As film festival's go, REEF's mission is more multifaceted, with appreciation of cinema and the rural habitat linked by an activist ethic. As climate change and its various symptoms — flood, drought, food insecurity, migration, bigotry and political chauvinism — elbow their way into popular consciousness, REEF's profile has risen. At this edition of the festival, conversation has addressed shifts far beneath the soil as much as what moves upon it.
While REEF's afternoon lull persists, its artistic director reconvenes with L'Orient Today at the Cassini family's former home, an onsite stone house facing a garden courtyard and fountain.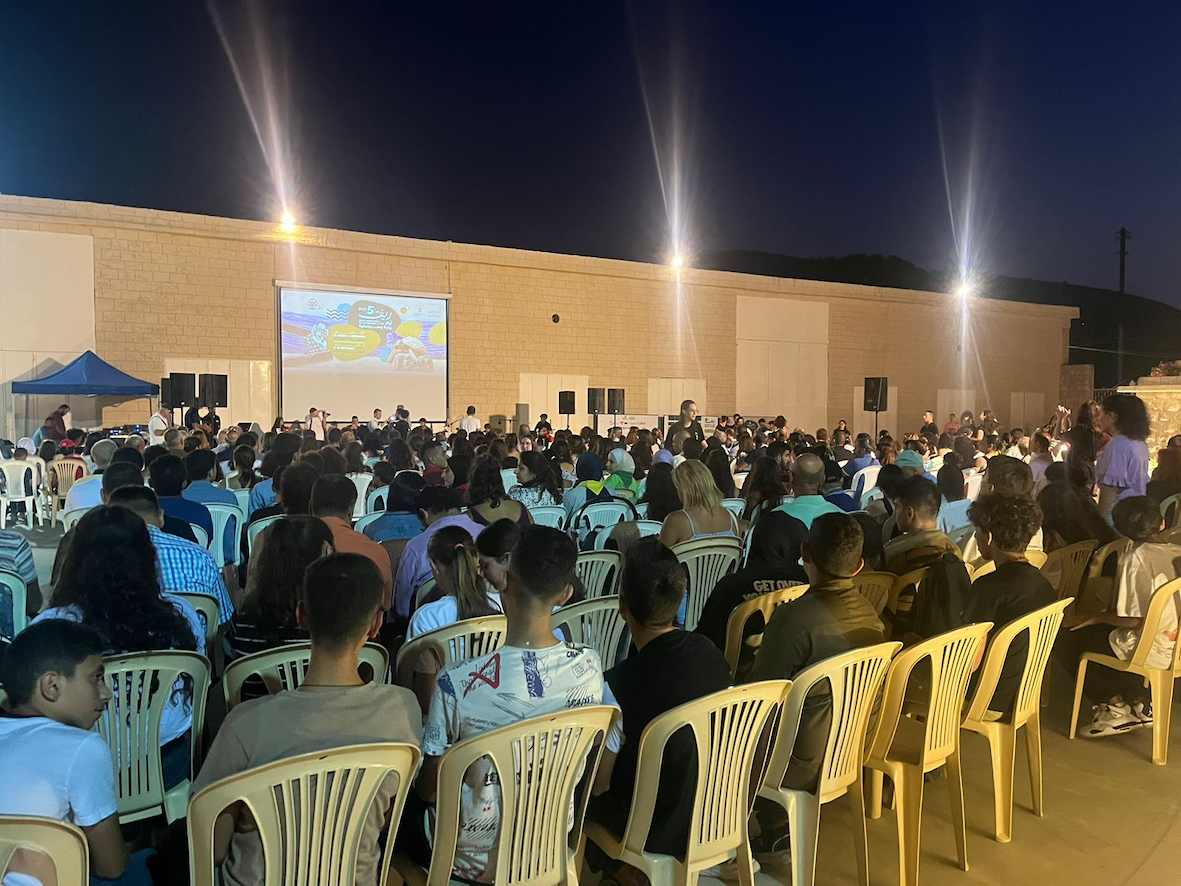 REEF's opening night concert at Qubayat's old silk factory, Aug 31. (Credit: Courtesy REEF)
Global in the local
Raheb programs REEF's slate of international and national titles. Many of the works have rural or environmental themes, as you might expect, and most are being projected in Lebanon for the first time. Award-winning international features and shorts located close to the land mingle with informative documentaries on activists engaged in grassroots rural initiatives worldwide and regional productions with rustic locations.
There are also locally-made shorts, workshopped with REEF collaborators. For the 2023 edition, "1 Minute for a Film" saw Egyptian filmmaker Amal Ramsis develop several micro-films with Akkari women. Fadi Syriani, founder of the Youth Animation Platform, worked with aspiring filmmakers from Hermel, aged 13 to 18, to make a selection of stop-motion animation films.
Raheb's filmmaking activism is rooted in Beirut DC (Development and Cinema), which she co-founded late last century — an association of young filmmakers and fellow travelers who gather in a historic house in Furn al-Shubbak to collaborate in making movies, and exhibiting MENA region films, in Lebanon. Rebranded Aflamuna ("Our films") in June, Beirut DC has been a major backer of REEF's five editions.
Transformation is the theme of REEF 2023, and the event's fifth edition is bigger than past years. The program has been thickened with a new mid-length film competition, while a pair of institutional collaborations have given the festival a theatrical face.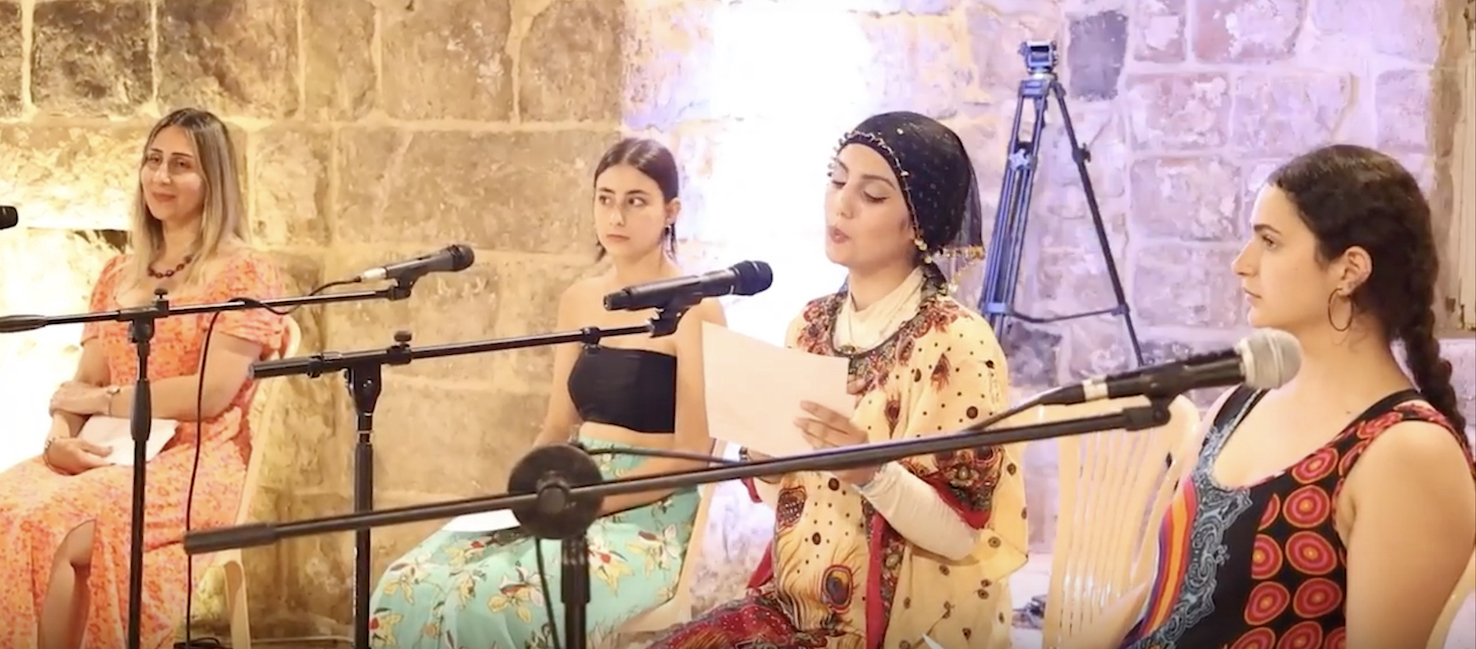 Nonprofessional actors from Akkar perform stories from Nabaa Banat Sept. 1. at REEF. (Credit: Courtesy REEF)
"People here like theater, even more than films," Raheb smiles. "We helped put in place Qobeiyat's cine club [based in REEF's daytime projection hall], and there is local musical talent and performance events, like Fetes de la Musique. Conservatoire Lami is very active and trains many young musicians — some performed during the festival's opening-day parade.
"Theater was missing. So we decided to introduce a performance program that's in line with the themes we're working on — very small-scale productions, touching on transformation."
One of the collaborators, the women-driven oral history initiative The Knowledge Workshop, devised a performance based on local stories around Qobeiyat's Nabaa Banat ("Girls' spring"). It was activated by a female cast of nonprofessional performers from Akkar, coached by Beirut artist Rima Kaddissi.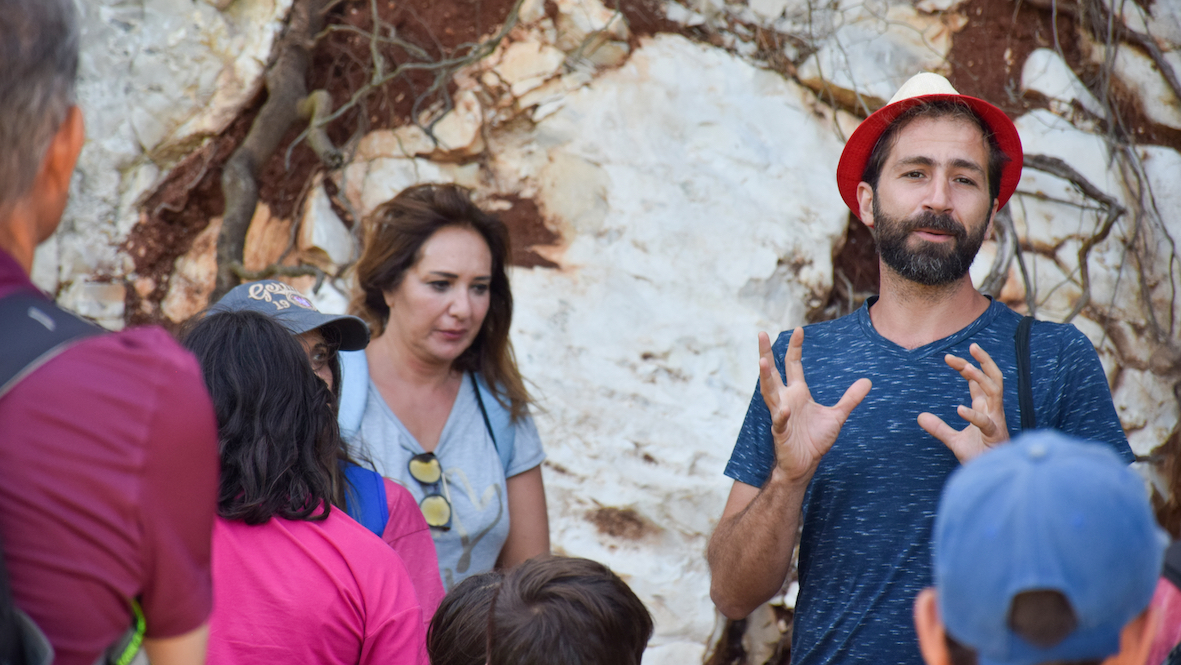 Collectif Kahraba's Aurelien Zouki, right, introduces the 'Artistic Trail' in the Halsban Valley, Sept. 3. (Credit: Courtesy REEF)
Collectif Kahraba, the theater troupe that founded Hammana Artist House, brought three different performances to REEF. On Friday evening Aurelien Zouki and Éric Deniaud performed "Origin of a Tale," exploring the genealogy of fables. Kahraba's solo clown act Vol Terre visited a retirement home on Sunday. Kahraba on Saturday assembled 10 performers to activate "The Artistic Trail" — staging micro-performaces of music, dance and theater along the Halsban Valley hiking trail. Hikers were encouraged to walk at a sauntering pace and to refrain from conversation.
"Silence is something that society doesn't encourage anymore," Zouki tells L'Orient Today. "It is something that connects you to yourself, so it enables you to connect with others."
The performers come from all over Lebanon. Soloists Farah Qaddour (buzuq) and Oussama Abdel Fattah (oud) are both from Akkar, as is Eliana Sattouf who, accompanied by vocalist Chantal Mailhac, performed circus-style aerial movement while suspended from a tree branch by a red ribbon. Actress Raghda Mouawad, who materialized on the trail in a wedding dress to perform a tragic monologue, is from Beirut. Storyteller Nassima Alwan, who recounted a sylvan tale from Greek mythology, is from near Hammana. During the hike's brief diversion through an arched stone tunnel, Tripoli-born soprano Mona Hallab was encountered performing an opera aria.
"We don't take a militant position like, 'We are working against the country's sectarian and psychological borders,'" Zouki muses. "We just do it. People meet Nassima Alwan and hear that she speaks with a Durzi accent, so she's from a different community but we are all the same. We share this capacity to be disturbed, to be amazed, to be surprised by artistic works. It doesn't matter if we are from the Beirut cultural elite or attending this kind of thing for the first time."
Kahraba's contribution to REEF's fifth edition is part of a wider collaborative initiative in various regions of Lebanon.
"Collectif Kahraba was created in 2007 with a desire to go to the country's different regions with ephemeral performances that can fit in my car, and be installed in non-theatrical spaces," Zouki reflects. Before the troupe's participation in REEF, "there was a long conversation on how and what we can work together. There is a human chemistry between REEF's team and our team. We share a similar vision of how culture can improve society."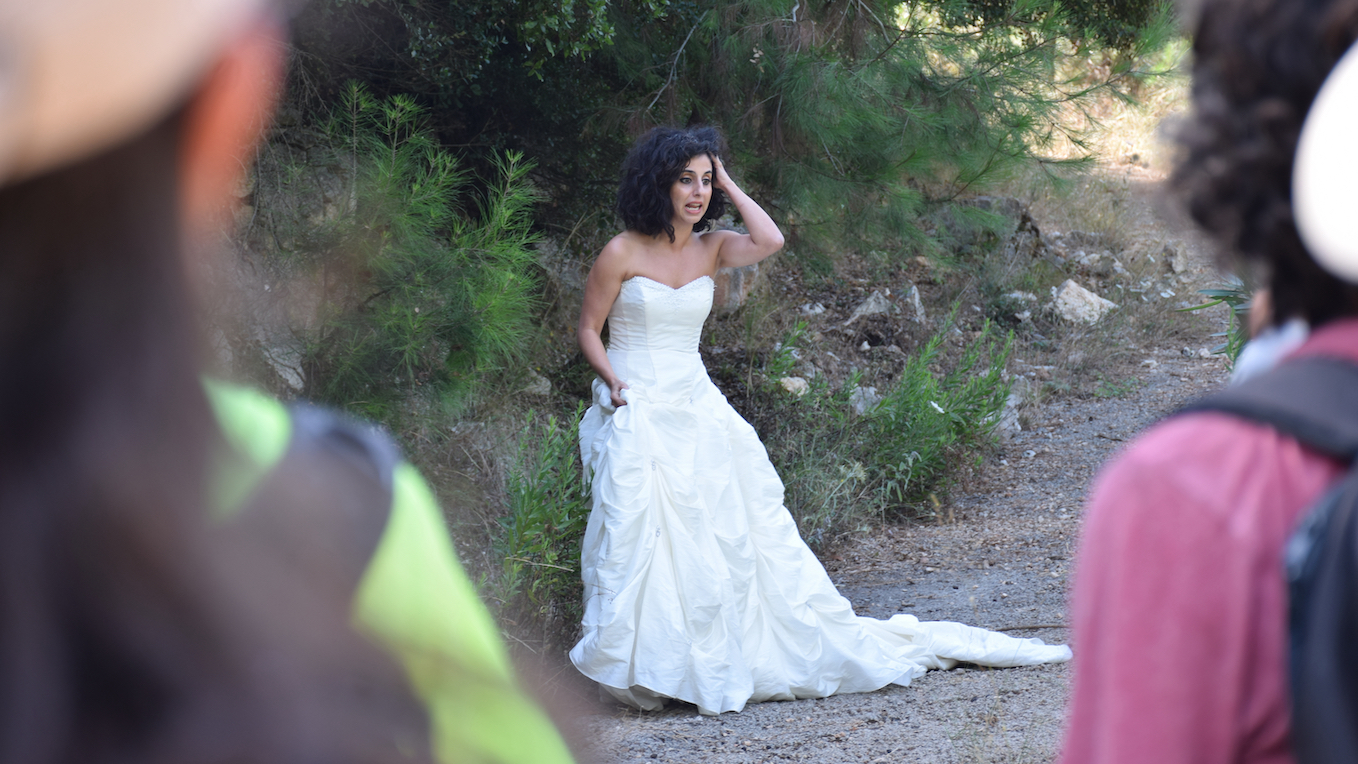 Raghda Mouawad performs on Kahraba's 'Artistic Trail' in the Halsban Valley, Sept. 3. (Credit: Courtesy REEF)
One of REEF's charms is its marriage of local performers, audiences and issues with international filmmakers' perspectives on related themes.
"We get a lot of locals in our audiences," says Raheb, "many people from the surrounding villages, and we support them with bus transportation. This is becoming a bit problematic. Akkar is huge — the nearest village takes at least 20 minutes by car — and transportation is expensive.
"For Saturday's opening, we had 1,000 people. Many came because we'd had a parade and local musicians performing. Others were the young performers' families and fans. We try to build most of our music and workshop programs on local talent."
All REEF's events are free of charge, so collaboration and sponsorship are central to the festival.
"Our main donor this year is Al-Mawred, which has a grant for NGOs collaborating outside Beirut," she says. "When REEF goes to Hermel for its second leg [September 8-10], it's a collaboration between Hermel's Muntada Thaqafi [Culture Forum], the Council of Environment and Aflamuna.
"We wanted the fifth edition to be special," Raheb says, "Will next year be this big? I'm not sure. We are a very small team with a lot of volunteers. You can't make a big festival this way. We need to hire more key people, which is expensive for us. We're going to evaluate sustainability afterwards. We do weekend events all over Lebanon, so maybe we'll stage more weekends in Qobeiyat."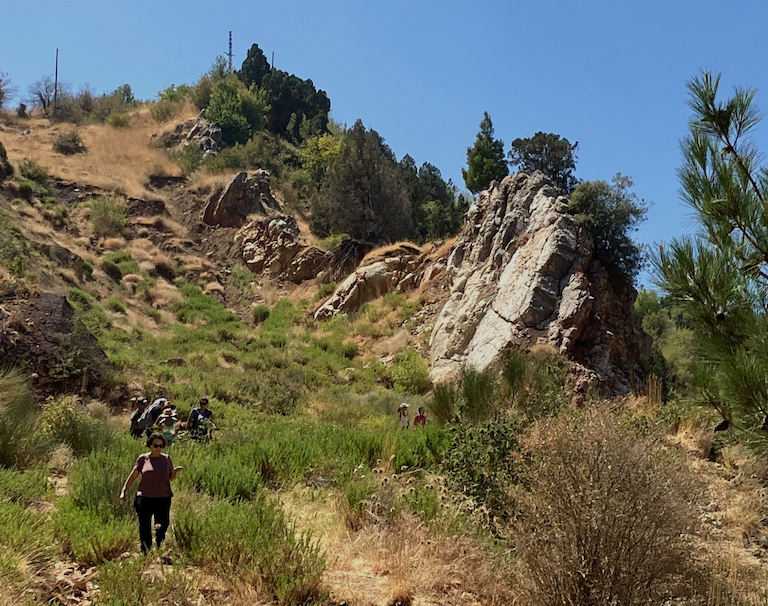 REEF participants at Yammouneh Fault, Karm Shbat nature reserve, Sept. 2. (Credit: Courtesy REEF).
What lies beneath
Ata Elias teaches geology at Lebanese University. Over the years he's published several scholarly papers on the long history of this region's tectonic plates and fissures. Before leading REEF participants on a Saturday morning hike along the Yammouneh Fault, he delivered an informative talk about the region's geological history. Explaining his enthusiasm, he said he loved studying a living planet — unlike Mars, say, which science has found to be geologically inert.
Lebanon's history of earthquakes was a topic of discussion this morning and Elias has been called upon to comment on the country's earthquake preparedness.
"I have a collection of pictures of the houses I've visited and places I spot on highways and roads," he says. "I take pictures of the type of structural engineering that we should not be seeing in Lebanon. You see it everywhere.
"That's something to worry about, but again, the solution is very easy. If you worry about something, you have to act. If you do nothing, trouble will come one day. It's no mystery. We are living in a country where we have earthquakes. Small ones or big ones, they will recur. That's for sure. Nobody knows when.
"How would I feel if it happens tomorrow?" he says. "I'd feel very stupid to have been living here without taking this hazard into consideration. The first thing is to tell people that they have this hazard around them. Awareness is key, as we say.
"Awareness also makes people responsible for their actions. We have been saying this to all types of people — highly placed people, presidents of republic, ministers, prime ministers, MPs, muhafizun, school students, teachers. Now it's their responsibility to do something."
Town, country, cinema
The REEF Souq, Qobeiyat silk factory. (Credit: Courtesy REEF)
In the evenings, the garden courtyard facing the old Cassini residence (designated the REEF Souq) comes alive with local merchants manning kiosks showing their wares — handmade jewelry, scarves, preserves and the like, northern variations on Lebanese cuisine (from kishik saj to home-cooked malfouf (cabbage rolls) to sweets) to araq, the eastern Mediterranean's high-octane antecedent of pernod.
Business is especially brisk this Saturday night, as the souq provides a sort of exterior annex for "Rouh" ("soul" or "go"), a fashion show presented by Rytta couture. In the spirit of Transformation, the show features clothing made from up-cycled fabrics. Spirited and amused, the catwalk audience drowns out the DJ accompaniment as they cheer on the barefoot amateur models, all REEF attendees.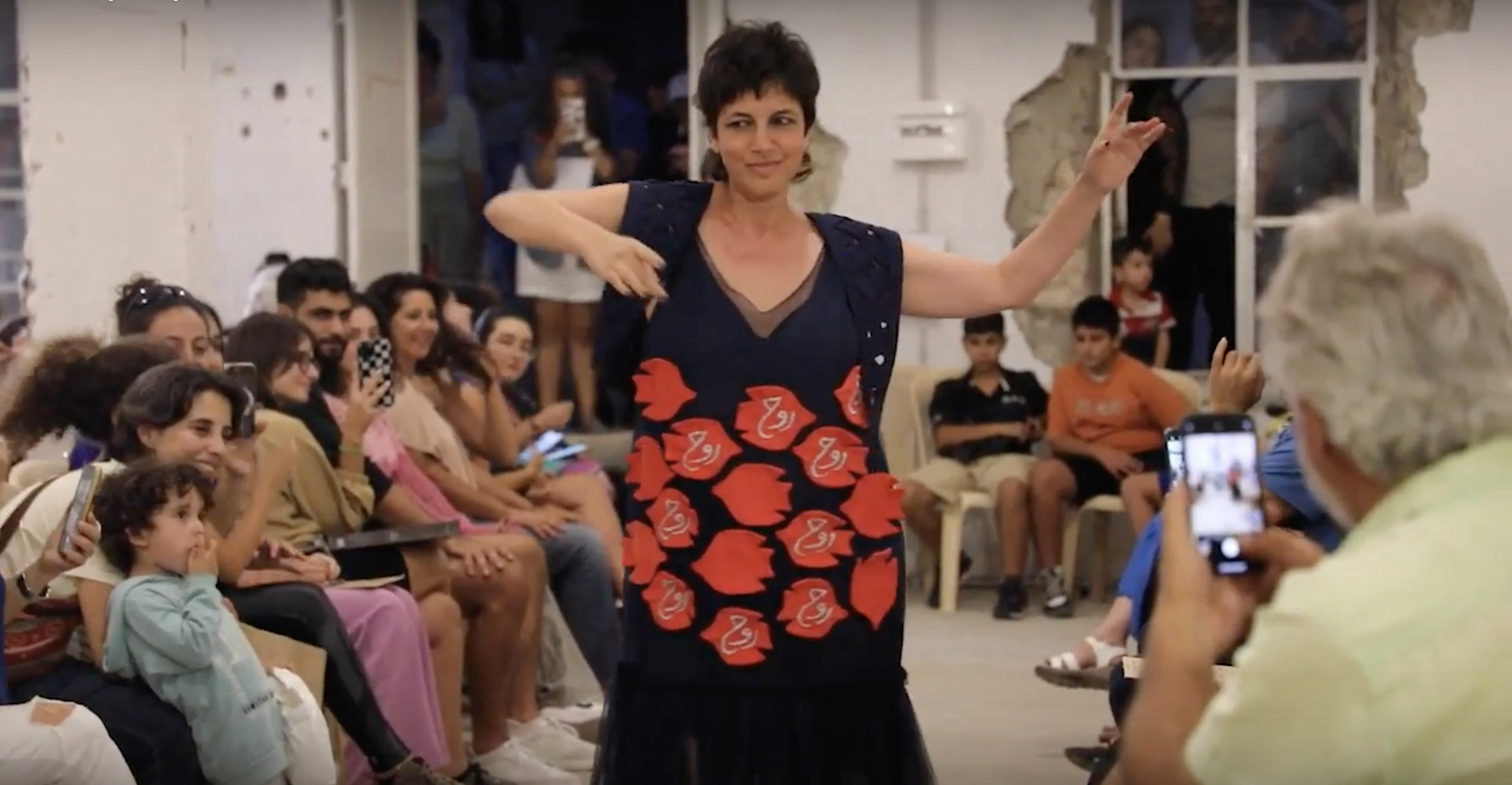 REEF hosted 'Rouh' a fashion show, presented by Rytta couture, Sept. 2. (Credit: Courtesy REEF)
In the midst of this melee, documentary filmmaker Hady Zaccak stands quietly chatting with passersby about his 2021 history of cinema in Tripoli. Al-3ard al-akhir, Sira Cilama Trablous, might be translated The Last Picture Show, a Biography of Cilama Tripoli — 'cilama' was once the common local pronunciation of cinema. As Zaccak is part of REEF's film competition jury, and since Tripoli is routinely tagged "capital of the north," he was invited to hold a book-signing event here.
Coming in just shy of 600 pages of text and photos — historic film stills, photos of bygone Tripoli and its now-extinct cinema halls, as well as press clippings and memorabilia like film posters and tickets — Zaccak's book uses oral history and documentation to recount a social and cultural history of a self-consciously modern urban center.
Zaccak explores the emergence of Tripoli's cinemas in the 1930s. These movie houses were architectural embodiments of modernism but, he argues, cinema wasn't simply an alien import. The city's cinema culture was organic, with local family businesses building and managing cinemas and city residents of all classes attending shows.
During the 1950s and '60s, the city's cinema golden age, more than 30 movie houses operated in Tripoli. "Cinemas were all over the city," he says. "You had specialist cinemas, projecting Indian films or Egyptian films. Cinemas like Palace or Colorado, with a capacity of 1000 seats or more, hosted film premieres."
The cinemas' social and cultural role in the city makes them a window onto the modern history of the city as a whole. "Researching Tripoli's cinemas," he says, "you learn about the evolution of urban society … and its politics, since most all the political parties held their major rallies in cinemas."
The city's cinema culture declined during the Civil War and reconstruction periods, Zaccak says, and as the country's economic structure changed, Tripoli was relegated to the periphery. "Society changed and the economy changed, with Tripoli living in a constant state of war or deprivation ... People, in the sense of mass culture, didn't need cinema. It was no longer necessary the way it had been in the 1950s, when it was the only leisure activity in the city. Now people had DVDs, satellite TV, then mobile telephones."
There's no shortage of movies premised on a sweet but oafish country cousin turning up in town and becoming entangled in a series of more or less comedic mishaps — nor of films that follow arrogant urbanites as they venture into the countryside, where their sense of entitlement is overturned.
Zaccak's research has picked up a thread of the subtly complementary relationship between Tripoli and the surrounding countryside.
"This question still requires further research," he cautions, "but we know many people from nearby districts like Ehden and Zghartha studied in Tripoli schools. The region's most important schools were in Tripoli — missionary schools like the Evangelical School, the Collège de la Sainte Famille, the Italian school, etc. Most of the north's intelligentsia studied and lived in Tripoli.
"Tripoli is where many people discovered cinema. Schools were very close to the big cinemas and some of them had their own cinemas. They offered cheap admission to the public one or two days a week, projecting old spaghetti westerns, for instance. So students actually discovered cinema through their school studies.
"Some villages had their own small cinemas," he acknowledges, "but films first came to Tripoli. If you wanted to appreciate the spectacle, the technology and the comfort, or a film premiere, you had to go to Tripoli."
With that, Zaccak flees to help present the awards in the mid-length film competition.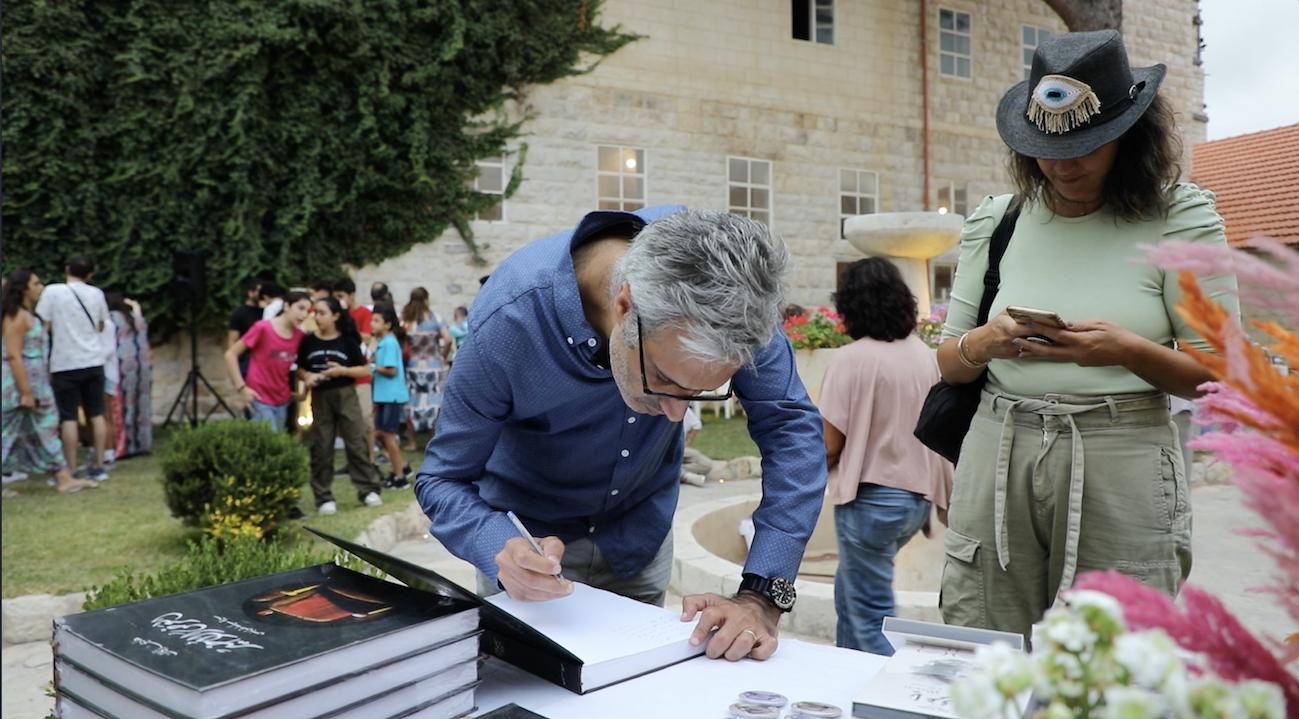 Documentary filmmaker Hady Zaccak signs a copy of his cultural and social history of Tripoli cinemas at REEF, Sept. 2. (Credit: Courtesy REEF)
Rural foraging
Among the international and regional titles that had their Lebanon debut at REEF is Jumana Manna's feature-length work "Foragers," which examines Palestine's strong food-gathering culture and the occupation's efforts to outlaw the practice.
"My parents have been foraging for decades, even more since they've become pensioners," Manna tells L'Orient Today the afternoon before her Sunday premiere. "I think that's one motivation [for making the film], the incredible amount of knowledge around foraging in Palestine — which is comparable to foraging in Lebanon, of course, as lots of the same plants grow across the region.
"The film started to cook in my head almost 10 years ago, when I went with my parents to a ruined village. There was something very moving about foraging in a depopulated, demolished Palestinian village from 1948 ... Foraging is a kind of act of continuity, a way of keeping the tradition and the relationship to the land alive, even when it's under Israeli control.
"As I started doing more research on the restrictions on foraging, it became clear that the core of the film will be about that."
Manna places "Foragers" alongside her 2017 doc "Wild Relatives," shot in the Bekaa Valley, home of a major gene bank for seeds displaced from Aleppo by Syria's civil war, and the Global Seed Vault on the Norwegian-administered island of Svalbard.
"I'm interested in land," she says, and "Wild Relatives" and "Foragers" both address questions of land and food sovereignty.
"Foragers" has two elements, both marked by Manna's wry sense of humor. The documentary facet shows several characters — including Aziza and Adel Manna — as they search for plants that are central to the local kitchen. Among the best-known regionally is zaatar (wild thyme). Most prized by these foragers is akoub (gundelia), which matures within a nest of nettles.
"I've been eating akoub as long as I can remember ... It's very hard to forage — hard to find, very thorny and hard to clean. It takes hours of work to actually arrive to the dish on the table, so there's a lot of love for this food."
Complementing Manna's field footage are clips from an Israeli television documentary profiling a family business that, capitalizing on the occupation's discriminatory anti-foraging legislation, wants to corner the zaatar market, both Palestinian consumption and export distribution.
The fictional part of the film recreates foragers' encounters with the Nature Protection Authority — uniformed Israelis who intercept foragers, scatter their harvest and fine them for gathering a supposedly endangered plant. Manna also re-enacts the interrogations of arrested foragers.
"The fiction came as a way of avoiding any contact with Israeli patrollers or court systems, for both practical and political reasons — not wanting to engage with them, but also [because I'm] not able to shoot in court anyway.
"For the court hearings, I collaborated with legal scholar Rabea Eghbariah. We co-scripted the court-hearing scenes. They are inspired by real cases but we took liberties with the scripting ... The so-called 'chase scenes' between the foragers and the patrollers, those are all staged.
"The entire film is staged," Manna smiles. "It's just degrees of staging."
The projection of "Foragers" provoked a lively discussion among REEF's audience members, and Manna is happy that its themes, as much as its sense of humor, resonate widely.
"I think this question of foraging akoub and zaatar in Palestine is clearly reaching audiences all over the world because these topics are relevant everywhere — questions of land access and food sovereignty, questions of preservation, who gets to decide what's preserved, and struggles between rural communities and governments, that usually don't know as much as those who actually live on the land. It's a very specific issue that I think is translatable to all kinds of power struggles around the world."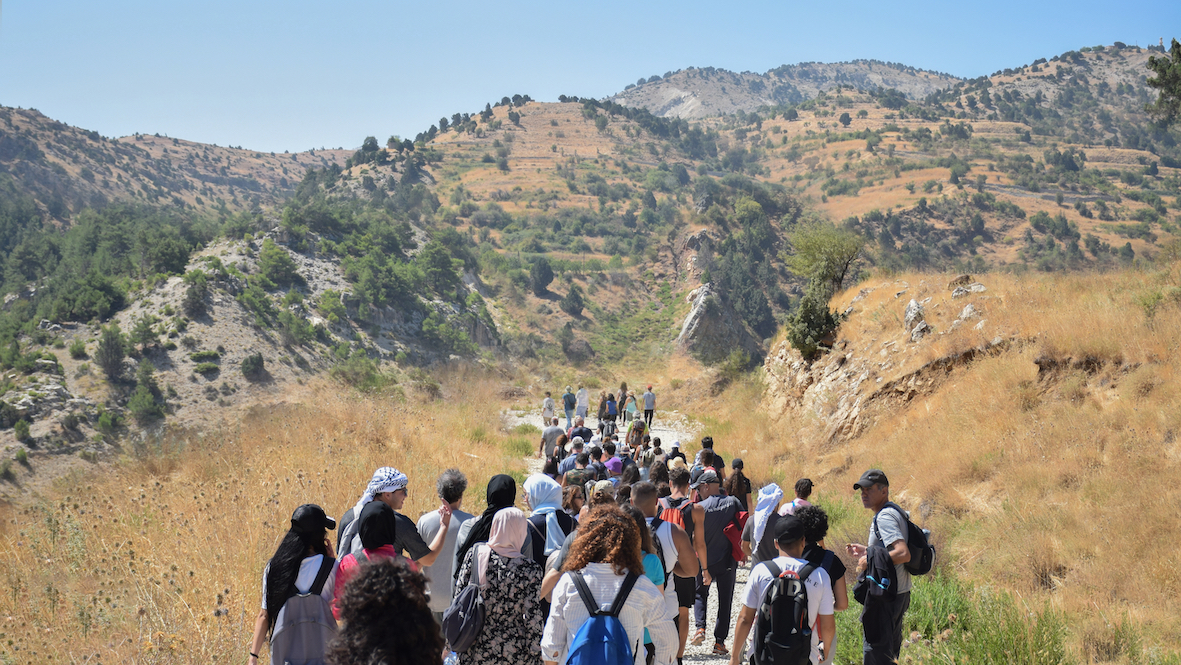 Hikers in the Karm Shbat nature reserve, Sept. 2. (Credit: Courtesy REEF)
What springs up
Apparently the name "Qobeiyat" is Aramaic and could be translated "large water reserves." During his lecture-hike along the Yammouneh Fault, Elias says he was not asked about water, this region's most important resource.
"Groundwater quality is a concern for most Lebanese nowadays," he says. "Recently we've been tapping deeper and deeper into the groundwater, with wells that reached 1000 meters below ground level. That's insane, considering that on this north-south line you can find large amounts of pure water, waiting to be properly developed.
"You don't have to pump it, because of the difference in elevation," he smiles. "You just let gravity move the water into the lower-lying places where the population is. That would be cheap, good quality water."
He says the future of Akkar's groundwater may not be as bleak as in other parts of the world.
"Global climatic models for this region show that there won't be a drastic change in [Lebanon's] precipitation volume, but the pattern will be different," he says. "Even the reduction in snowpack can be offset with good management."
He slows to allow an approaching vehicle to squeeze past.
"We are really blessed," he says. "We should think of how to benefit from this efficiently. In the future we will have water resources, maybe as much as we have today, while the surrounding region will have less than we do today. There'll be more stress on the region's water resources. Our country needs to have a clear policy for the future management of these resources.
"What would be a reasonable legal and humane way to treat this resource? Should we keep it for ourselves, or should we envisage moving water from one basin to the other in order to help other countries? Nobody is seriously tackling these questions now.
"Akkar is a poor place. In some areas it's still pristine nature, so there's the potential to do things well from the beginning. I think the kind of work we've been doing today with Antoine [Daher] and REEF is very important locally.
"If we manage to get some momentum going, with people more and more interested in the environment, in the essential questions that unite us all, not Muslims or Shia or Christians." He grimaces. "If we start looking at these questions and thinking how we should deal with them, we can do some very good work at the resource management level — water, clean energy, ecotourism, cultural tourism."
Elias negotiates the latest hairpin bend in the road, and yet another remarkable panorama emerges.
"Look at the Akkar," he nods. "It still has the potential."
QOBEIYAT, Akkar — "This wadi is very deep and long," Ata Elias gazes down to the valley below. "It should have been created by some big watershed."He glances left, where water can be heard trickling on the west side of this ridge. "But this watershed is too small to have carved this valley. You can see there is a misfit between the two."The nearest of a series of stone outcroppings...