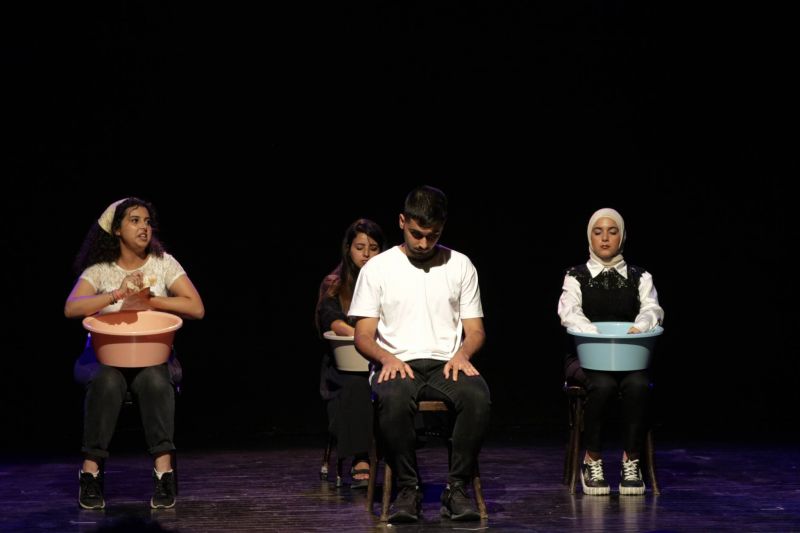 On July 30, the lights in Beirut's Monnot Theater slowly dropped to black. In the darkness, the performers took the stage.
This was the final performance of "Behind the Curtains," a show created by young people from Tripoli and the Akkar that tells intimate stories about their personal experiences with various forms of violence.
The show was produced by Seenaryo, a Lebanese NGO with sister branches in the UK and Jordan that uses theater and play-based learning to help underserved communities in Lebanon and Jordan. Seenaryo won in June 2023 the British Arts, Culture and Heritage prize in the charity awards in 2023 for its work in teaching underserved Lebanese, Palestinian and Syrian communities how to develop their own theater productions and how to pass that knowledge to others in their communities.
"Behind the Curtains" also marked the end of the first stage in a new four-year project called Scene Changers.
Launched in April 2023, the initiative seeks to introduce alternative teaching methods in Lebanon's chronically underfunded public schools and to draw on the skills of unemployed youth in the process.
"It's not only about the things related to the Lebanese curriculum," project manager Ali Samra told L'Orient Today. "It is also about life skills, motor skills or growth skills. It depends on which age group they are teaching."
For those taking part in the project, Scene Changers also presents an opportunity to use their love of theater to help those in their communities — many of whom live in areas that have long been forgotten by the state.
Seizing an opportunity
Hashem Ibrahim, 20, has long held a passion for theater.
Growing up, he watched all the performances of George Khabbaz — among Lebanon's more popular theater and movie actors — and was deeply captivated by them. Khabaz's work inspired Ibrahim to study theater and stage direction.
It seemed unlikely he'd have the opportunity to study theater, though, as he is from Jabal Mohsen, a Tripoli neighborhood that for years has been associated with on-and-off conflicts between its residents and those of the neighboring quarter of Bab al-Tabbaneh.
Both neighborhoods share the distinction of being among Tripoli's most impoverished and neglected neighborhoods.
When Ibrahim told his family about his dreams, he told L'Orient Today, "they stopped me right away. I had to take a step back."
Then, while doing some work with an NGO in his area, he caught wind of Seenaryo's new project.
"The idea is so weird," Ibrahim laughed. "Like we are going to be teaching these subjects but through theater."
He was also intrigued by the opportunity.
Samra explained that Seenaryo was looking for people aged 18 to 30 who have a passion for theater or education. Once they have a group of applicants, they interview them to find out who is most eligible to join the group of 15 taking part in the new project.
"I felt that it was an opportunity and whoever was going to get it would be lucky," Ibrahim said. "In the end, I was one of the people to get it. I'm very happy that I did."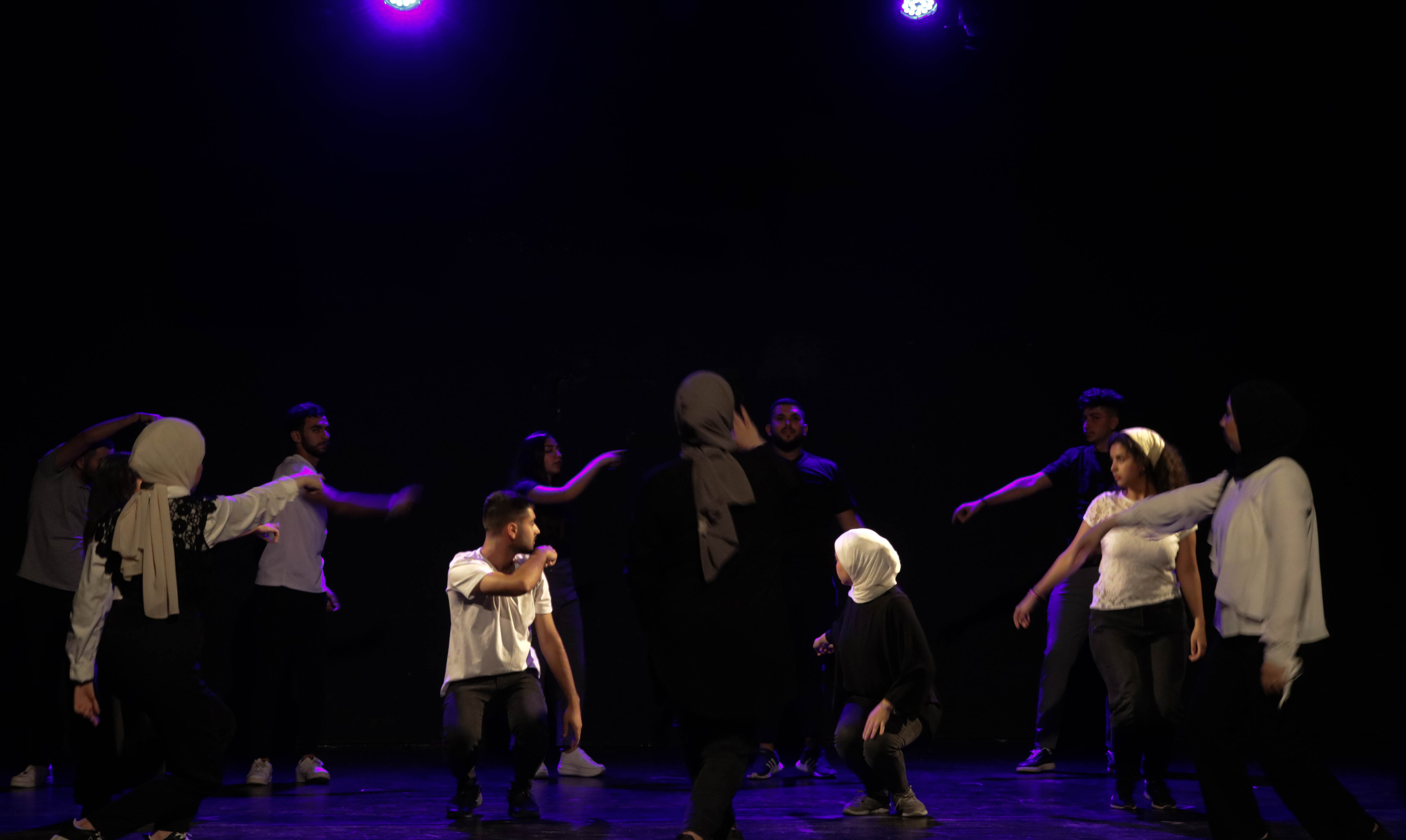 Participants in Seenaryo's new program perform "Behind the Curtains," a show of their own creation, on July 30, 2023. (Credit: Nicholas Frakes)
Ghina Ghieh, 20, is from the village of Tikrit, Akkar, and like Ibrahim she's had a passion for theater since she was young.
The problem was that there are not many theaters in Akkar and the ones that do exist have few resources.
Ghieh participates in the National Scouting movement, and that's how she heard about Scene Changers. She knew right away that she had to get involved.
"When I told my family and friends that there was going to be theater in the schools, they were really happy," she told L'Orient Today. "They were like 'Wow this will change the schools' because this generation is messed up."
After they were selected to join the project, Samra said the participants first had to go through Seenaryo's "Studio" program — to give them a chance to hone their performance and speaking skills before they moved into the schools.
"It is for them to get a sense of theater and how revolutionary theater can be," Samra said, "and how much it can be something that pushes everyone, whether it's life skills or speaking skills or any sort of skill that can be worked on individually or working in a group."
The next phase
Beirut's final performance of "Behind the Curtains" marked the end of the first "Studio" group. Now, Samra explained, Seenaryo is looking to bring in a new group from different parts of the country. They are particularly hoping to work with people from the Bekaa.
This new group would go through the same training as their colleagues from the north, after which both groups would be combined into a final 10-day training session focussing on how to use their skills on stage in a classroom setting.
The final training session will be based on a handbook currently being developed by three Seenaryo consultants — one in Lebanon, Samra, another in the UK, and a third in Jordan.
Upon completing the 10-day training session, the around 30 candidates will return home and try to make contact with their regions' public school teachers and principals, to see if they are open to Seenaryo coming in periodically to give lessons using theater.
"For example, if you are the biology teacher and you teach the fifth grade and you are teaching them about the respiratory system in a very traditional manner," Samra explained, "I would come to you and discuss with you what you are teaching, and what's the content, and I would suggest a more participatory theater-based [teaching] approach."
This could also allow the participants in the project to build a career doing something that they are deeply passionate about.
"Their job will be going to the schools in their areas and being involved in giving the session once a week, depending on their communication with the schools' principals and teachers," Samra said. "They would actually be paid [by the schools]. It is an income for those unemployed youth."
It is unclear how much work participants will find. It largely depends on how open the schools are to this new approach to learning and whether or not they have funding to pay them. According to Samra, Seenaryo will initially help the participants with the process of approaching schools to work with before they ultimately do it on their own.
Eman Assaad, a 20-year-old also from Tikrit in Akkar, worked as a private tutor for students in her area before joining Seenaryo's Scene Changers project.
When she heard about Scene Changers, she instantly fell in love with it and, given her education background, she immediately knew the potential impact it could have on students.
"I loved it. I'm excited to see the difference between the old curriculum and the new curriculum that's combined with theater," she told L'Orient Today, adding that under the current traditional system, "we were lost in the studies and didn't really understand anything."
Assaad has no illusions about how easy it will be to find work.
Some schools might be open to the idea, she said, but not all of them will approve of the idea of incorporating theater into their curricula.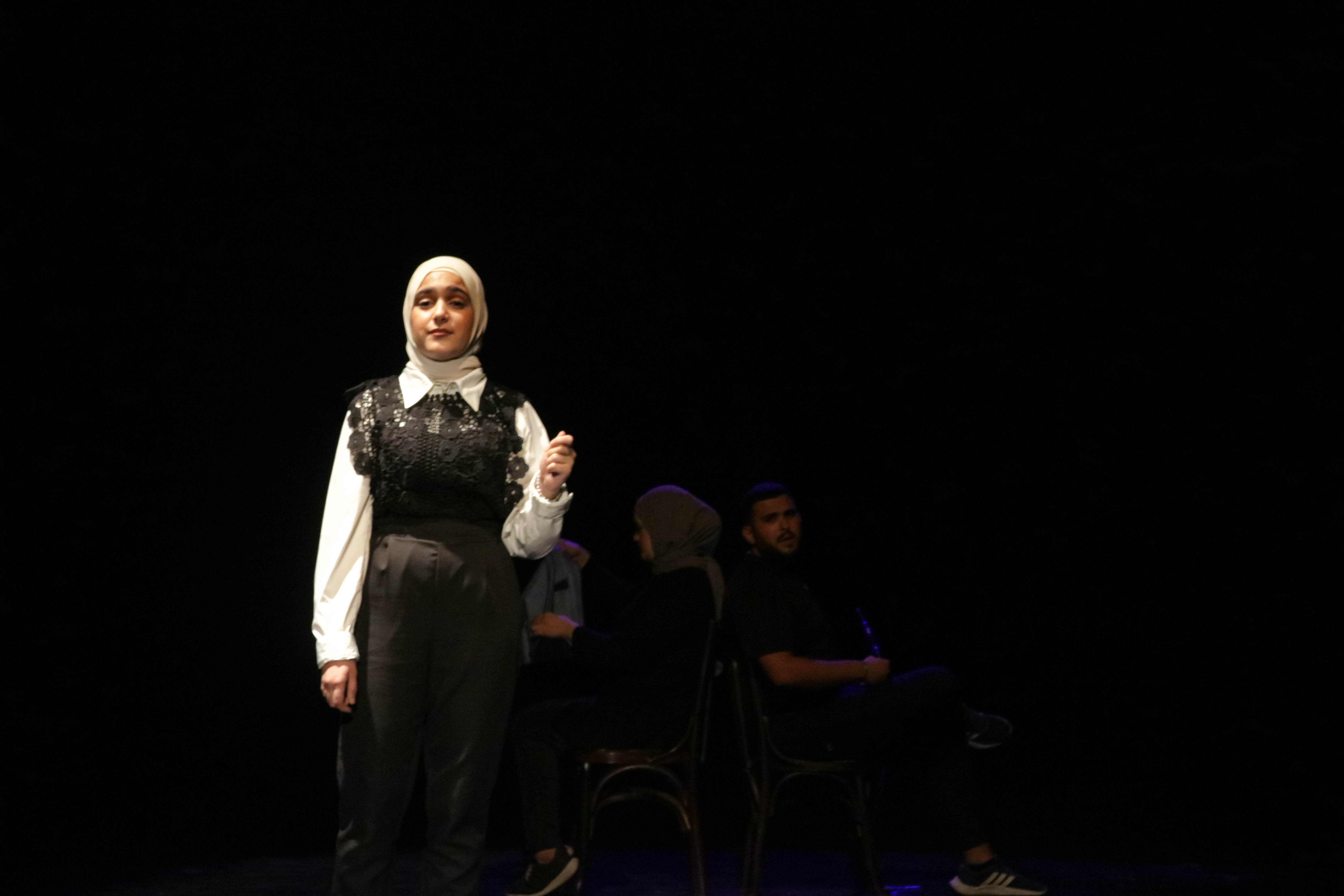 Yara Yahya tells the story of a woman whose family physically and mentally abused her. (Credit: Nicholas Frakes)
A lasting impact
Scene Changers is set to continue only until 2027, but Seenaryo is hoping that during that time, they will be able to create a core group who feel comfortable going out on their own and continuing their work without NGO support.
"We are aiming for this to be more sustainable," Samra said. "Even though the project will end within four years, afterwards, those 'scene changers' [should be] comfortable enough to go to implement those sessions."
Even with the challenges ahead, Ghieh and Ibrahim are optimistic about the future and are excited about the possibility of doing something that will help their communities.
"It is going to help a lot," Ibrahim said. "It will start small in some areas but it will eventually become bigger throughout Lebanon."
Neighborhoods like Jabal Mohsen and regions like Akkar have long been badly underserved by the Lebanese state, receiving little health care or education support and left to fend for themselves.
Having spent her life watching her people struggle for the most basic of things has only hardened Ghieh's determination to make sure that Scene Changers has an impact.
"I hope that the project will work, especially in the heart of Akkar," she said. "They really need it. The government has forgotten about Akkar, so it is our turn, our responsibility as the new generation to change things."

On July 30, the lights in Beirut's Monnot Theater slowly dropped to black. In the darkness, the performers took the stage.This was the final performance of "Behind the Curtains," a show created by young people from Tripoli and the Akkar that tells intimate stories about their personal experiences with various forms of violence.The show was produced by Seenaryo, a Lebanese NGO with sister...