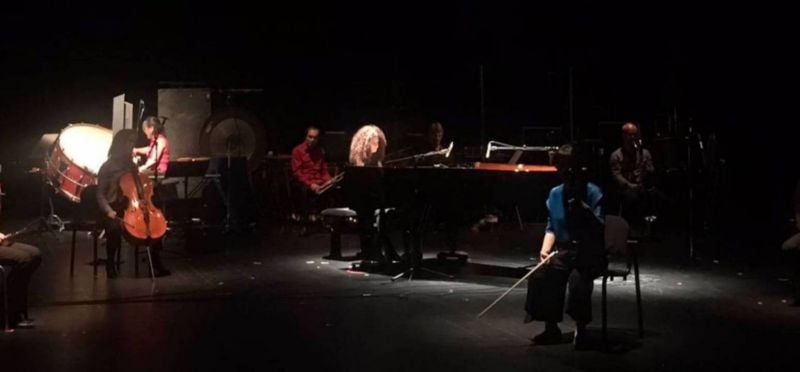 BEIRUT — The past few years have been engaging ones for Cynthia Zaven.
"All this work stems from this apocalyptic, surreal phase we all went through," she says. "I think we are still going through it, but we somehow think that we have to get used to it in order to survive it. Unaccountability, injustice, financial collapse — how can one get used to that?"
She raises her water glass.
"The one thing that became very clear to me was that I was unable to create any piece that was visual. I got proposals to do a solo show, to work on installations during that time. For me, it was absolutely impossible to imagine something visual. So I went back to writing music, in a frenzy. I was writing every single day, just stopping to have lunch and then continuing. That was the discipline throughout the last two, three years. I think that's what kept me sane.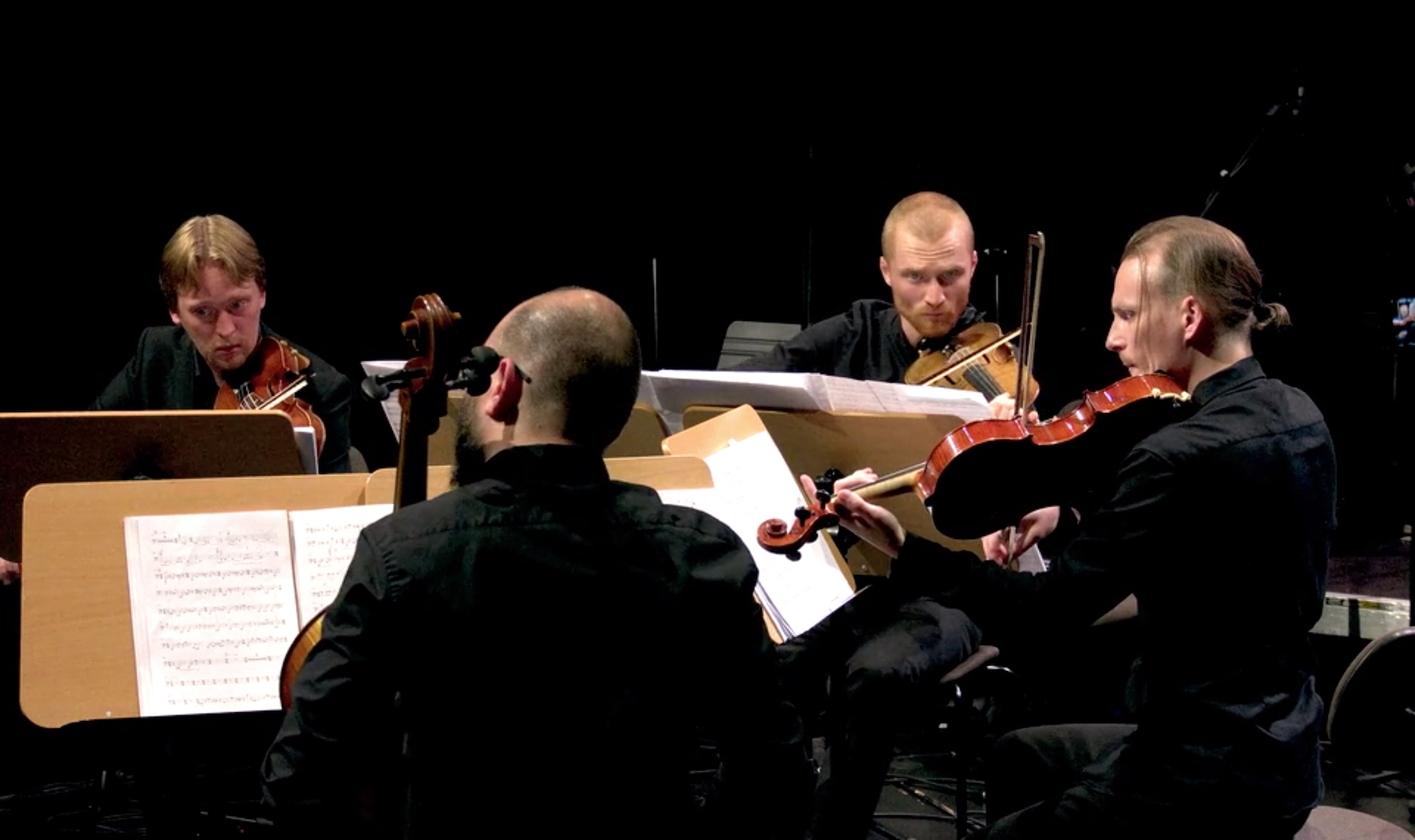 Danapris String Quartet (Andrii Pavlov, Antonii Kedrovskyi, Ihor Zavhorodnii, Viktor Rekalo) during its 2021 debut of Zaven's 'Sediments.' (Credit: Video still)
"The only thing I could do was work with the invisible, especially after the explosion. I think we became oversaturated with images."
Among the compositions Zaven has premiered since 2020 is "Sediments," her debut quartet, which the Danapris String Quartet performed at Austria's Musikprotokoll Festival. She included a message in Morse Code in the composition, she says, "juxtaposing short and long tones, [which] the four instruments played in syncopation, creating this offbeat structure. It's an organized chaos."
This is not Zaven's first work to employ Samuel Morse's internationally used cipher. She deployed it in her 2012 piece "Morse Code" for flute and accordion. In that case the coded message was a quote from Faulkner — "... sin and love and fear are just sounds that people who never sinned nor loved nor feared have for what they never had and cannot have until they forgot the words."
"Strangely, a few months [after the quartet premiered], the flute and accordion piece was performed in Vienna, 10 years after its debut. It's a very odd serendipity."
Making movie music
The composer and artist also scores films. Zaven is sitting with L'Orient Today in the wake of the reboot of the Lebanese Movie Awards, where she won the Best Music Award for her work on Michel Kammoun's 2022 feature "Beirut Hold 'em."
Perhaps the first principle of Zaven's film scores is that the music must never be illustrative. (For "illustrative scoring" think of the way music is used in a "Tom And Jerry" cartoon.)
"The first question working as a composer on a film is 'Does your film need music?' If not, then music would be decorative. Ornamental."
The object of the score, she says, is "to elevate the image into a different dimension … It's always a collaboration, and trusting the creative input of the people you collaborate with. Ultimately we're all trying to serve the film in the best way possible."
One element from the "Beirut Hold 'em" score that Zaven shared before this conversation is a little waltz accompanying a montage involving the protagonist and his friends. It's a rare thing having a montage of banalities set to a waltz.
"Michel wanted to have a waltz there and I disagreed," Zaven smiles, "but I think he made the right choice because I ended up liking that waltz. In this sense, he convinced me that the three-beat theme would be very appropriate with the images he had in mind. It worked."
Film projects are multi-headed creatures, requiring input from a wide range of professionals. This suits Zaven, who brings an innate collaborative practice to film work and standalone composition alike. She says she's usually involved with all sonic aspects of a given film — thus the writer, director, editor and sound designer.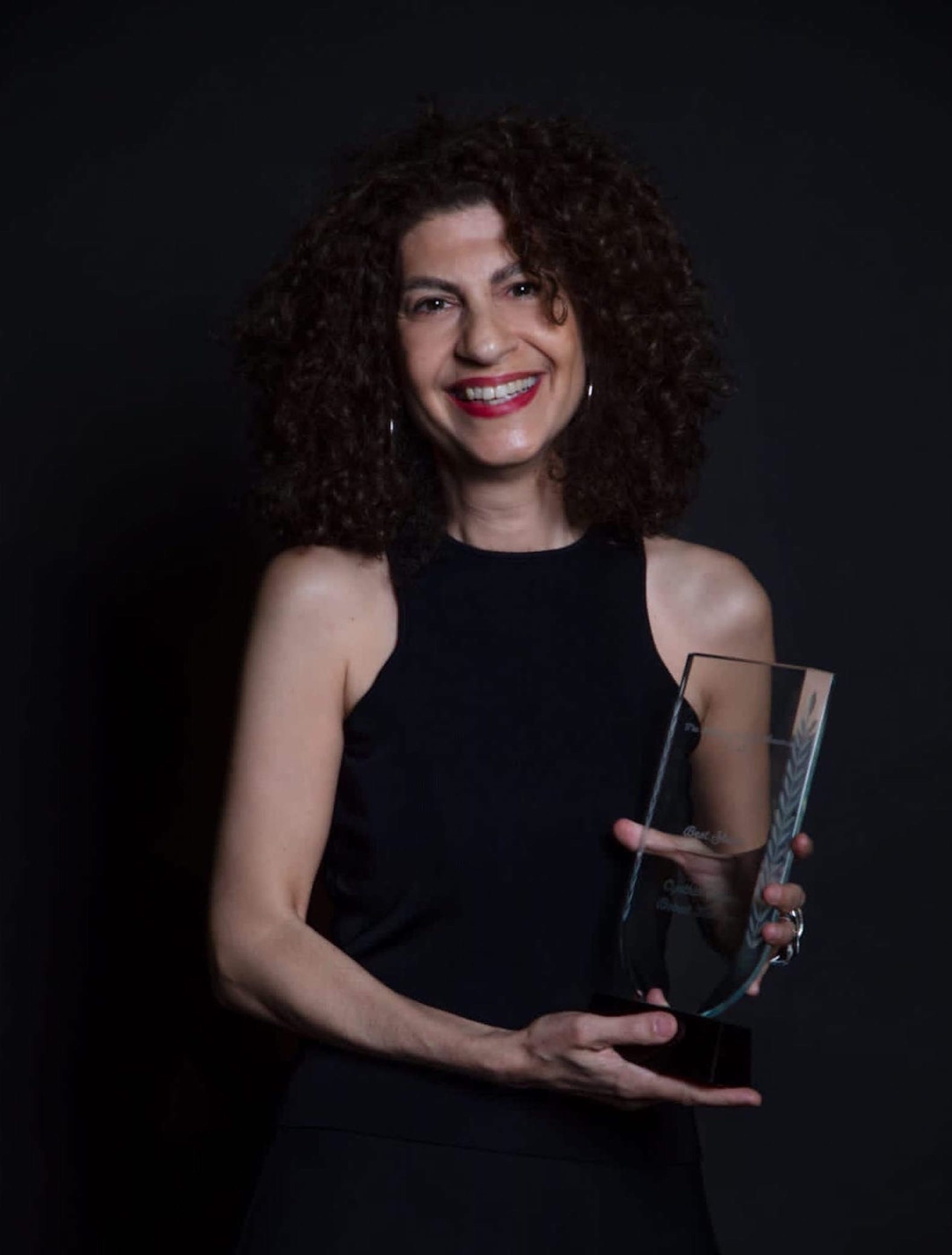 Cynthia Zaven shortly after receiving the prize for best music at the Lebanese Movie Awards, July 2023. (Credit: ©Fares Sokhon)
Film productions also tend to develop organically, so no two projects are exactly the same. Her most recent film, she recalls, had called her in to replace their original composer a year into the process.
"I received a film that was almost finished. The editing was almost done. I had never met the filmmaker. So we were Zooming from time to time. This was very new to me.
"Usually the composition process starts with the script, and it involves many, many conversations ... For 'Beirut Hold 'em,' it took over a year and a half because I was around from the very beginning of post-production. Usually it starts with the screenplay.
"The music was ready [for post-production of Ghassan Salhab's] 'The Last Man' and 'The Valley,' so when Ghassan went to the editing room, he cut the film on the music. Then we adjusted the music a little when the final edit was done. It's always helpful for filmmakers to have some music when they start editing, because the length of the image can change drastically when you have music or sound."
Breathing life into the music
Zaven has been busy with composition since the Beirut port blast In 2020. In 2021 alone she premiered four works, beginning with the debut of her first choral work, "Madrigal d'Essilio" (Madrigal for Exile), performed by Neue Vocalsolisten at Eclat Festival for New Music in February 2021. "Fractal," her commission for Beirut Art Center's exhibition "The Bridge Cuts Ever So Close to My Balcony," went online in April. In September she debuted the composition/improv piece "12 Districts" with the Modern Ensemble in Frankfurt. Her quartet "Sediments" premiered in Graz in October.
"The Musikprotokoll Festival in Graz commissioned me to write a string quartet. It was to be performed by the Danapris String Quartet from Ukraine, whom I had never met prior to rehearsals — two hours before the performance. We had communicated by email, but I only heard my piece for the first time a few hours before its premiere.
"It's one thing to imagine your work in your mind, or to hear it on your keyboard. It's another thing to really hear it live. I was very moved. Not only are they incredible musicians, but they are wonderful human beings as well. It's the first time that I write a quartet and they're telling me how much they loved it. A month later, war broke out in Ukraine, unexpectedly."
"12 Districts" arose from a commission from the Modern Ensemble.
"I thought about the stage as a map of Beirut and placed the 12 musicians in the 12 districts of the city. I played a theme on piano, which the other musicians improvised, according to their placement on the map. I had a graphic score, a drawing we followed in order to connect all the instruments and the sounds. The piano started with the theme and then it evolved from the percussion that was behind me, to double bass [etc]. The musicians were all around the piano and you could feel the sound going from left-to-right, right-to-left."
"Madrigal d'Essilio" has had a lively performance career since its premiere in Stuttgart.
"It's been performed at least five or six times. The last time was at the Ultima Festival in Oslo. It kept changing organically as they performed it. We had a few rehearsals before that last performance because I had time to re-listen and readjust.
"I absolutely love the idea of writing music and sending it to people I've never met who will eventually perform my piece. Both the singers [of Neue Vocalsolisten] and the Danapris String Quartet, they push the music further, just by following the text. That's when music starts living its own life."

BEIRUT — The past few years have been engaging ones for Cynthia Zaven. "All this work stems from this apocalyptic, surreal phase we all went through," she says. "I think we are still going through it, but we somehow think that we have to get used to it in order to survive it. Unaccountability, injustice, financial collapse — how can one get used to that?"She raises her water...