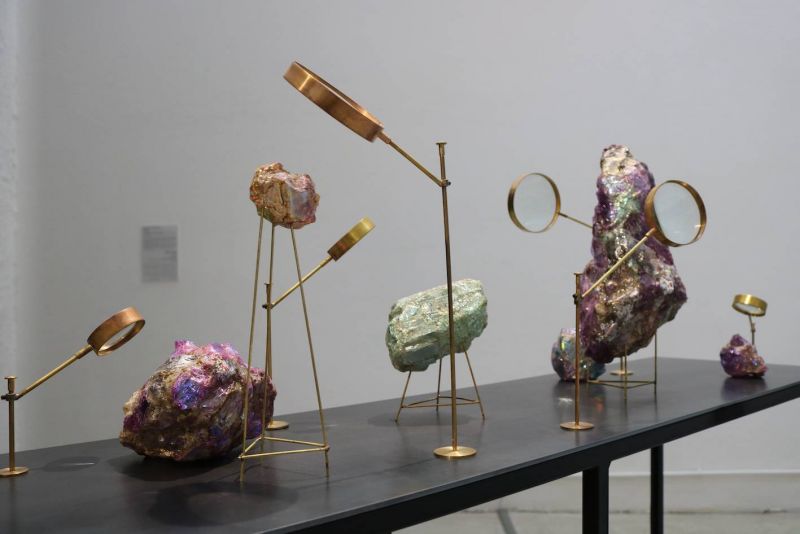 BEIRUT — Upon entering Beirut Art Center's foyer, a sign welcomes visitors to A Return of the Sun, its latest exhibition. Curated by BAC director Reem Shadid, her first major expo since taking the helm, the show features the work of 14 artists and artist groups from Lebanon, the region and beyond.
All these works, the exhibition literature suggests, "challenge the relationship between violence and its representation."
Violence is often captured or depicted as spectacle or event — barrel bombs dropped on residential quarters of Aleppo or bunker-busters decimating apartment buildings in Harat Hreik, Iraqi soldiers fleeing a Daesh assault on Mosul or an occupation earthmover flattening a modest home, as family members weep at the margins of the frame.
Yet much contemporary violence moves too slowly to rival a photogenic airstrike — climate change, for instance, or that other hallmark of late capitalism, the unremitting accretion of wealth and power into a few hands. It's only when it reaches crisis proportions that slow violence materializes, and then as landscape features: waste dumps, toxic landfills, degraded environments, flimsy boats washed up on the Mediterranean coast.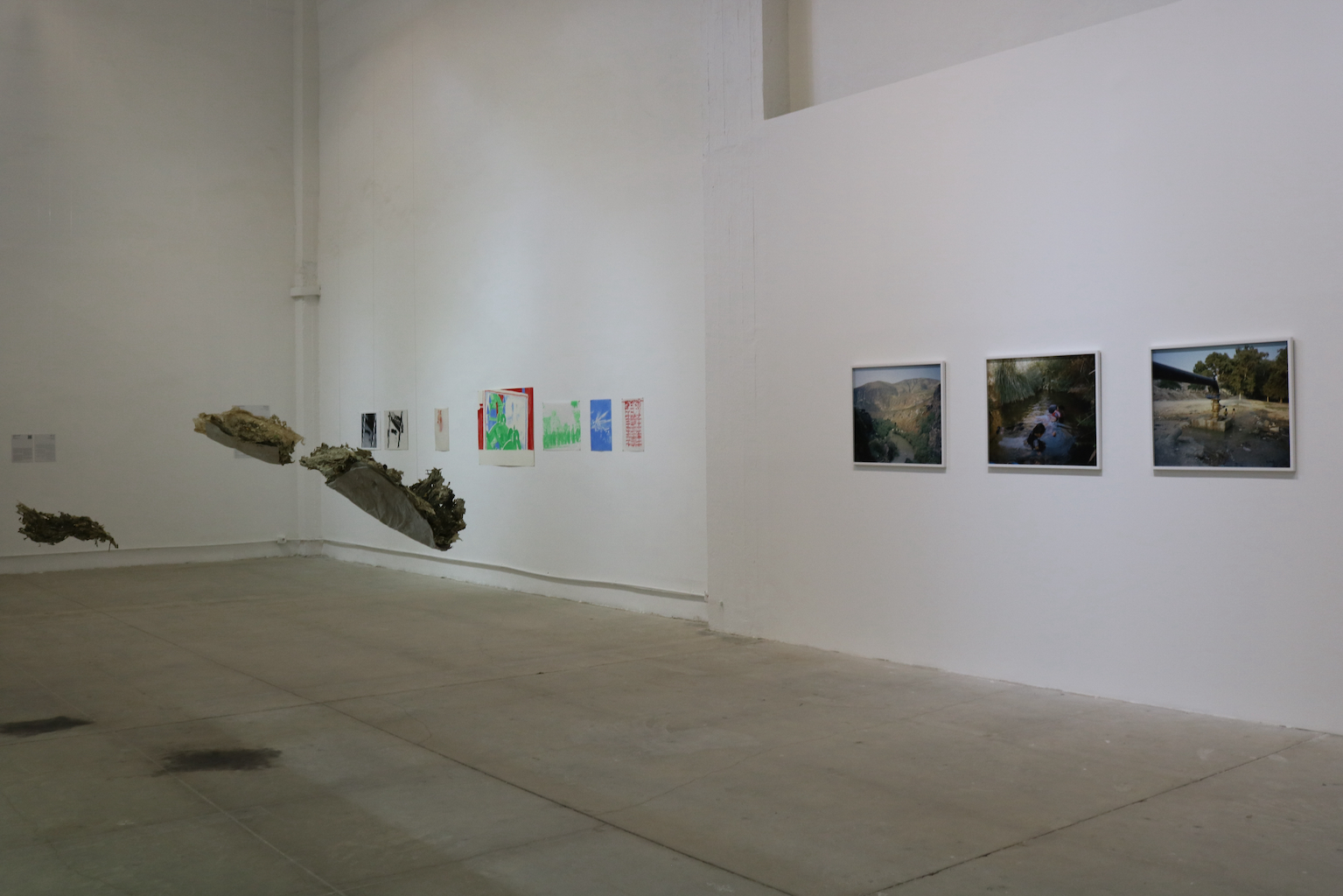 Installation view of 'A Return of the Sun' at Beirut Art Center, 2023. (Credit: Joseph Kesrouany, courtesy of Beirut Art Center.)
Works in a small hall
The small exhibition hall left of the BAC foyer currently hosts three standalone works. The pieces suggest something of this show's intelligence and formal diversity, and hint at the curatorial mycelium joining its 20-odd works.
Enclosed in the show's lone black box is Haig Aivazian's You May Own the Lanterns but We Own the Lights (episode 1: Home Alone), 2022, one of several 11-minute video works that animate this group exhibition. The show's one work of animation, its story is set in a town that easily could be Beirut and depicts one of the many long nights residents have experienced since the electricity sector seized up.
Aivazian has some knowledge of darkness, having served as BAC's artistic director from the start of Lebanon's economic collapse to the end of 2022.
The cartoon's voice over (delivered by Samah Boulmona, aka Metro al-Madina's accordeonist, who also contributed a tune to Aivazian's score) recounts how two young adults stepped out for a drink one evening while a third character, perhaps their daughter, remains at home sleeping.
Much of the work lingers in the sleeping girl's dreamscape, an adventure to which the black-and-white animation is well suited. It's comprised of found work (cartoons and animations) rendered in a wide array of styles and sensibilities that have been redrawn, re-animated and slightly altered by Chadi Aoun (also a contemporary dancer who performed with Hanan Hajj Ali and Roger Assaf in Ali Chahrour's latest theater piece).
Plenty of people hold down multiple jobs these days.
Emerging from Aivazian's black box, the small hall's long wall is hung with Aziz Hazara's 2021 work, I am looking for you like a drone, my love. This massive (14.48 x 1.77-meter) print reproduces a panoramic photo of a refuse heap — wood, glass, metal, plastics, electronics, etc. It serves as an archive of two decades of the American-led western occupation of Afghanistan.
"This work is about future fossils," says Shadid. "The Americans and the allied forces have left Afghanistan, but when you've dumped acre-upon-acre of trash all over a country, knowing that plastic doesn't break down for 400 years, this is not an occupation that's over."
Sitting on a display table and vitrine between Aivazian and Hazara's works is Kiymet Dastan's The Oblivion Stones, 2019-ongoing. Part of her larger project I Am Afraid To (Not) Forget, this series comprises colorful, potato-shaped objects of various sizes that resemble crystals — the sort of thing you'd find at Beirut's Mineral Museum. The artist has had magnifying glasses installed alongside each object, so that visitors can eyeball the crystalline intricacies more closely.
A piece of contemporary art is like an iceberg, somebody once suggested, most of its mass being below the surface. The Oblivion Stones has a mischievous relationship to the narrative beneath the form. Visitors may be surprised to find (whether from reading the text or gawking through the optics) that these aren't crystals at all. They're not even stones, but soon-to-be obsolete archival devices subjected to heat.
"It's so crazy that these beautiful things are just made of plastic and heat," Shadid says. "It's fascinating."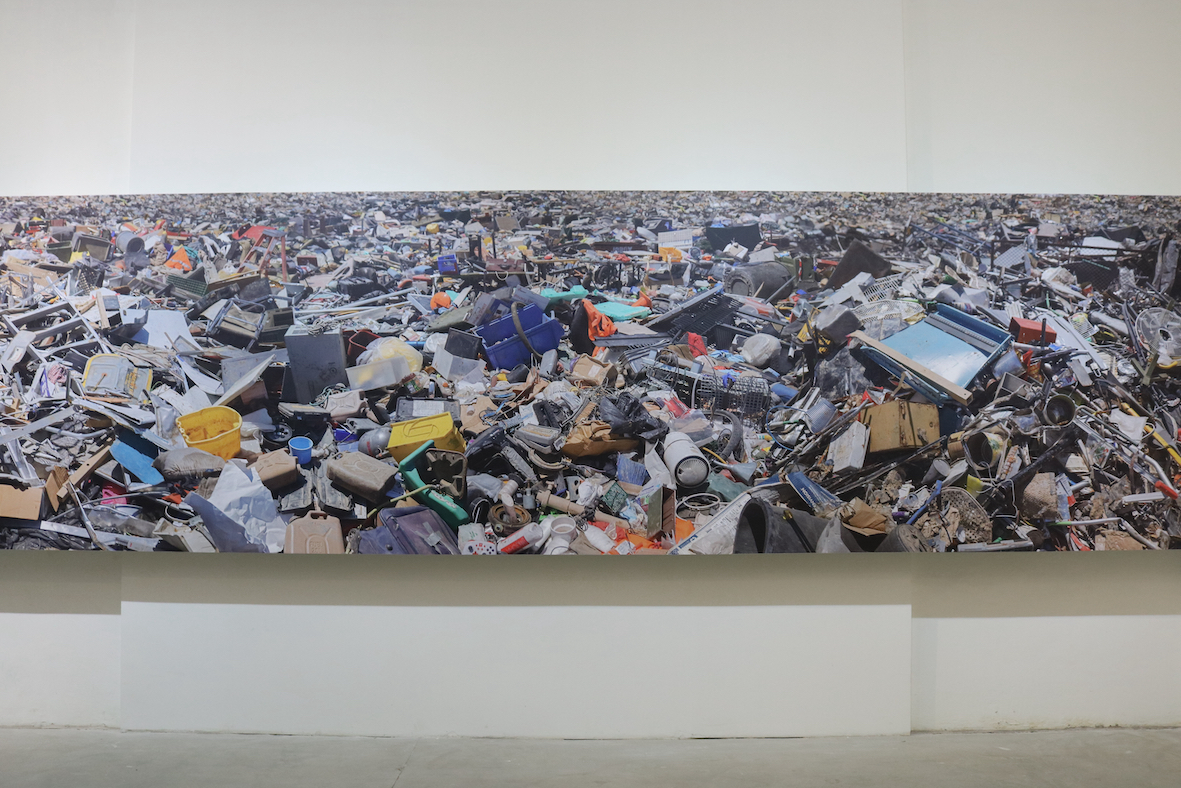 Aziz Hazara. 'I am looking for you like a drone, my love,' 2021, inkjet print on wallpaper. (Credit: Joseph Kesrouany, courtesy of Beirut Art Center.)
Mycelium
The story of the research behind this show, the curator explains, antedates her taking the helm at BAC.
"I was working with several artists," Shadid recalls, "and thinking a lot about the concept of slow violence.
"I read a couple of books that [prompted] questions around what slow violence is and, if we recognize it — now the information is much more available than before — what do we do about it?
"A lot of the people I read were artists that inspired me through the different stages of putting this show together, Jumana Manna for instance.
"The Foragers," Manna's latest feature-length nonfiction film, documents how occupation policies have criminalised foraging for herbs and other plants that are integral to Palestinian cuisine, forcing Palestinians to either purchase Israeli-grown greens, or face ever-more hefty fines. "The Foragers" will have its Beirut premiere during "Return of the Sun" in the presence of the artist.
The artist team Joana Hadjithomas and Khalil Joreige are showing three works — A State, Palimpsests and Sarcophagi — under the title What We Leave Behind. All three pieces draw upon their research into the archaeological-geological work required before developers excavate for building projects. Core samples taken from prospective building sites are informative not only of the stability of the terrain, but of the site's history of human habitation.
The video Palimpsests documents one such excavation in Lebanon. The sculpture Sarcophagi reproduces a core's stratigraphy using excavated materials as media. The photo series A State shows an array of core samples, confined to rows and framed by the wooden boxes that contain them. Paired with the title, the images resonate with the diversity of segregated communities that make up a polity, Lebanon say.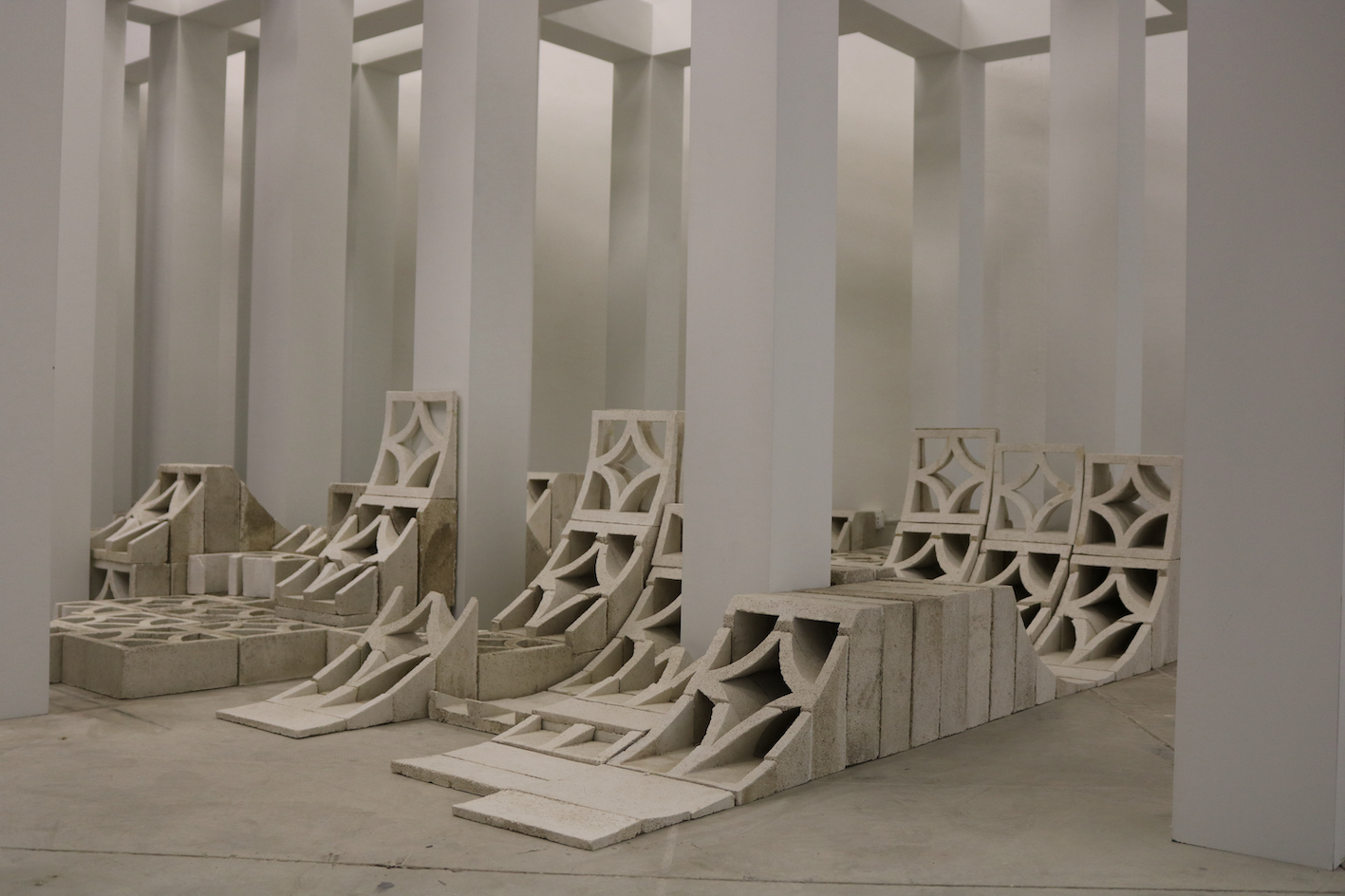 Saba Innab. 'Station Point,' 2019, mixed media installation. (Credit: Joseph Kesrouany, Beirut Art Center.)
Shadid says the artists' participation is illustrative of how this show came together.
"I have been in conversation with Joana and Khalil before and I thought A State would be interesting for this show. Sarcophagi was in Beirut, but A State was being stored in Dubai. Sarcophagi, I think, had been shown only once before, in Venice, but never here, though it's stored here. The two pieces work well together. We discussed whether to ship A State from Dubai, but it seemed totally unreasonable and very insensitive to the general conditions here. Then they proposed that we try to re-make the work in Beirut, even if exactly the same materials aren't available. So we printed the two photographs here. There are normally three photos in the series," she chuckles, "but this is all the budget will allow for."
Staging a contemporary art exhibition, which usually requires electrical apparatus, sometimes requires last-minute program adjustments. The Return of the Sun is no exception.
Witness We Have Always Known the Wind's Direction, Netherlands-based Inas Halabi's 11-minute non-fiction film, currently being projected near the entrance of BAC's large hall. The film is a lyrical reflection upon assertions that radioactive waste has been buried in occupied Palestine.
The film moves back and forth between the artist's fragmented conversation with a Palestinian nuclear physicist and landscape shots of the territory.
Any effort to make this film a means of conveying hard information is undermined, however, by the elusiveness of documented facts. Cesium 137, the invisible and deadly radioactive isotope, becomes a metaphor for power relations that remain invisible and unfilmable.
The Wind's Direction is a well-made speculative nonfiction short, but part of the work — a slideshow of stills from the film — was absent from BAC at the show's opening.
"I'll tell you what happened," Shadid says, chuckling. "I asked Inas if there's something else that we can show [in the hall] because I would prefer to project the film in the right conditions, a scheduled screening, probably combined with other films like Jumana's, in the auditorium."
A problem cropped up with the slide projector the day before the opening.
"It had been working. I have videos of it working. It looked amazing. Then, on Wednesday, it started smoking," she laughs, "so we had to do a very quick switch. I didn't want to open the show without the work. It's really good and very important. So Inas and I decided to project on the smaller screen that was originally for the slides.
"We're trying to get the slide projector fixed."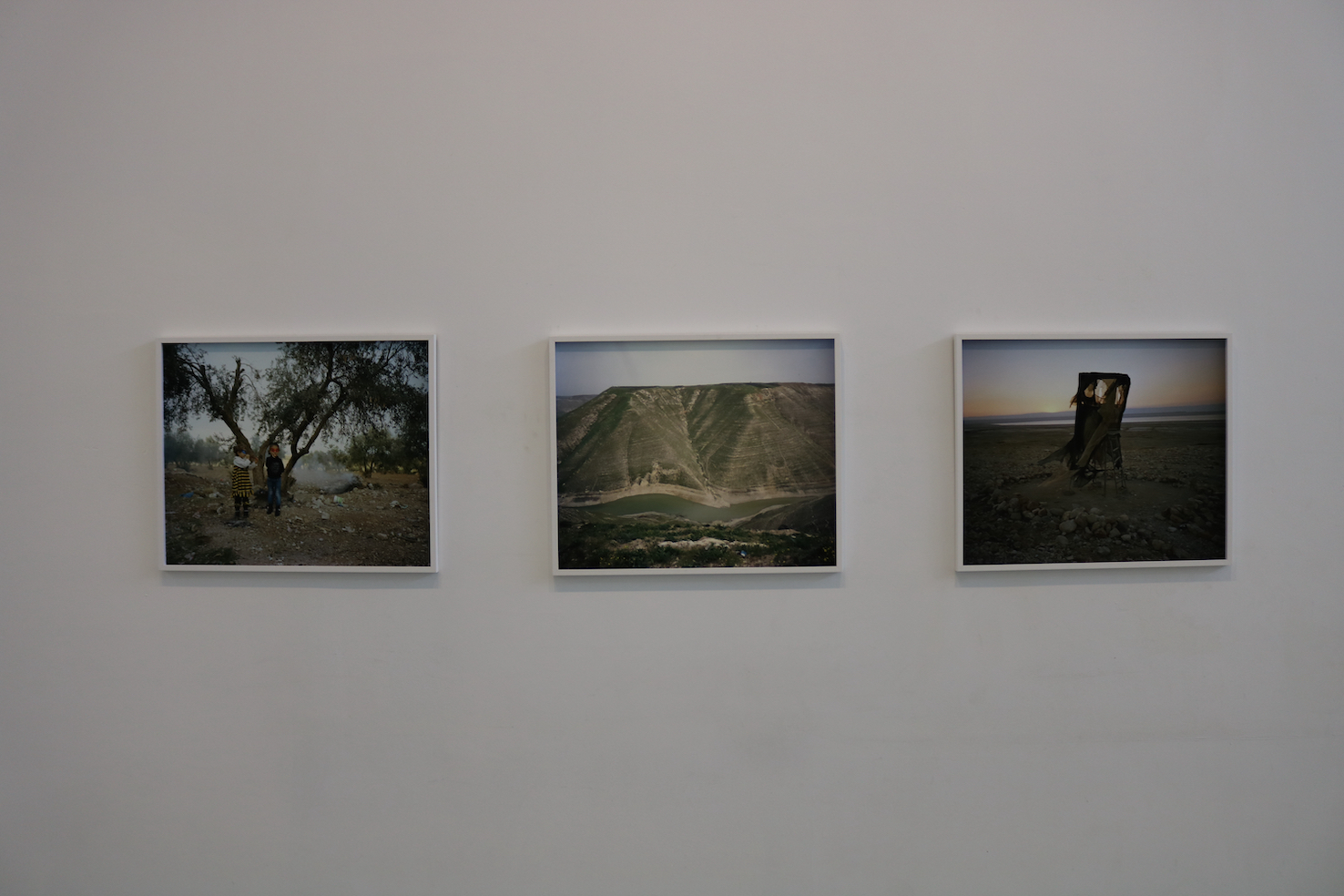 Nadia Bseiso. 'Infertile Crescent,' 2015-ongoing, nine inkjet photo prints on fine art paper. (Credit: Joseph Kesrouany, courtesy Beirut Art Center.)
Beirut-based artist Lamia Abu Khadra's place in the show is complex for different reasons. Her work is concerned with the "standardized image" of occupation — photographs that include national monuments like Al-Aqsa, occupation repression, slain and bereft Palestinians. Her solution is to apply a range of filters to individual photos, as carefully attributed as possible, that accentuate the formal elements of the images over their utility as tools of communication.
"Lamia's parents are originally Palestinian," Shadid says, "but they both grew up in Lebanon and emigrated to the US. I met Lamia when I was doing studio visits here. She came for the Ashkal Alwan Home Workspace program."
Shadid says she was leading a tour of Return of the Sun when it occurred to her that Palestine is quite well represented in this show.
"I was like, 'Hm. Maybe there's too much Palestine?'" She laughs. "Seriously. It is something that I was concerned about ... For me, the work of Lamia and [architect and artist] Saba Innab, are 'about Palestine,' but their work also thinks beyond Palestine.
"Lamia is directly addressing this idea of the standard image. How do we break the standard image? … I think that this work is thinking with Palestine rather than necessarily being about Palestine. It asks a bigger question that I think is much more relatable: Can we see outside the frame of the photograph? If so, how? What can be changed in the image regime to do something about it?"
A Return of the Sun is up at Beirut Art Center through Sept. 16, 2023

BEIRUT — Upon entering Beirut Art Center's foyer, a sign welcomes visitors to A Return of the Sun, its latest exhibition. Curated by BAC director Reem Shadid, her first major expo since taking the helm, the show features the work of 14 artists and artist groups from Lebanon, the region and beyond. All these works, the exhibition literature suggests, "challenge the relationship between...