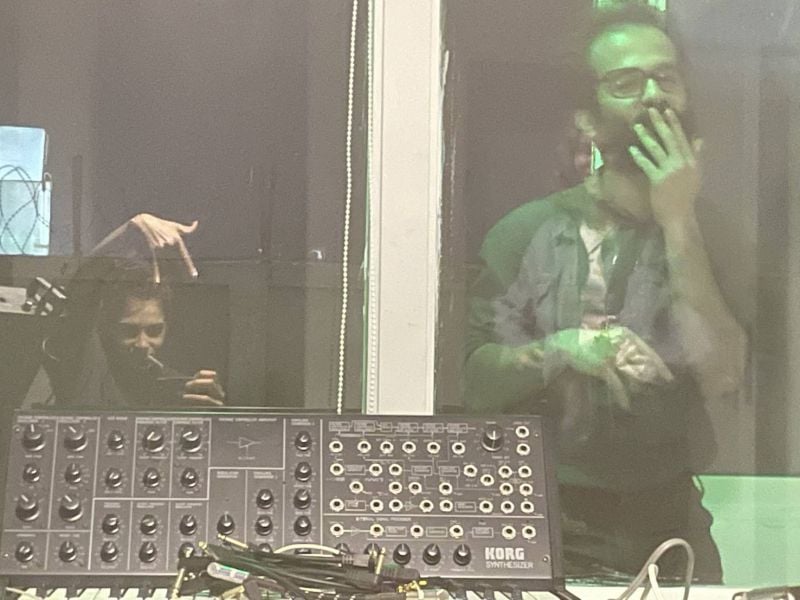 BEIRUT — The vocalist warbles continuously — from shishing aspirations and trills to whispering inhalations and the sort of grunts emitted by humans of a certain age trying to pull themselves from a seated position. She doesn't utter a word.
A trumpeter steps from sputtering automatic rifle-fire blartings to sedate purrs, sliding past a selection of muting devices — the audience's favorite seems to be the rubber end of a toilet plunger. Later he yanks at the instrument's tubing while he plays, as if it were a miniature trombone.
A percussionist bows a cymbal, violin-like, eventually abandoning the drumsticks to assault the drums with pot lids. Another refrains from striking the skins at all, preferring to pull back-scratchers, squeegees, bells and squeaky toys across the surfaces — conjuring the sort of scraping, creaking moans you might associate with the sound of a deep sea vessel on the verge of catastrophic structural failure.
These are the sounds of Irtijal — the International Festival for Experimental Music in Lebanon — where diversity rings out from the edges of the musical spectrum.
Beirut's oldest music festival was co-founded at the turn of the century by guitarist Sharif Sehnaoui and trumpeter Mazen Kerbaj. Over the intervening 23 years, the range of music on offer has been defiantly eclectic, betraying the influence of free jazz, contemporary classical, free improv, noise, post-rock, experimental electronic music, free rock and sound art.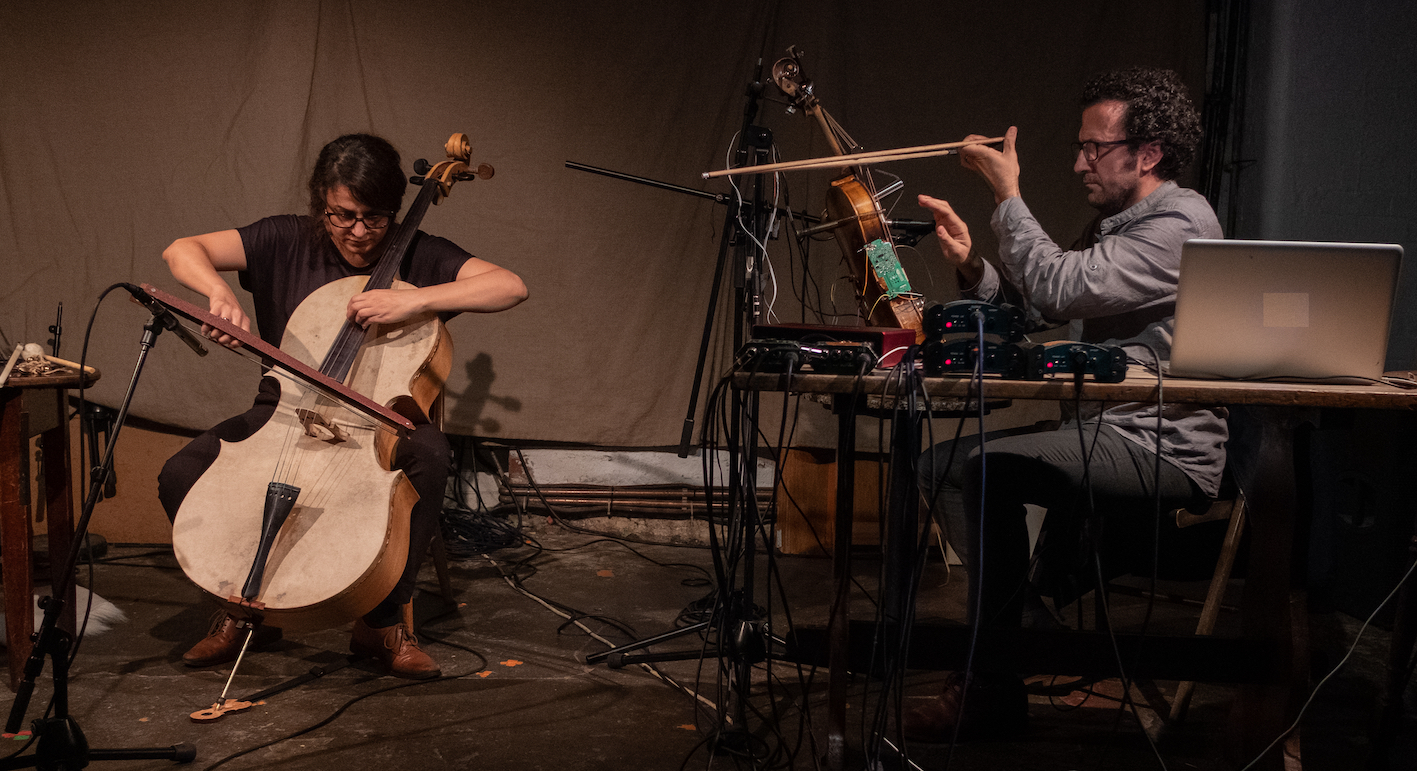 Sulaymaniyya-based improv artists Duo Moment will perform at BAC April 12. (Credit: Jonathan Crabb)
Running April 11-14, Irtijal 23 will be a relatively compact affair compared to past editions, staged at three venues around greater Beirut — Zoukak Studio in Karantina, Beirut Art Center in Jisr al-Wati, and Mkalles Warehouse.
A few hours before leaving for a gig at Glasgow's Counterflows festival, Sharif Sehnaoui spoke over the phone with L'Orient Today about the festival's 23rd edition.
Collaborations
Irtijal 23's program, Sehnaoui says, reflects recent local and regional partnerships as much as Lebanon's mid-crisis realities.
"It's almost what they call a homegrown edition," Sehnaoui says. "There are a few guests, but all have a strong relationship with the scene and people here, so even the foreign guests are like part of the extended family."
Much of Irtijal's non-local talent comes from partnerships the festival embarked upon a few years ago with two other experimental music festivals — Space21 in Sulaymaniyya, Iraqi Kurdistan, and the Breach Festival in Nicosia, Cyprus.
"The three of us are working as a network now," he says. "Several artists are shared within the programs of the three festivals, which are scheduled one after the other."
Irtijal will open on solid acoustic ground Tuesday with a solo performance by Berlin-based Elshan Ghasimi at Zoukak Studio. A composer and virtuoso of the tar — an Iranian classical instrument vaguely resembling a buzuq — the artist has dedicated herself to reinterpreting the Persian classical music canon, specifically the Dastgāh-e Shur, and her set will likely draw on this material. Ghasimi is part of Space21's circle of artists, but she will perform in Beirut only.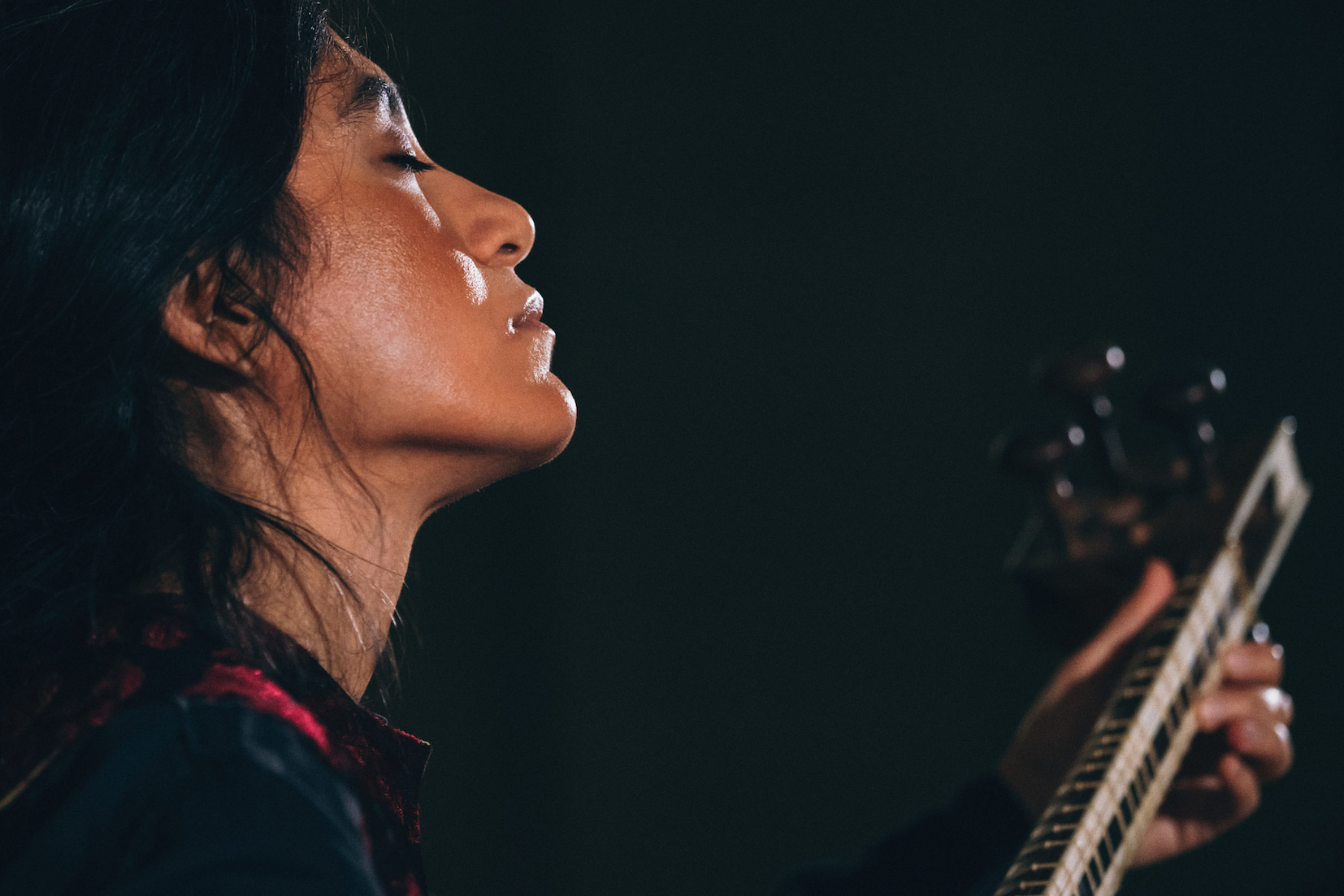 Tar virtuoso Elshan Ghasimi will open Irtijal 23 with a set at Zoukak Studio, Tuesday April 11. (Credit: Stefan Haehnel)
Next up is a set with Mayssa Jallad. Known locally as the face of the indie band Safar, the singer-songwriter-guitarist is an architectural researcher and activist with RELIEF Centre/PROCOL, a collaboration with University College London's Institute for Global Prosperity. Known for her haunting vocals, Jallad's Irtijal gig will be delivered as a trio with Julia Sabra (guitar, synths) and percussionist Pascal Semerdjian.
Irtijal day 1 will wrap with a set by Lebanese synth-guitars duo NP (Jad Atoui, Anthony Sahyoun), which is among the acts that will play in Nicosia and Sulaymaniyya as well as Beirut.
Other performers commencing a three-stop tour here include Cypriot electronics soloist Emiddio Vasquez and C-Drik, the Berlin-based Belgian-Congolese composer and musician of noise, electronic and experimental music. Beirut will also welcome Duo Moment — Space21 founder Hardi Kurda (violin) and Khabat Abas (cello).
"It's something we want to push further in the coming years," Sehnaoui says, "having the region's like-minded festivals network their talent."
For this edition, Irtijal will also partner with Frequent Defect, a cluster of young musicians who have cultivated a loyal following with their atmospheric events at Mkalles Warehouse — the host of Irtijal's final night of performances.
"Mkalles Warehouse is closest to us in terms of programming and musical vision," Sehnaoui reflects. "We have the same kind of radical approach to music and sound ... They're more focused on electronic music, DJs and such, but generally speaking we go to the same places musically, and we sometimes book the same artists.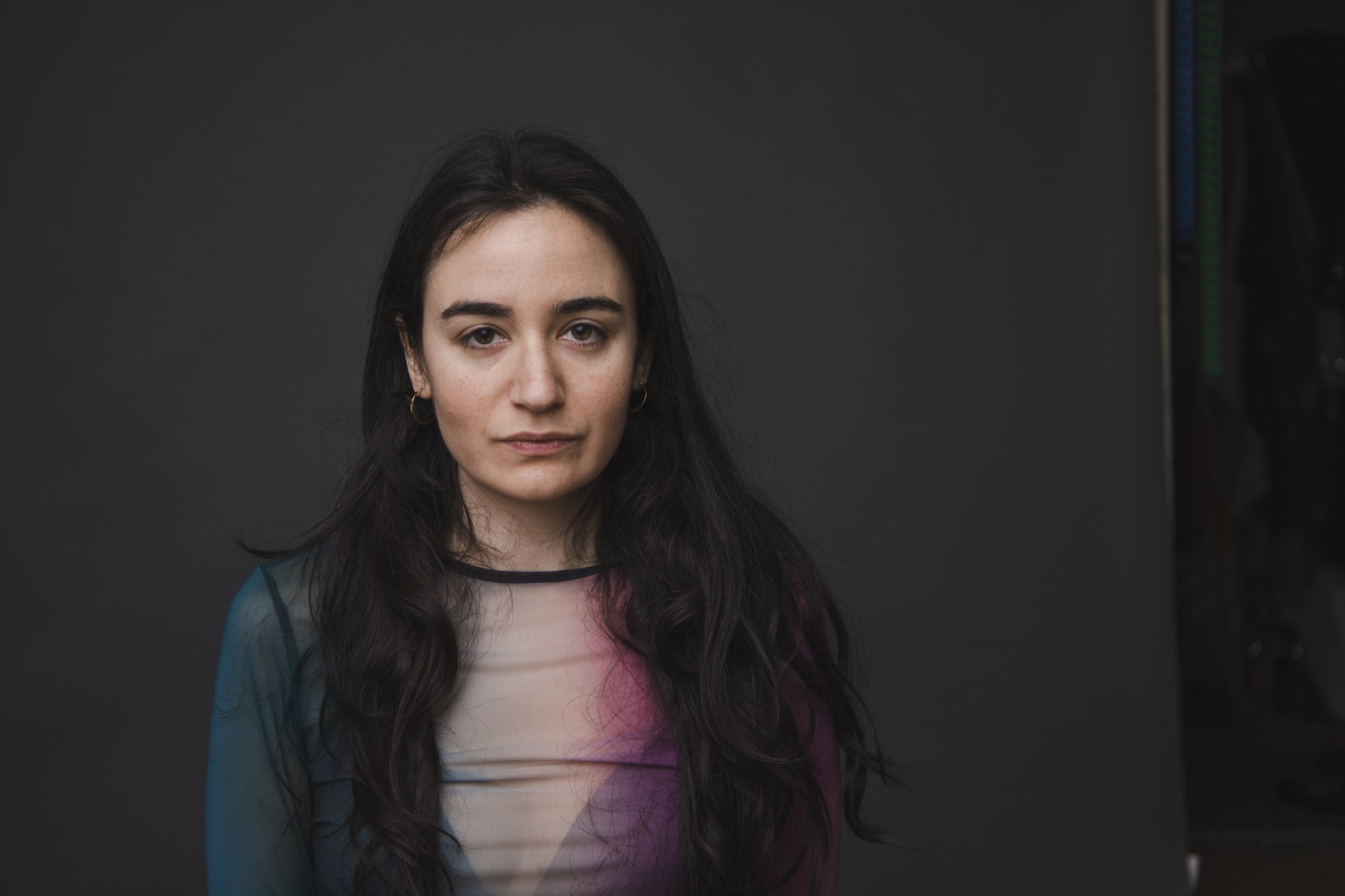 Singer-songwriter-guitarist-architectural researcher Mayssa Jallad will lead a trio of performers at Zoukak Studio, Tuesday April 11. (Credit: Ely Dagher)
"This isn't our first collaboration, actually. Irtijal had a night there last year, but it was mostly our programming in their venue. Now It's more of a collaborative event. [For the final show] we paired artists from their circle with our artists and guest artists."
The collaboration will continue beyond Irtijal.
"We'll have an additional night on April 29 that's not on the festival program, an event around [Lebanese artist and electroacoustic composer] Tarek Atoui and his invented instruments."
Among the gigs booked for the festival's closing night pairs improv trumpeter and Irtijal co-founder Mazen Kerbaj with electronic musician June As, a Mkalles Warehouse habitué and onstage accompanist in some Zoukak shows.
"As and Mazen devised this DJ-oriented set, so he'll probably be riffing off Mazen's solo," Sehnaoui says, "but he isn't just a DJ. He's a really fine musician, playing various types of electronic devices, mostly modular synthesizers. He did an amazing solo at Irtijal last year."
Performance aside
Between Lebanon's interminable collapse and the global economy's most recent contraction, it's hard not to ask after the health of Irtijal, a yearly event whose performers and audiences fall well outside the artistic mainstream.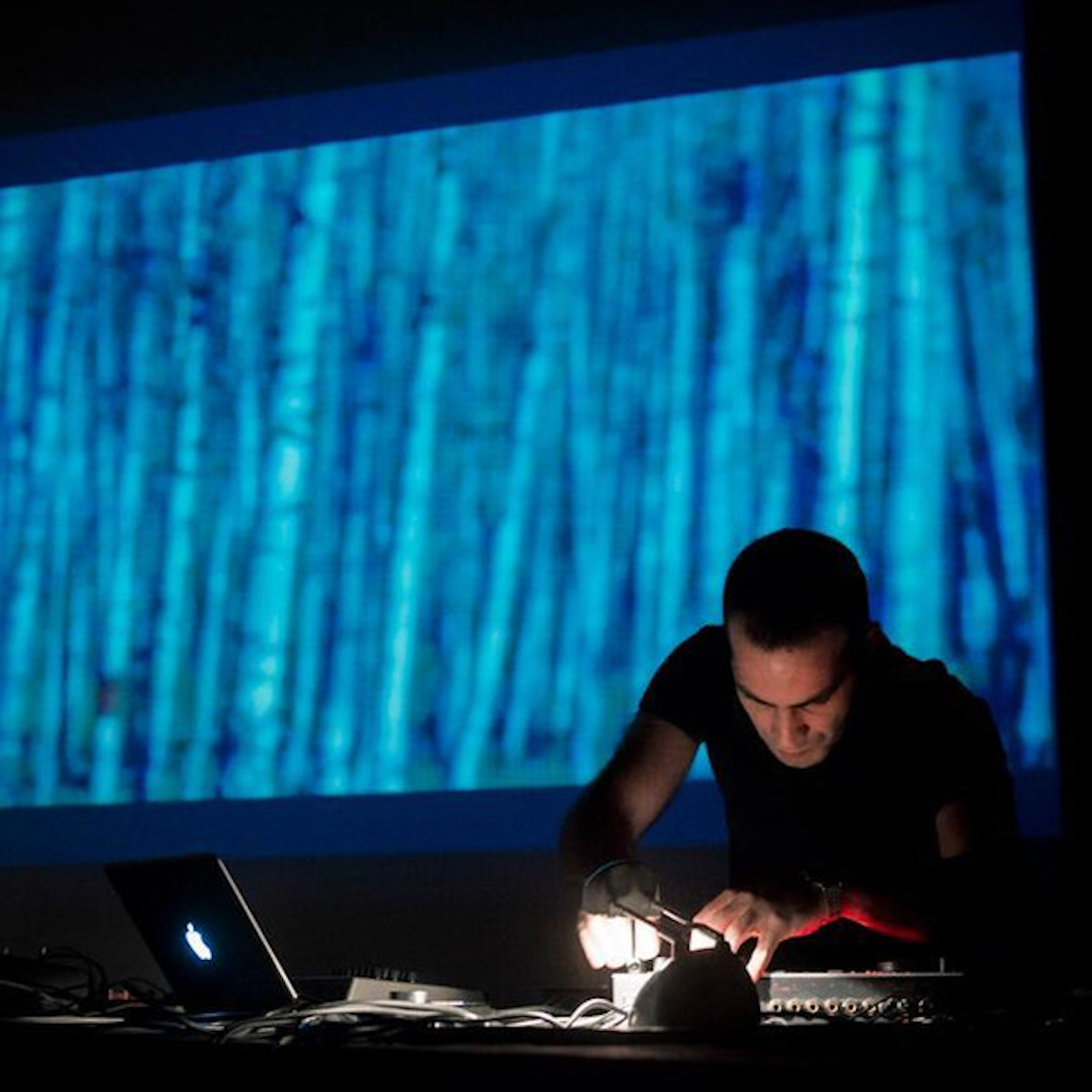 Lebanese sound artist Sary Moussa will activate his multi-channel installation "A line that separates the earth from the sky," at BAC April 12. (Courtesy of: Irtijal)
"It's not doing very well," Sehnaoui replies after a moment's pause. "There was a lot of empathy with Lebanon for a couple of years — you know, the thawra protests were in the news and many other crises since then. This is a bit done."
Irtijal is not alone Its partners Space21 and Breach are also facing financial shortfalls this year.
"We're in a transition phase where less support is coming in than before," he says with matter-of-fact calm. "The last two years were exceptional, so now we have to go back to working with whatever funds we have. The Goethe-Institut has been a constant supporter, which is great. Other than that there's little to no funding. Basically, we're doing it with our own means. Our usual partners, like Tunefork studios and the venues, offer in-kind support. That's what allows us to do the festival.
"We have enough to go on," he adds reassuringly. "We're not in panic mode yet."
Playing
Irtijal day two will relocate to Beirut Art Center for a pair of gigs. Duo Moment's Kurda and Abas will open with a violin-cello performance that promises to be quite unlike the string-caressing recitals staged at Beirut's classical music events. Duo Moment will be followed by SUB_RATT, a pairing of Lebanese electronic musician Omar Itani and Welsh experimental noise artist prodigy Elvin Brandhi.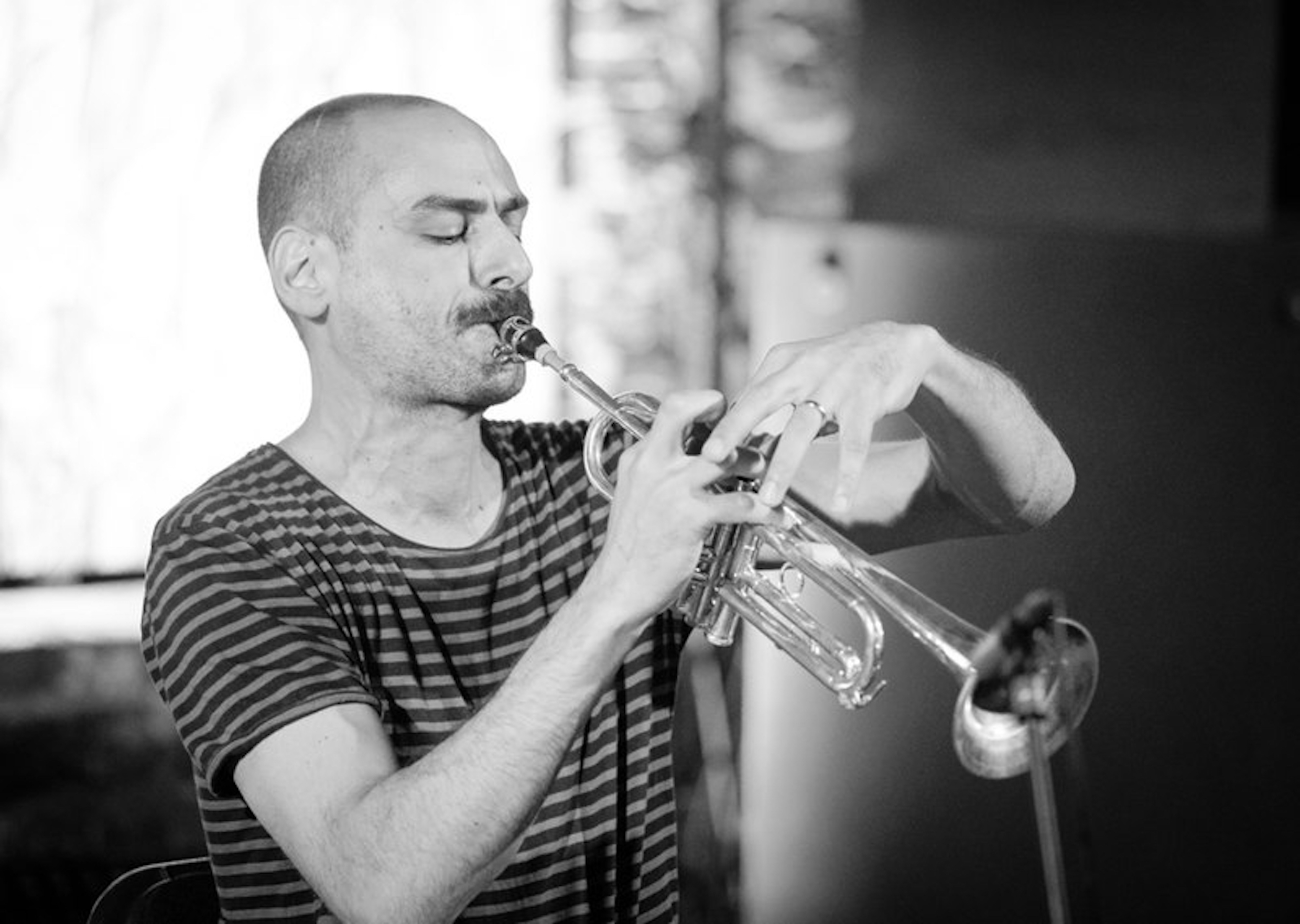 "Mazen Kerbaj: The Musical" will debut at BAC April 12. The trumpeter will perform with June As at Mkalles Warehouse April 14. (Courtesy of: Kongsberg Jazzfestival)
Before the concert sets, BAC will host the launch of "A line that separates the earth from the sky," a multi-channel installation work that sound artist Sary Moussa has been developing during his recent month-long residency at the center. Accompanying Moussa in activating the installation will be musicians Noura Badran and Julia Sabra.
Moussa's installation is "a reactive environment that interacts with visitors' presence within it. Visitors are faced with an imperfect horizon," the artist says, reminiscent of the visual distortions the ancient Greeks built into their temple columns "to make them appear perfectly erect."
Once inside the installation, he continues, "you can choose how you want to interact with this environment, accepting it, fighting it, or playing" with it.
Speaking of aural play, BAC will also host a projection of "Mazen Kerbaj: The Musical."
"It was commissioned by Counterflows, that festival in Glasgow, for their digital edition during COVID," Sehnaoui smiles. "This should be the first time it's being shown in Lebanon, so that's kind of exciting. Afterward, there will also be a bonus screening of an interview Mazen did around the film."
For 20 minutes or so, Kerbaj uses audiovisual technology to explore one of his professional pastimes — playing with sound.
One sequence, "Bubblebath," shows the musician in the bath, blowing bubbles with an instrument that combines the best features of the trombone and vuvuzela. In "Chain. Saw. Massacre," the camera gazes down upon a Waisvisz crackle-synthesizer 2.0 (a box with an array of buttons that, when touched, emit various piercing electronic sounds). Projected in split screen, the left frame shows the artist placing a hacksaw blade upon the instrument and playing the half that projects into space. The right frame shows his fingers rearranging a chain necklace upon the keys.
The Waisvisz device responds irritably.
Irtijal 23 runs April 11-14 at Zoukak Studio, BAC and Mkalles Warehouse.
BEIRUT — The vocalist warbles continuously — from shishing aspirations and trills to whispering inhalations and the sort of grunts emitted by humans of a certain age trying to pull themselves from a seated position. She doesn't utter a word. A trumpeter steps from sputtering automatic rifle-fire blartings to sedate purrs, sliding past a selection of muting devices — the audience's...