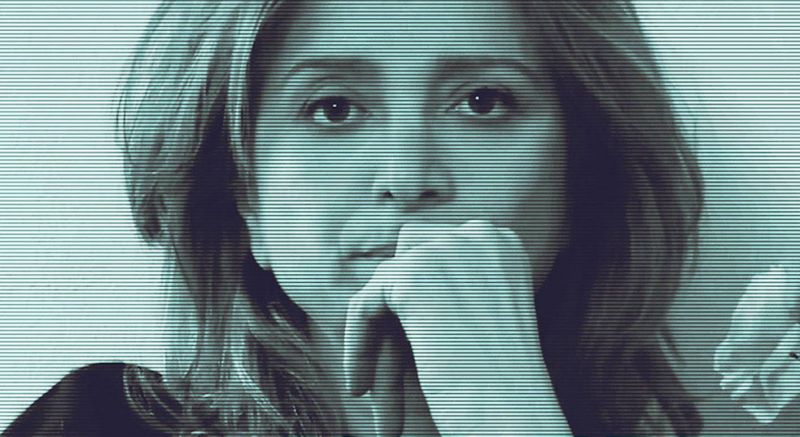 BEIRUT — Over the past couple of decades, Beirut-born filmmaker and artist Rania Stephan has drawn upon contemporary production and historic footage to create a body of work that is as varied as it is personal.

She first attracted film festival attention with her 33-minute documentary Train-Trains: Where's the Track? (1999) a personal reflection on post-Civil War Lebanon in the guise of a cinematic journey along the surviving tracks of the abandoned Beirut-Damascus railway.
Her film and artworks have since taken up a range of themes. Lebanon/War (2006), for instance, is a 47-minute series of vignettes of people enduring the 34-day 2006 war between Hezbollah and Israel. Stephan's 2011 feature-length work The Three Disappearances of Soad Hosni, a portrait of Egyptian film star Soad Hosni devised entirely of excerpts from VHS tapes of her films, won several international awards, including the 2011 Sharjah Art Biennial Prize and award for Best Arab Documentary Filmmaker at the 2011 Doha-Tribeca film festival.
Stephan spoke with L'Orient Today from Paris in the midst of a busy period. She just returned from London's Frieze art fair, where her photo series In My Mind's Eye attracted some jury attention. She's also touring film festivals with her new feature-length doc, In Fields of Words: Conversations with Samar Yazbek, which won the Best Film prize at Rome's Villa Medici festival in September.
The new feature centers on years of conversations between the filmmaker and Syrian novelist Samar Yazbek, whose cogent dissent toward Damascus' Ba'ath Party regime made her a prominent face of the Syrian revolution.
Receiving the Villa Medici prize has been a pleasant surprise for Stephan, given that filmmakers working on Syria have been having problems finding financing, thanks to a perceived glut of film on the Syrian crisis.
Stephan says her experience in Rome was revelatory.
"These people don't know me or my work, don't know Yazbek or her work. They are vaguely familiar with Lebanon and Syria," she adds. "In Europe these days everybody's absorbed by Ukraine. Yet somehow the questions the film asks resonate with bigger questions they're asking in Europe. It became a real revelation for them. It became something bigger than Syria."
A years-long conversation
Stephan's relationship with Yazbek began soon after the start of the Syrian revolution in 2011, after the novelist and her daughter relocated to Paris in response to state intimidation against them.
"I often say that I met Samar Yazbek in a newspaper piece," Stephan smiles. "She was writing articles that were published in Annahar and Le Monde and Liberation. I read this text and was totally stunned. 'Who is this woman who has this kind of writing?' I started reading her work regularly and met her in Paris a few months later through a common friend."
In Fields of Words was conceived in the run-up to Home Works 6, Beirut's forum on contemporary art practice, staged every couple of years by art organization Ashkal Alwan.
It was the spring of 2013, the Syrian revolution was still young and Ashkal Alwan director Christine Tohme proposed opening the Forum with a voice from Syria.
"We were very hopeful in Lebanon," Stephan recalls. "We felt that if this happened in Syria, it could spill over and we could have a regime change in Lebanon too."
Since Lebanon's wobbly internet made a Skype-style interview untenable, Stephan headed to Paris with a razor-thin budget to film an interview with Yazbek.
"I told Samar, 'Look, I have a set of questions for this Ashkal Alwan interview, but I have more questions to ask.' So we scheduled another filmed interview for the next day. As we were doing that, she said, 'As a Syrian writer, I have questions for you as a Lebanese filmmaker about what happened to you during [Lebanon's] Civil War.' So we scheduled another filmed interview," Stephan recalls.
"We discovered that we both needed to talk together in order to think aloud — two women: one Syrian, one Lebanese, one a writer, the other a filmmaker, trying to make sense of what was happening."
Thus began a program of filmed conversations that waxed and waned through 2019. Then the pandemic descended.
In Fields of Words captures how the unmitigated violence Syrians have faced over these years altered the "machinery of power" in the two women's relationship, says Stephan, here using Michel Foucault's term "dispositif." This changed the terms of their conversations.
"How we were filming, how we were conversing — me talking about my experiences in the Lebanese wars, her talking about what was happening in Syria — couldn't continue on equal terms," Stephan says.
"So I started following her public appearances, speaking about her work and what was happening in Syria. As the years passed, she felt very alienated because she couldn't write fiction anymore. She stopped talking on camera. 'The violence is beyond language,' she said, 'beyond words, beyond literature.'"
By 2019, after Syrian regime forces had recaptured much of the territory previously held by the country's opposition, and as a narrative of post-war "reconstruction" began to take hold, realpolitik was driving the international policy narrative on Syria.
"The general policy was to keep the dictator in power," Stephan says. "It was a horrible settlement of the Syrian question by default. I was in lockdown like everybody else, so I started editing the film."
Stephan found it challenging to find a coherent through line in the years of film rushes, both because of the sheer volume of material and its disparate nature.
"The film started as one thing and it ended up as something else," she recalls. "Maybe the best way forward was to ask, 'Can literature and cinema capture this tragedy?'"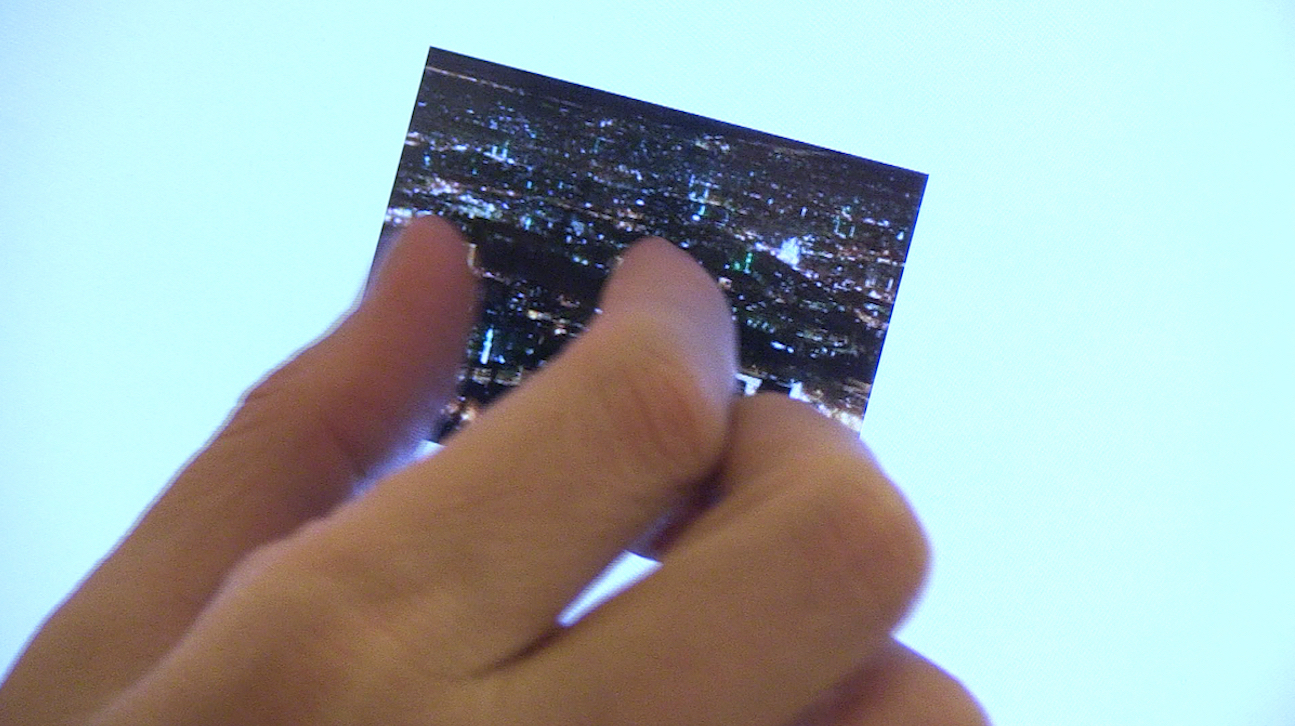 A still from Rania Stephan's In Fields of Words, which will be projected at the Marrakech International Film Festival in November. (Credit: Joun Films)
Designing a filmic language

In Fields of Words asks: "How can an exiled writer try to account for the tragedy people are suffering?" and seeks to address this question in cinematic language. Though Yazbek is present in most of the shots, and the film does draw on archival footage, Stephan's work is not a conventional documentary.
It opens upon two blank pages of a notebook before fading to frame a white room. The scene shifts to a dimly lit interior where the camera pans left to right as Arabic and English intertitles show Yazkbek's writing — an excerpt of her description of a female character's harrowing encounter with Syria's mukhabarat (secret police).
"When you start asking 'Can literature and cinema account for this disaster,' you can't simply say, 'Yes' or 'No,'" Stephan says. "You have to articulate all the elements that you have before you — image, sound, dialogue, music, the literature itself — in a form that can lead the spectator to think about the question."
"One idea was to place the spectator in front of the literature itself, the Arabic text," she adds. "When you see Arabic script on the big screen, it's very striking. The film starts with three minutes of Yazbek's writing on screen. You let the spectator enter her literature — how she works with images and how she uses the language. You later hear her read her texts and hear her speak about it.
"I also tried to enter the mind of the author herself. She says, 'I work with images. I create images from words, ephemeral things that don't exist. I make them images.' This, I think, was what drew me to her writing," Stephan says. "She writes like I would have loved to be able to write in Arabic. This idea that she writes with images, like a film, also gave me the freedom to play with the images — play with the archive, use color grading as an element that's as important as music and sound. I tried to use all these tools to maybe open a little window in the spectator's mind, to make him or her understand what's at stake here."
One thing Stephan wanted to avoid was images of wrecked cities and bodies.
"I didn't want to make a spectacle of it," she says, "because everybody has those images in mind ... I wanted her face to become the landscape of the war, over the years. The first filmed interview was in 2013, the last one 2019. You can see what happened through her face."
"But I needed to conceptualize, for the spectator, the context in which these things happen … So at one point you do see the revolution — this beautiful image of people singing. The image moves me a lot because when I hear this beautiful song —" Stephan pauses. "My heart breaks, to know what happened to these people who dared to go out and say they love their country. They were massacred."
As in her art work, Stephan sometimes superimposes apparently unrelated images upon her principal footage. Here she superimposes footage of the sea upon the tableau of singing demonstrators, making it as much an aesthetic object as a document.
"It was like a sea of people in the beginning, you know, flooding into the streets," she says. "It's not an illustration. It's more about resonance."
In Fields of Words will be projected during the Marrakech International Film Festival, from Nov. 11 to Nov. 19.

BEIRUT — Over the past couple of decades, Beirut-born filmmaker and artist Rania Stephan has drawn upon contemporary production and historic footage to create a body of work that is as varied as it is personal.She first attracted film festival attention with her 33-minute documentary Train-Trains: Where's the Track? (1999) a personal reflection on post-Civil War Lebanon in the guise of a...