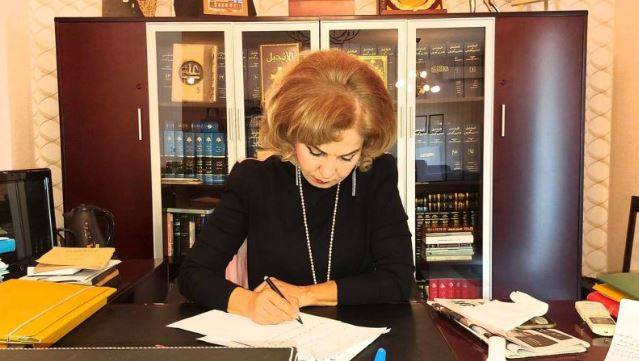 BEIRUT — "Who are you calling a dancer! Who do you think you're talking to? Shut up, don't say a word," screamed lawyer Bushra Khalil at the top of her lungs during a talk show appearance on MTV in 2015.

A lawyer from the Future Movement had just accused her on air of "dancing" for Syrian President Bashar al-Assad, which Khalil took to mean that he was likening her to a belly dancer. This aggravated Khalil, never one to hold back, and she let loose on him, informing him, "You're a dancer and your mother is a dancer!"
The tirade landed Khalil in legal trouble; in the stream of insults, she also called MP Bahia Hariri a dancer, prompting the Future Movement to file a lawsuit, although it was ultimately thrown out because the court determined that "dancer" is not a slur that constitutes slander.
Despite being more than seven years old, this video has recently resurfaced online thanks to social media app TikTok, garnering countless of views and giving Khalil a new audience — so much so that she was impersonated by the famous Lebanese drag queen Bassam Feghali earlier this year. Other clips of her are also making it onto the For-You-Page, TikTok's landing page.
The renewed attention comes at a time when Khalil, a perennial political candidate, is among the 118 women candidates who made it onto lists ahead of May's parliamentary elections — although not on the list she had hoped to join, the one backed by Hezbollah.
She may not look the part — her carefully coiffed blonde hair stands in contrast to the Iranian-style chador favored by many of Hezbollah's female members — but Khalil is an ardent supporter of Hezbollah, and has fought for years to be on the party's election list, to no avail. Instead, she'll be running with an independent list, "The Inclusive State," in the South II electoral district of Sour/Zahrani with three other candidates.
Many of the young people who now know her from the "dancer" tirade may not be familiar with her past, which also includes its share of controversy: Khalil first rose to prominence as the attorney for the former Iraqi President Saddam Hussein, a somewhat incongruous role as Khalil is Shiite and Hussein was notorious for oppressing the country's Shiite population.
In 2006, she represented Hussein during his trial for crimes against humanity in Iraq. During the trial Khalil got the first taste of what it was like to go viral when the judge asked for her to be removed from the bench. As she was being escorted by security guards, she threw her court robe on the floor and told the judge "God damn your father [Yil3an abuk]" live on television.
While her defense of Hussein might be controversial in Shiite circles, Khalil told TV host Rabia al-Zayyat that she did it because "I couldn't bear to see an Arab leader be prosecuted in an Arab country by Americans."
She insisted in an interview with L'Orient Today that had she made it on the Hezbollah electoral list, her role as Hussein's lawyer would have softened the tensions between the Sunni and Shiite streets.
This year isn't the first time she has been snubbed by Hezbollah for a role in higher office. In 2019, an opportunity opened up for Khalil to enter Parliament after Hezbollah MP Nawwaf Mussawi was asked to resign because of an altercation he had at the Damour police station when his daughter tried to press charges against her ex-husband.
Khalil threw her name in the hat to replace him, but Hezbollah put up a different candidate. She said she would have stayed in the race had it not been for a skirmish that arose at the border with Israel at that time. Fearing that the election would distract from Hezbollah's military operations, she said, she asked the party's second in command, Naim Qassem, to withdraw their candidate so that she could win by acclamation. But in the end, after receiving a message from Hezbollah leader Hassan Nasrallah that he wished she would withdraw, she said, she obliged — something that she says won't happen this time around.
As to why the party has repeatedly rejected her candidacy, the reasons are not entirely clear.
The party is known for excluding women from major political positions (despite the fact that its regional patron, Iran, has a female vice president). There are a few exceptions, including Rima Fakhry, a member of the party's political council since 2005, but even Fakhry has said in public that women's participation in Parliament would be at the expense of her family: "For us, the woman is a woman … She has a home. She is a mother and must bring up generations. This takes a lot of the woman's time."
When asked about the issue of a women's quota in parliament in 2018 in an interview with Al-Mayadeen channel, Hezbollah Secretary-General Hassan Nasrallah said that "whoever wants the women's quota in Lebanon must change the view of MPs in Lebanon," Here, according to him, they are mainly expected to show up for weddings and funerals. He did not, however, rule out appointing female ministers.
Joseph Daher, a professor at Lausanne University and author of Hezbollah: Political Economy of the Party of God said the party's "ideology of the position of women in society is very patriarchal and essentialist" and that this might be part of the reason for rejecting Khalil's candidacy.
A Hezbollah spokeswoman did not respond to a request for comment as to why the party did not include Khalil on its list.
Khalil, for her part, told L'Orient Today — in an interview at her home in Khaldeh, with spectacular views of the airport and the sea and a portrait of her standing with Assad hung on the wall, while the poem that Saadam Hussein penned for her was tucked away in her office — that she had lobbied Hezbollah up until the last minute to join their list. She was disappointed when Nasrallah announced the lineup in a televised speech and her name did not appear. She was particularly irked to see that the party had nominated someone else from her hometown of Jwaya, Hussein Said Jashi.
Since then, she said, she has cut off contact with the party.
"I don't know why the Hezbollah leadership took this decision," Khalil said. "Internally [in domestic politics] we diverge on many things, but the issue of resistance is sacred to me."
She brushed aside the possibility that she had been discounted due to being a woman but speculated that it might be because of her frequent criticism of Hezbollah ally Nabih Berri, the speaker of Parliament and head of the Amal Movement, with whom she would have been sharing a list, or simply because she is seen as a free spirit.
Khalil noted that even if she had managed to get to Parliament on a Hezbollah-backed list, she might oppose them on certain issues, or she might just abstain from voting if she didn't agree with the party line.
"I won't enter into a conflict just for the sake of Ali Hassan Khalil," she said, referring to the Amal MP and former minister who was sought for questioning in the Beirut port blast investigation by Judge Tarek Bitar. This was one of the issues that prompted a monthslong standoff between Hezbollah and Amal, who sought to remove Bitar, and the opposing political bloc, who backed him, and culminated in the October street clashes in Tayyouneh.
Daher said that the party's rejection of Khalil is likely due to a confluence of factors, including Berri, given that "the South and Sour are very important for [both] Amal and Hezbollah," not to mention that in Lebanon's sectarian power sharing system "there is no room for women in the elections because in the sectarian system, gender comes at the end if you also add class as well" in the hierarchy of the system.
Whatever the case, the upshot is that Khalil is running on an opposition list, where she is hoping to parlay her social media fame — or notoriety — into a seat in Parliament.
She said she doesn't mind if her candidacy ends up causing a Hezbollah or Amal MP to lose a seat, as she believes she's the best-qualified to hold public office.
Her platform includes a familiar list of popular demands: returning looted money, prosecuting corrupt politicians, creating new financial policies for the country and giving teachers and public professors a raise, as well as removing sectarian considerations from the selection of top leaders in the security services and enforcing the independence of the judiciary.
Khalil believes that a lot of the younger generation who are angry at the political class are her biggest fans.
"They'll stop me in the street or in the car to take a selfie with me," she said.
As for the reason why her persona has resonated so much with the younger generation, Bushra says that, "it's because this generation was born into the hardest circumstances," unlike the circumstances she was born into when Lebanon was in its heyday.
"This generation came to the earth and saw that all the other countries have electricity but Lebanon doesn't," she said. "It's gotten to the point where a loaf of bread is unavailable. This is in addition to the fact that this generation graduated from college and couldn't find a job."
Her own social media manager, for instance, got a master's degree in chemistry but couldn't land a job as a teacher.
Abir, a 35-year-old voter from Sour who asked not to reveal her last name, said she likes Khalil's outspokenness and her boldness in the way she confronts issues.
However, Khalil has gotten some flak from young women, in particular, for her unflinching support of the Shiite Jaafari court, notorious for ruling against women on child custody cases. Many activists want to see family matters regulated by a single personal status law under the civil courts, rather than governed by religious authorities as they are today.
Khalil said she would support altering the personal status law, particularly on matters such as raising the age of custody until which children should remain with the mother and increasing the legal age of marriage to 18, as well as for a set of pre-agreed conditions to govern the marriage so as to facilitate smoother divorce proceedings — as long as the changes are in accordance with the teachings of Islam.
Given her outspoken fondness for Hezbollah, can she be considered to be part of the opposition now?
Nadim El Kak, a researcher at The Policy Initiative, said that depends on how opposition is defined.
"We can adopt a broader definition of opposition as just someone who is on the outside," he said. "Someone like Bushra would make the cut because she's an outsider who didn't have any interests in the regime originally and is running against the political parties. The distinction can emerge from being anti-regime or anti-establishment."
Kahlil is not the only candidate this year with a noted media presence, being in the company of other personalities, including Jad Ghosn and Paula Yacoubian.
But as for whether that anti-establishment stance will appeal to enough voters to make her a viable candidate, this will be determined on May 15.
For Daher, this is unlikely because "there are groups in the opposition who were [active] in the October 17 [movement], they will more likely get the anti-establishment vote than Bushra."
Aside from Hezboallah and Amal, Khalil is up against a list backed by the Lebanese Forces and another supported by groups in the protest movement, the "Towards Change" list.
Daher added that because of "her closeness to Hezbollah, it's hard for her to position" herself as being in the opposition.
BEIRUT — "Who are you calling a dancer! Who do you think you're talking to? Shut up, don't say a word," screamed lawyer Bushra Khalil at the top of her lungs during a talk show appearance on MTV in 2015.A lawyer from the Future Movement had just accused her on air of "dancing" for Syrian President Bashar al-Assad, which Khalil took to mean that he was likening her to a belly dancer....