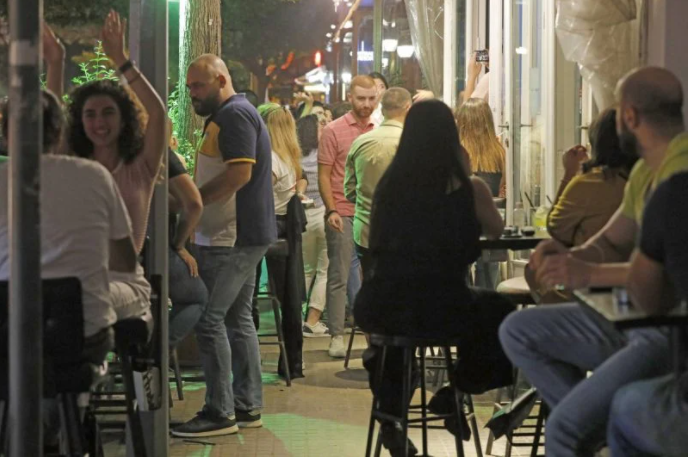 BEIRUT — Ahead of what is supposed to be a busy holiday season, Lebanon is short of tourists, representatives of hotels, bars and restaurants told L'Orient Today.
The country, whose economy has traditionally relied heavily on tourism, is facing an apparent inability to attract international visitors, including its own expatriates, amid ongoing economic and political instability.
On Monday, during an interview with Al-Hurra TV, Tourism Minister Walid Nassar presented an optimistic outlook for the upcoming holiday season, claiming that revenues from Lebanon's recently-launched "Winter Promotional Packages," sponsored by his ministry and offered by 38 travel agencies, will reach around $60 million. A travel agency told L'Orient Today that the packages' costs ranged between $300 and $900 per person.
This money is sorely needed by the tourism and hospitality sectors, considering the high number of bars, restaurants and hotels that are closing. As they grapple with economic collapse, those that stay open have been forced to increase their prices, which fewer people can afford, amid rising inflation in Lebanon.
Despite Nassar's optimism for the coming month, tourism in Lebanon did not reach its usual levels during the summer, normally a high season for visitors, even after worldwide travel restrictions were loosened. According to numbers published by Rafic Hariri International Airport, the number of passengers arriving in May and June 2021 (387,879) was far lower than the number of arrivals during the same period in 2019 (773,432), before COVID-19 and the economic crisis took hold.
Representatives of the tourism industry do not share the minister's optimism.
In 2018, pre-crisis, the tourism sector's economic contribution was estimated at $10.4 billion or 19.1 percent of gross domestic product, the second highest ratio in the Middle East.
Now, the head of both the Federation of Tourism Syndicates and the hotel owners' syndicate, Pierre Achkar, told L'Orient Today that though this year has seen improvement from the lows of 2020, tourism is almost nonexistent. He pointed out that the bulk of tourist activity in Lebanon was internal, with Lebanese spending money on trips within their own country.
"I know for a fact that the mountain houses in Faraya and other snowy areas are fully booked, but these are Lebanese people planning their holidays. This is not reflected in all areas of Lebanon," Achkar said.
He added that he knows most venues don't have large events planned for Christmas and New Year's Eve, and that even if they did, "no artist would accept the rate that the venues would offer in Lebanon. Instead, since many of them have already emigrated, they would prefer to perform their New Year's concerts abroad."
During the summer, as Lebanon suffered from severe electricity cuts, hotels struggled to secure enough fuel to keep their lights and air conditioners on.
"On the bright side, fuel is [now] accessible, which is a positive that gives us some peace of mind regarding electricity cuts and also allows our customers to move inside Lebanon without having to worry about gasoline," Sherif Samaha, who owns the Mayflower Hotel in Hamra, told L'Orient Today.
Samaha said that for his business, 2020 was the worst year by all metrics, with the economic crisis and COVID-19 hurting the hotel's bottom line.
"COVID-19 has become part of the norm and is not a major issue anymore," Samaha said. "The problem with tourism in Lebanon today is simply that there are no tourists."
The Oct. 14 Tayyouneh clashes drove some countries to warn their citizens against traveling to Lebanon. Later that month, Gulf states withdrew their envoys from Lebanon — after Lebanon's now-resigned Information Minister George Kurdahi's comments on the Yemen war caused a diplomatic spat — and ordered their nationals not to come to the already struggling country.
"The country is suffering from instability in all aspects, like the political tensions that happen all the time and cause armed clashes sometimes, the Arab ban on Lebanon and all the countries warning their citizens from coming to Lebanon," Samaha added.
Samaha explained that reservations at his hotel during this peak period are far lower than in the years before 2019.
"Before 2011, we would be fully reserved from October until February. This has been declining over the years, but we would always be fully reserved during December," he said.
"Now you have a lot of Iraqis coming to Lebanon though, which is a new phenomenon and certainly helps," he added.
Other hotel owners highlighted issues related to the basic services the country is failing to provide.
Nazih Dirani, co-owner of Hamra Urban Gardens, a hotel that also includes the Em Nazih restaurant and Pool d'Etat, a rooftop bar, told L'Orient Today that faltering telecommunications services, which he dubbed as a "disaster" in the Beirut neighborhood where his business is situated, are affecting his business.
"When tourists sense a weak [mobile] signal they get paranoid. It is taken for granted in their countries and is their only way to communicate with their friends and relatives back home," Dirani said.
"In addition, my [credit] card machine has not been working for two weeks because of the [poor] signal, which also subtracts from the amount of customers that would choose to come," Dirani added.
In addition to poor mobile service, Dirani said that the lack of lighting in Beirut's Hamra quarter scares away potential clients.
"It is very unfortunate. Hamra used to be the nightlife hub for all of Lebanon," he said. "Now you just have all the closed places, and the street isn't even lit anymore."
And customers are easily frightened these days, according to Dirani.
"We had an event Friday at Em Nazih when a small protest was taking place near the central bank. The result? All the reservations were cancelled," he said.
Almost two year after the outbreak of COVID-19, the virus still poses a problem for the tourism industry.
In December 2020, the syndicates for bars, restaurants and hotels succeeded in pressuring authorities into opening the country despite rising COVID-19 case numbers, making the case that a vibrant nightlife would bring in much-needed money. The lax restrictions were followed by a huge spike in COVID-19 cases and deaths, and eventually a long and painful lockdown that hurt the hospitality sector.
Last week, the Health Ministry announced new measures that will attempt to contain the rising number of COVID-19 cases and the potential spread of the new Omicron variant of the virus.
The measures include restrictions on the numbers of guests bars and restaurants are allowed to receive and nighttime curfews for people who have not received at least a single dose of a vaccine. They also ban establishments from admitting people who are not vaccinated or who cannot produce a PCR test conducted 48 hours prior to entry.
"I find these measures funny. They really think that security forces have enough time and human resources to supervise all of this, especially with all security officers fleeing the country?" Dirani said, referring to reports of security officers leaving their posts as they struggle to make ends meet on rapidly depreciating salaries.
The manager of Luna's Kitchen echoed this sentiment, saying that he does not believe the COVID-19 countermeasures can be implemented.
"What are we supposed to do, investigate each person to see if they are vaccinated or have undergone a PCR test?" he told L'Orient Today.
"We want to prevent another health crisis after last year, and I agree with the principle, but the more realistic approach is just limiting the capacity to 50 percent," he added.
Asked about the spread of COVID-19 after the country opened up for the holidays last year, Achkar claimed that the rise in cases was not coming from gatherings in venues, but from "house parties."
"Most reported cases came from such house parties, where you would fit a large number of people in a very small place," he said. "I do believe that opening the venues, bars and restaurants during this season is safe and can be monitored more easily.''
Sami Chenaihi, owner of Vagabond in Badaro told L'Orient Today that his family is not coming to celebrate the holiday season in Lebanon because of the health crisis, which is causing medical supply shortages in hospitals.
"One of my family members is sick. They just can't risk their health and come here to celebrate when the country's hospitals are not equipped," he said.

BEIRUT — Ahead of what is supposed to be a busy holiday season, Lebanon is short of tourists, representatives of hotels, bars and restaurants told L'Orient Today.
The country, whose economy has traditionally relied heavily on tourism, is facing an apparent inability to attract international visitors, including its own expatriates, amid ongoing economic and political instability.
On Monday,...