2019 was, in many ways, a historic year for Lebanon. And it marked a turning point for the L'Orient-Le Jour group, too. Generational transition, editorial reform, economic shift: there were many changes that are worth sharing with you, dear readers. For the sake of transparency, and to follow on from something we first did last year, we are publishing a brief activity report as well as the list of our main shareholders.
First off, it was a transition at the head of the group that marked 2019 out as an important year: Michel Eddé, chairman for almost thirty years, who was the last link with the founding fathers of L'Orient and Le Jour, passed away in November. He left after having passed on the reins a few weeks before to Nayla de Freige, formerly the executive director, and already the chairwoman of Le Commerce du Levant. While there was change, there was also continuity, Michel Edde having himself appointed Nayla de Freige to the operational management of the group in 2004.
Major developments have also taken place at the top levels of the newsroom: Ziyad Makhoul, a journalist since 1999 and editor-in-chief since 2015, who had greatly contributed to strengthening L'Orient-Le Jour's editorial content and diversifying into the events segment, left his position in June, remaining true to the saying that "journalism leads to everything, provided you get out of it"... In September, a new team was entrusted with L'Orient-Le Jour's editorial direction: Elie Fayad joined Emilie Sueur in news management; while Michel Touma is in charge of memorial projects in Greater Lebanon's centenary year.
Le Commerce du Levant, our economic sister publication, celebrated its 90th anniversary with a special issue devoted to Lebanese industry and its history, a timely topic as the overhaul of our national economy now appears to be a necessity.
The management has evolved, yet our mission to inform with complete transparency and freedom remains. The shareholders, for their part, reiterate the commitment that makes our group an exception in the Middle East: its editorial independence, a cornerstone of the work of our newsroom.
The ownership of the newspaper hasn't changed, with c. 90% of the capital held by four family groups: Eddé, Choueiri, Pharaon and Rizk.
Extraordinary news, unprecedented mobilization of our teams
Just one month after the installation of the new editors in chief, Lebanon began a historic period with the October 17 revolt. An immense challenge for our journalists, due to the intensity of the events, the geographic and temporal spread, as well as the vast quantities of information broadcast on all sorts of media. This challenge remains all the more important given the proliferation of fake news on social networks, and the crumbling of a media sector already weakened by the economic crisis.
What have we done to meet this challenge?
· We have, first of all, considerably increased our presence on the ground, in Beirut, at the heart of the demonstrations, as well as across the country, thanks to a strengthened network of stringers (in Tripoli, the Bekaa, Saida, Nabatiyeh), as well as throughout the diaspora (Paris, New York, Montreal, among others).
· In addition to real-time coverage of events, we have decided to focus on the verification of information, the deciphering of events as well as in-depth reporting
· To go even further in analyzing often dense news, we have focused on external contributions from experts, in order to offer you a diversity of opinions and analysis that will allow you to form your own, informed opinion
· And finally, we opened our columns wide to you, dear readers, through our "letters to the editors" section ("courrier des lecteurs"), in order to make our platforms a place of exchange and freedom of expression.
Renewed interest in news and a shifting of the business model

A key element of this crisis, the appropriation of the public debate by the citizens, took place to an unprecedented degree: politics, society, and economic issues have imposed themselves on the daily agenda, while they used to be all too often overshadowed by current affairs centered on regional geopolitical battles. As a sign of this growing interest, our website www.lorientlejour.com saw its traffic explode, by 48% in October compared to the first nine months of the year. Among this traffic, we have witnessed a surge in visitors from outside Lebanon, which comes as a beautiful reminder of the attachment the diaspora has to its country.
At the same time, our digital subscriptions experienced unprecedented growth, by almost 50% in volume in 2019.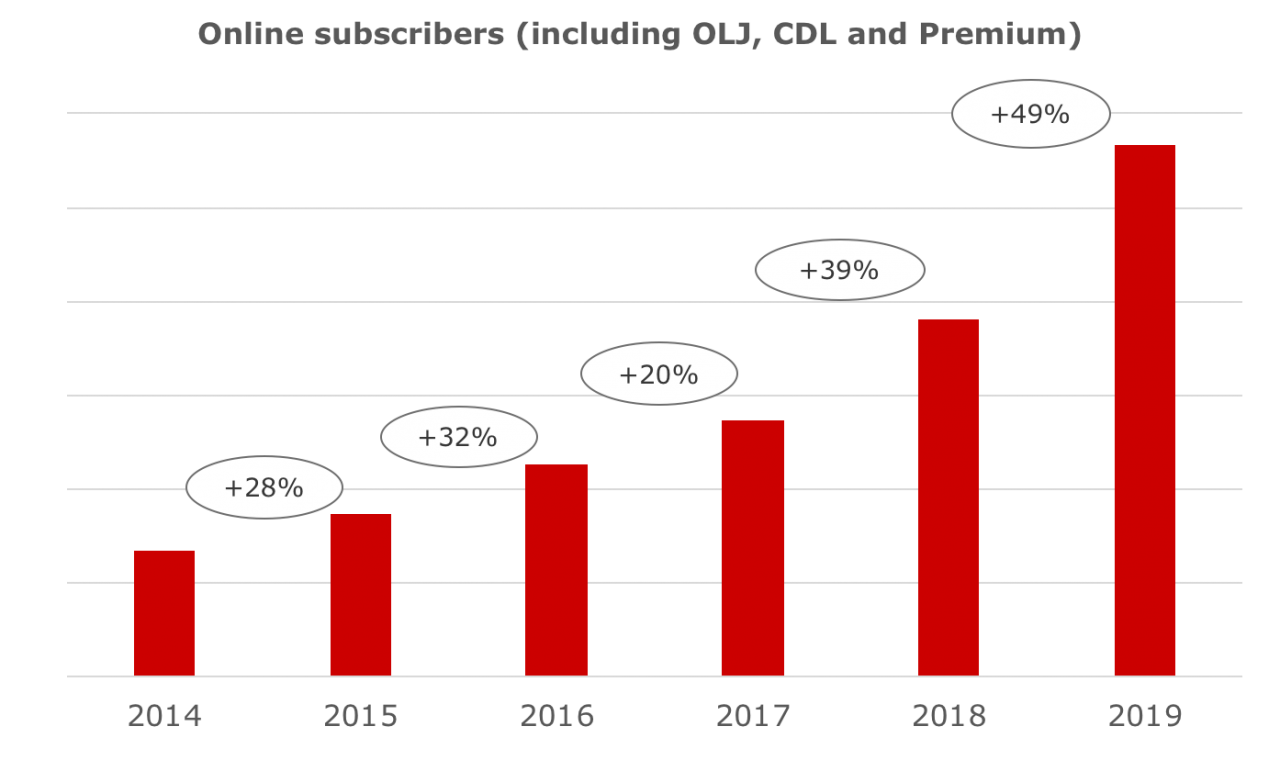 Half of our online subscribers reside outside of Lebanon, a number we never thought to see.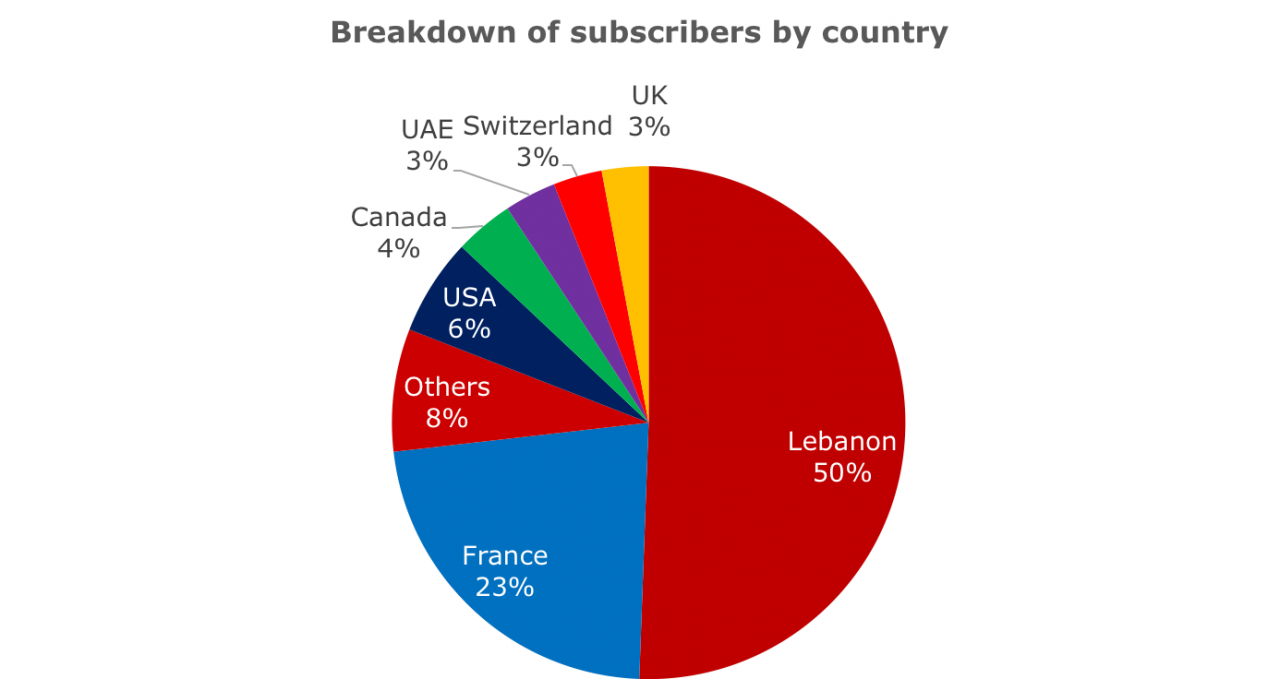 However, this increase in subscriptions does not compensate for the advertising drop recorded in the last quarter of the year. If 2019 has accelerated our switch to a model based on subscriptions and therefore on the quality of our content, substantial income from advertising and partnerships (including events and sponsorship) are essential to guarantee our financial viability. In these uncertain economic conditions, our shareholders, more convinced than ever of the vital role of an independent Lebanese press, are determined to provide the group with the means necessary to fulfill its mission.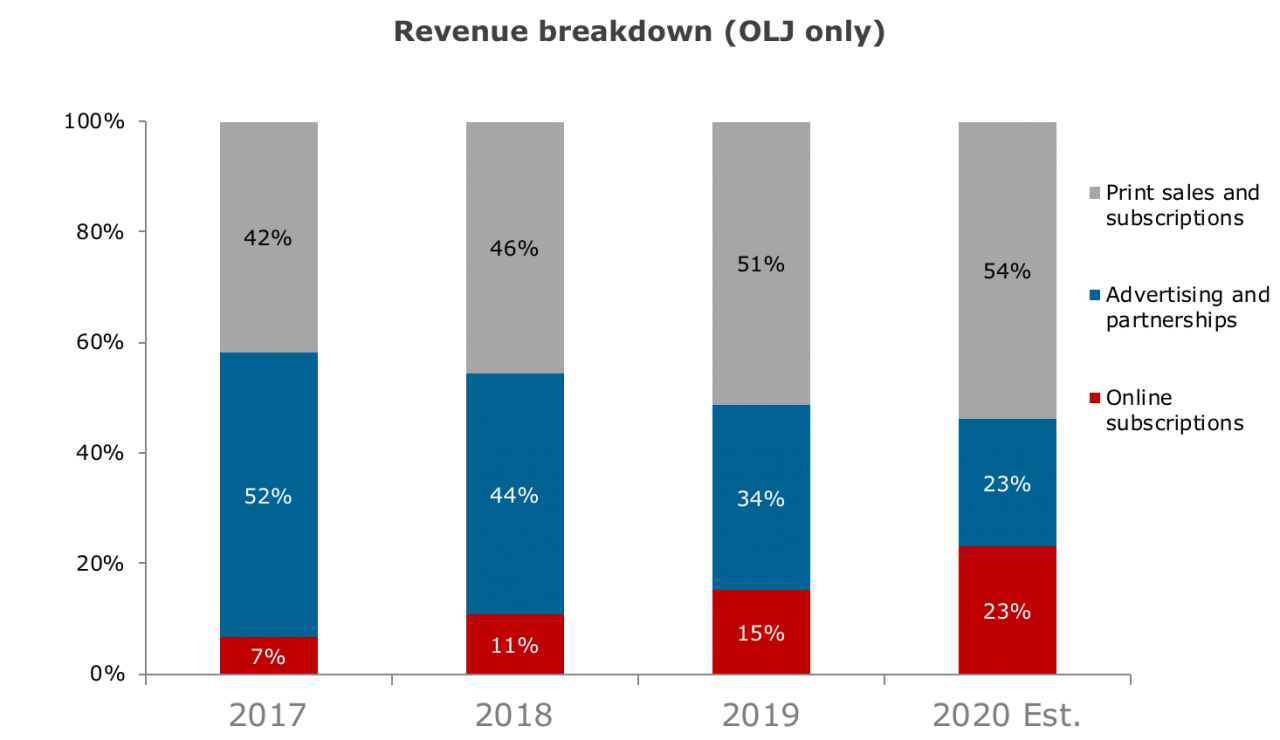 2020, a year full of challenges

Our new approach comes at a challenging time. 2020 got off to a flying start with the assassination of General Suleimani, which brought us closer to a confrontation between Iran and the United States. However, the Lebanese revolution did not let itself be entangled by potential war, instead gaining momentum from the middle of January, despite the formation of the Diab government. In this volatile context, two certainties: the triple crisis - political, economic, social - will intensify, and the evolution of the current system will be neither easy or smooth. Deciphering and explaining the inevitable convulsions will be our priority, while stimulating the debate of ideas regarding the refounding of the Lebanese model. Our coverage of regional news will also be strengthened, in order to better serve another major objective of our editorial approach: telling stories of the Middle East from here in Beirut, and building bridges between civilizations.
Investing in content and technology
To rise to these challenges, L'Orient-Le Jour group's strategy remains the same: invest, again and again, in journalism, and develop our digital platforms and marketing tools in order to better deliver this content to you.
It is precisely to improve your experience that we are working on a redesign of our website, for a clearer, more readable presentation, better technical performance and easier access to all the publications that underscore the richness of our group, namely L'Orient-Le Jour, Le Commerce du Levant and L'Orient Littéraire. Delivery is scheduled for spring, to be followed in late 2020-early 2021 by a redesign of our mobile application.
Late 2018, we launched the English version of L'Orient-Le Jour and Le Commerce du Levant, displaying translated articles from the French and a weekly newsletter. Now, English appears to be our "new frontier", and we aim at increasing our production in this language, while strengthening our content in French.
Dear readers, this year, we are confident in our strategy, and remain, more than ever, committed to the values that we have espoused for decades: defending freedoms; promoting tolerance and openness; establishing the rule of law and institutions worthy of the name; strengthening the link between Lebanon, its diaspora and the world; and last but not least, promoting the values associated with the French language as well as multilingualism.
This year, more than ever, all of our editorial staff will be mobilized to inform you of events and stories, to explain and unpack often complicated news.
This mission is one we can only fulfill with you by our side. Continue to read us, to write to us, to criticize us, and to support us.
You can find our 2018 report here

(This editorial was originally published in French in L'Orient-Le Jour on the 3rd of February)


2019 was, in many ways, a historic year for Lebanon. And it marked a turning point for the L'Orient-Le Jour group, too. Generational transition, editorial reform, economic shift: there were many changes that are worth sharing with you, dear readers. For the sake of transparency, and to follow on from something we first did last year, we are publishing a brief activity report as well as the list...