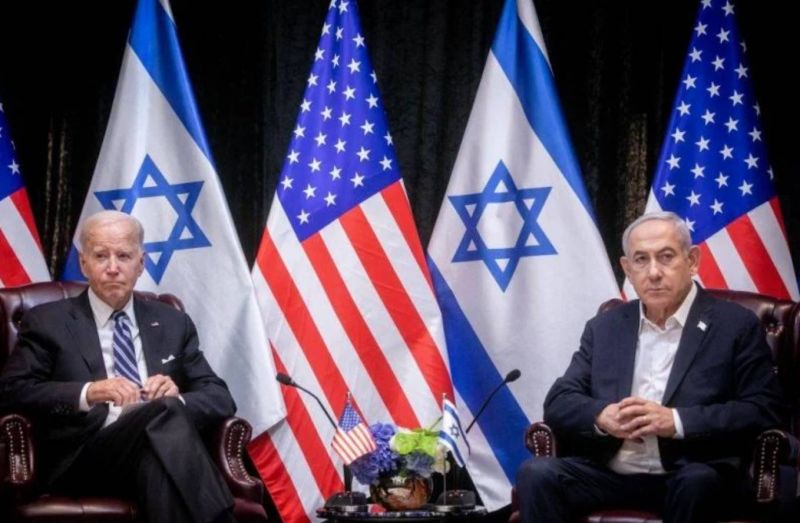 While the Biden administration continues to back Israel's offensive in Gaza, it is simultaneously preparing for the post-war period by exerting some pressure on its ally. On Saturday, President Biden publicly stated, for the first time, that Washington is prepared to impose sanctions on Israeli settlers engaged in attacks on Palestinians in the West Bank.
This potential sanction would represent the most substantial punitive action taken by the Biden administration against Israel since the president assumed office in January 2021.
In an op-ed published Saturday in the Washington Post, Biden wrote, "I have been emphatic with Israel's leaders that extremist violence against Palestinians in the West Bank must stop and that those committing the violence must be held accountable."
The US is prepared to take measures, including visa bans for extremists attacking civilians in the West Bank. Since Oct. 7, eight Palestinians, including a child, have been killed by Israeli settlers in the occupied territories, bringing the total number of victims since the start of the year to 205 in the West Bank and East Jerusalem.
Biden's announced measure aims to prevent Israeli settlers from benefiting from their country's inclusion in the US visa waiver program. Approved by Washington at the end of September and implemented in mid-October — more than a month ahead of schedule due to the triple Hamas incursion — this decision was granted in exchange for Israel easing travel restrictions for Americans of Palestinian origin living in Gaza and the West Bank.
However, Nicholas A. Heras, a researcher at the Newlines Institute for Strategy and Policy, argues that "much of the funding for settlement construction in the West Bank comes from American organizations and many settlers are American citizens."
"For now, the Biden administration will focus on visa bans and potential sanctions against Israeli politicians and settlers who are not US citizens," Heras added.
'Adding fuel to fire'
A steadfast supporter of Israel, Washington has stood firmly by its closest regional ally since Oct. 7, increasing its military aid and refusing to call for a ceasefire.
While the US does not question the nature of the military operation to eliminate Hamas, the Biden administration intends to set limits on Israel's policy in the West Bank and its plans for the future of Gaza.
More than two weeks ago, the US authorized Israel's purchase of thousands of M16 rifles from American defense companies only after receiving assurances that these weapons would not be used by civilian response teams in Jewish settlements on the West Bank, according to Axios.
Ten days earlier, in a phone call with Israeli Prime Minister Benjamin Netanyahu, Biden expressed concern over settler violence, before publicly declaring the next day that the attacks were "adding fuel to fire."
The same concerns are evident on the humanitarian front. According to Israeli and American officials cited by Axios, Washington has grown increasingly frustrated over Israel's unmet commitment to approve fuel supply to the blockaded Gaza Strip.
Under mounting pressure from the Democrat administration, Israel's war cabinet finally endorsed a plan on Thursday to permit nearly 60,000 liters of fuel daily through the Rafah border crossing.
The United Nations, however, deemed this quantity grossly insufficient.
The day before, the US abstained from voting on a UN Security Council resolution, which garnered 12 votes, urging "urgent and extended humanitarian breaks and corridors for a sufficient number of days." The resolution faced criticism from Israel for its lack of provisions condemning Hamas' acts on Oct. 7.
A 'revitalized' Palestinian Authority
The Biden administration aims to demonstrate its commitment to revitalizing the two-state solution through its recent statements. President Biden, in his op-ed on Saturday, expressed the vision of reuniting Gaza and the West Bank under a single governance structure, led by a revitalized Palestinian Authority (PA), as part of the pursuit of a two-state solution.
While the details of the project are currently limited, Biden emphasized that its success relies on the reduction of West Bank settlements, which undermine Palestinian sovereignty, according to Heras.
Under pressure from its ally, Israel has seemingly softened its stance, at least rhetorically.
While Netanyahu previously asserted Israel's "overall responsibility for the security" of Gaza, he appeared more nuanced on Saturday.
Although a two-state solution is considered inconceivable for Israel, Netanyahu opened the possibility of Palestinian governance by the PA, albeit not "in its current form," aligning with the American call for a "revitalized" authority.
According to statements made by Qatar's Prime Minister and Foreign Affairs Minister Mohammed bin Abdulrahman bin Jassem al-Thani, in the presence of US Secretary of State Anthony Blinken on Sunday, these comments might be related to the necessity of reaching an agreement on the release of hostages, with only some "minor" obstacles remaining.
Walking a tightrope
The US's nuanced shift away from unwavering support for Israel appears to be a response to internal concerns, marked by increasingly vocal criticism from public opinion and the Democratic camp regarding Washington's seemingly unconditional backing of Israel's military operation.
Although unprecedented, the measures announced by Biden seem to commit the US at a lower cost, especially at a time when Washington has not yet fully mobilized in favor of an immediate ceasefire.
"The Biden administration is walking a tightrope in its policy toward Israel and Palestine: it aims to support Israel as much as possible in the ongoing conflict while mitigating the criticism it receives from the Democratic Party," Heras said.
With less than a year to go before the American presidential election, Biden appears to be in a perilous position.
Within a month, the president's popularity rating among Democrats has fallen to 75 percent, marking a record 11 percent drop, as indicated by a Gallup poll conducted between Oct. 2 and 23.
Within the diplomatic ranks, opposition is proving challenging to confine, particularly at the State Department level. Hundreds of memos have been dispatched, cautioning against a potential breakdown of US-Arab relations.
In this context, the Arab countries' distrust of the United States could leave a gap in which new, more reliable players could emerge.
On Monday, ministers from regional states, including US ally Saudi Arabia, will travel to China as part of a tour aimed at ending the war in Gaza.
Meanwhile, the American public is understanding the Biden administration's position less and less. Two-thirds of the population now call for an end to the fighting, and the country's Muslim community, traditionally loyal to the Democratic camp, is sounding the alarm against the White House's belated emotion in the face of the massacres of Palestinian civilians.
This article was originally published in French in L'Orient-Le Jour. Translation by Sahar Ghoussoub.
While the Biden administration continues to back Israel's offensive in Gaza, it is simultaneously preparing for the post-war period by exerting some pressure on its ally. On Saturday, President Biden publicly stated, for the first time, that Washington is prepared to impose sanctions on Israeli settlers engaged in attacks on Palestinians in the West Bank.This potential sanction would represent...